Business management software is a type of software category that is like an integrated solution that helps businesses automate their core processes such as administration, procurement, marketing, and sales. This type of software works like an 'all hands on deck' type single interface for various functionalities such as customer relationship management (CRM), product development, and sales activities tracking.
The 'must haves' of a Business Management software
Customer management
Employee management
Financial management
Billing and invoicing
Inventory management
Marketing management
Order management
Performance metrics
Time and expense tracking
Vendor management
Today, we'll be talking about the best Business Management Softwares in 2022. The article will discuss the features and pricing of each product. The order of the article is decided on the basis of the Top 20 report generated by research.
NetSuite – The #1 Cloud ERP.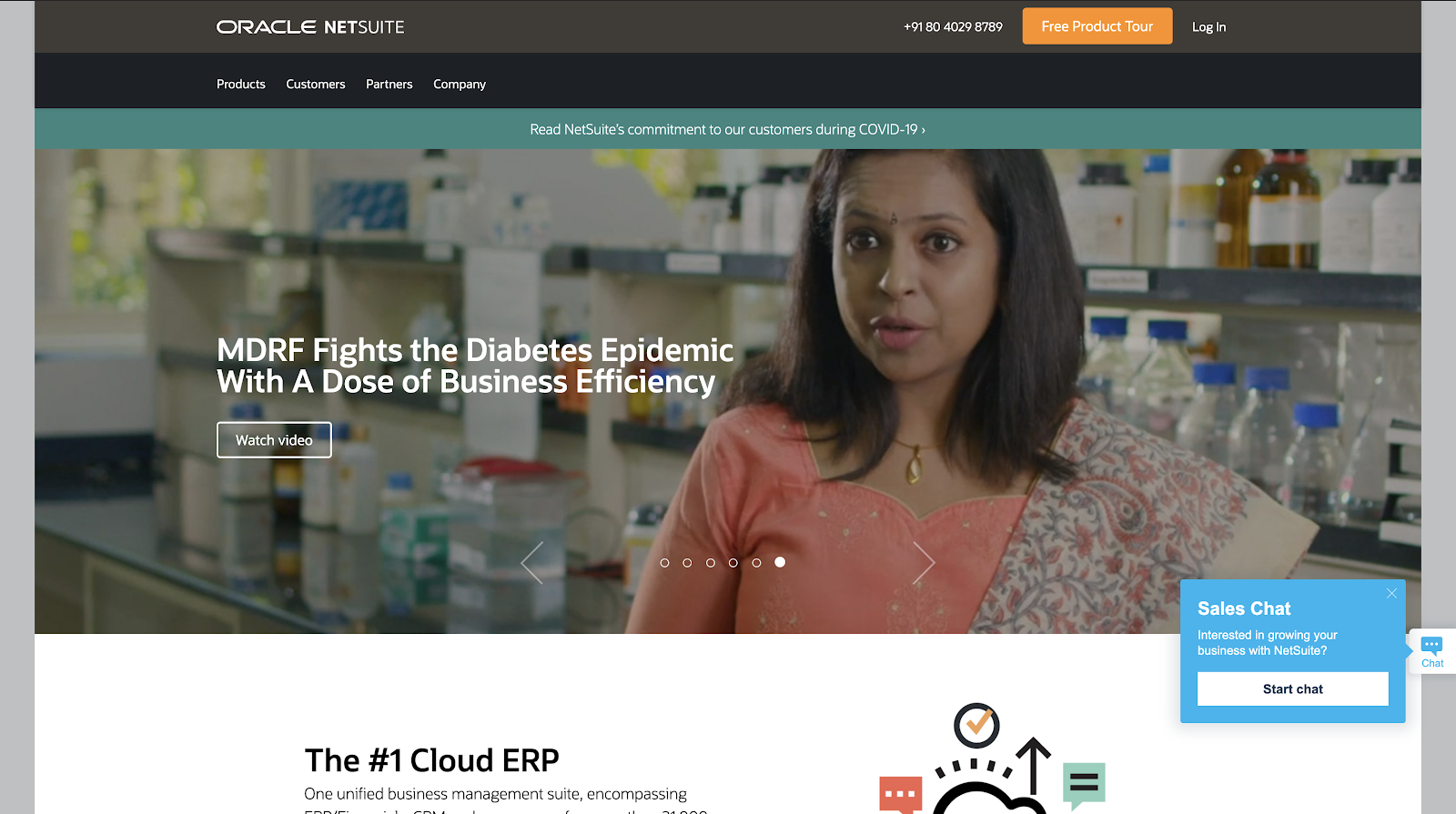 NetSuite Homepage
NetSuite Details
NetSuite's Inventory Management solution offers a complete set of features like inventory management, manufacturing, and purchasing capabilities that streamlines supply-chain processes, reduces costs, and improves profitability.
NetSuite Features
Accounts Receivable
Billing & Invoicing
Expense Tracking
Fixed Asset Management
Fund Accounting
Payroll Management
Project Accounting
Purchase Orders
Tax Management
NetSuite Video Support – https://www.youtube.com/user/NetSuite
HoneyBook – Organize your business for $1/mo.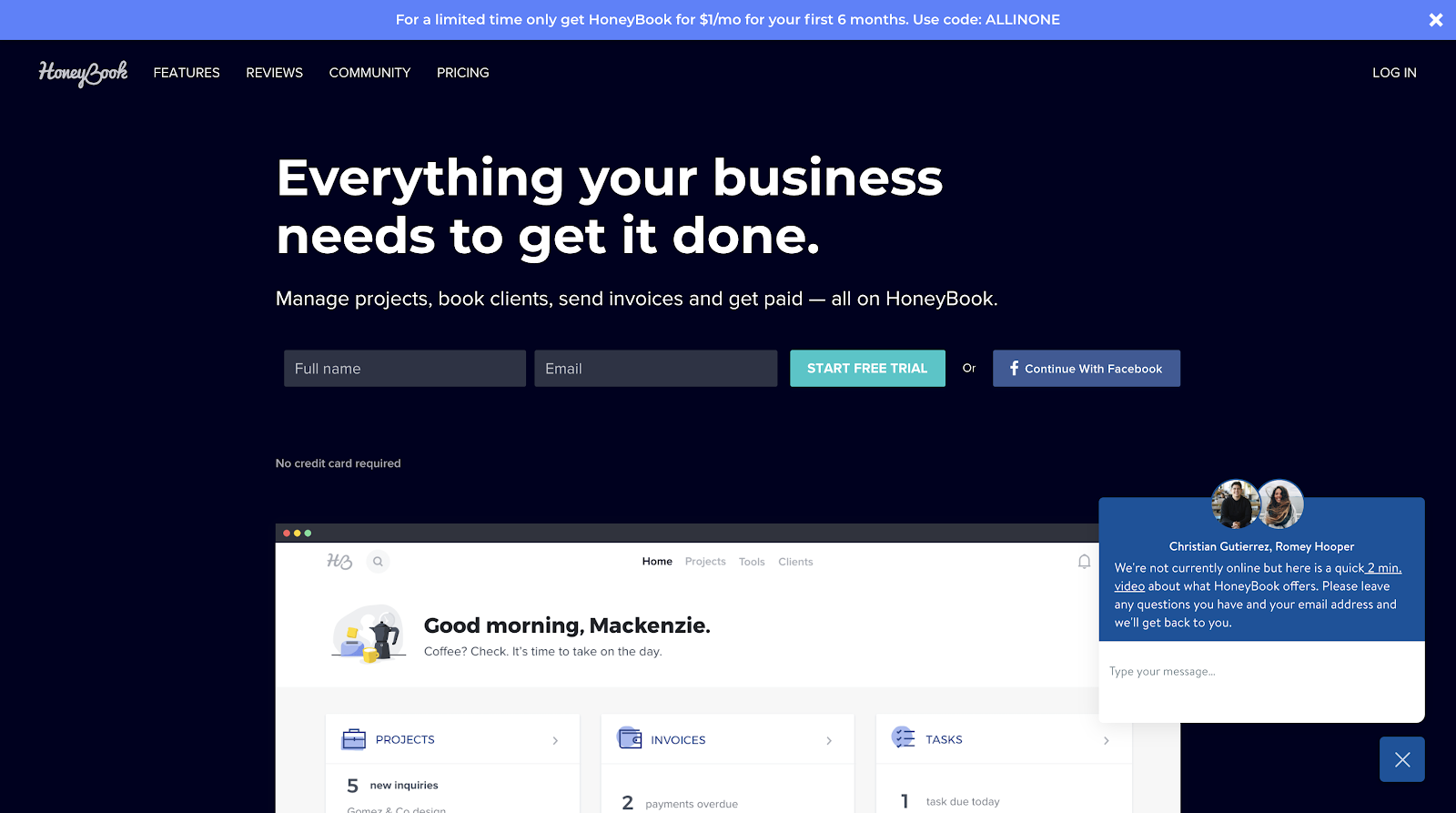 About HoneyBook
HoneyBook is a medium for creative entrepreneurs and freelancers to book more clients, manage projects and get paid all in one place. With this business management software, one can automate the busy work and stay on top of all to-dos, saving time and money so one can grow their business.
HoneyBook Features
Online Contracts
Online Invoices
Proposals
Online Payments
Automation
All-in-one solution
Scheduling
HoneyBook Video Support – https://www.youtube.com/channel/UCxnwFDZbnNO4GCEfOBoPZSg
Dynamics 365 – Now's the time to come together.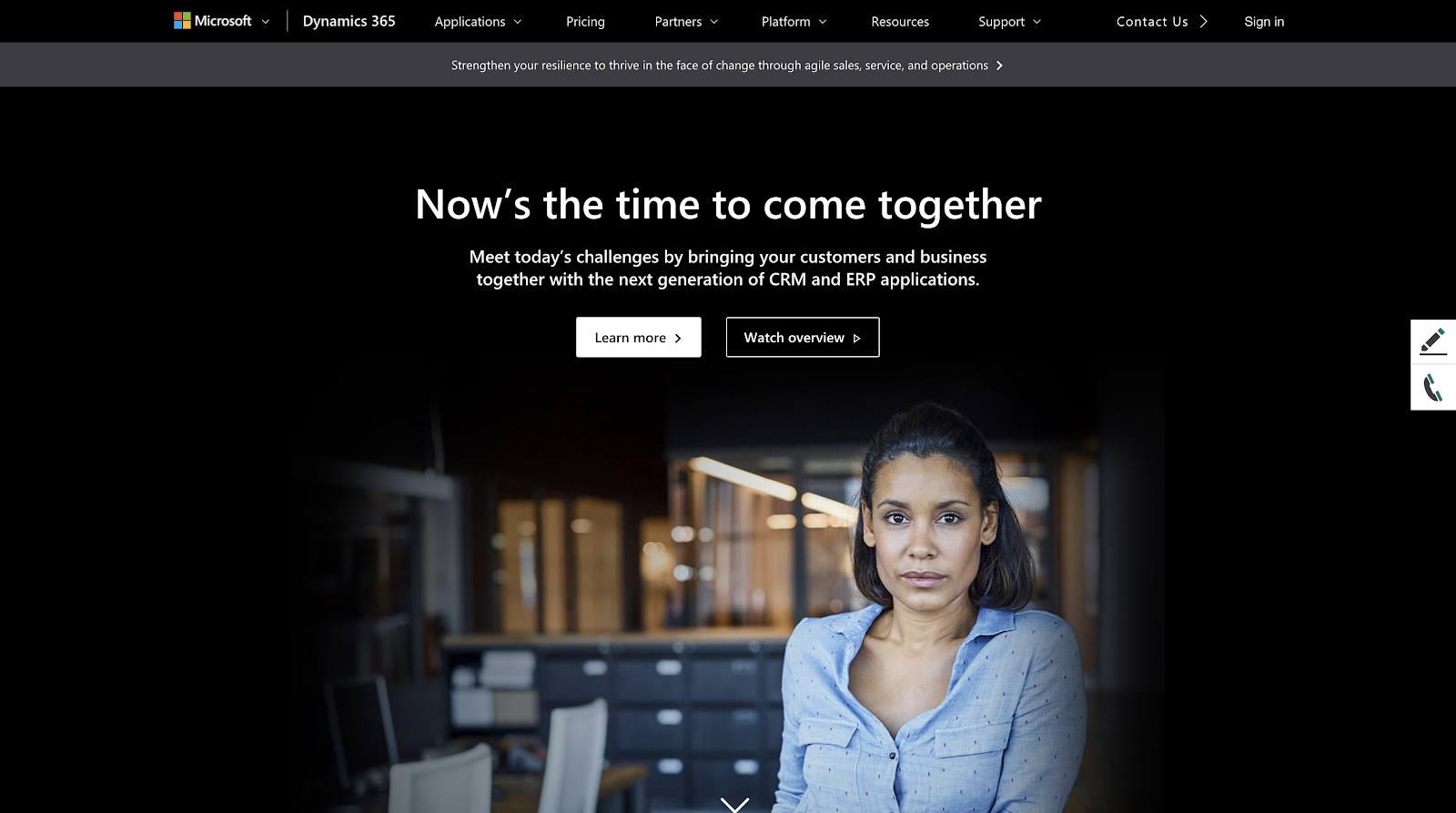 Dynamics 365 Homepage
About Dynamics 365
Microsoft's Dynamics 365 is an integrated business management solution that automates financial, customer relationship and supply chain processes.
Dynamics 365 Features
Asset Planning
Balance Sheet
Cash Management
Consolidation/Roll-Up
Forecasting
General Ledger
Multi-Department/Project
Profit/Loss Statement
Lead Capture
Prospecting Tools
Microsoft Video Support – https://www.youtube.com/user/Microsoft
ShopKeep – Together, we build a better small business experience.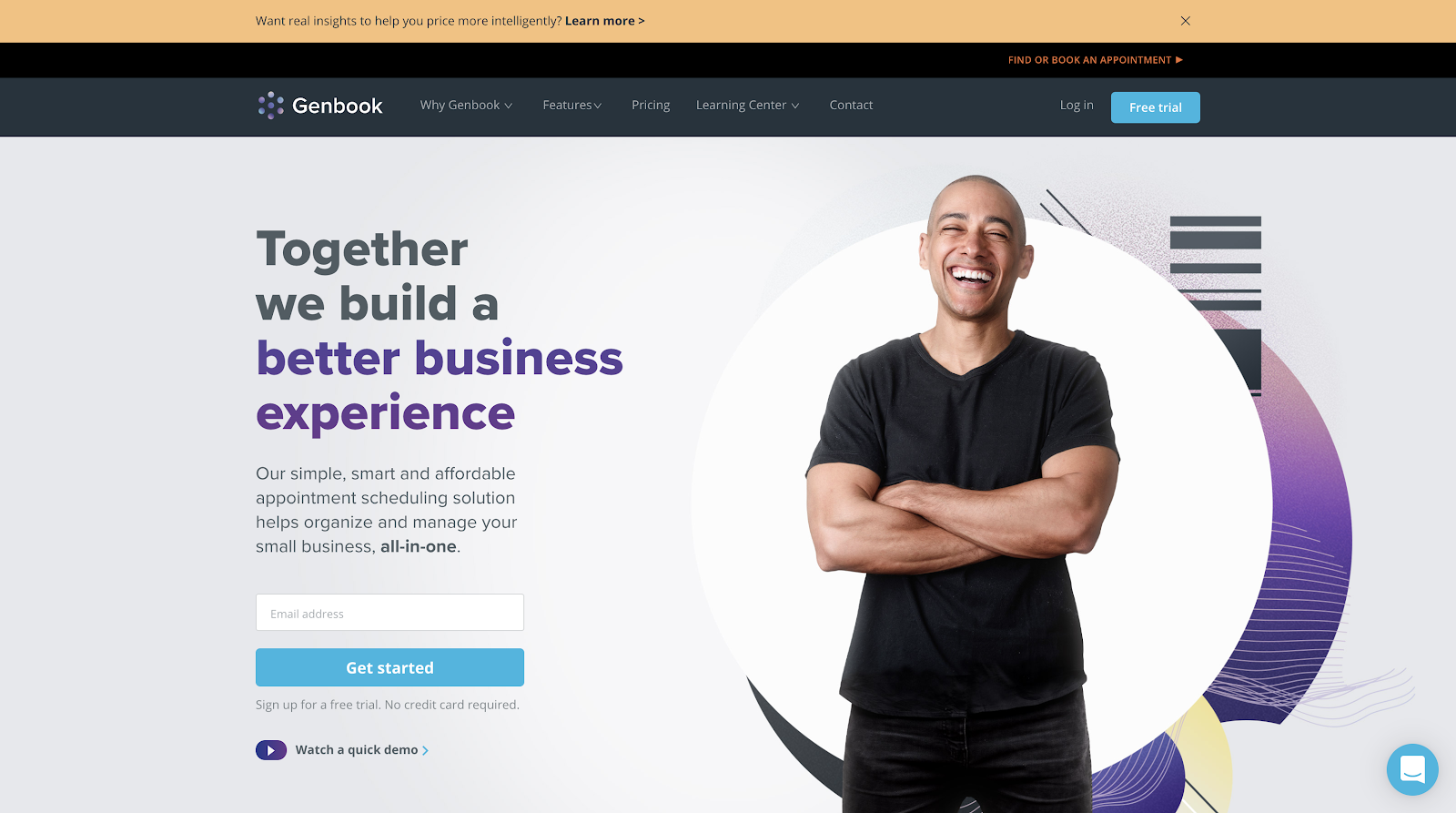 About Genbook
Genbook is a smart and simple all-in-one online scheduling solution that helps small business entrepreneurs that offer personal-services build a better business experience.
Genbook Features
Online Scheduling
Client Experience
24/7 Availability
BookNow Site
Brand Reputation
Secure Payments
Mobile Working
Integrations
Insights
Genbook Video Support – https://www.youtube.com/user/GenbookSupport
Zoho One – Your Life's Work, Powered By Our Life's Work.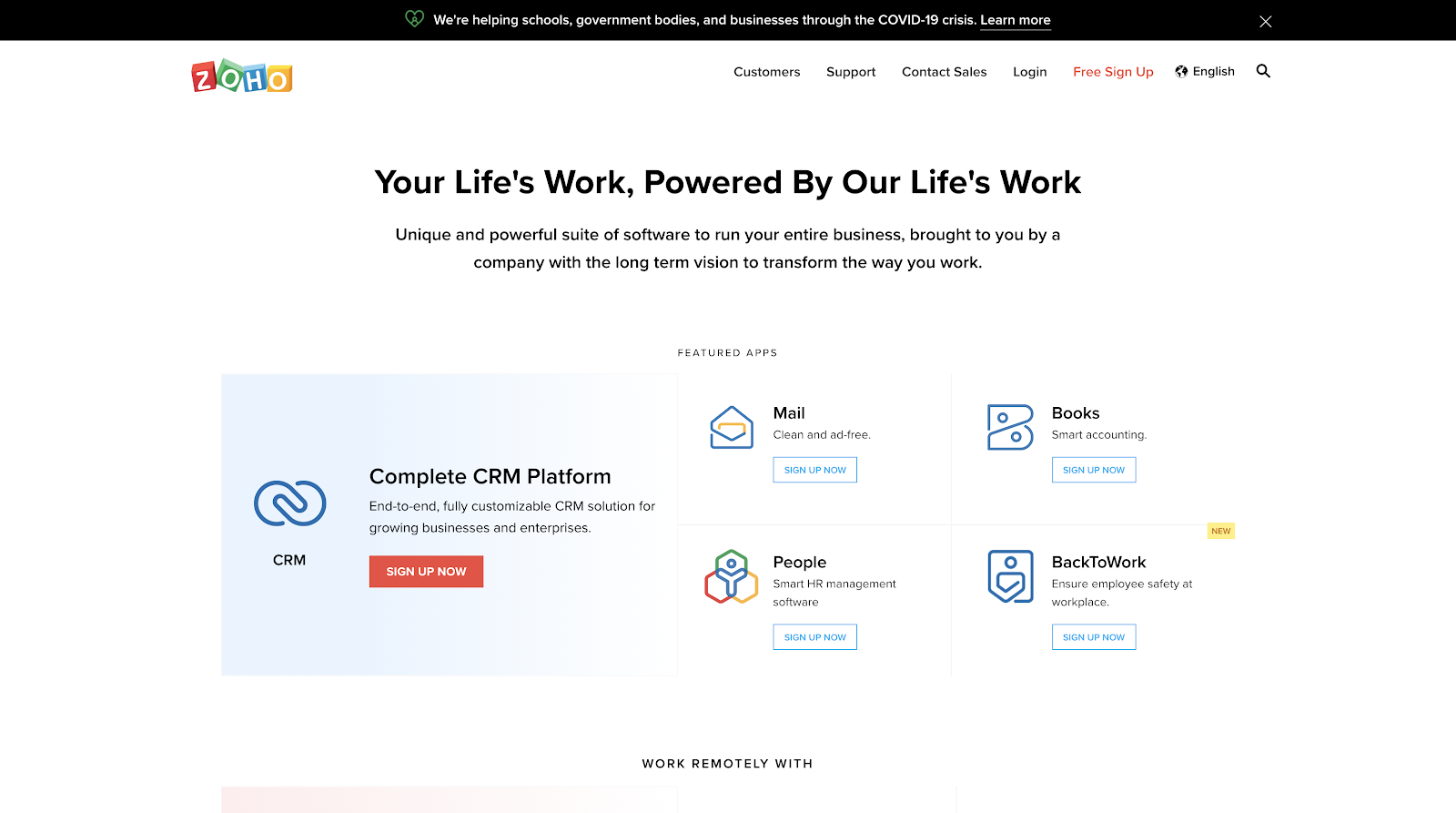 Zoho One Homepage
Zoho One Features
Billing & Invoicing
CRM
Employee Management
Financial Management
Inventory Management
Marketing Management
Project Management
Purchasing
Time & Expense Tracking
Training Management
Vendor Management
Zoho Video Support – https://www.youtube.com/user/zoho
WPS Office – Make Your Output More Impressive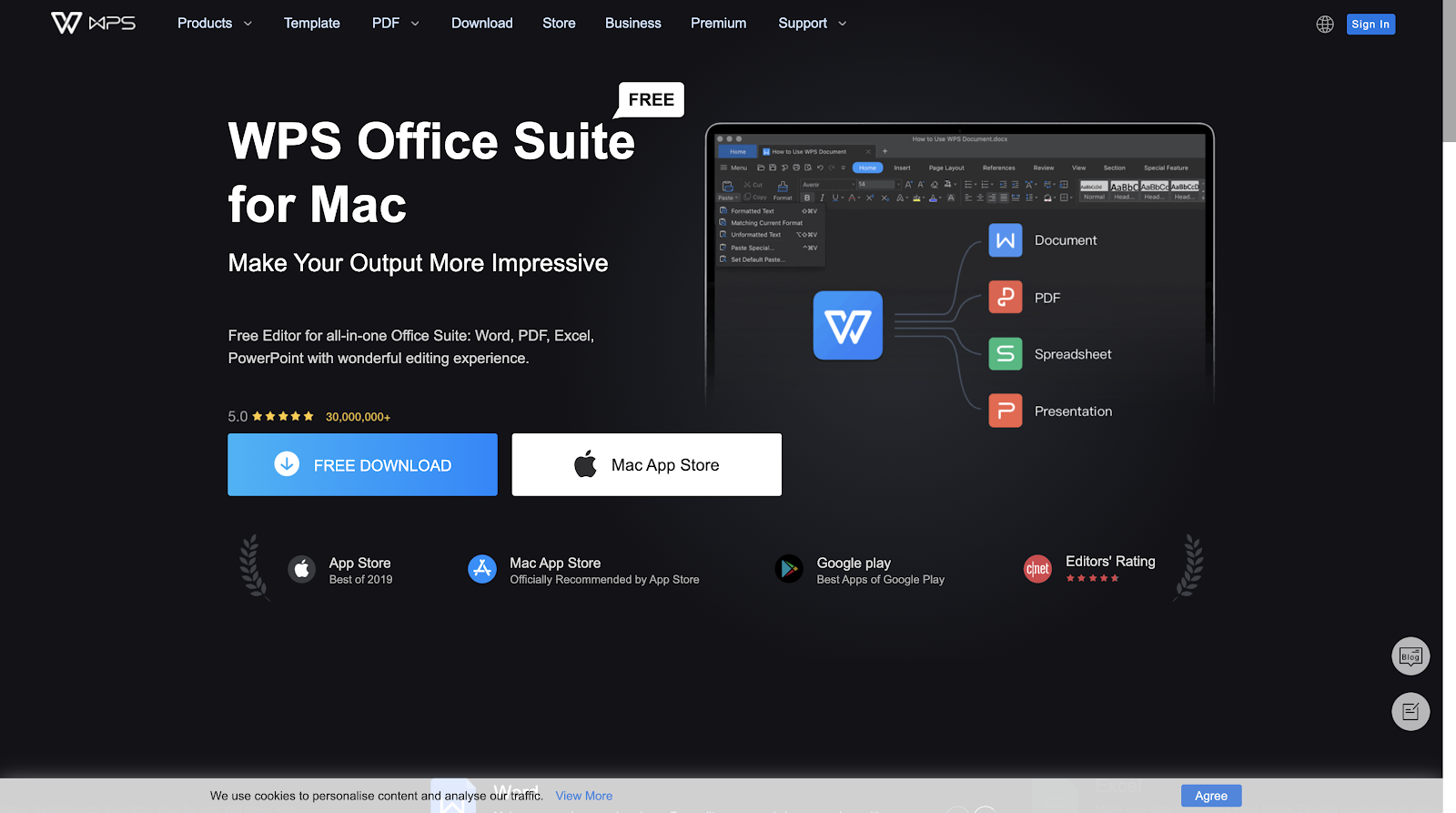 About WPS Office
WPS Office is a free, small and fast office suite that provides you three powerful applications known as Writer, Spreadsheets and Presentation. It is highly compatible with MS Office while presents a similar interface to the latter.
WPS Office Features
Alerts/Notifications
Forecasting
Inventory Optimization
Kitting
Mobile Access
Multi-Channel Management
Product Identification
Reorder Management
Reporting/Analytics
Retail Inventory Management
Supplier Management
Warehouse Management
Odoo – Amazing employees deserve amazing software.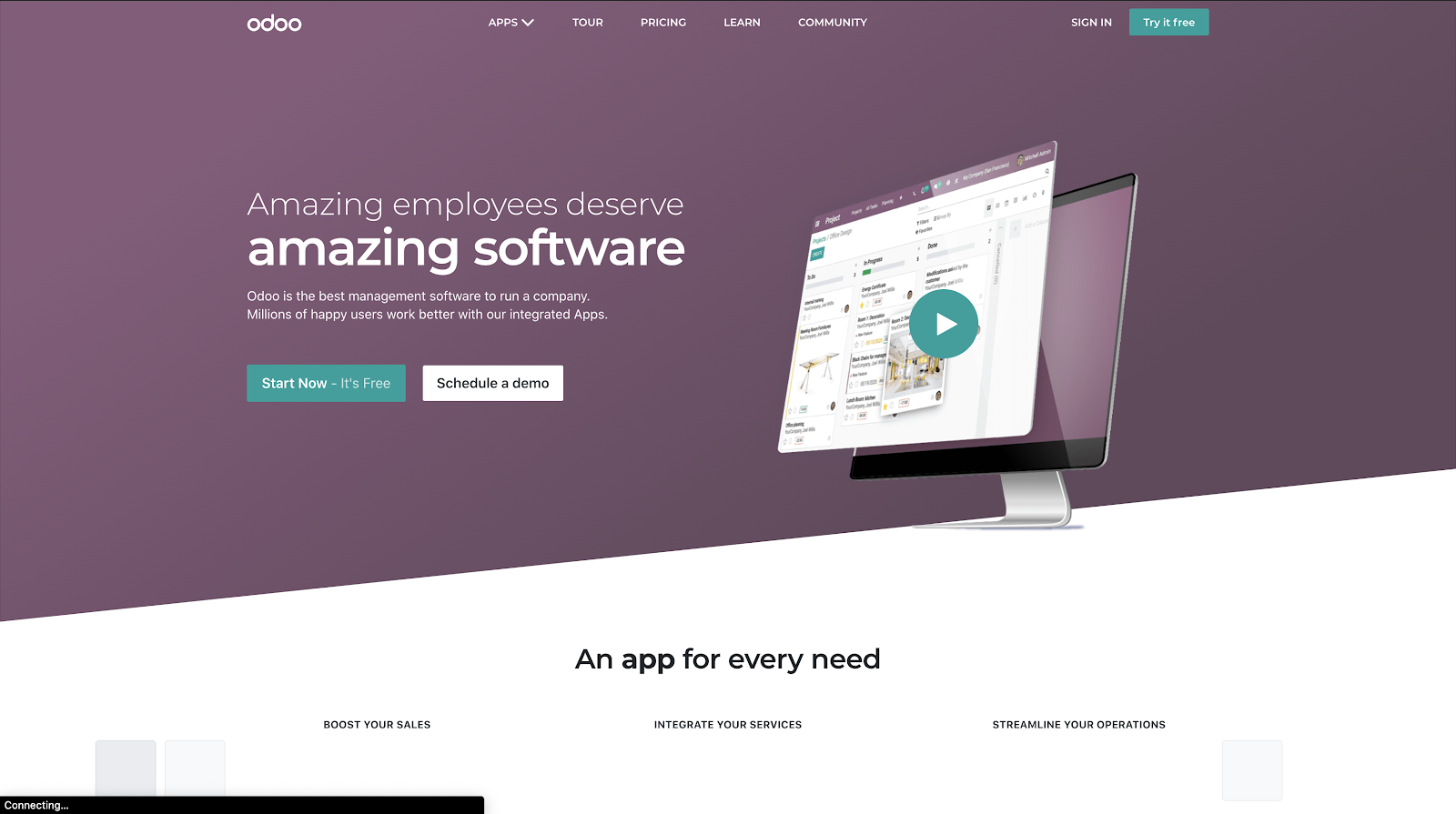 Odoo Homepage
Odoo Features
BOOST YOUR SALES
INTEGRATE YOUR SERVICES
STREAMLINE YOUR OPERATIONS
BUILD STUNNING WEBSITES
MANAGE YOUR FINANCES
AMPLIFY YOUR MARKETING

Email Marketing
Marketing Automation

CUSTOMIZE & DEVELOP
Odoo Video Support – https://www.youtube.com/user/OpenERPonline
vcita – The contact management software to manage your leads.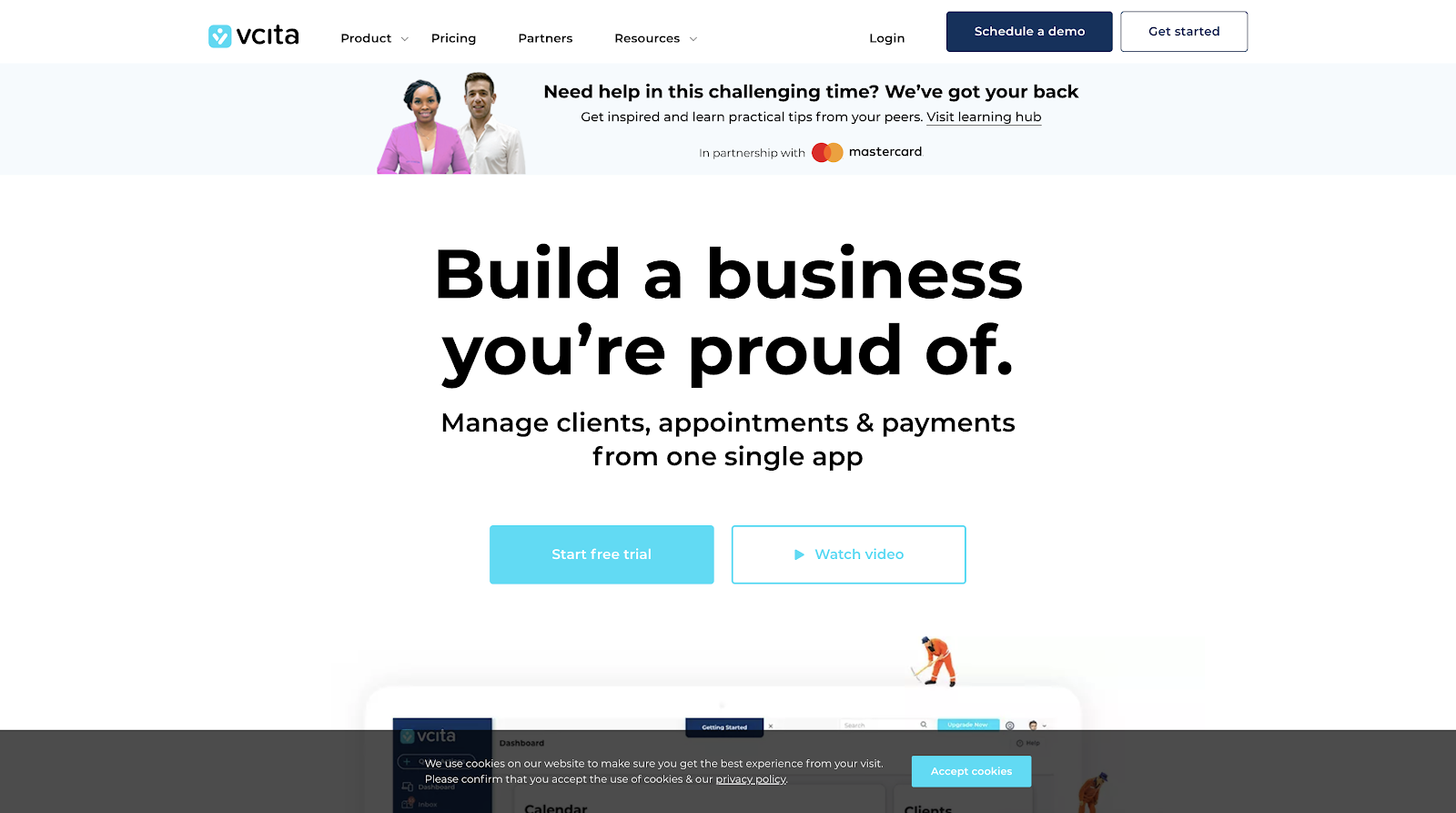 About vcita
This platform was primarily designed for small businesses, vcita SMB Management helps you organize, track and manage your business. Customers can add clients on-the-fly, initiate new conversations in a single click, review client history across the board, track appointments and payments, send invoices, add notes and tags, automate follow-ups, create email and SMS marketing campaigns and so much more.
vcita Features
Billing & Invoicing
CRM
Marketing Management
Scheduling
Appointment Scheduling
Calendar Management
Email Reminders
Online Booking
Payment Reminders
Rescheduling
SMS Reminders
vcita Video Support – https://www.youtube.com/channel/UCncmmt-8OvYswfcV0bDOo0Q
mHelpDesk – The Fastest, Easiest, Most Powerful Field Service Management Software.
mHelpDesk Features
Lead Management (CRM)
Estimates and Quotes
Online Booking
Workflow Management
Job Management
Recurring Jobs
Scheduling and Dispatch
Drag and Drop Calendar
GPS Tracking
Live Mapping and Map View Routing
Custom Forms
Staff Communication
Text Message Dispatching
Inventory Tracking
Multi-Location Inventory Tracking
mHelpDesk Overview
Starting Price – $169.00/month
Free Trial available as well.
Deployment – Web-Based, Cloud SaaS, iPhone/iPad and Android.
Training – Live Online, Webinars and Documentation
Support – Business Hours and Online
mHelpDesk Video Support – https://www.youtube.com/user/MhelpdeskTV
WinTeam – ERP software that enables growth for your business.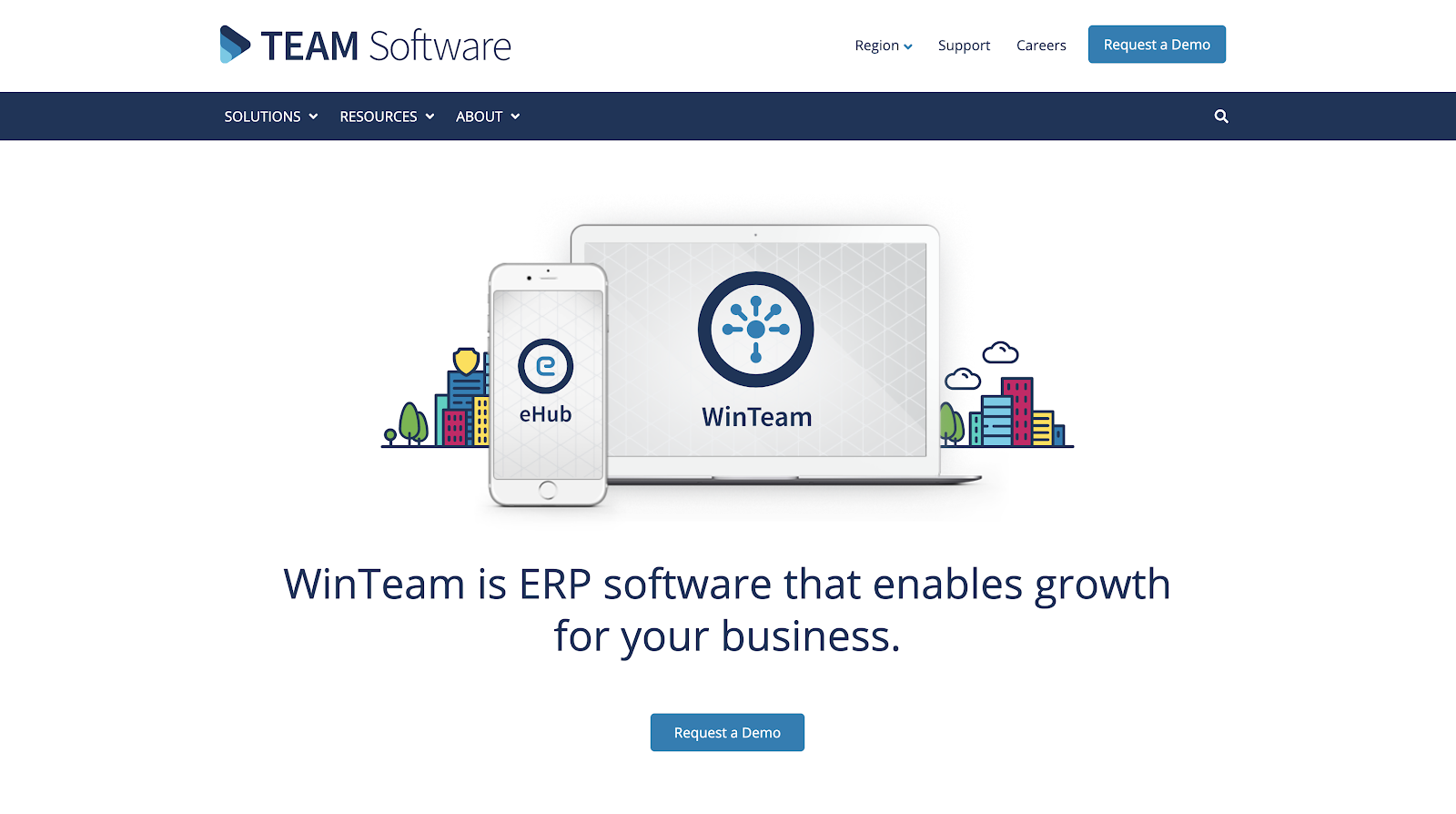 WinTeam Features
CRM
Distribution Management
Enterprise Asset Management
Financial Management
HR Management
Inventory Management
Order Management
Project Management
Purchase Order Management
Reporting/Analytics
Supply Chain Management
Warehouse Management
WinTeam Pricing and overview
Free Trial available
Deployment – Web-Based, Cloud and SaaS.
Training – In Person, Live Online, Webinars and Documentation
Support – Business Hours
WinTeam Video Support – https://www.youtube.com/user/TeamSoftware2012
Karbon – Enable your firm to work remotely.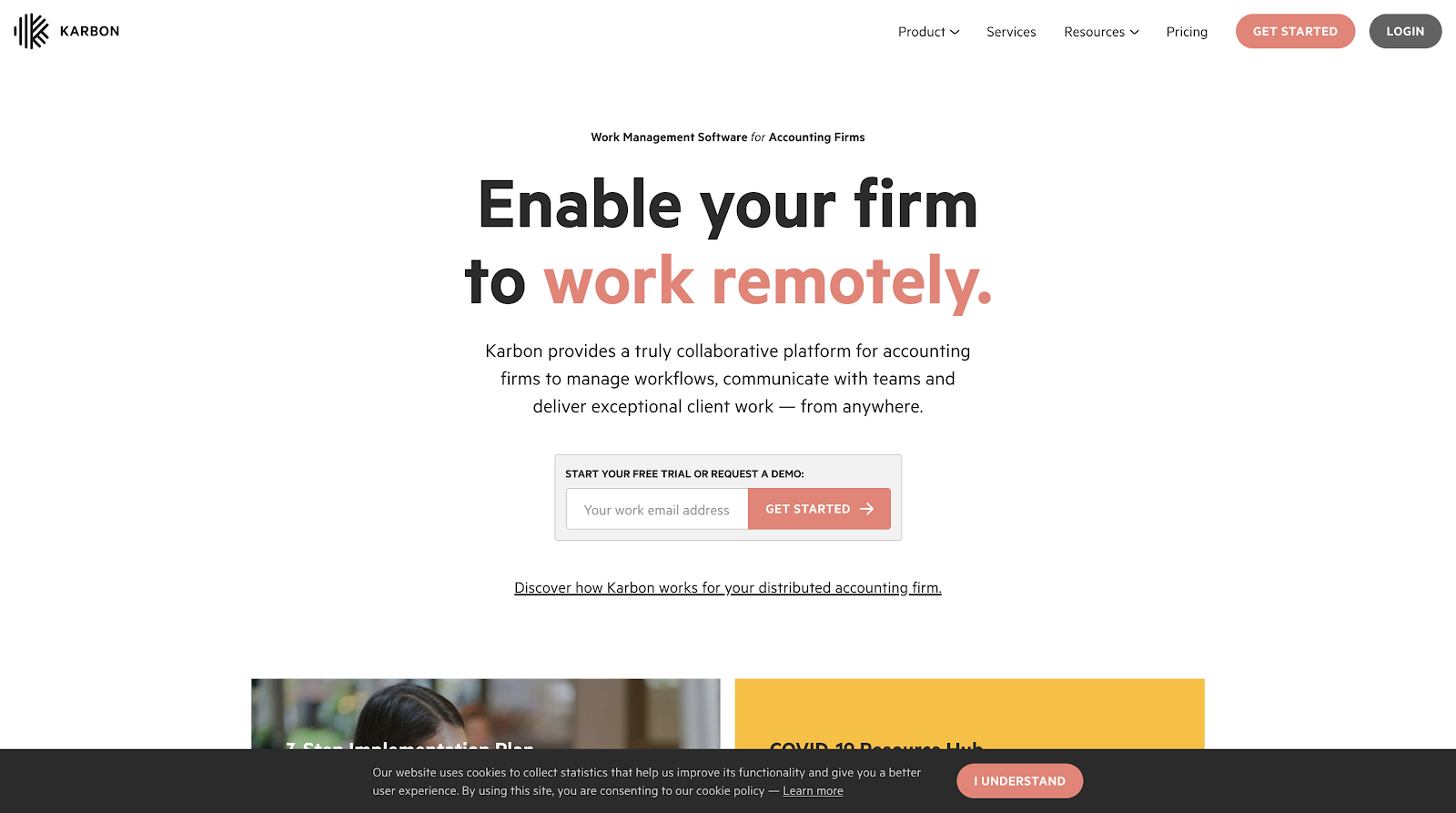 About Karbon
Karbon is a work management platform that is used by accounting firms and professional service businesses. It provides a truly collaborative platform to manage workflows, communicate with teams and deliver exceptional client work.
Karbon Features
Access Controls/Permissions
Business Process Automation
Compliance Tracking
Customizable Dashboard
Document Management
Mobile Access
Task Management
Third Party Integrations
Workflow Configuration
Karbon Video Support – https://www.youtube.com/channel/UCkrtInmF451aGMlW6SJFqQw
Kintone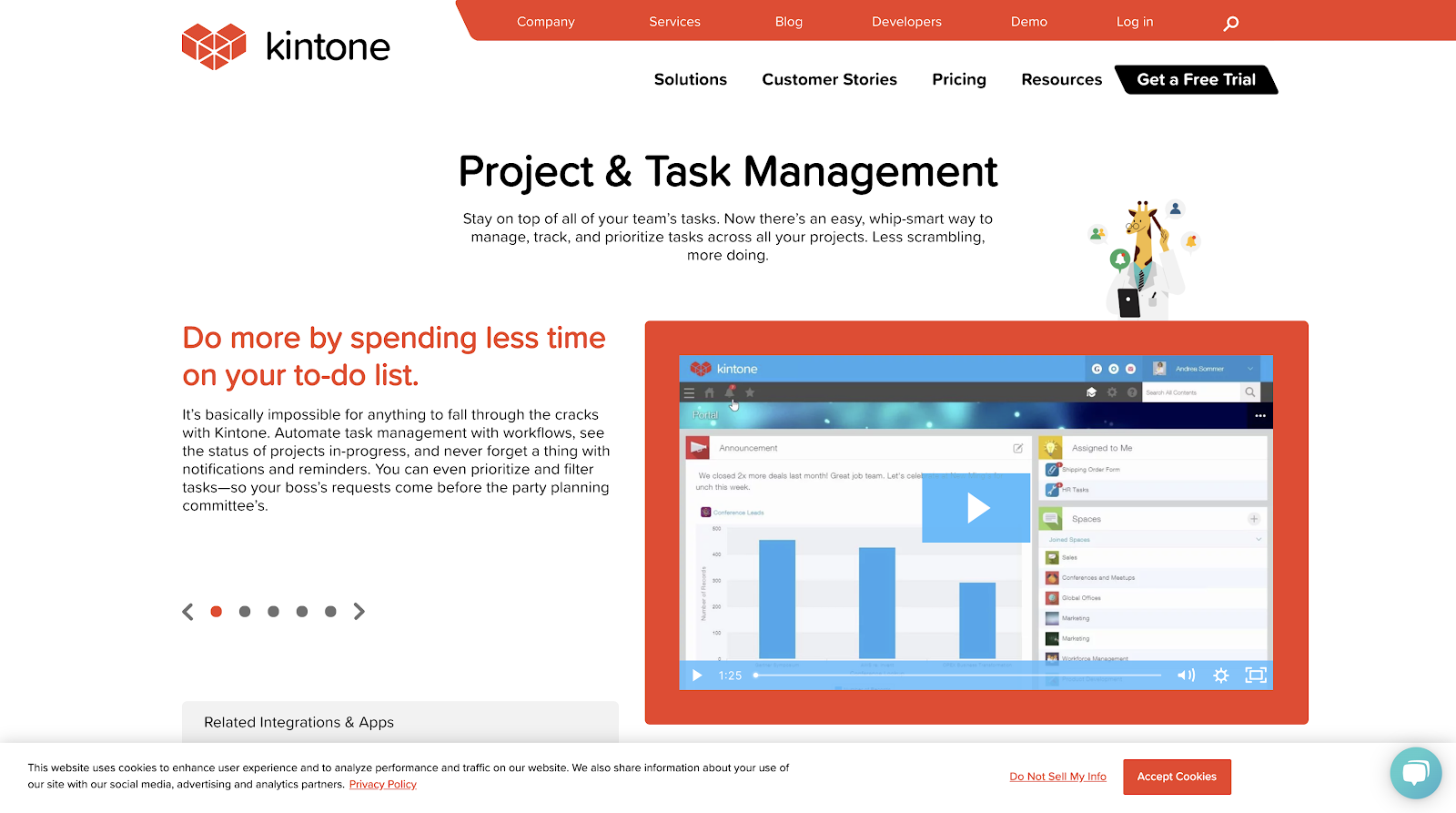 Kinstone Homepage
About Kintone
Kintone's visual application builder lets you drag and drop your way to a custom project management app, zero coding required. You can start from scratch or customize a pre-built app template. Automate tasks with workflows, communicate with your team within each task, and never miss a deadline with built-in notifications and reminders.
Kinstone Features
Agile Methodologies
Budget Management
Client Portal
Collaboration Tools
Cost-to-Completion Tracking
Customizable Templates
Gantt Charts
Idea Management
Kanban Board
Milestone Tracking
Portfolio Management
Resource Management
Time & Expense Tracking
Traditional Methodologies
Kintone Video Support – https://www.youtube.com/user/kintoneglobal
Accelo – Run your operations in one place to get back to the work you love.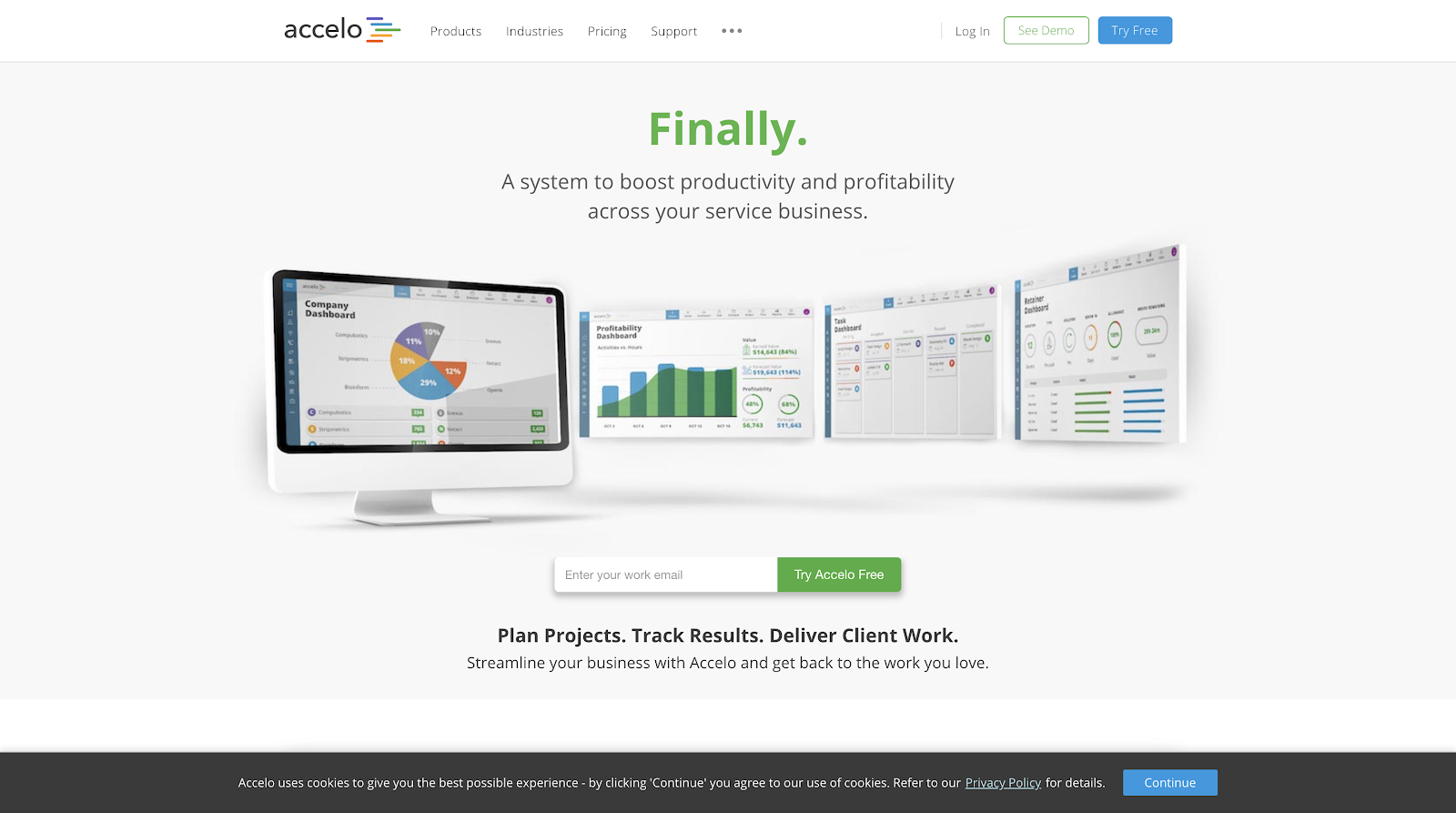 Accelo Homepage
About Accelo
Accelo is a solution that combines the key needs of all your business aspects, your sales, project management, retainers, service tickets, etc and collaborate all of it in one platform for small to medium sized service businesses, which makes it easy to assign work, track progress, see budgets and profitability in real time.
Accelo Features
Billing & Invoicing
CRM
Employee Management
Financial Management
Marketing Management
Purchasing
Time & Expense Tracking
Campaign Management
Collaboration
Document Management
File Sharing
Project Management
Task Management
Accelo Video Support – https://www.youtube.com/user/affinitylive
Bitrix24 – Your company United.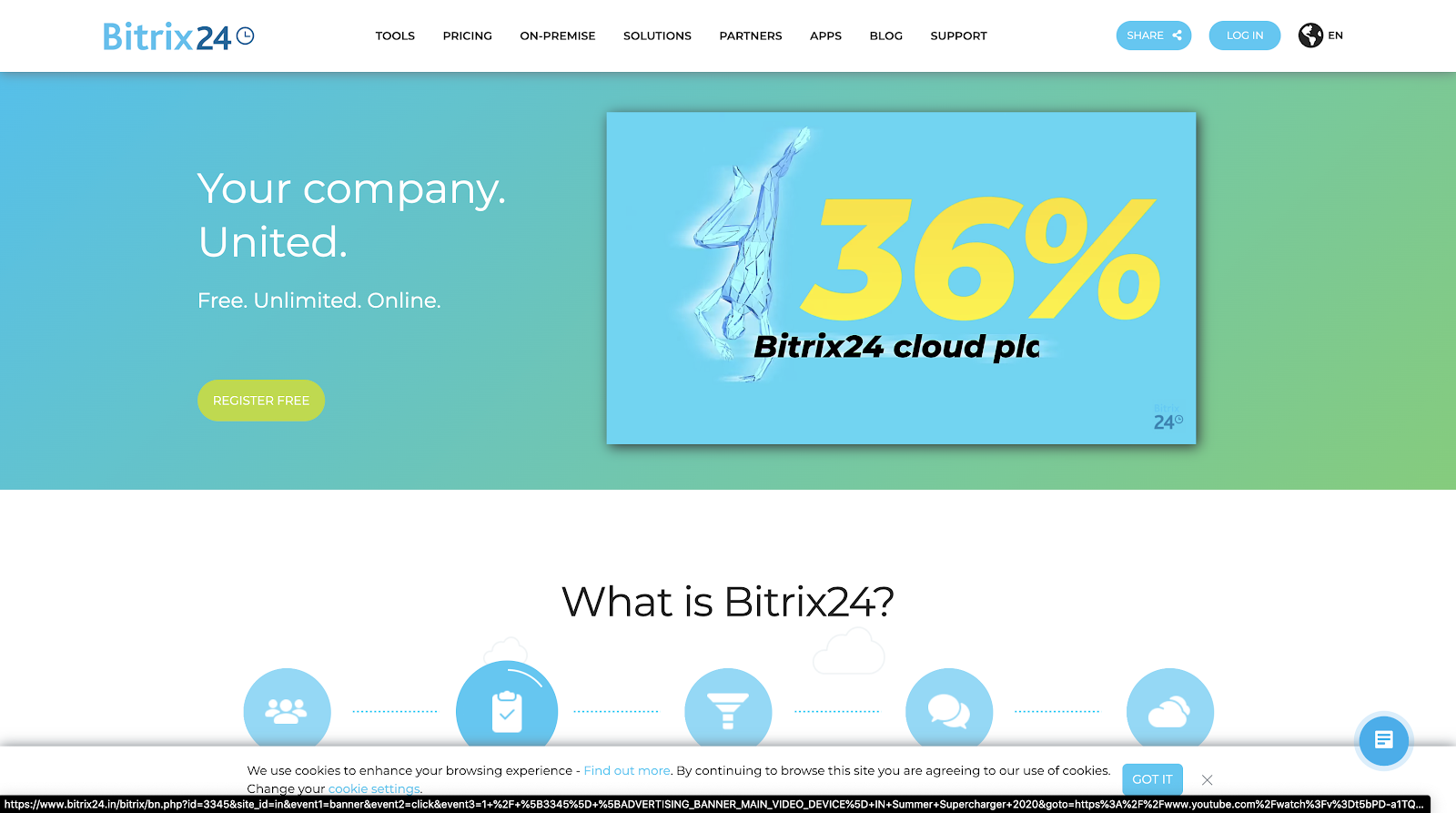 Bitrix24 Homepage
About Bitrix24
Bitrix24 is a business management software that consists of over 35 free tools like CRM, tasks, document management, project management, time management, business process automation, invoicing, collaboration, absence management, email marketing, virtual PBX, shared calendars, company directory, HRMS and much more.
Bitrix24 Features
Billing & Invoicing
CRM
Employee Management
Time & Expense Tracking
Training Management
Appointment Reminders
Automated Scheduling
Calendar Sync
Client Database
Group Scheduling
Online Booking
Online Payments
Room Booking Management
Bitrix24 Video Support – https://www.youtube.com/user/Bitrix24
Avaza – Beautiful all-in-one software to run your business.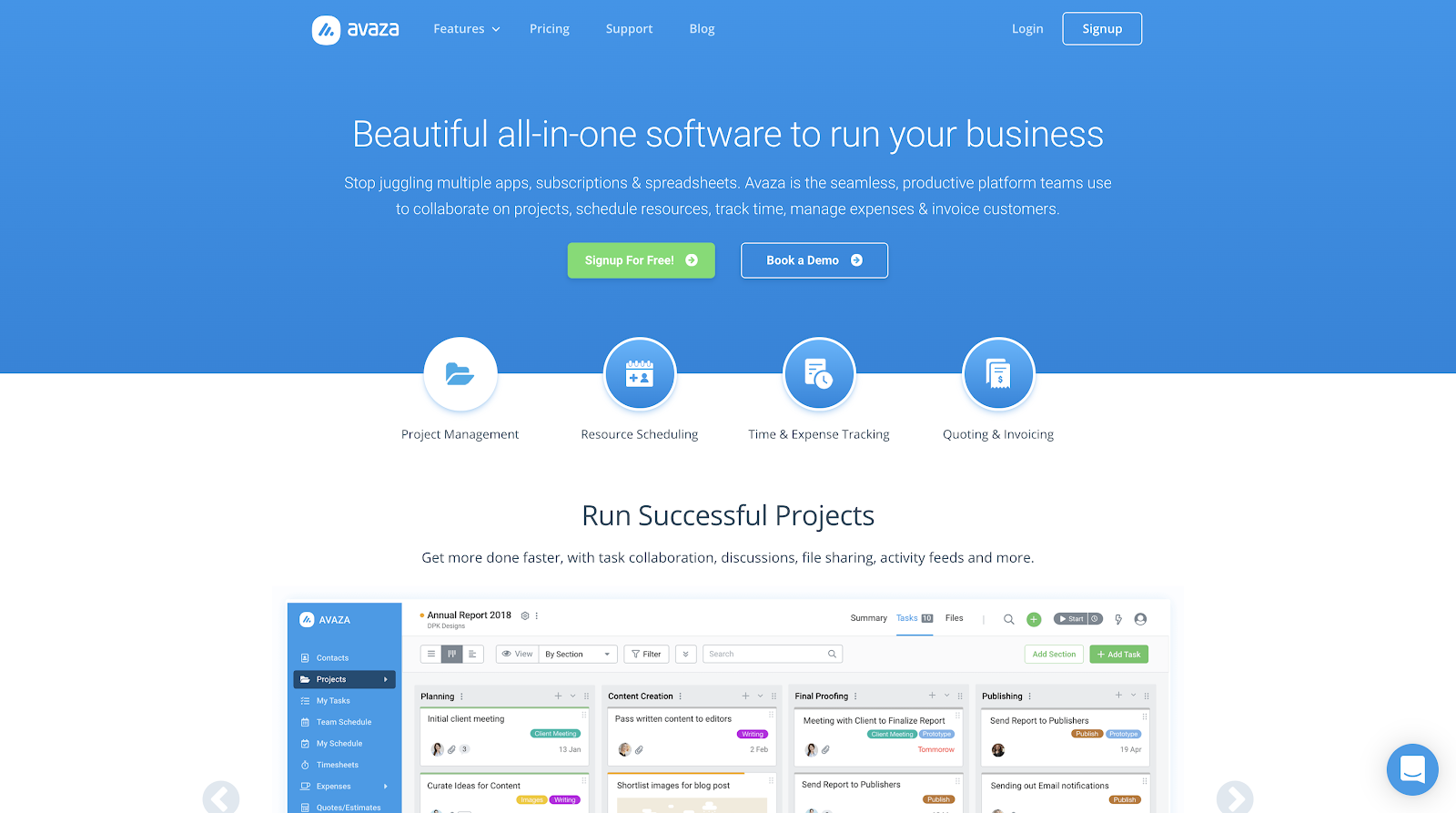 Avaza Homepage
About Avaza
Avaza is a software suite for small businesses. It includes modules for project management & collaboration, resource scheduling, time tracking, expense management, quoting & invoicing
Avaza Features
Features
Project Management
Resource Scheduling
Online Timesheets
Expense Management
Online Invoicing
Recurring Invoicing
Quotes & Estimates
Integrations
Avaza Video Support – https://www.youtube.com/channel/UCbh8C563qY1B1FAYTC38isQ
Wrapping it up!
Hope the article helps you in selecting the best Business Management software that's best for your corporation. Analyse your requirements and select the platform which best suits your needs.