What is SCADA? Supervisory Control and Data Acquisition (SCADA) software manages the flow of information between software and industrial equipment. SCADA systems allow companies to monitor and control industrial processes across multiple locations. This type of software is used in manufacturing but can also be beneficial for industries like utility companies, facility management, basically any operations that rely on the use of sensors.
Qualifications of a Supervisory Control and Data Acquisition Software Software
Be compatible with SCADA hardware and PLC (programmable logic controllers)
Deliver a human-machine interface (HMI) for users to monitor real-time data
Allow users to control multiple industrial processes locally or remotely
Provide alerts and notifications when errors and incidents occur
Today's article will talk about the best Supervisory Control and Data Acquisition Software in 2022. The article will discuss the ABCs of each product. The order of the article is decided on the basis of features and reviews by many first hand users. Without further ado, let's get right to it!
1. InduSoft Web Studio.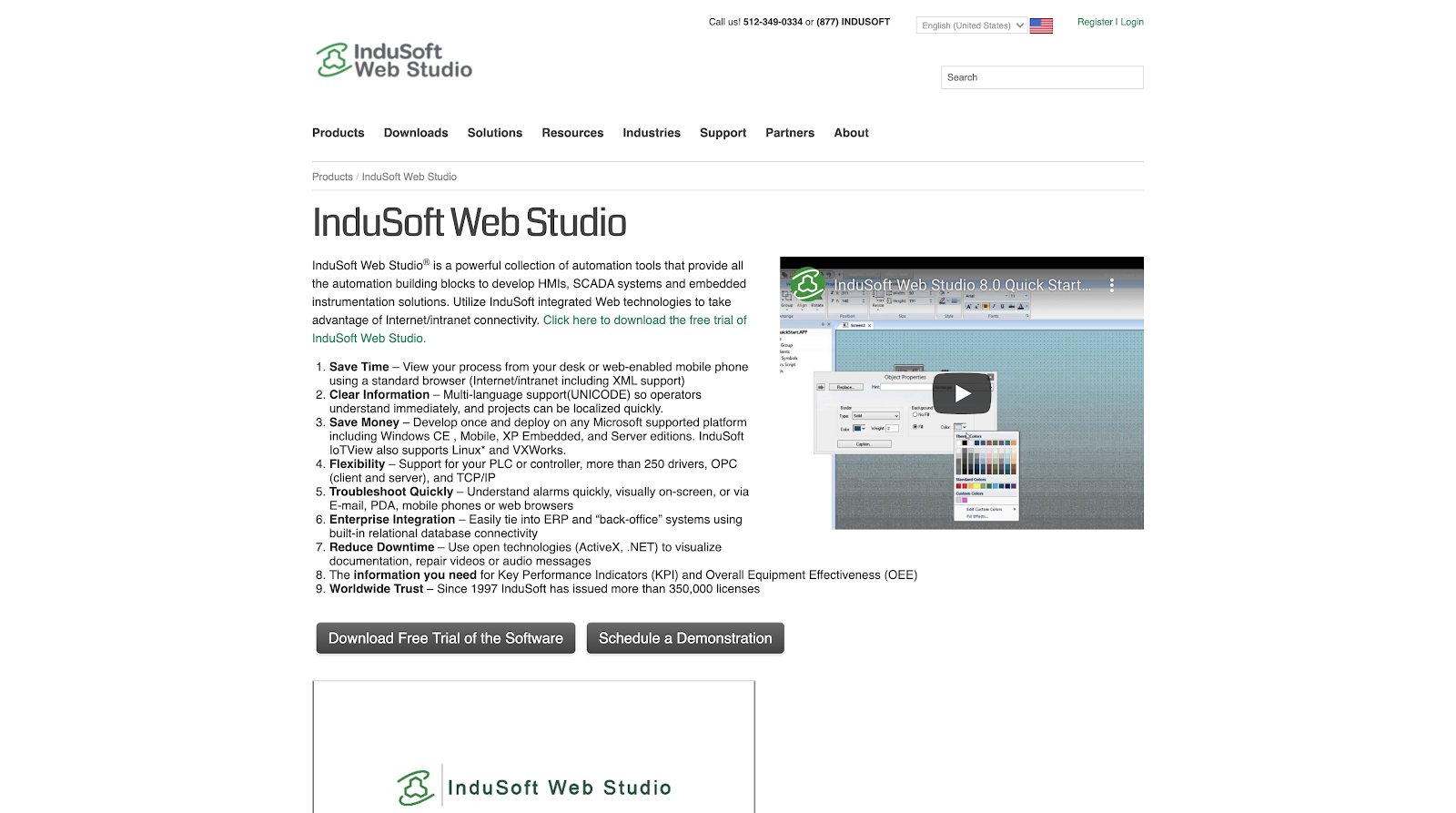 About InduSoft Web Studio
InduSoft Web Studio is a powerful collection of automation tools that provide all the automation building blocks to develop HMIs, SCADA systems and embedded instrumentation solutions. Utilize InduSoft integrated Web technologies to make the most of Internet/intranet connectivity.
InduSoft Web Studio Key Features
Save Time
Clear Information
Save Money
Flexibility
Troubleshoot Quickly
Enterprise Integration
Reduce Downtime
The software provides users with all the information they need for Key Performance Indicators (KPI) and Overall Equipment Effectiveness (OEE)
Worldwide Trust
InduSoft Web Studio Video Support – https://www.youtube.com/user/InduSoftVideo
2. CIMPLICITY – Precisely monitor and control operations with high performance CIMPLICITY HMI/SCADA.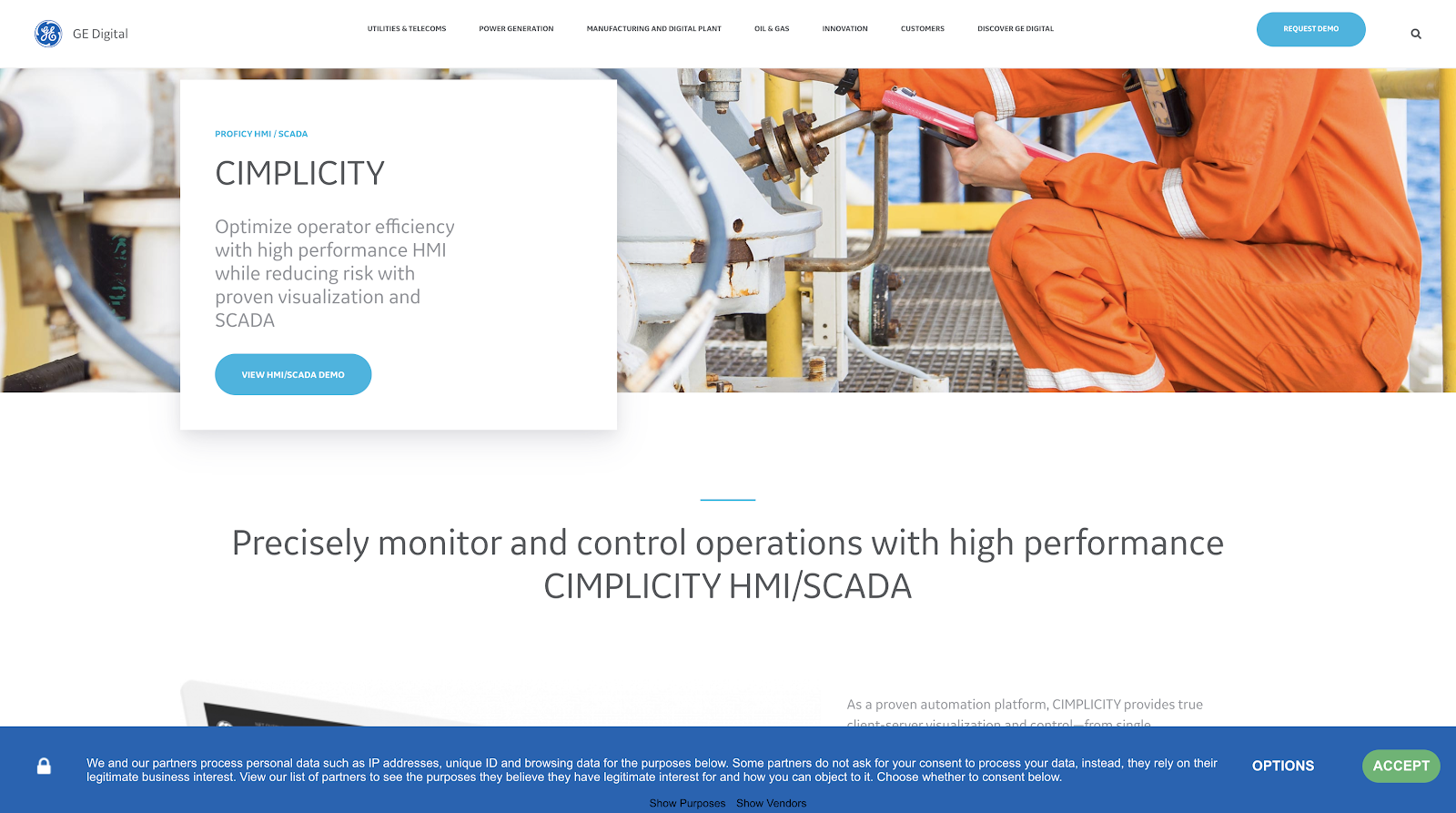 About CIMPLICITY
CIMPLICITY is a SCADA platform that provides true client-server visualization and control from single machines to plant locations spanning the world, helping in managing operations and improving decision making. For applications of all sizes, CIMPLICITY can help deliver faster response, reduce costs, and increase profitability. Their latest version enables high performance HMI to speed operator actions, offers secure-by-design connectivity and certification management, and enhances modeling for repeatability and time savings.
CIMPLICITY Features
Situational awareness
Faster configuration and deployment
Highly reliable
Superior alarm capabilities
OPC UA connectivity and security
Rich features, extensive drivers
Additional options to deliver faster operator response
GE Digital Video Support – https://www.youtube.com/user/industrialinternet
3. iFIX – Reduce costs and risk by enabling the high performance operator with model-based visualization.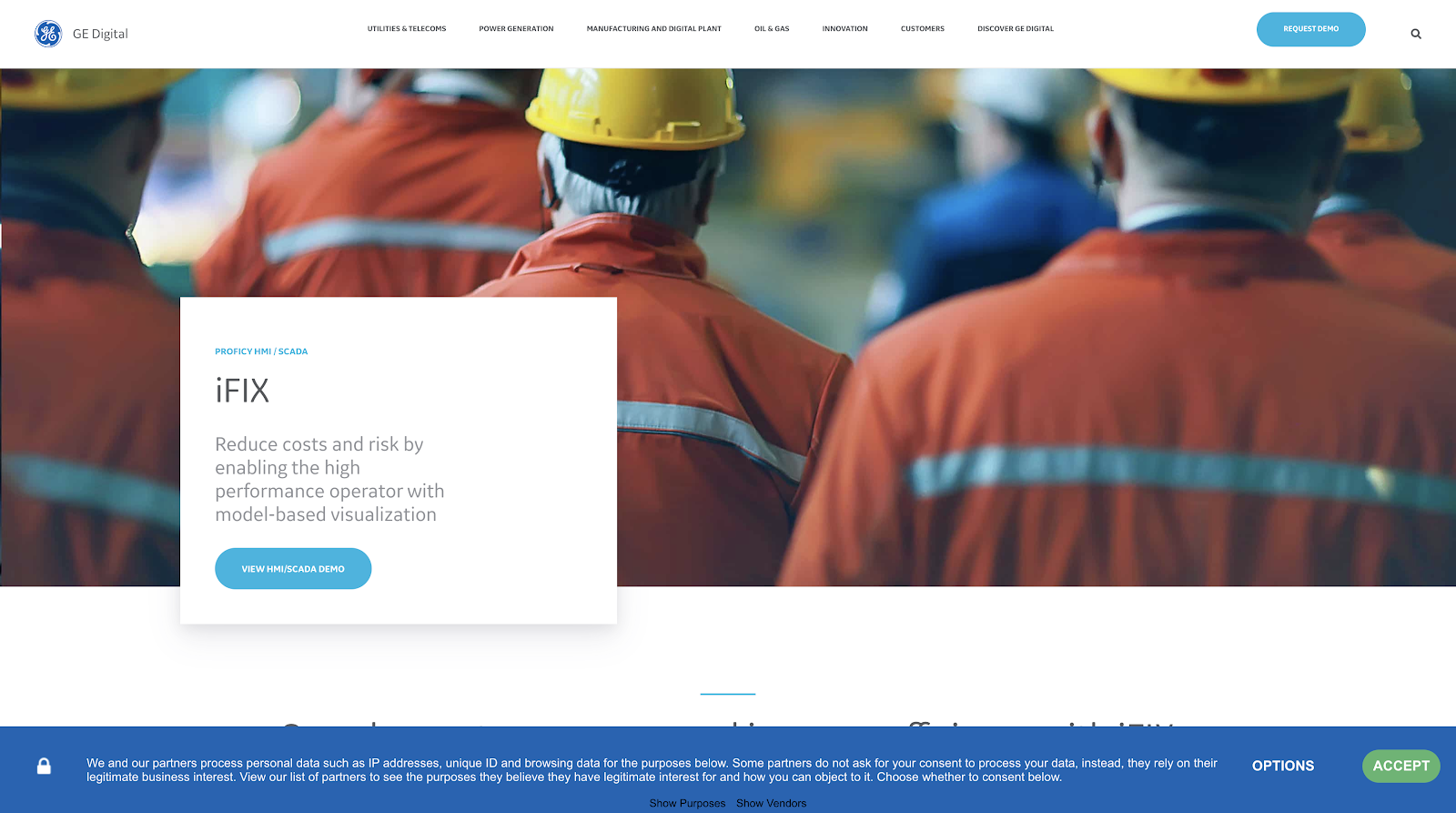 About iFIX
iFIX leverages the latest HMI/SCADA technologies that deliver faster time to insight and greater efficiency for operators, while providing rapid application development for system integrators. In addition to a new HTML5 optional interface, iFIX features a new graphical engine to modernize the HMI/SCADA experience. The intuitive user experience reduces operator errors and improves response time to events and incidents.
AssetSonar End-to-End Software License Management Features
Improve situational awareness
Decrease time-to-solution
Achieve visualization anytime, anywhere
High performance HMI
Rapid application development
Easier upgrades made reliable and secure by design
Context-rich, model-based navigation
Intelligent alarming
Highly extensible architecture, hundreds of drivers
Boost Your SCADA with iFIX Productivity Tools
iFIX Video Support – https://www.youtube.com/channel/UCzpAcvN9AlDhPu5Kk4iqGbw
4. SIMATIC WinCC
About SIMATIC
SIMATIC WinCC Professional Siemens offers a SCADA system which is perfectly integrated in the TIA Portal and with which manyare optimally prepared today for the requirements of the increasing digitalization of production processes.
SIMATIC Security Features
Video Management
Access Control
Security management
Desigo Mass Notification
Perimeter protection
Intrusion detection
Protect your people and assets
Ensure business continuity
Increase operational efficiency
Achieve compliance and meet regulations
Siemens Support – https://www.youtube.com/user/Siemens
5. Softpro Control Platform by Googoltech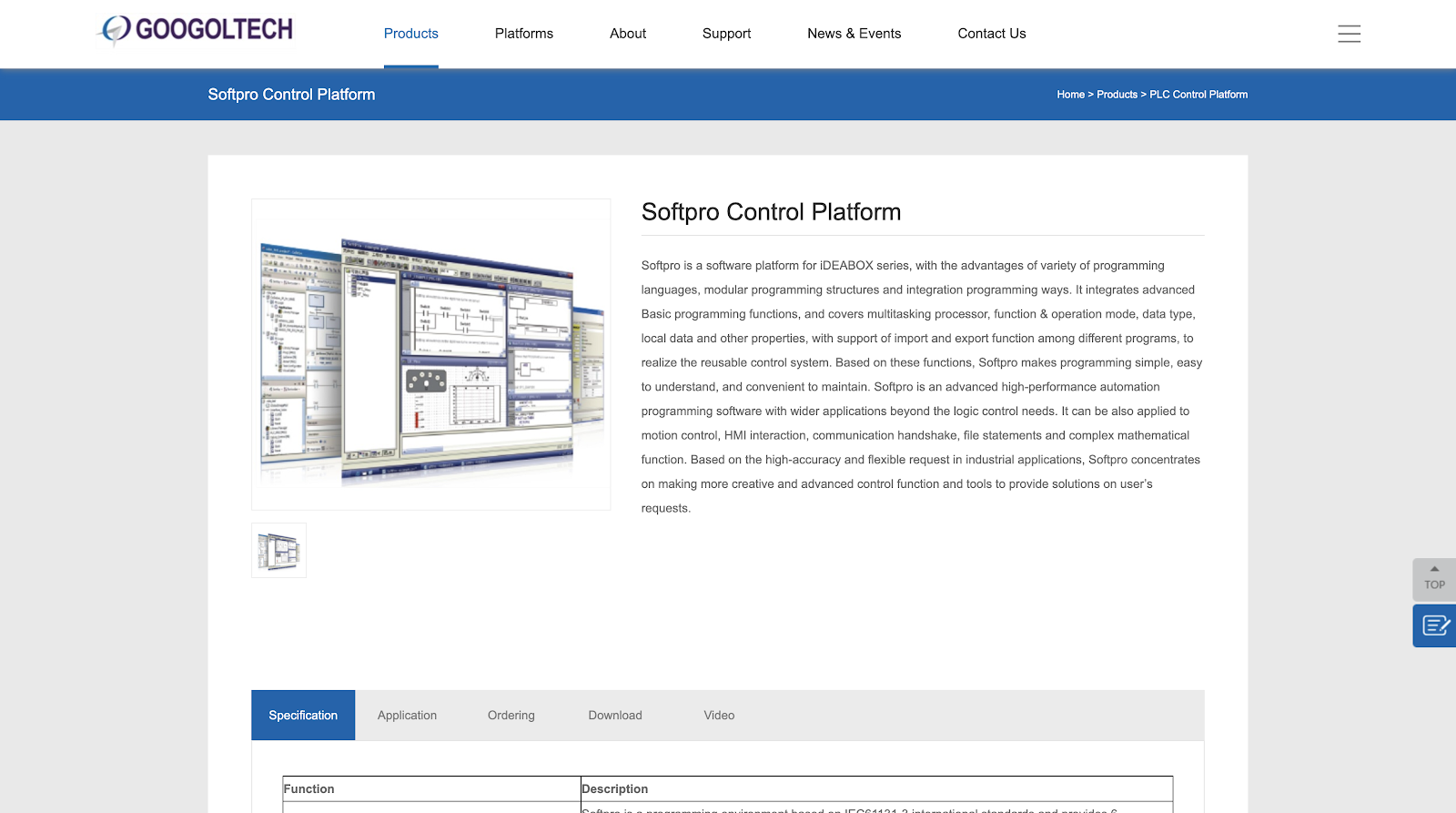 About Softpro
Softpro is a software platform for iDEABOX series, with the advantages for a variety of mainstream programming languages, modular programming structures and integration programming ways. The platform integrates advanced Basic programming functions, and covers multitasking processor, function & operation mode, data type, local data and other properties, with support of import and export function among different programs, to realize the reusable control system. Based on these functions, Softpro makes programming simple, easy to understand, and convenient to maintain. Softpro is an advanced high-performance automation programming software with wider applications beyond the logic control needs. It can also be applied to applications like motion control, HMI interaction, communication handshake, file statements and complex mathematical function.
Softpro Features
Programming Language Integration
Remote Maintenance and Access
Multiple Encryption
HMI Configuration Interface
Auxiliary Functions
Multithreading Hard Real-Time Motion Control Core
Powerful Motion Control Function
Softpro Video Support – https://www.youtube.com/channel/UCC7dedahBV3oQSGTbdeDpEw
6. B-Scada – Scada Integrators and Service.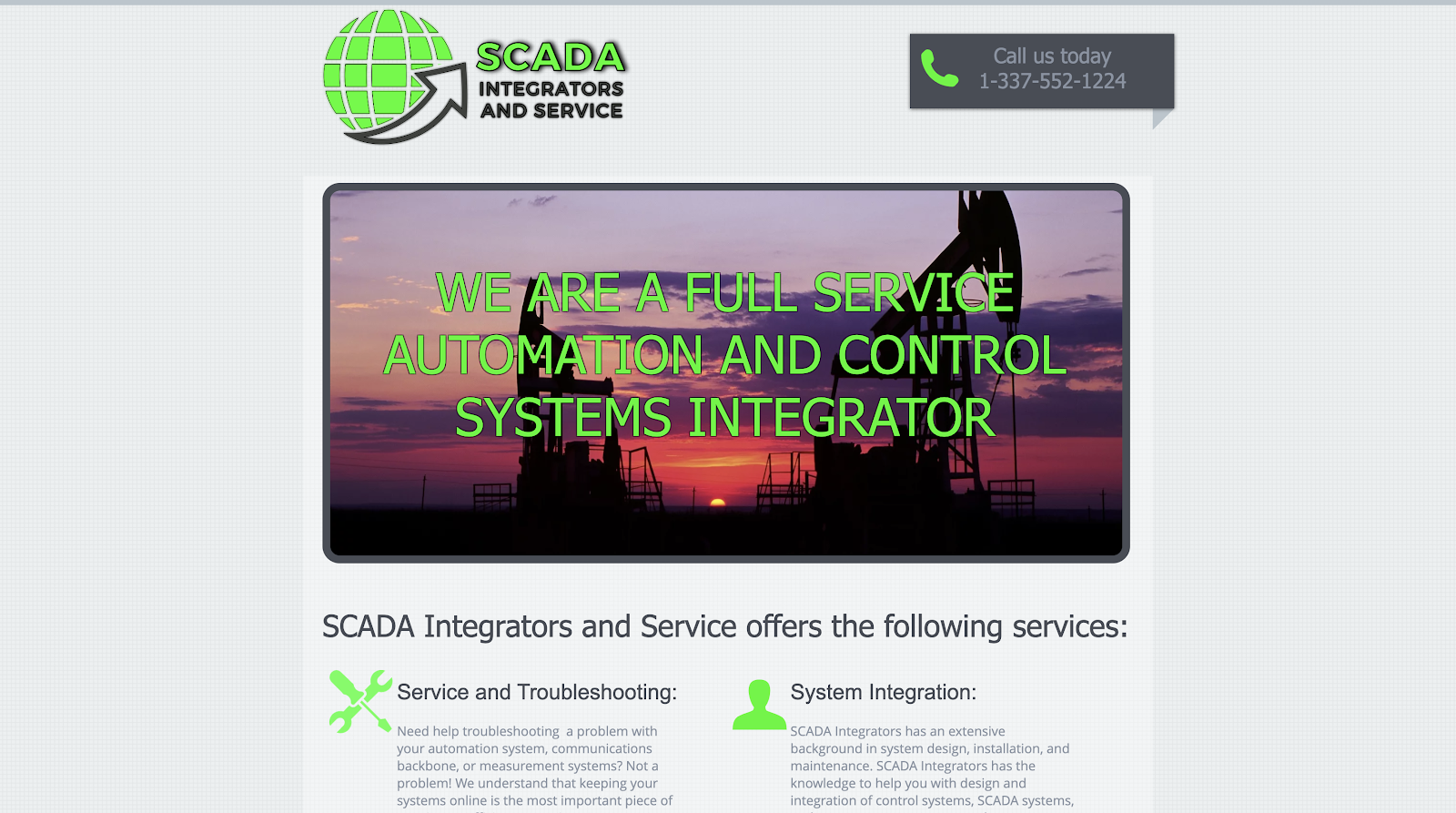 About B-Scada
B-Scada provides software and hardware solutions for the monitoring and analysis of real time data in the SCADA, IoT and Smart City domains. The software is SCADA certified Gold Integrator by Inductive Automation and Silver System Integrator by Kepware.
B-Scada/Scada Integrators Key Services
Service and Troubleshooting
System Integration
Communications
Parts Sourcing
B-Scada Video Support – https://www.youtube.com/channel/UCIp4nW4r03CII-2z9O66UIg
7. CODESYS Visualization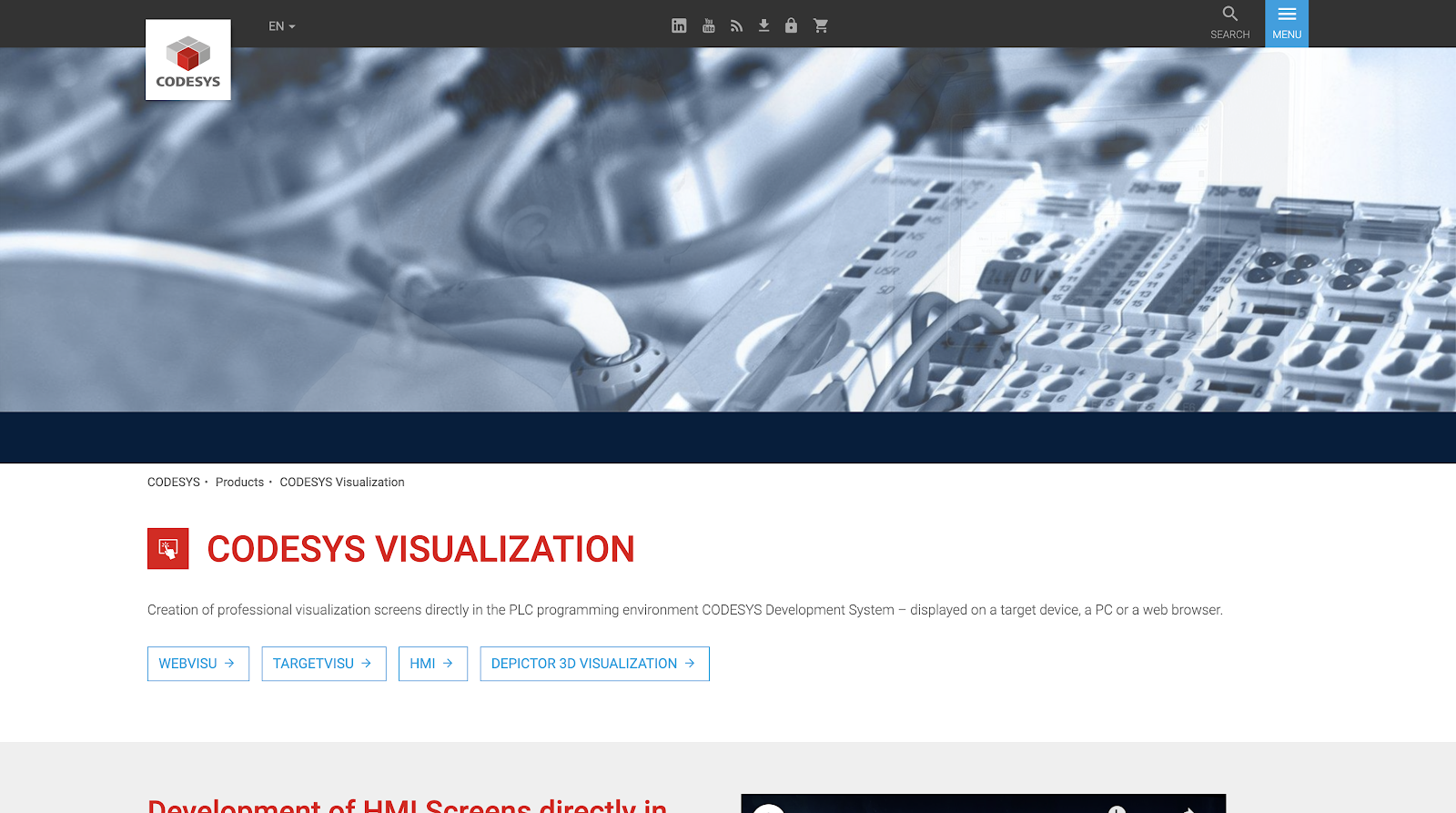 CODESYS Visualization Homepage
About CODESYS Visualization
CODESYS Visualization is developing a human machine interface (HMI) and a PLC application in one and the same IEC 61131-3 development system. Over the past ten years, the CODESYS Visualization has proven itself in thousands of industrial machines and plan applications around the world.
CODESYS Visualization Features
Professional Controls
Integrated Development
Integrated Alarm Management
Comprehensive User Management
User friendly Style Switch
Smart Reusability
Language Switch/Images/Unit Conversion
Slim Modules for Data Recording
Flexible Communication Concept
8. Embedded Control and Monitoring Software Suite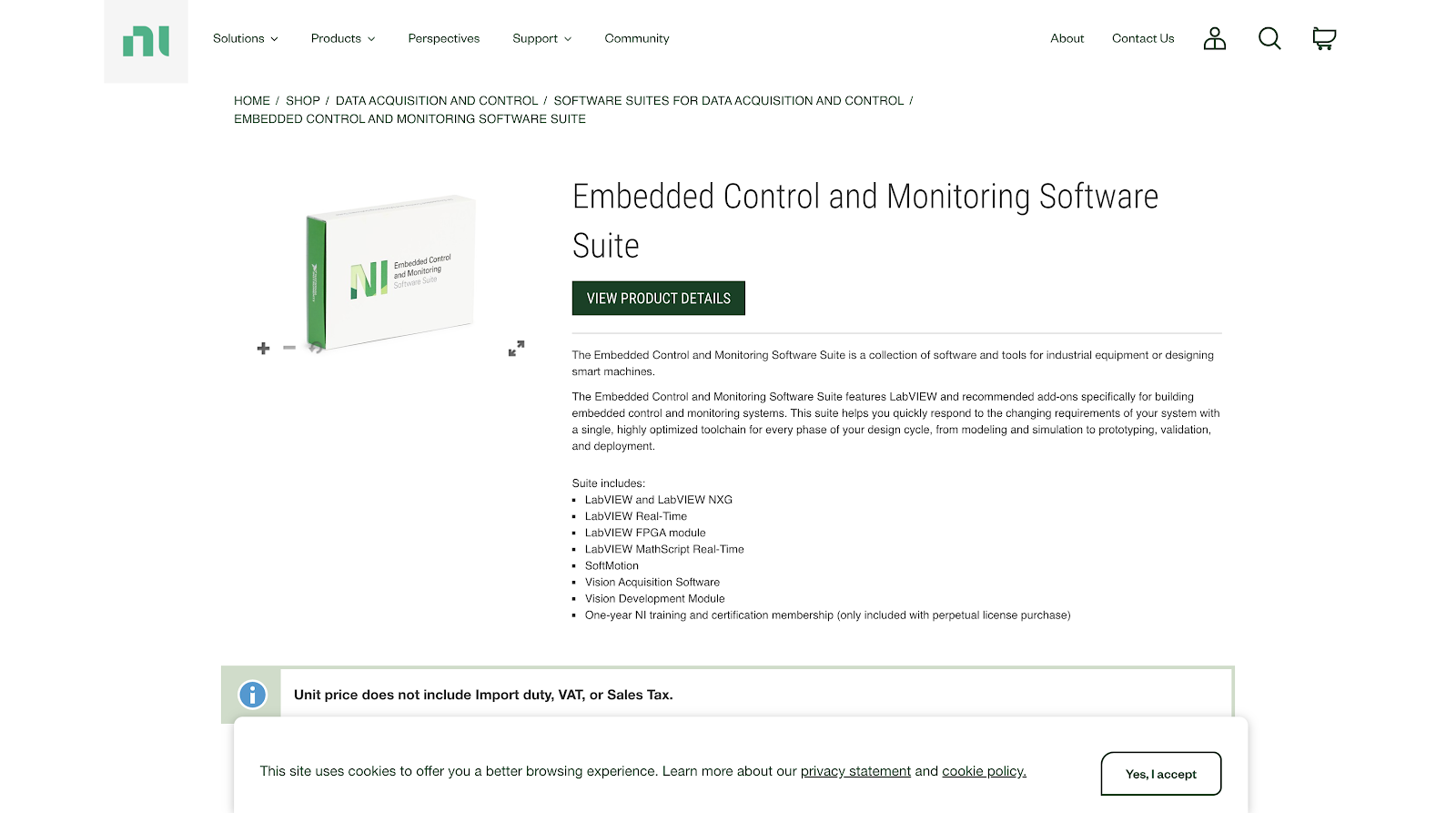 Embedded Control and Monitoring Software Suite Homepage
About Embedded Control and Monitoring Software Suite
The Embedded Control and Monitoring Software Suite is a collection of software and tools for industrial equipment or designing smart machines. The Embedded Control and Monitoring Software Suite features LabVIEW and recommended add-ons specifically for building embedded control and monitoring systems. This suite helps users quickly respond to the changing requirements of their system with a single, highly optimized toolchain for every phase of your design cycle, from modeling and simulation to prototyping, validation, and deployment.
Embedded Control and Monitoring Software Suite Contents
LabVIEW and LabVIEW NXG
LabVIEW Real-Time
LabVIEW FPGA module
LabVIEW MathScript Real-Time
SoftMotion
Vision Acquisition Software
Vision Development Module
One-year NI training and certification membership (only included with perpetual license purchase)
9. AdvancedHMI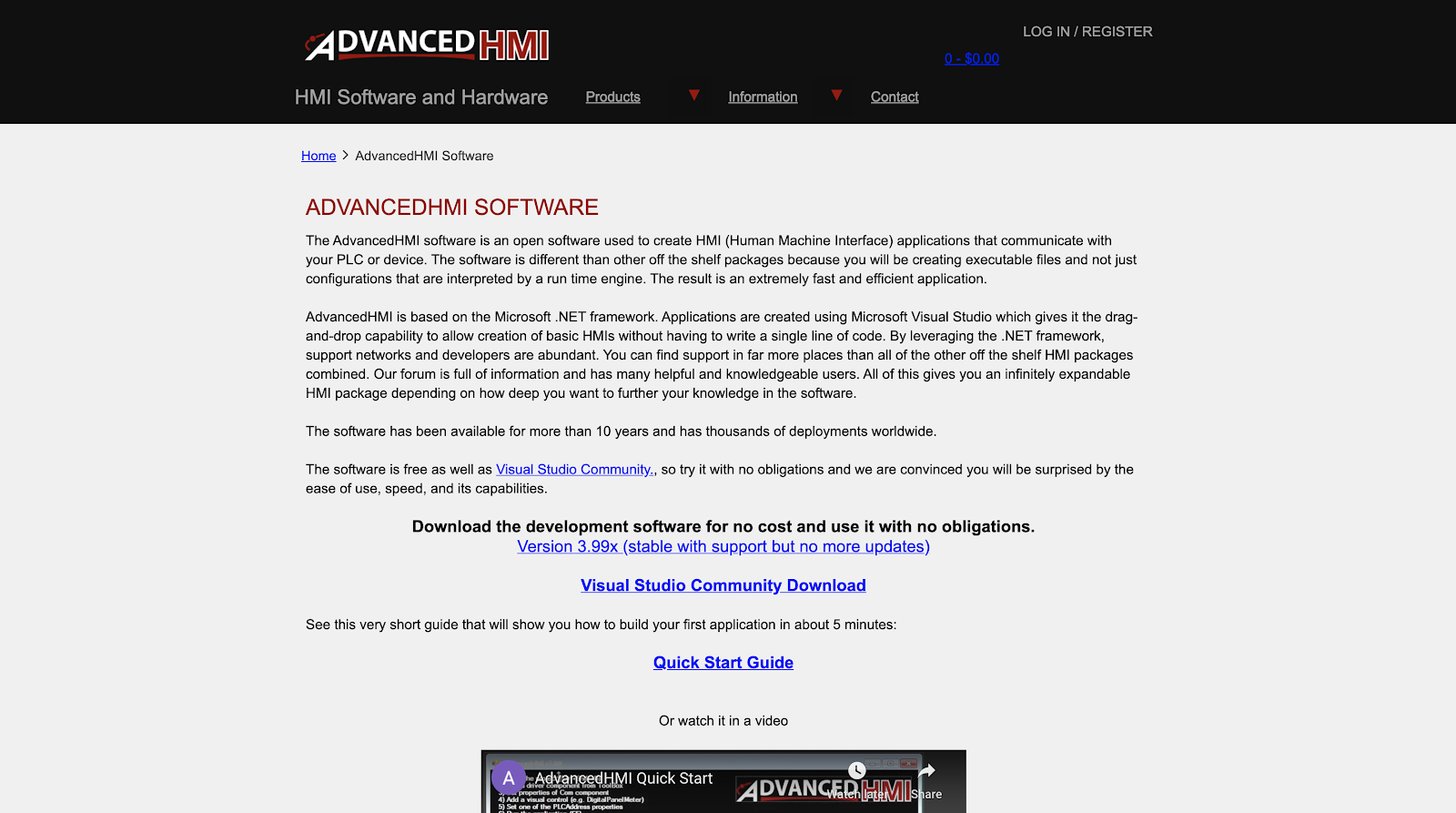 About AdvancedHMI
The AdvancedHMI software is an open software used to create HMI (Human Machine Interface) applications that communicates with the customer's PLC or device. The software is different from other off the shelf packages because the users will be creating executable files and not just configurations that are interpreted by a run time engine. The result is an extremely fast and efficient application.
AdvancedHMI Supported PLCs and Devices
Ethernet IP for CLX
Ethernet IP for SLC Micro
Modbus TCPModbusRTUOmron Host Link
Omron FINS
TwinCAT via TCP/IP
TwinCAT via AMSRouter
AdvancedHMI Video Support – https://www.youtube.com/user/arj3090
10. Ansys SCADE Display – Design robust embedded displays for human machine interfaces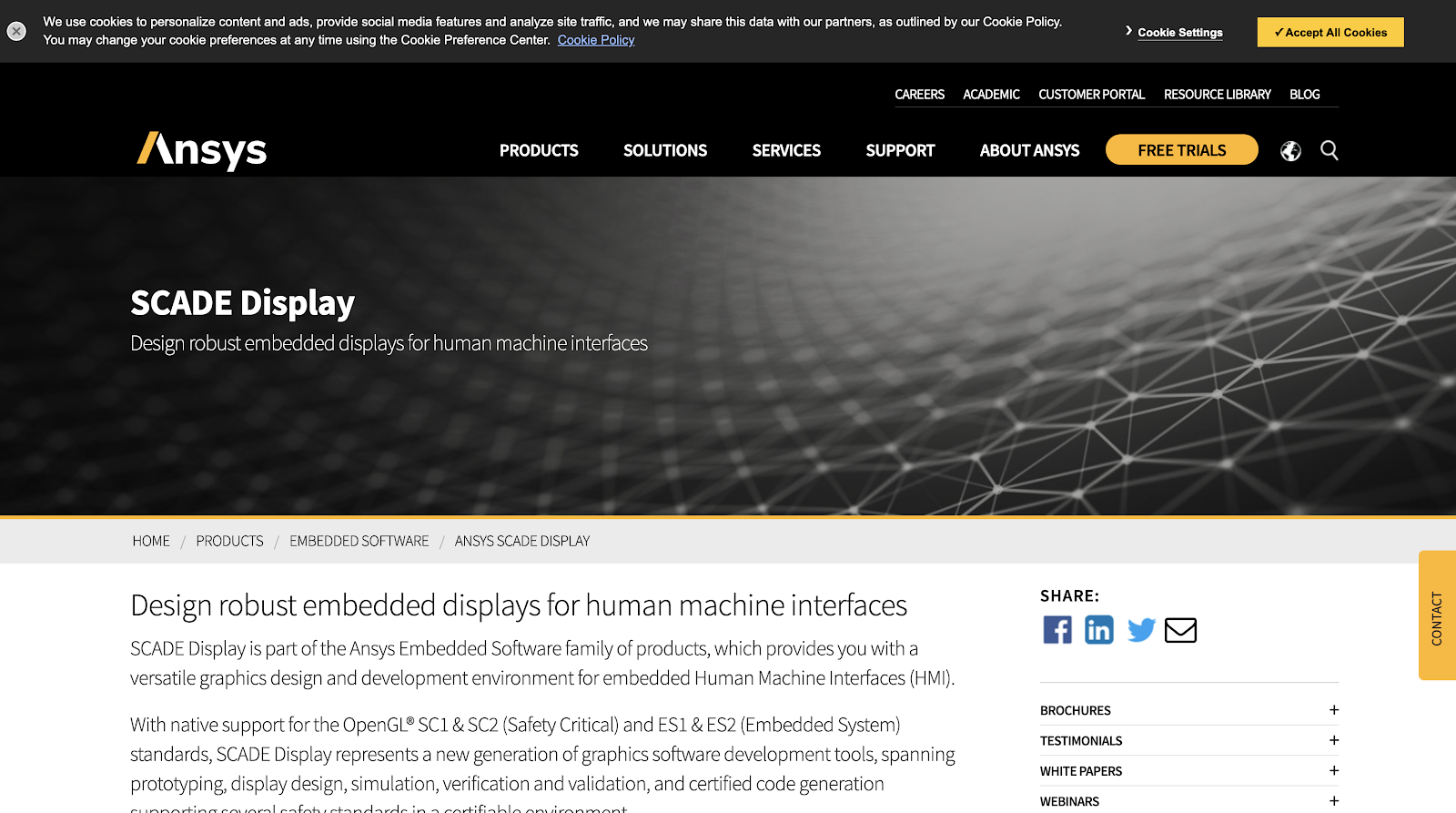 About Ansys SCADA Display
SCADE Display is part of the Ansys Embedded Software family of products, which provides you with a versatile graphics design and development environment for embedded Human Machine Interfaces (HMI). SCADE Display represents a new generation of graphics software development tools, spanning prototyping, display design, simulation, verification, validation and certified code generation supporting several safety standards in a certifiable environment.
Ansys SCADA Display Features
Graphical Prototyping and Design
HMI Behavioral Logic Design
Support for Application Lifecycle Management
Interactive Simulation
Integrated Design Checking
HMI Testing Automation
Automatic Code and HMI Generation
Certification for Critical Safety Standards
Connectivity with System Simulation Tools
Ansys Video Support – https://www.youtube.com/user/ANSYSHowToVideos
11. Ansys SCADE Test – Test, verify and validate your embedded software.
About Ansys SCADE Test
SCADE Test is part of the ANSYS Embedded Software family. It provides users with a complete testing environment for requirements validation and test case creation and management. It also lets users automate test case execution both on host and on target, measure coverage and manage test results for any SCADE application.
Ansys SCADE Test Features
Requirements Validation
Testing Control Software Applications on Host
Model and Code Coverage Analysis
Test Execution on Target
System-in-the-Loop Testing
Ansys Video Support – https://www.youtube.com/user/ANSYSHowToVideos
12. ASTRA HMI/SCADA – Better Business Through Little Attachment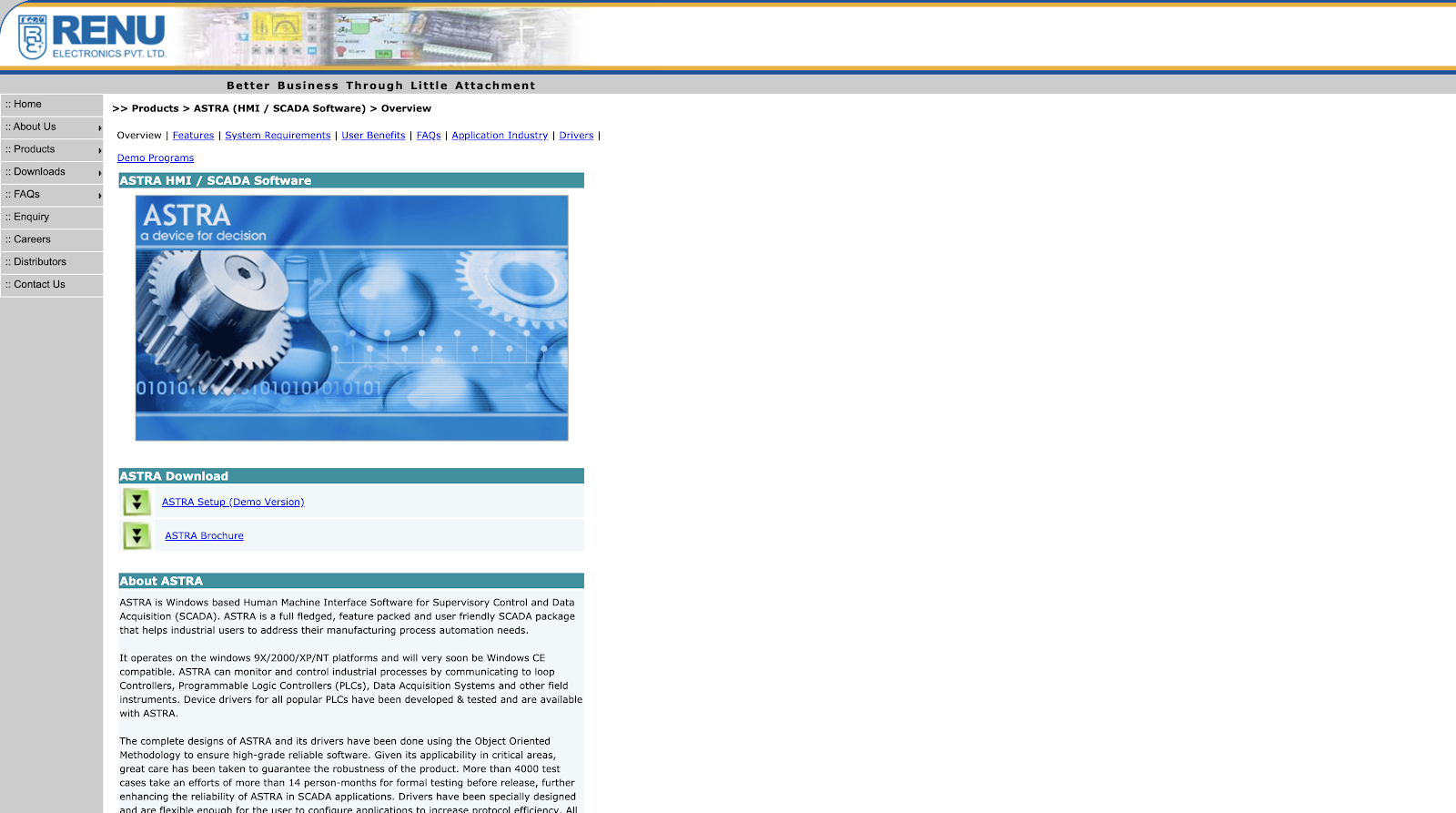 About ASTRA HMI/SCADA
ASTRA is Windows based Human Machine Interface Software for Supervisory Control and Data Acquisition (SCADA). ASTRA is a fully fledged, user friendly SCADA package that helps industrial users to address their manufacturing process automation needs. ASTRA can monitor and control industrial processes by communicating to loop Controllers, Programmable Logic Controllers (PLCs), Data Acquisition Systems and other field instruments. Device drivers for all popular PLCs have been developed & tested and are available with ASTRA.
ASTRA Features
Powerful SCRIPT
Recipe Management
256 Levels of Security
Alarms and Reports Management
Variety of Graphics and Animations
Extensive Data and Event Logging
Real Time and Historical Trending
Wizards for Screen Development
Communication: One to one, Multi-Drop,
Modem, Ethernet, TCP/IP
Extensive Tags and Database Management
Connectivity to EXCEL via DDE
HTTP Web Server and Remote Data Access
Excel Report Generator (Script Based)
Advanced Component Library
Open Data Based Connectivity (ODBC)
OLE for Process Control (OPC Client)
Software and Hardware Lock Support
Alarm notification through SMS & Email
In conclusion!
Hope the article helps you in selecting the best Supervisory Control and Data Acquisition (SCADA) or Human Machine Interface (HMI) Software that's best for you and your corporation. Analyze your requirements and select the platform which best suits your needs.