Reputation management software was solely designed to help businesses spectate, analyze and manage their online reviews across all online channels and platforms, such as review sites and social media.
The software's aim is to help businesses capture customer experiences by identifying and responding to negative reviews, generating new reviews, and promoting positive customer experiences. Some platforms also provide sentiment analysis tools to indicate positive, negative or neutral experiences which allows companies to identify major problems and take steps to address the issue where-ever possible.
Typical features of a Reputation Management Software
Review monitoring
Social media monitoring
Review generation
Reporting and analysis
Response management
Sentiment analysis
Today's article will talk about the best corporate Reputation Management software in 2022. The article will discuss the features and pricing of each product. The order of the article is decided on the number of design, support, and most importantly customer reviews by the users and corporate leaders.
1. Hootsuite – Easily manage all your social media and get results with Hootsuite.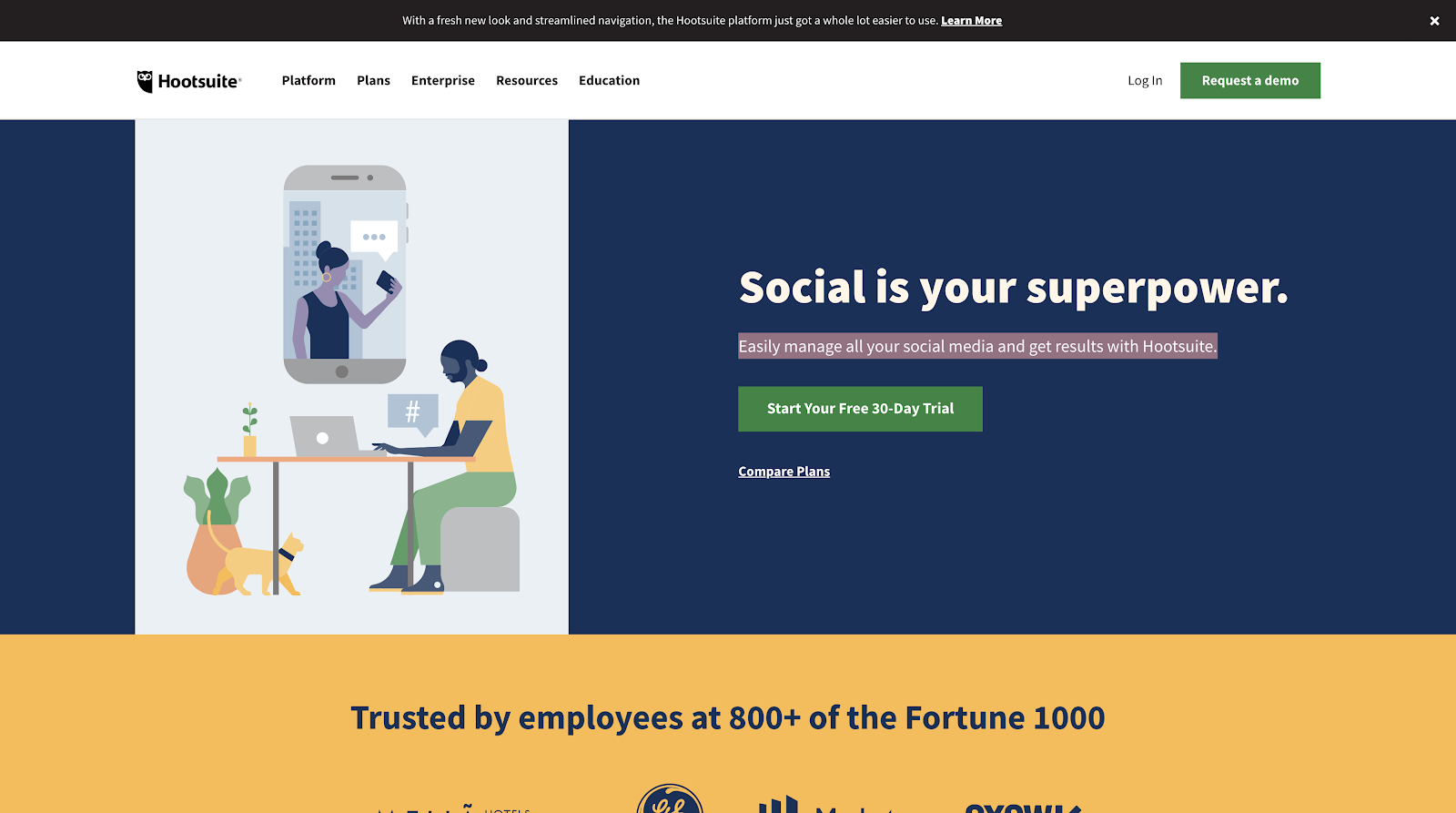 About Hootsuite
Hootsuite is the world's most widely used social media management platform which was designed for organizations to execute social media strategies across multiple social media networks. With Hootsuite, Teams can collaborate within a secure environment across all devices and departments to manage social media profiles, engage with customers, and generate revenue.
Hootsuite Features
Campaign Management
Response Management
Sentiment Analysis
Social Media Metrics
Social Media Monitoring
Campaign Analytics
Competitor Monitoring
Customizable Reports
Post Scheduling
Automated Publishing
Brand Tracking
Collaboration
Content Management
Customer Engagement
Multi-Account Management
Post Scheduling
Reporting/Analytics
Hootsuite Video Support – https://www.youtube.com/user/hootsuite
2. DJUBO – CONTROL, ENHANCE AND MAXIMISE REVENUES LIKE NEVER BEFORE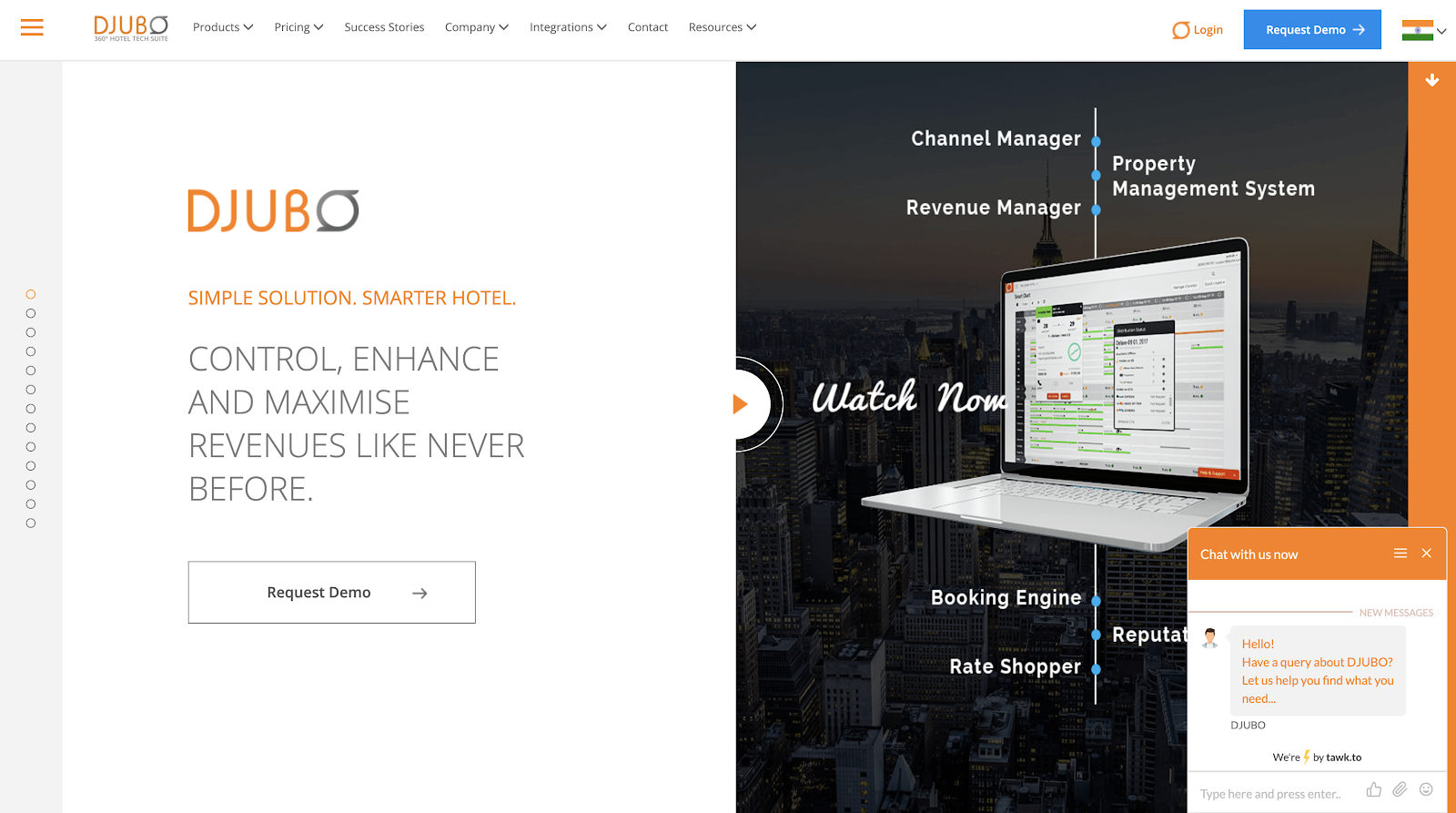 About DJUBO
DJUBO helps in enhancing your hotel's online & offline distribution with auto-sync Channel Manager & CRS to improve revenues, market your hotel better beyond traditional OTAs. Streamline your operations with DJUBO's integrated Property Management System, manage your hotel's online reputation/reviews and improve your decision-making abilities with it's sales analytics & market intelligence tools.
DJUBO Features
DJUBO PMS – Property Management System
DJUBO CRS – Central Reservation System for Hotels
DJUBO Instaconnekt – Hotel Channel Manager
DJUBO Direct Book – Booking & Payment Engine
DJUBO Insight – Hotel Sales Analytics
DJUBO Fireball – Meta-search Advertising for Hotels
DJUBO POS – Cloud-based Point Of Sale
DJUBO Starsight – Online Reputation & Review Management
DJUBO Foresight – Hotel Rate Shopper & Price Intelligence
DJUBO Cerebrum – Intelligent Revenue Manager
DJUBO Video Support – https://www.youtube.com/channel/UCrOrDFGeONJp6M3WcpwZHcw
3. Percolate – The leading Content Marketing Platform for the Enterprise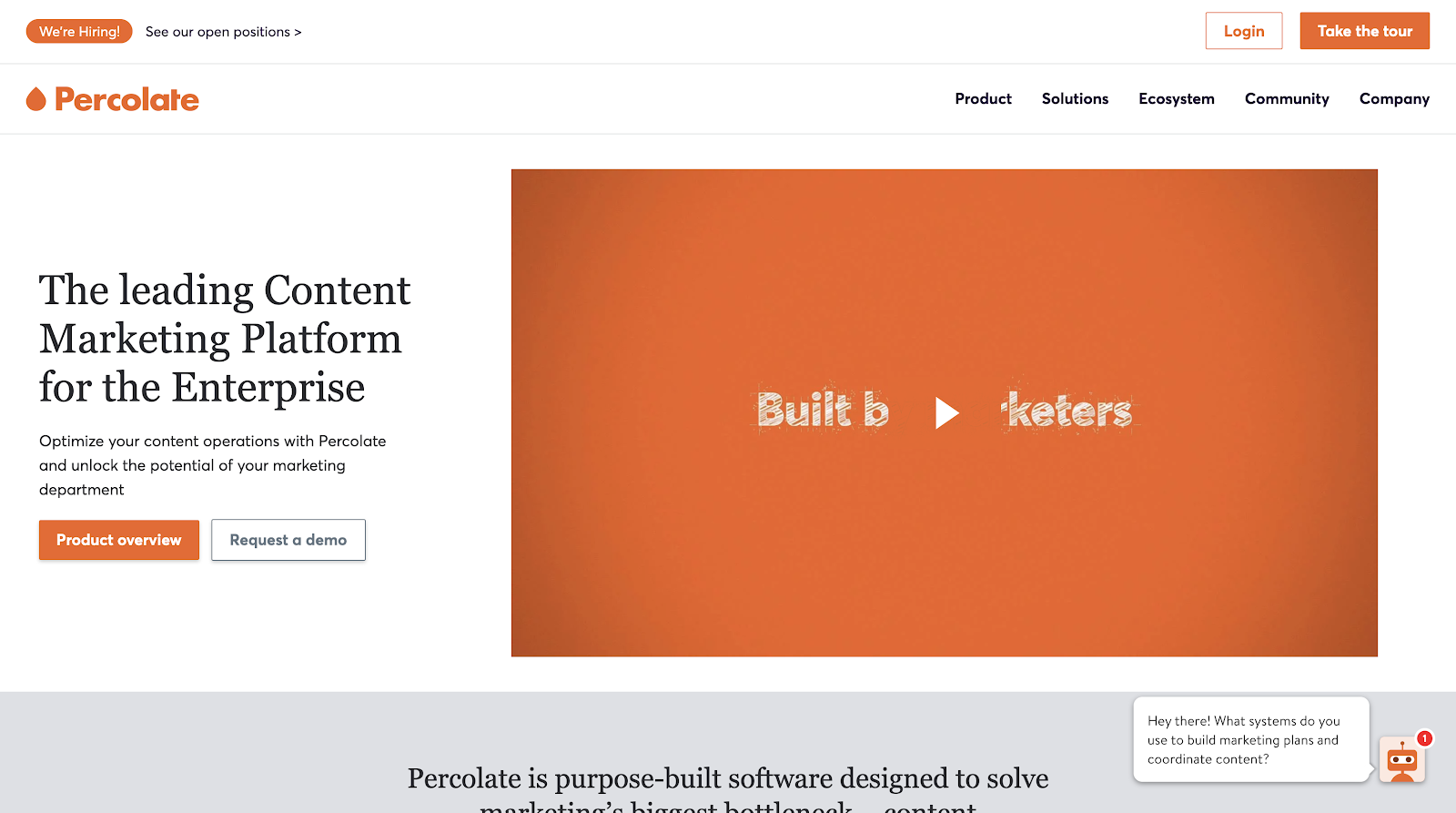 About Percolate
Percolate boosts marketing teams to gain visibility into the marketing process, improve coordination of work, and effectively build marketing campaigns and content with analytics to measure impact. Percolate can create a coordinated buyer experience, reduce production costs, and improve marketing impact.
Percolate Features
Campaign Management
Project Management
Workflow Management
Event Triggered Actions
Lead Management
Multi-Campaign
Channel Management
Campaign Management
Channel Analytics
Brand Management
Campaign Management
Categorization/Grouping
Editorial Calendar
Multi-Channel Publishing
Publish Scheduling
Social Media Management
Percolate Video Support – https://www.youtube.com/user/percolatevideo
4. WebPunch – online reputation management software.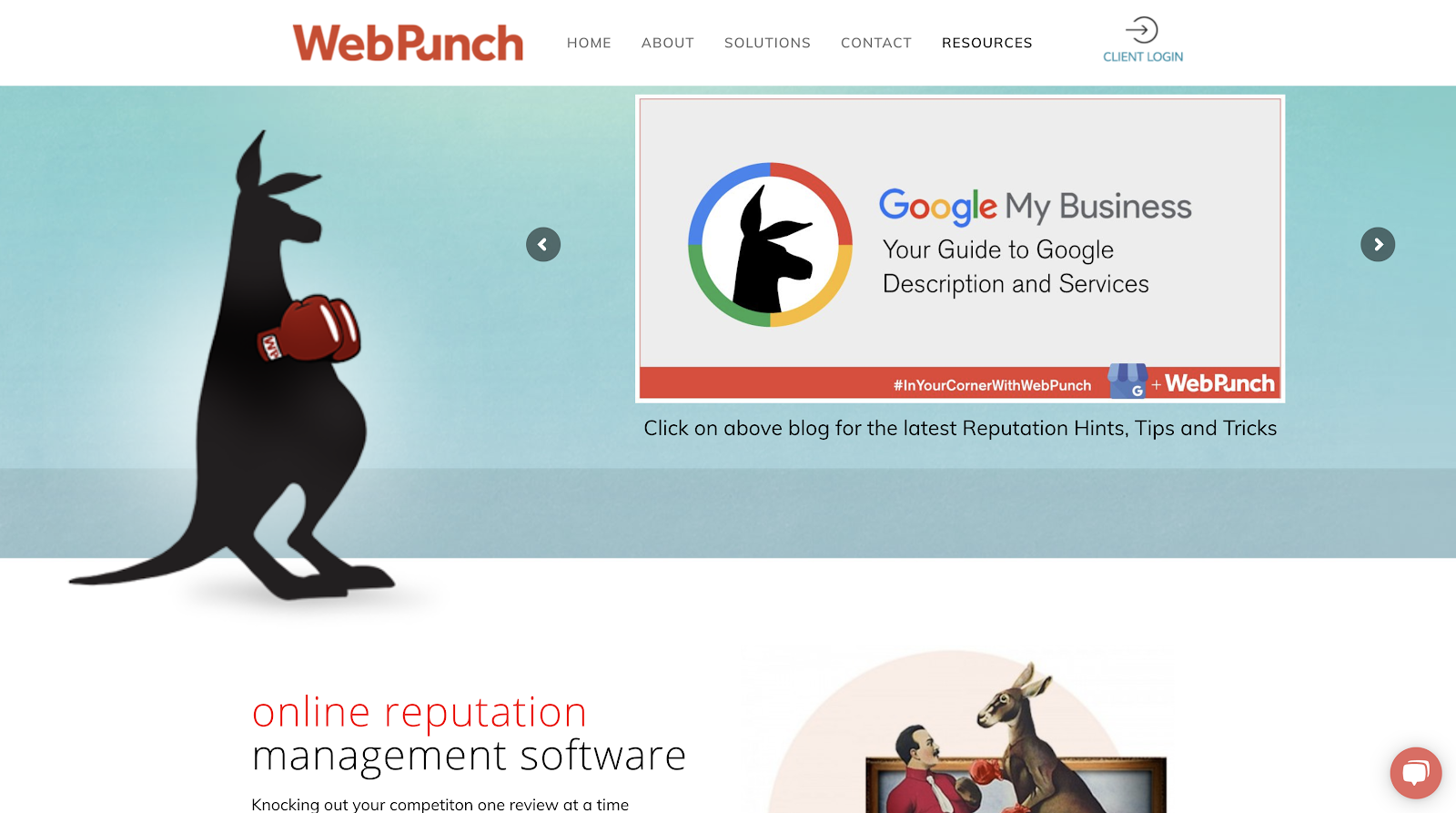 About WebPunch
WebPunch is an online reputation company that focuses on brand health and public reviews. WebPunch uses proprietary softwares and derives the strengths and weaknesses of a brand from the customer point of view. WebPunch then makes it easy for a brand's advocates to spread the good word by way of online customer reviews.
WebPunch Features
Campaign Management
Response Management
Review Generation
Review Monitoring
Sentiment Analysis
Social Media Monitoring
Dashboard
Response Management
Review Notification
Review Request
WebPunch Video Support – https://www.youtube.com/channel/UC9UriEcicEfEx78Rj3Yc38w
5. Chatmeter – The Location Experts.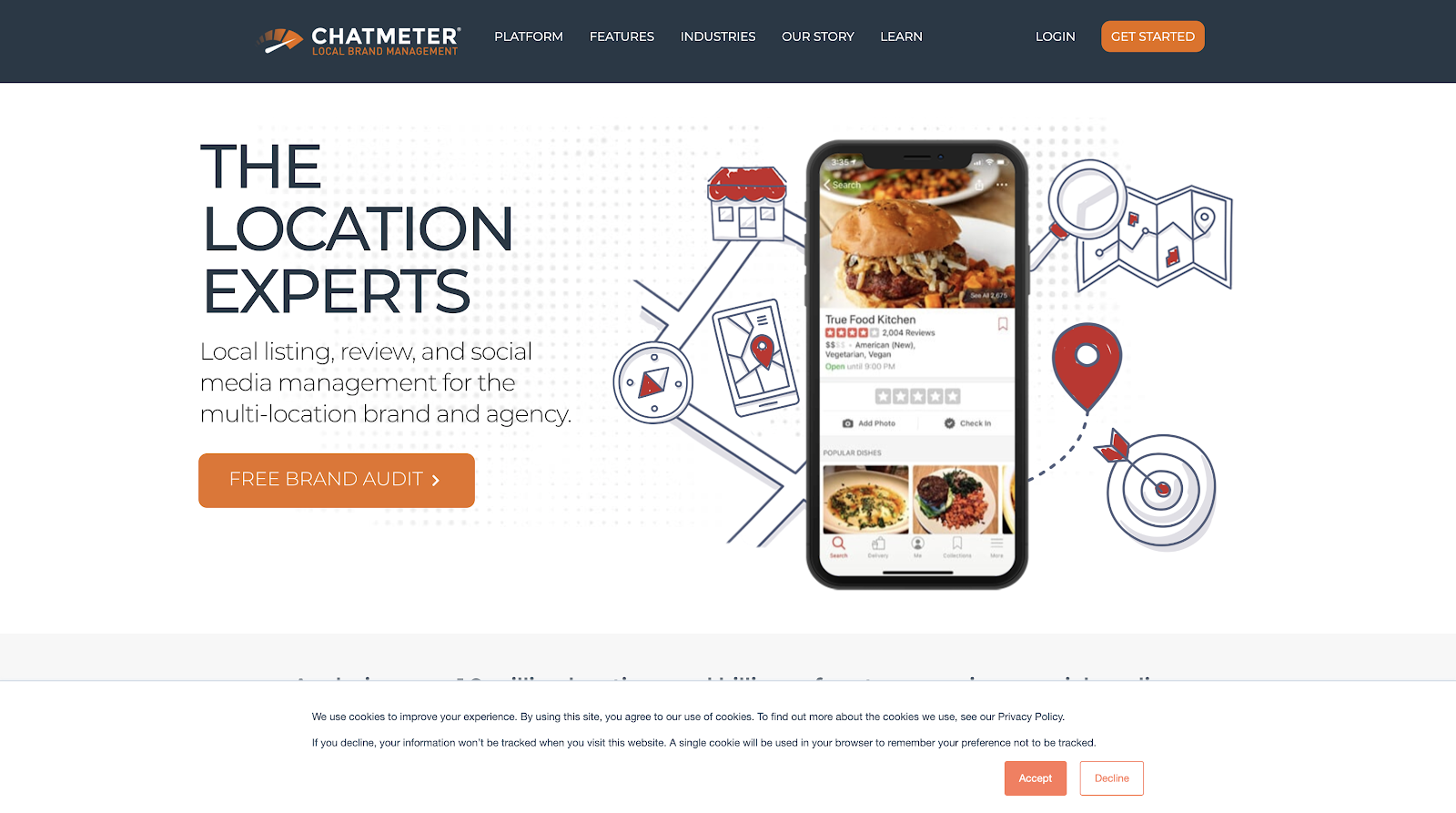 About Chatmeter
Chatmeter forte is online reputation and review management for multi-location brands and agencies. The software helps businesses make a distinct impact in revenue by strengthening various areas of their online presence that determine if a customer will visit their store, or not including online reviews, local business listings, SEO rankings, and more.
Chatmeter Features
Analytics Studio
LBV Score – More the Local Brand Visibility score, better the reputation.
Pulse – For sentiment analysis.
Workflow – For quickest reaction to customers.
Chatmeter Video Support – https://www.youtube.com/user/TheChatmeter
6. Great Recruiters – Create the Perfect Candidate Experience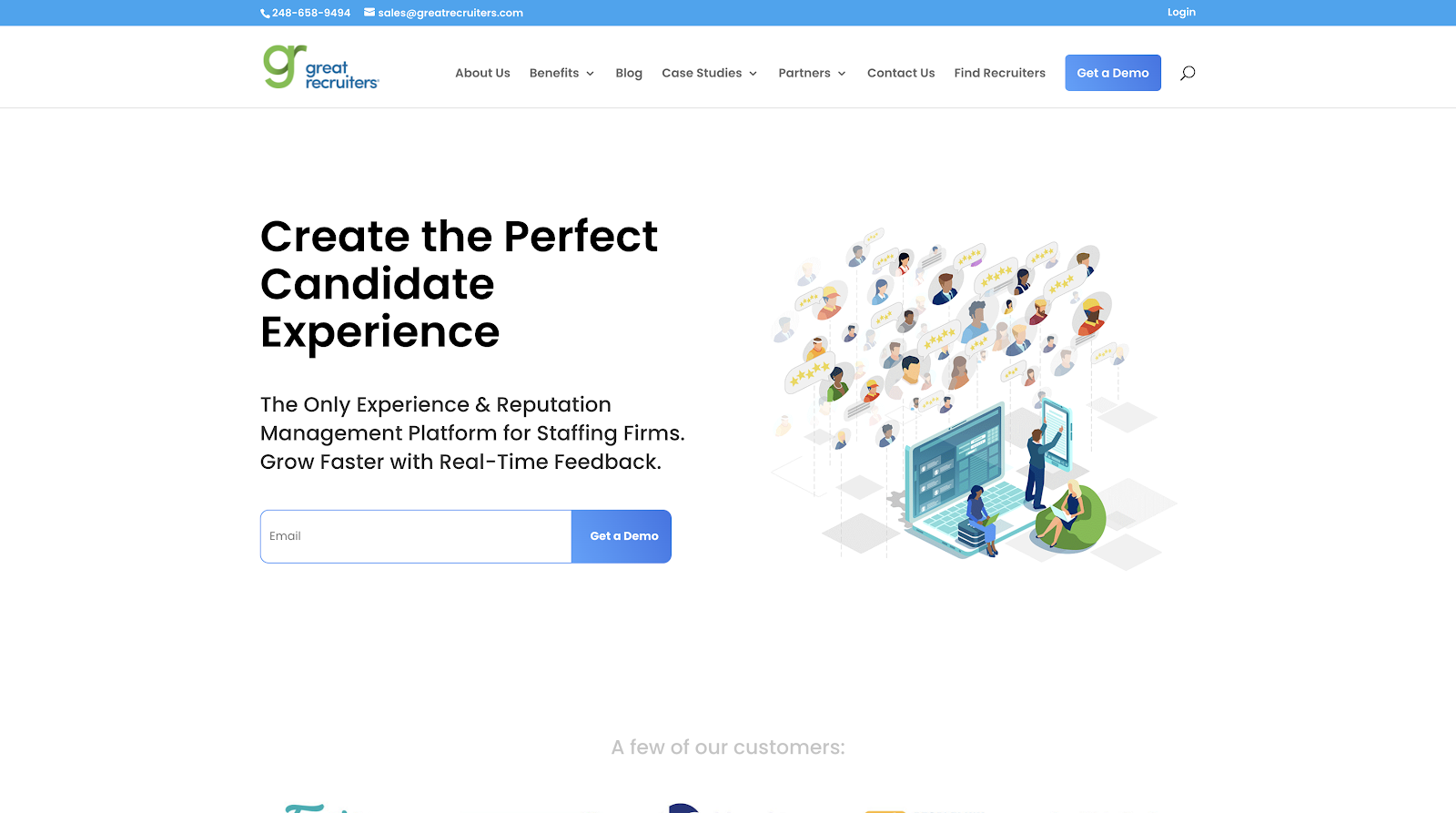 About Great Recruiters
In a nutshell, the platform is a reputation management solution built for staffing agencies to capture candidate feedback in real-time, measure recruiter performance, and improve the recruiting process.
Great Recruiters Features
Actively Manage Your Reputation
Create The Best Candidate & Client Experience
Improve Recruiter Performance
Protect Your Brand
Great Recruiters Video Support – https://www.youtube.com/channel/UCGpxed0O9SLZJQHxnhJII4w
7. rater8 – Create buzz around your medical practice.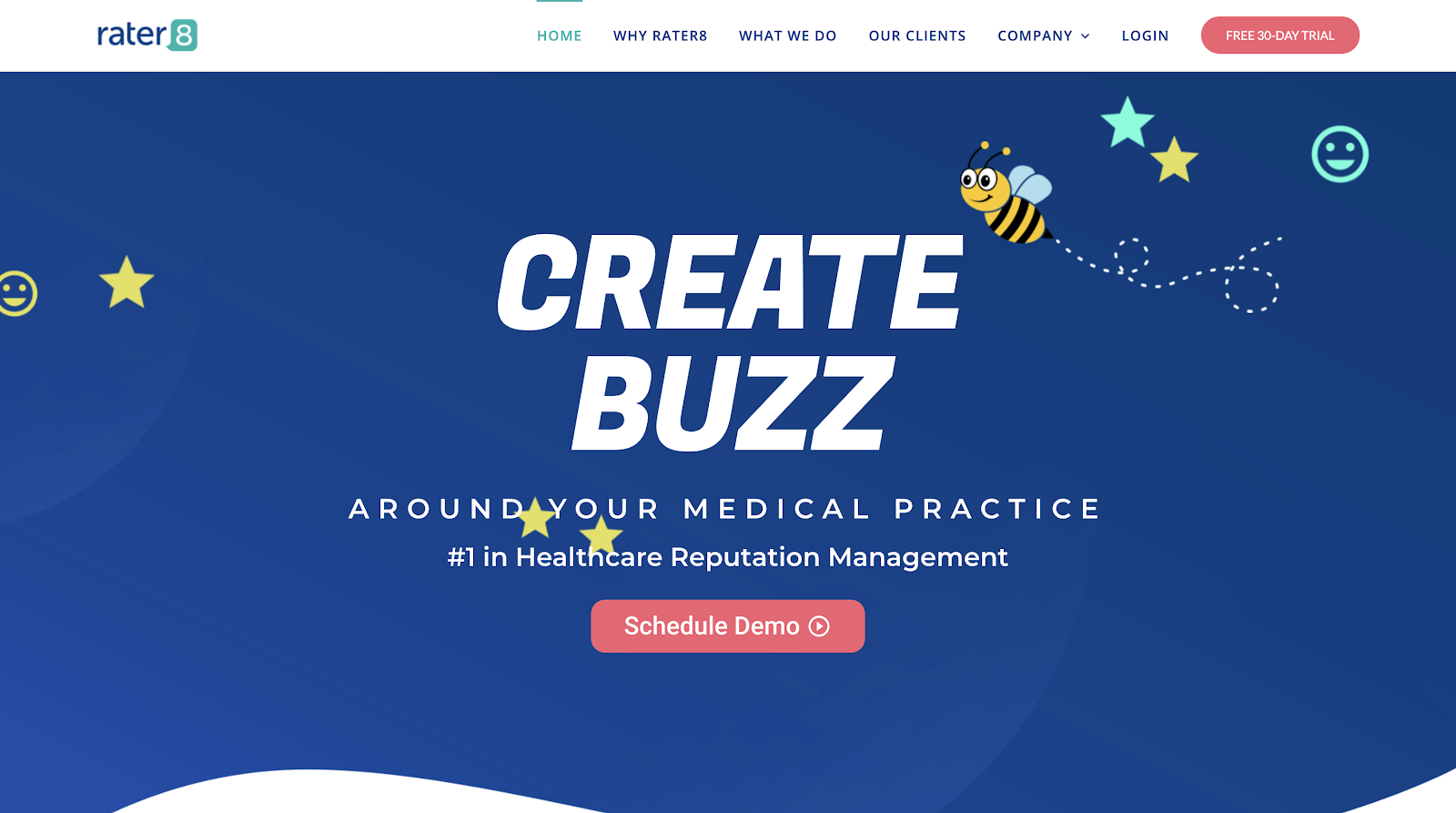 About rater8
Catalyze your online reviews with rater8, the leader in healthcare reputation management. Rater8 enables medical practices to gather real-time patient feedback about doctors and patient-facing employees. Thus helping medical practices improve patient satisfaction and build robust online reviews across social media platforms.
Rater8 Features
Local Competition
Online Reviews
Practice Improvement
Patient Testimonials
Patient Volume
Referral Network
rater8 Video Support – https://www.youtube.com/channel/UC_H_Kg5qKnb6s_YC6BATLYQ
8. NapoleonCat – One social media tool to manage it all.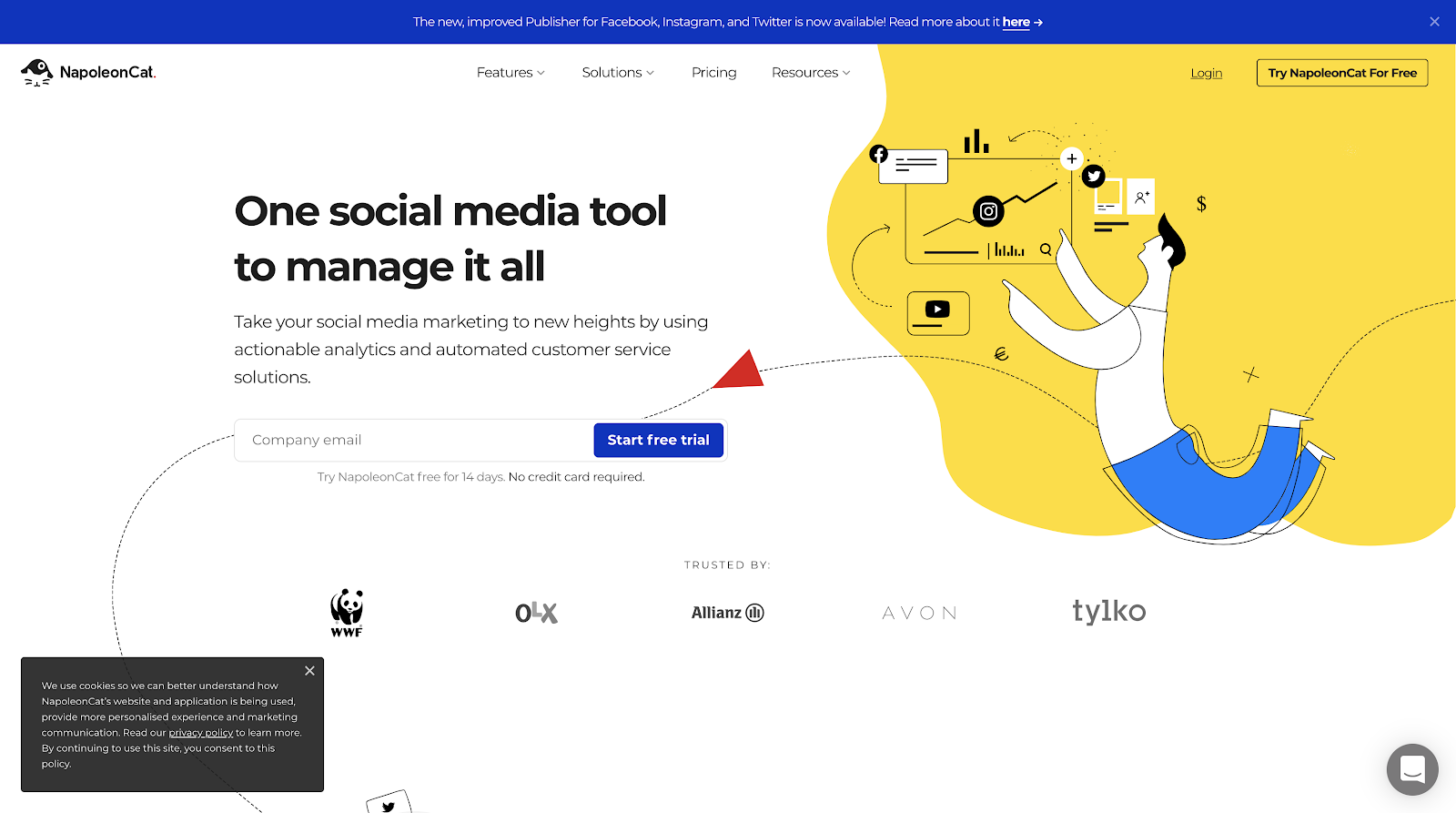 About NapoleonCat
NapoleonCat is a social media management and customer service tool whose functionalities include managing multiple social media channels, automating customer service, analyzing marketing results, monitoring and benchmarking against competitors, collaborating within teams and automating reporting processes.
NapoleonCat Features
Analytics
Social Inbox
Manage social customer service
Dashboards
Reporting and analytics for influencers
Automation
Scale sales and improve workflows
Reporting
Publishing
Instagram Scheduler
NapoleonCat Video Support – https://www.youtube.com/channel/UC7THaxj-8R9jxYg_DwVRY5Q
9. ReputationStacker – Turn your customers into raving fans on any online review site.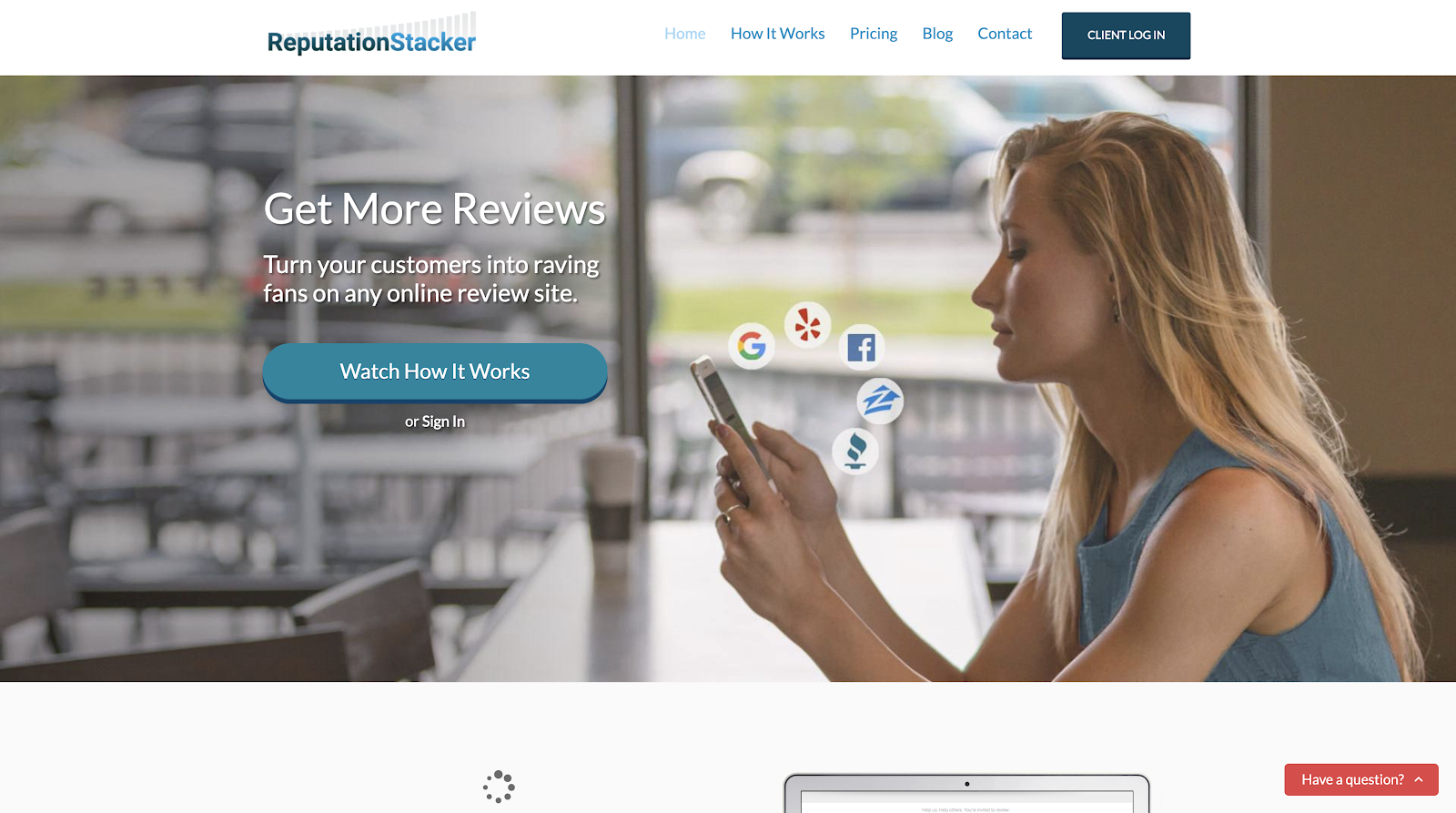 About ReputationStacker
Cloud-based solution for businesses that helps automate and manage online customer reviews and brand reputation.
ReputationStacker Features
Analytics
Complaint Monitoring
Feedback Collection
ReputationStacker Video Support – https://www.youtube.com/channel/UCp-ywYLHH1oqrKwQ9VUE7Pw
10. Mentionlytics – Intelligent Social Media Monitoring.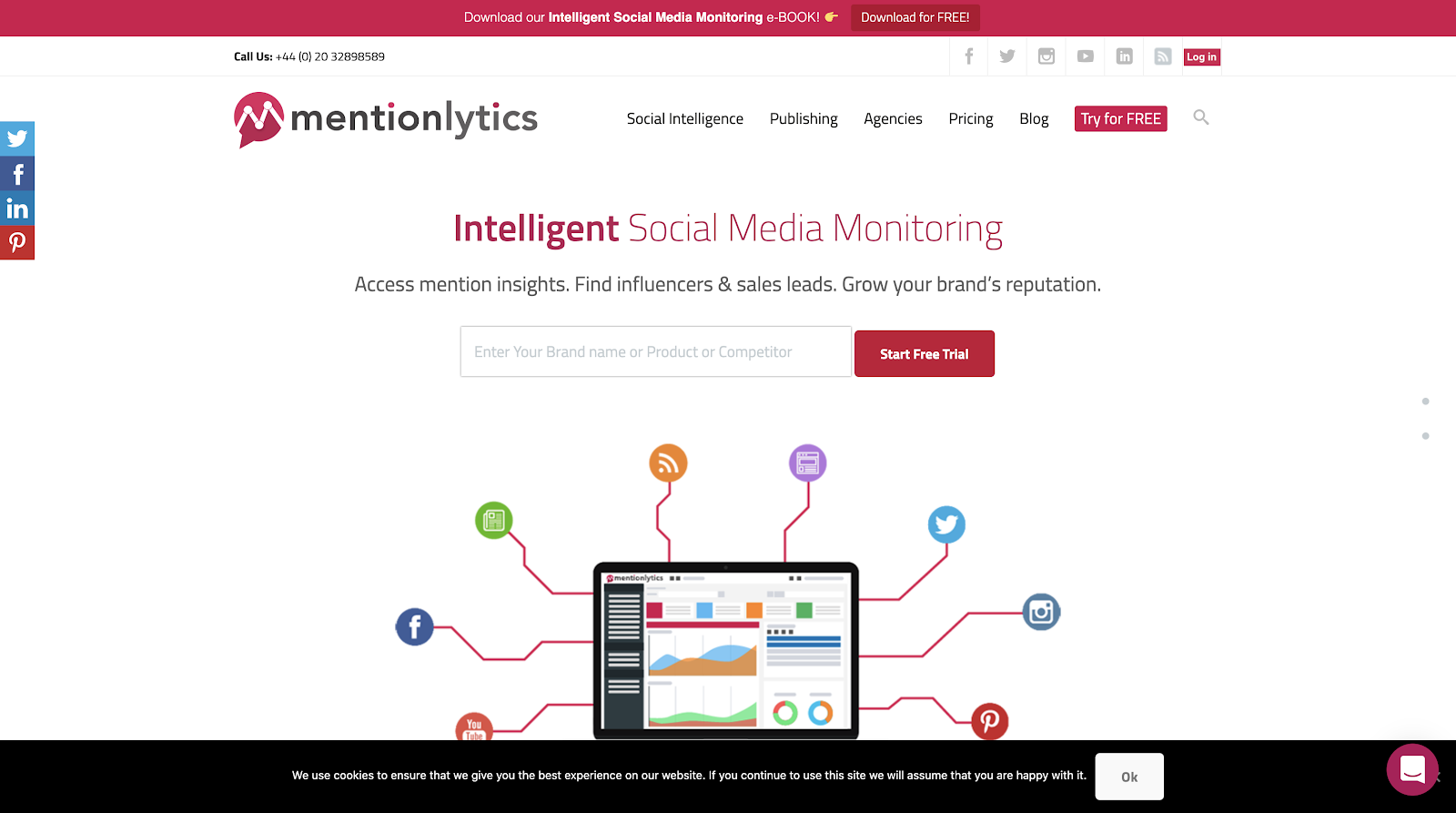 About Mentionlytics
Mentionlytics is a Web and Social Media Monitoring platform and capable to monitor mentions on various platforms. The design and experience of mentionlytics are quite pre 2015 and seeking a new update. In general, the platform can help businesses understand the customer's voices about your brand on social media platforms.
Mentionlytics Features
Social Media Monitoring
Competitor Monitoring
Campaign Management
Response Management
Review Monitoring
Sentiment Analysis
Social Media Metrics
Campaign Analytics
Customizable Reports
Engagement Tracking
Influencer Tracking
Lead Attribution
Multi-Channel Data Collection
Post Scheduling
Mentionlytics Video Support – https://www.youtube.com/channel/UCzXXmbrVwc8duIe_U4hC-9A
11. Locobuzz – Digital Citizen Support Management Suite.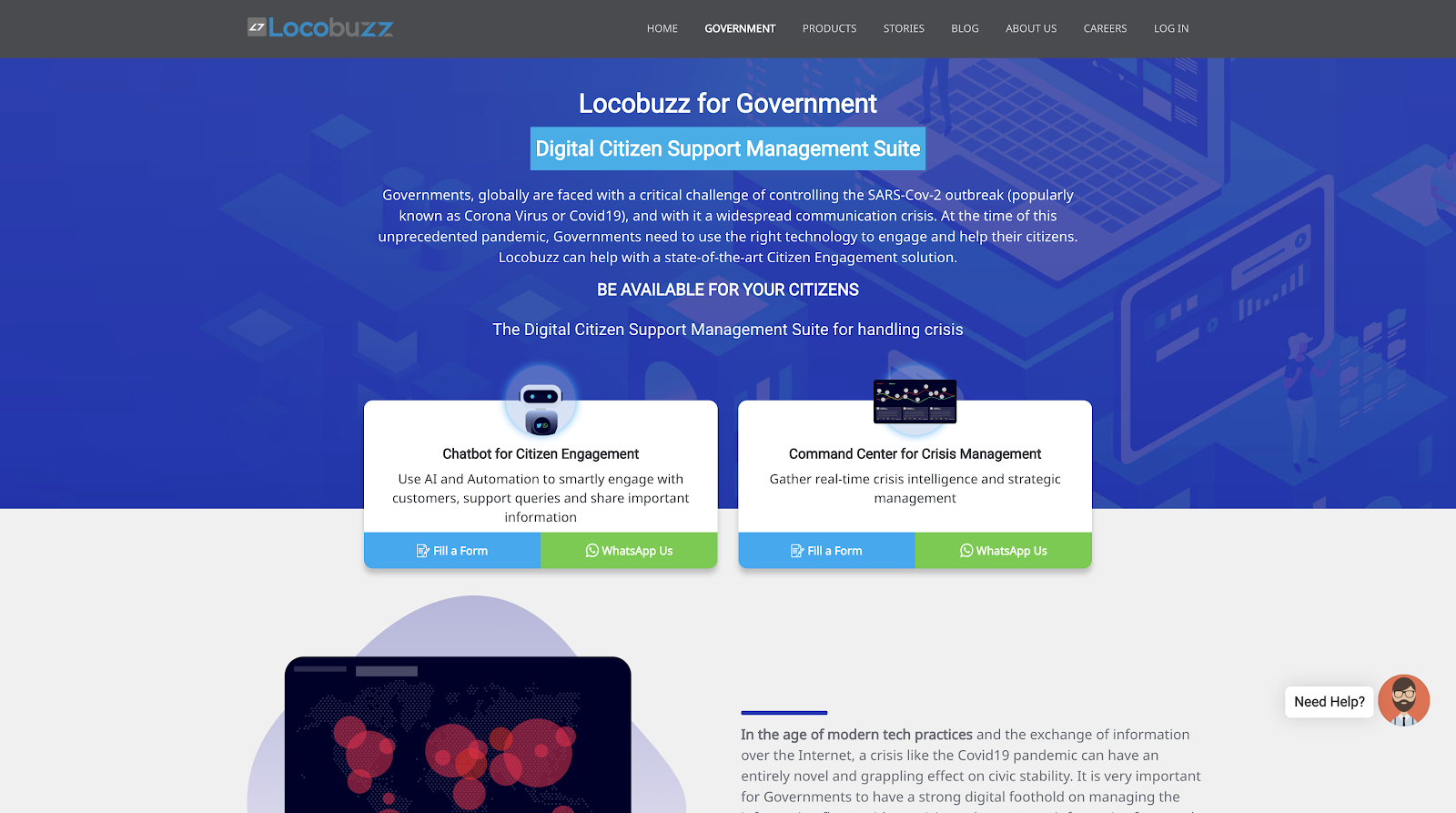 About Locobuzz
This is a platform where industry converges with Customer Experience management to provide an end-to-end solution for Marketing, Branding and Customer Service Enhancement. Locobuzz offers Social Listening, Online Reputation Management, Digital Intelligence and Chatbots connected via dashboards under a singular tool, to deep dive into actionable Analytics and Insights.
Locobuzz Features
Complete Social Media Management
Historic Data and Local Languages
Team Workflows
Real-Time Experience
Thought Leadership
Crisis Management
Round the Clock Services
Great opportunities for Precision Marketing and Lead Generation
Extremely Cost-Effective
Locobuzz Video Support – https://www.youtube.com/channel/UC0vfIaD6YpzsxLBcBwhR5Ag
12. Binary Fountain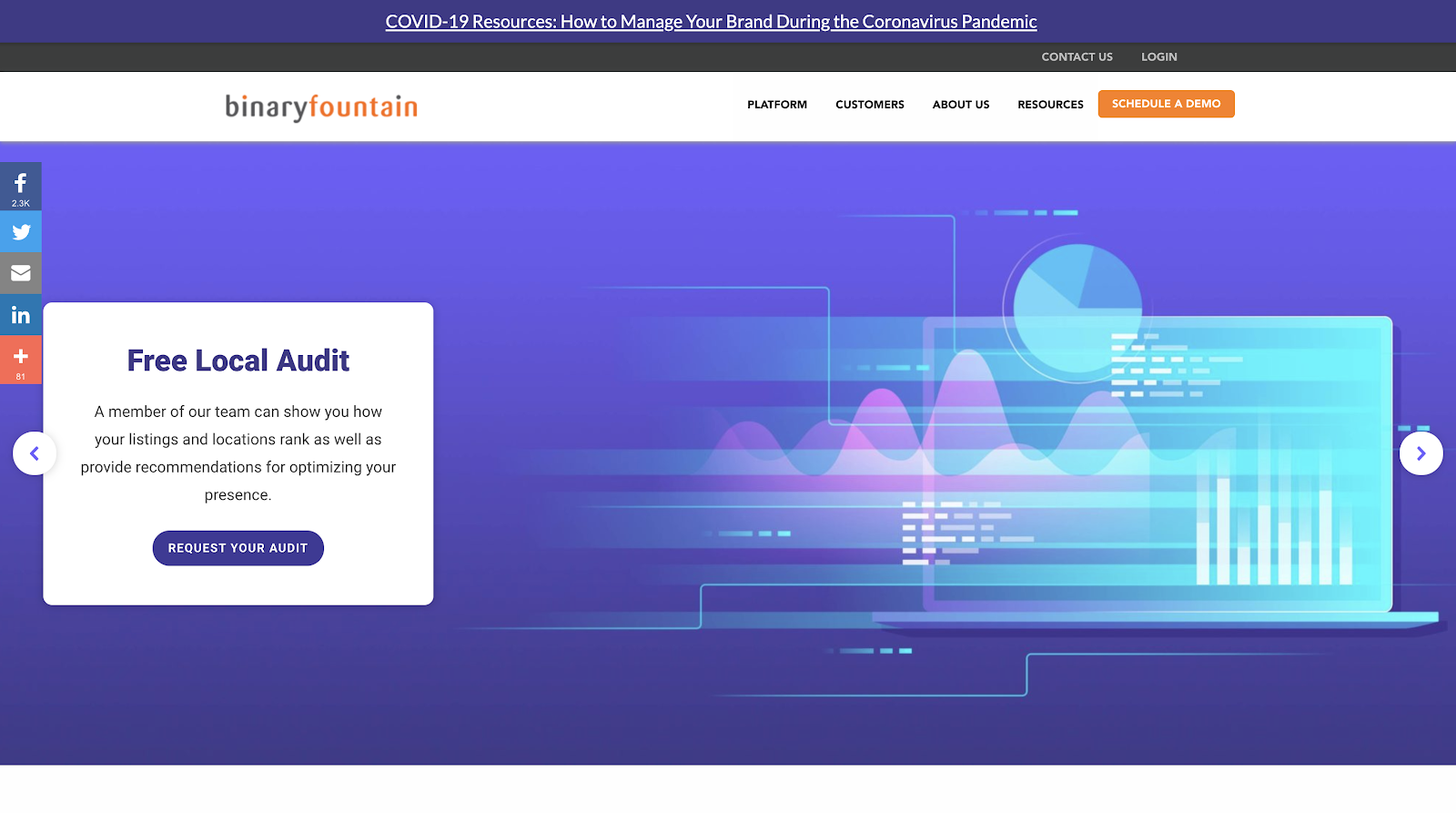 About Binary Fountain
Binary Fountain is the leading online reputation management platform for enterprises, healthcare organizations, and small and medium-sized businesses because it's anchored in its Natural Language Processing (NLP) technology. This cloud-based platform mines customer and employee feedback from surveys, online ratings and review sites, social media, and other data sources to equip organizations with actionable insights needed to improve brand loyalty, increase engagement and drive sustainable bottom-line results.
Binary Fountain Features
Deep Analytics
Review Manager
Listings Management
Star Ratings
Mobile Testimonials
Messaging
Social Media Management
Employer Brand Analytics
Employer Brand Reviews
Binary Fountain Video Support – https://www.youtube.com/channel/UCIAz392A-o4CSrorSrAw0HA
13. Uberall – Drive Revenue in the Age of 'Near Me' Marketing.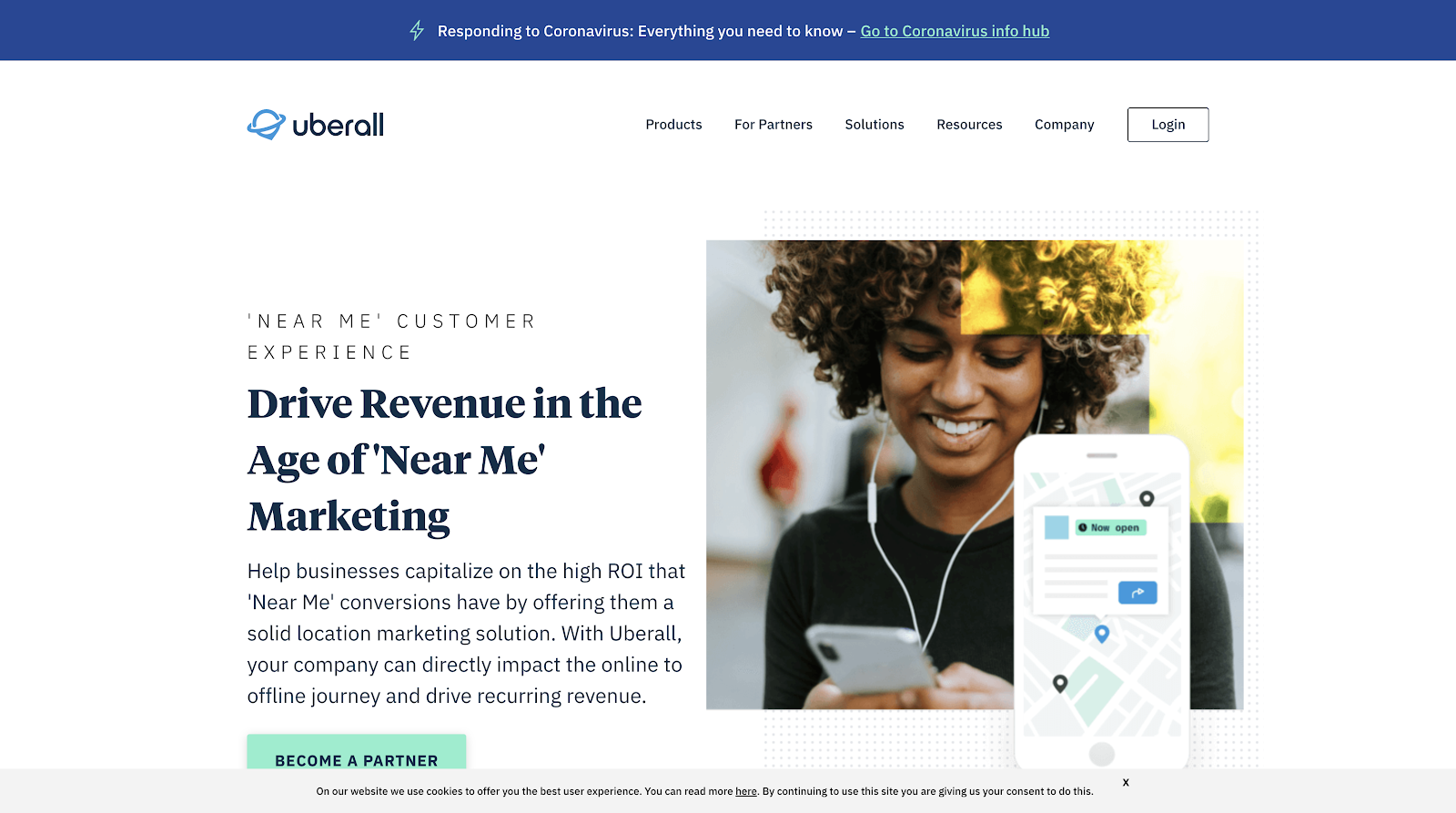 About Uberall
Uberall increases consumers' outreach of brands by conducting 'near me' searches locally, driving them to stores, and engaging them long after they have left the location. The Uberall Location Marketing Cloud increases the online visibility of brands by listing their business information accurately and consistently across all of their locations on the online directories that matter most for local search engine optimization, thus helping them rank and get more foot traffic to their door.
Uberall Features
SResponse Management
Review Generation
Review Monitoring
Sentiment Analysis
Social Media Metrics
Social Media Monitoring
Geocoding
Geofencing
Dashboard
Negative Feedback Management
Response Management
Review Monitoring
Review Notification
Uberall Video Support – https://www.youtube.com/channel/UCn-yHKll69830Jq4NRFKigA
14. Brandwatch – Understand your customers.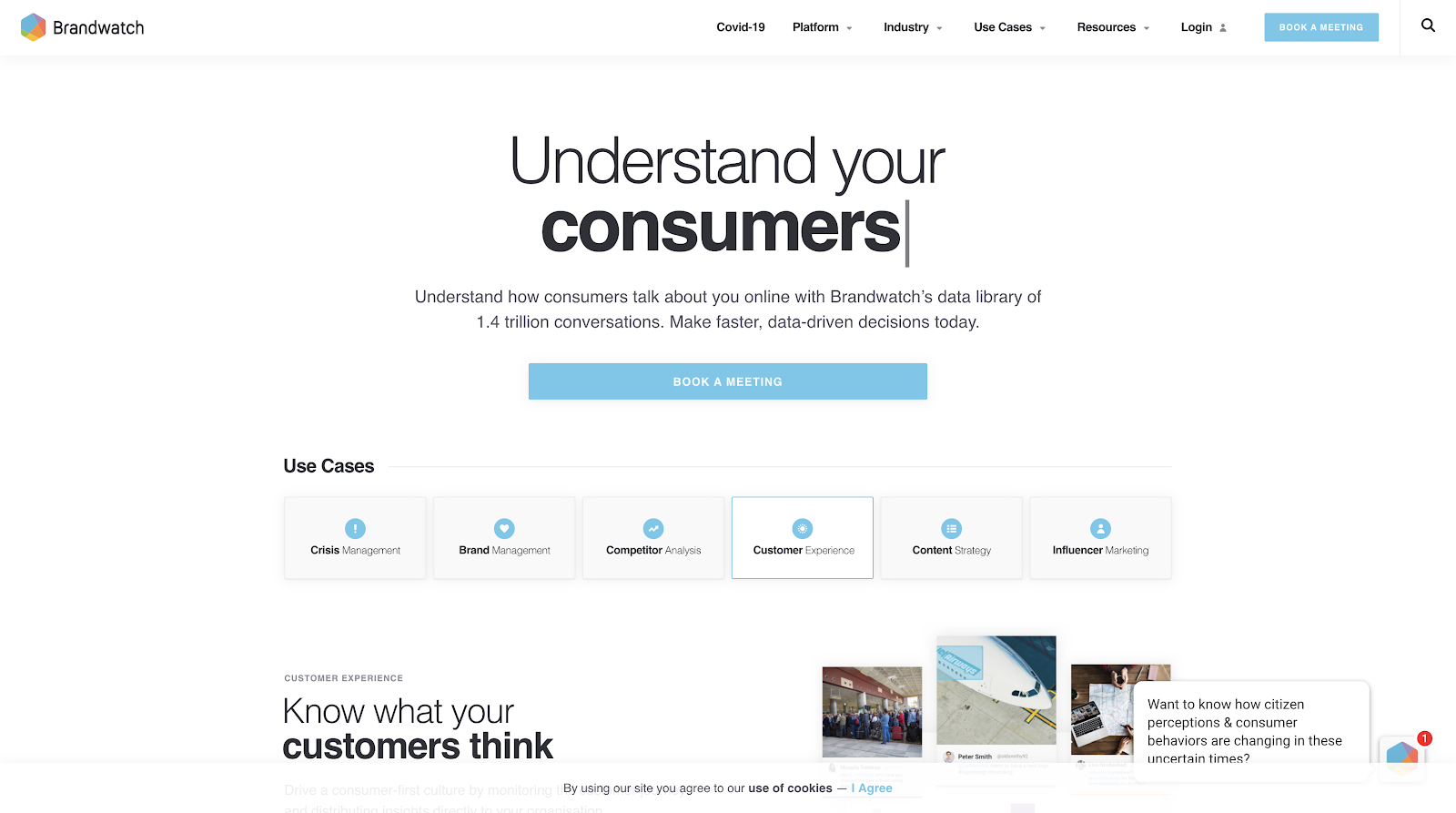 About Brandwatch
Brandwatch is a quite popular and highly experience consumer intelligence company based in Brighton. They have been in business for very long time and hold the authority with 6 different popular products in the digital industry. In general, Brandwatch can provide wholesome consumer insights and market trends by analyzing conversations across multiple platforms.
Brandwatch Features
Crisis Management – The tools to protect your brand.
Brand Management – Track brand health in real-time.
Competitor Analysis – Benchmark your performance.
Customer Experience – Know what your customers think.
Content Strategy – Create authentic personalized content.
Influencer Marketing – Optimize your influencer strategy.
Brandwatch Video Support – https://www.youtube.com/user/brandwatchsocial
15. Customer Alliance 
About Customer Alliance
Customer Alliance helps companies, independent hotels, and international chains worldwide to generate more reviews, increase their reputation score, and automate the communication with their customers. Automated messages and questionnaires ensure meaningful communication along the entire customer journey and provide valuable feedback to optimize internal processes. Advanced review analysis tools of the platform helps in truly understanding the reviews, whilst keeping an eye on the performance of competitors.
Customer Alliance Features
Response Management
Review of Generation
Review Monitoring
Sentiment Analysis
Social Media Metrics
Social Media Monitoring
Customer Alliance Video Support – https://www.youtube.com/user/CustomerAll
Wrapping it up!
Hope the article helps you in selecting the best Reputation Management software that's best for your corporation. Analyze your requirements and select the platform which best suits your needs.