Quality management software (QMS) helps businesses assess and maintain the quality of produced goods, services and customer experiences. A QMS is used to define and implement quality specifications based on customer requirements with reference to industry standards and regulations. The platform helps quality professionals perform inspections, generate documentation and report on issues such as defective merchandise or product recalls. This type of software is used to implement corrective or preventive actions, optimize product quality, audit the production process from start to finish to avoid a wide variety of potential hazards and issues and increase revenue by providing better customer satisfaction.
Qualifications for a Quality Management Software
Monitor faulty or out of specification products and components.
Provide a database of risk and compliance information and documentation.
Generate documents for incidents and quality control activities.
Provide training and certification to comply with quality standards and regulations.
Ensure quality and compliance for the fixed assets used by the company.
Include functionality to monitor supplier quality and performance.
Assist with corrective actions and preventive actions for quality issues.
Deliver customizable workflows and checklists for inspections and audits.
Today's article will talk about the best Quality Management softwares in 2022. The article will discuss the ABCs along with features of each product. The order of the article is decided on the basis of features and reviews by many first hand users. Without further ado, let's dive in!
ETQ Reliance – Today's quality environment is increasingly complex. Simplify it with Quality Management System ETQ Reliance.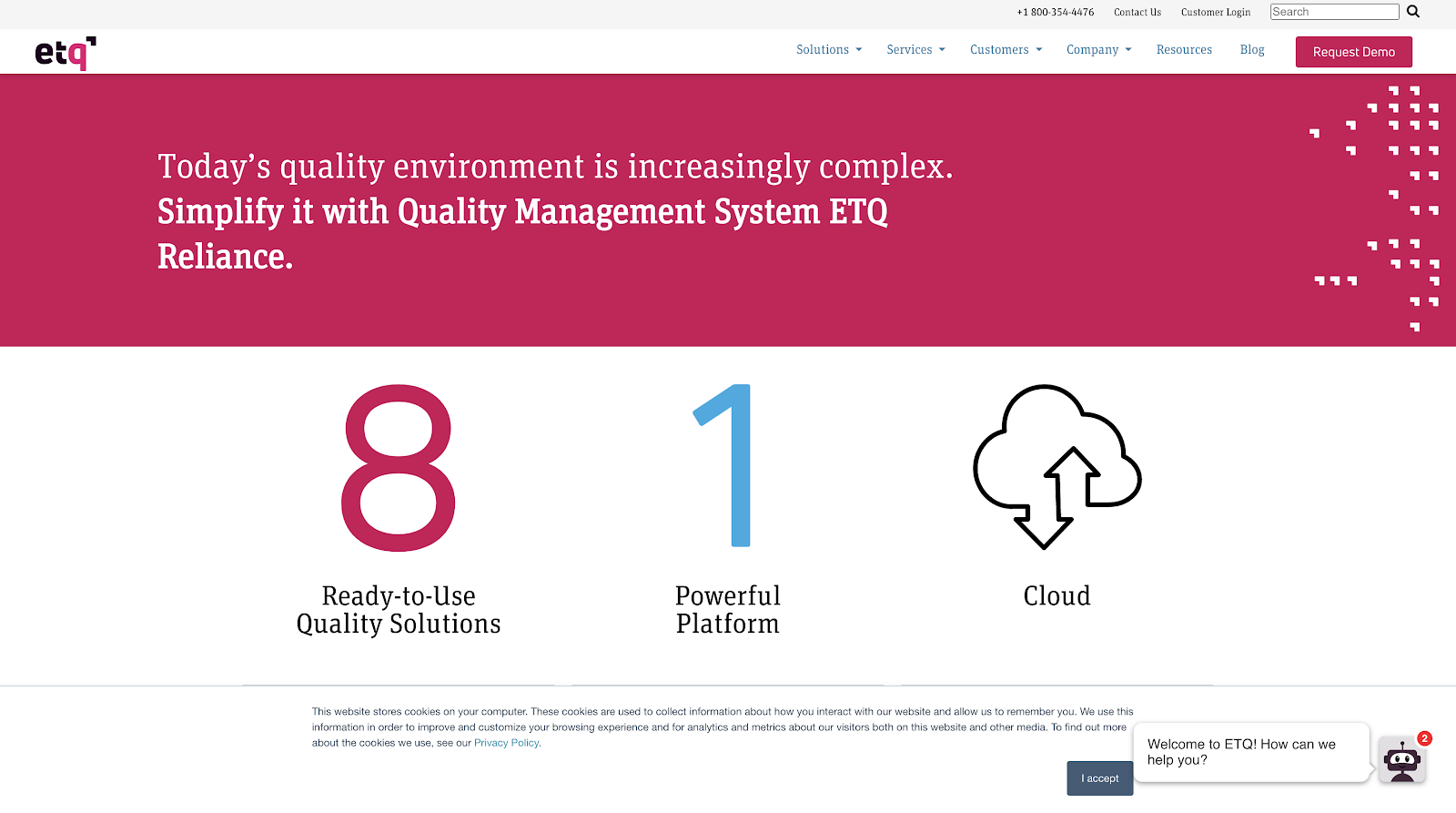 About ETQ Reliance
ETQ Reliance unleashes one's creativity to solve quality, environment, health and safety problems from the common to the complex. Users can fine-tune the software to create workflows that work for them, thus advancing process excellence across their organizations. The power of ETQ Reliance capabilities meet the needs for the full range of users, from the simple out-of-box experience for the part-time user to the power user that needs complete configurability.
ETQ Reliance Features
Quality Management – Audit Management
Quality System – Document Control and Quality Processes
Audit & Inspections – Templates
Risk Management – Assessments
Nonconformance – Conformance Records, CAPA and Change Management
Quality system – Document Control, Collaboration, Analytics and Reports
Inspection Management – Workflows and Corrective Actions
ETQ Reliance Video Support – https://www.youtube.com/user/EtQinc
Arena – PLM and QMS.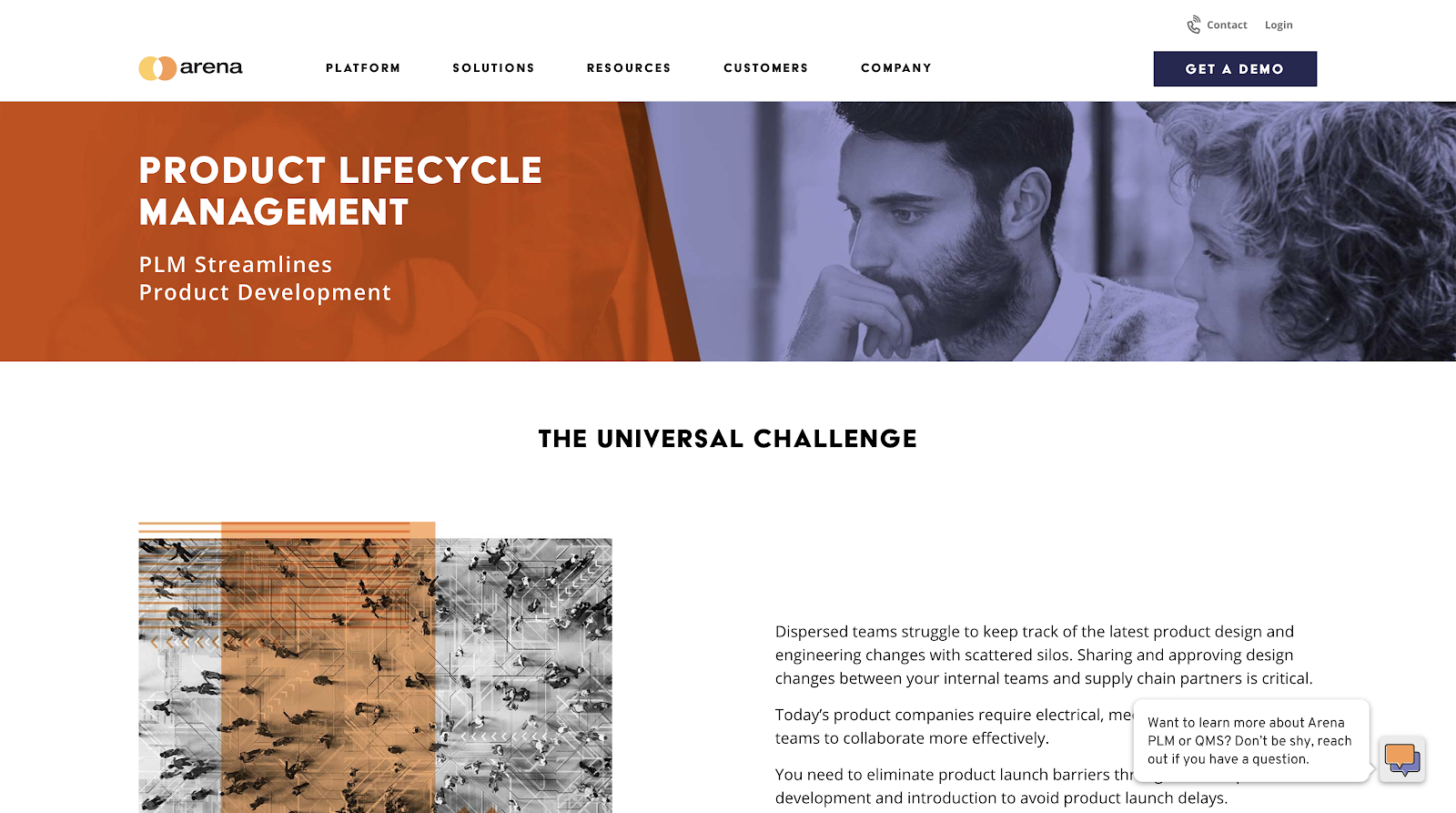 About Arena
Arena enables every participant throughout the entire product lifecycle to work together increasing visibility and traceability. This accelerates new product development and introduction by streamlining processes, automating review cycles and reducing errors to increase profitability. With Arena's proven cloud solutions, internal teams and external partners can leverage the most comprehensive product development platform to accelerate product launches while reducing expenses, increasing profitability, and speeding the time to market.
Arena Quality Management Features
Product and Quality Analytics
Federal and Environmental Compliance
Revision-controlled product design
Quality, Training and CAPA records
Requirements and Issues
Supplier Management
Greenlight Guru – TRUE QUALITY IS WITHIN REACH.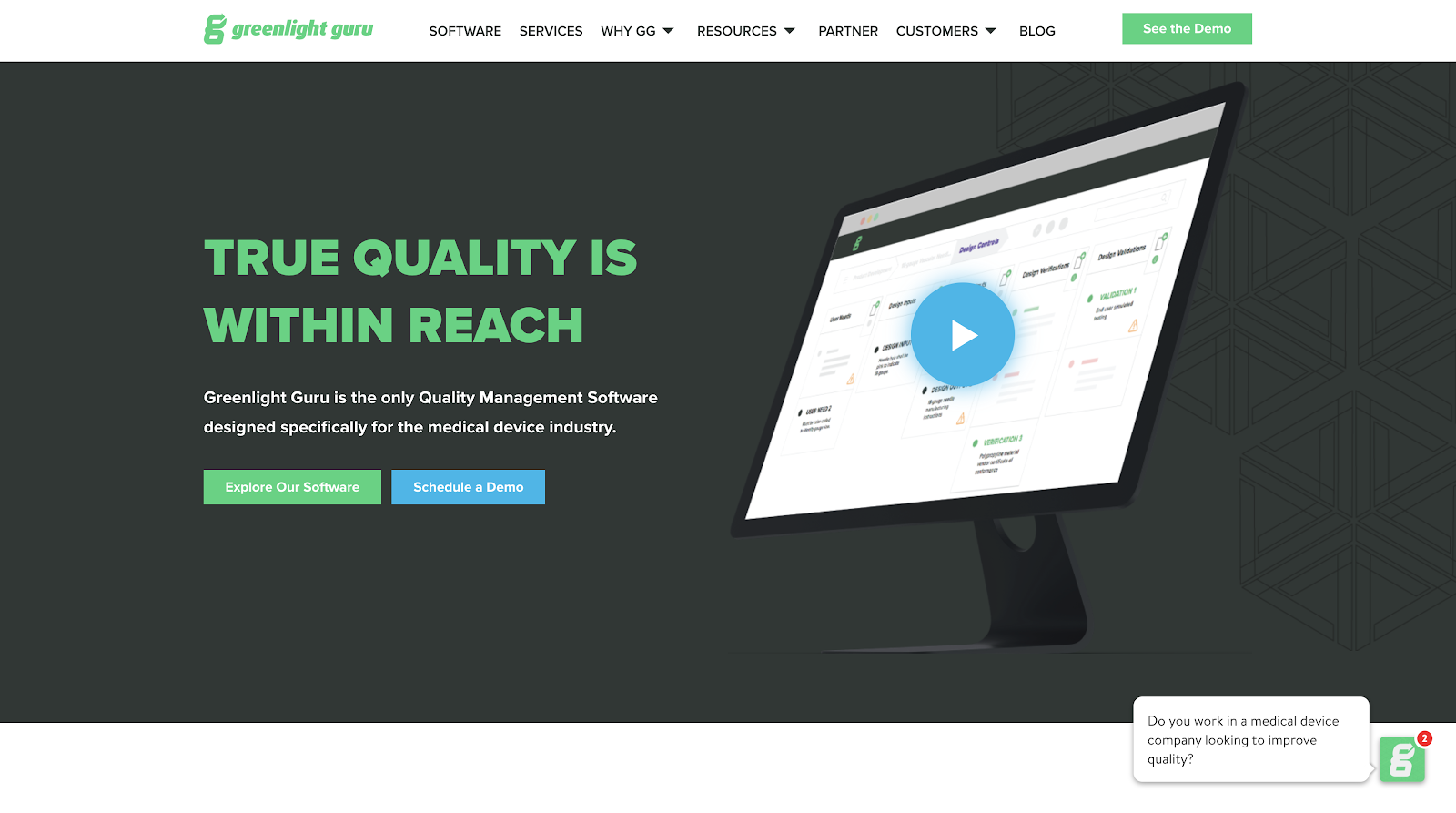 About Greenlight Guru
Greenlight Guru is the only quality management platform designed specifically for medical device companies. The platform helps companies get safer products to market faster and it simplifies FDA and ISO regulatory compliance and provides a single source of truth by connecting the management of all quality processes like CAPAs, risk, audits, document control, training, design control and much more.
Greenlight Guru Features
Quality Management – Design Controls, Audit Management, Supplier Network Management and Risk Management
Quality System – Analytics & Reporting, Real-time Collaboration, Document Control and Quality Processes
Risk Management – Operational Risk
Platform – Security & Privacy, Mobile Access and Flexibility
Services – Implementation, Training & Learning and Customer Support
Greenlight Guru Video Support – https://www.youtube.com/channel/UCYfQsPqHW8H8mZ4xpM4gn1Q
Qualio – Quality Management System Software for All Life Sciences Companies.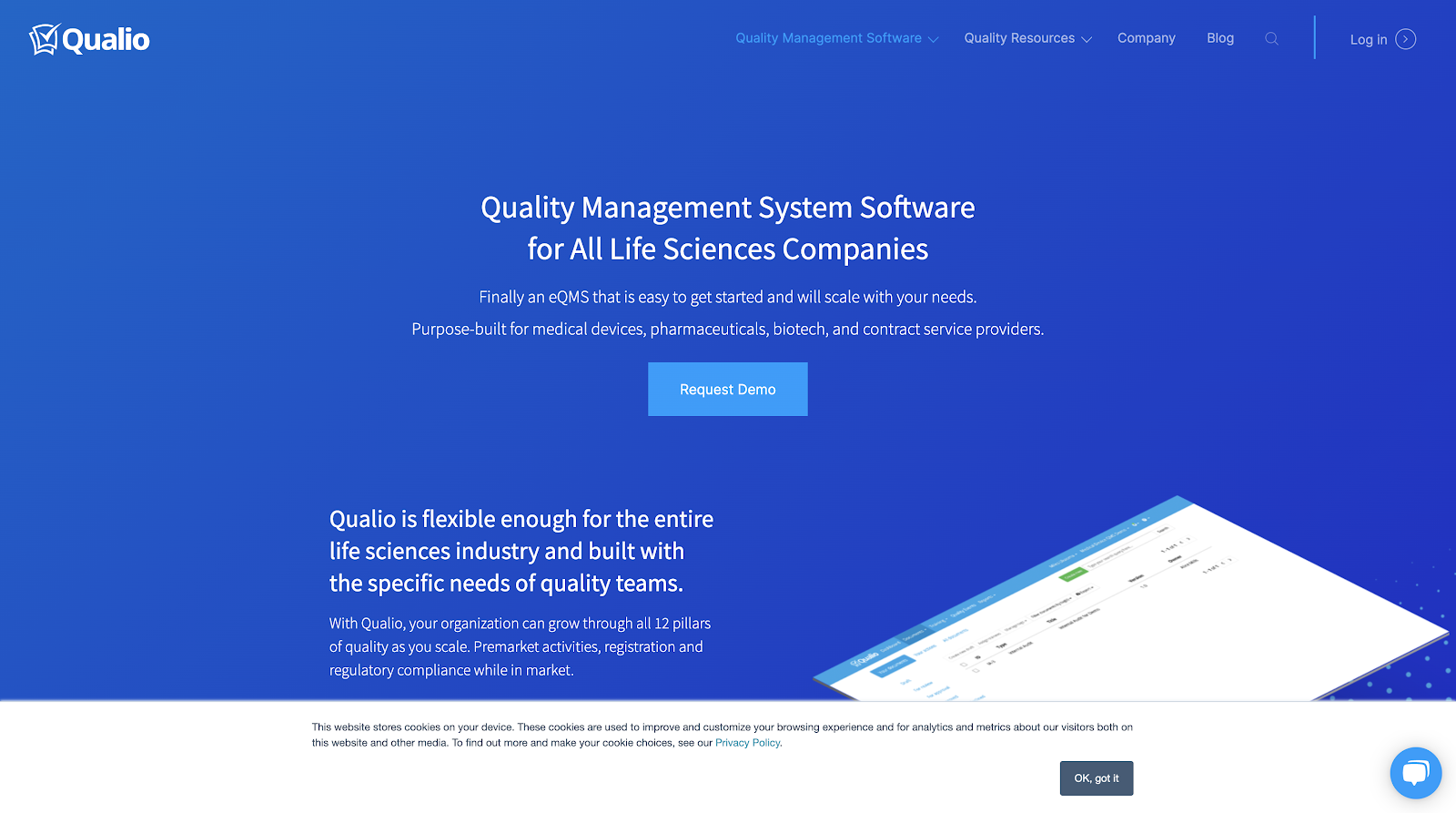 About Qualio
Qualio is modern quality management software that unites the team, required tools and data. The platform is designed for life sciences companies like medical device, pharma, biotech, and contract organizations who develop, produce and distribute life-saving products and services.
Qualio Features
Document Control
Training
Design Controls
Supplier QA
Risk Management
Complaint Handling and Feedback
Corrective and Preventive Action (CAPA)
Change Control
Non-Conformance Reporting (NCR) and Deviation
Internal Audit
Management Review
Equipment Management and Calibration
Qualio Video Support – https://www.youtube.com/channel/UC_ShKq8kMq6R8xXPLBRKGkQ
Propel – Built on Salesforce.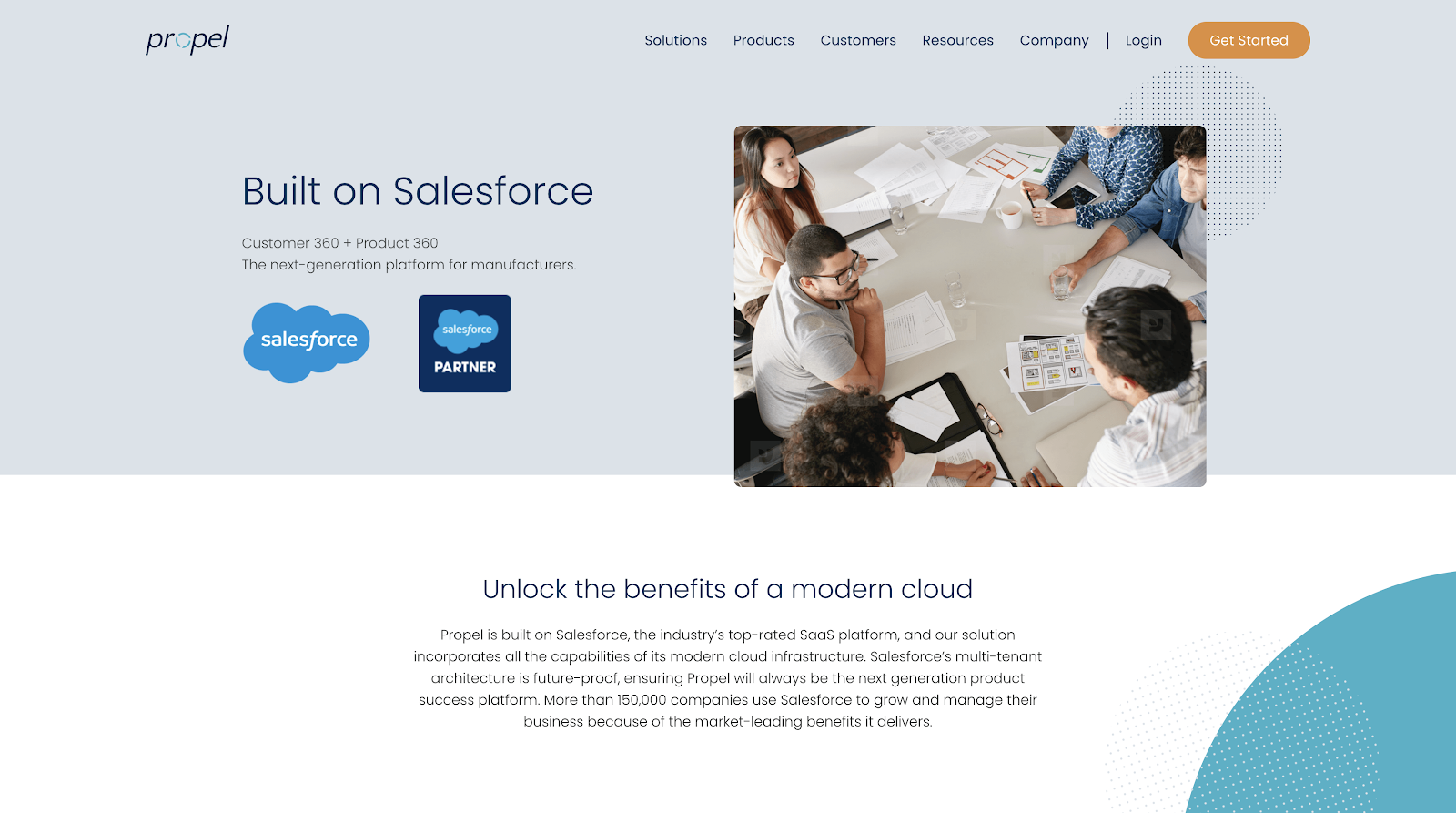 About Propel
Propel's enterprise cloud software is the innovation platform for future brands. The software offers integrated Product Lifecycle Management, Product Information Management and Quality Management System solutions that help all employees, partners and customers to deliver the best ideas to market. Their SaaS backed PLM, PIM and QMS software helps everyone collaborate better on all the product information needed for market success, and only takes a few weeks to get up and running.
Propel Features
Rock-solid data protection
Fast and flexible configurability
Extend to any industry or department
Comprehensive business management ecosystem
Easy integrations
Fully integrated mobile access
Reporting and analytics
Complete knowledge transfer and data continuity
Easy to use
Future-proof
Propel Video Support – https://www.youtube.com/channel/UC6CHhGiV8-PsPw6HbQlAtTQ
EASE – Simplify Audit Administration.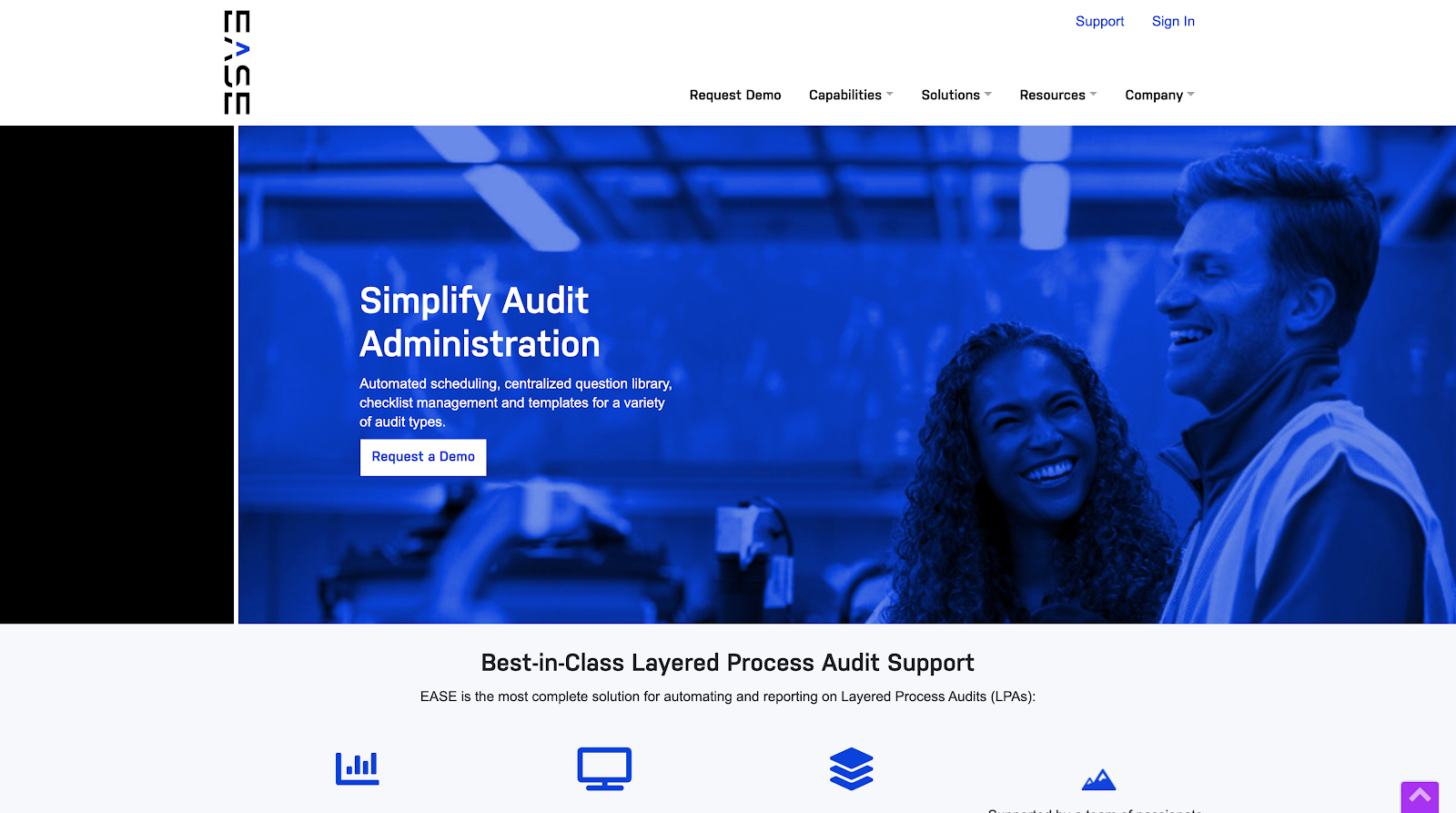 About EASE
EASE is the integrated, intuitive, mobile audit and inspection tool that reduces administrative overhead and gives organizations full visibility into their Layered Process Audits, safety, corrective actions and other process programs. LPAs review that processes are being followed and easily report your findings on Layered Process Audits, 5S, Safety Audits, and more.
EASE Features
Upload photos or documents right from your phone or tablet.
Take photos real-time with your phone or tablet & instantly upload.
Responsible party workflows are automated based on the question & area it relates to.
Wifi & Off-line capabilities allow you to audit anywhere.
Access levels & permissions means questions, scheduled audits, and reports are accessible to only those with the right permissions.
Custom branded mobile app & portal with your logo & brand.
Reporting dashboards & reports with drill-down into reports to see the finer detail, or download for more reporting options.
MasterControl Quality Management System.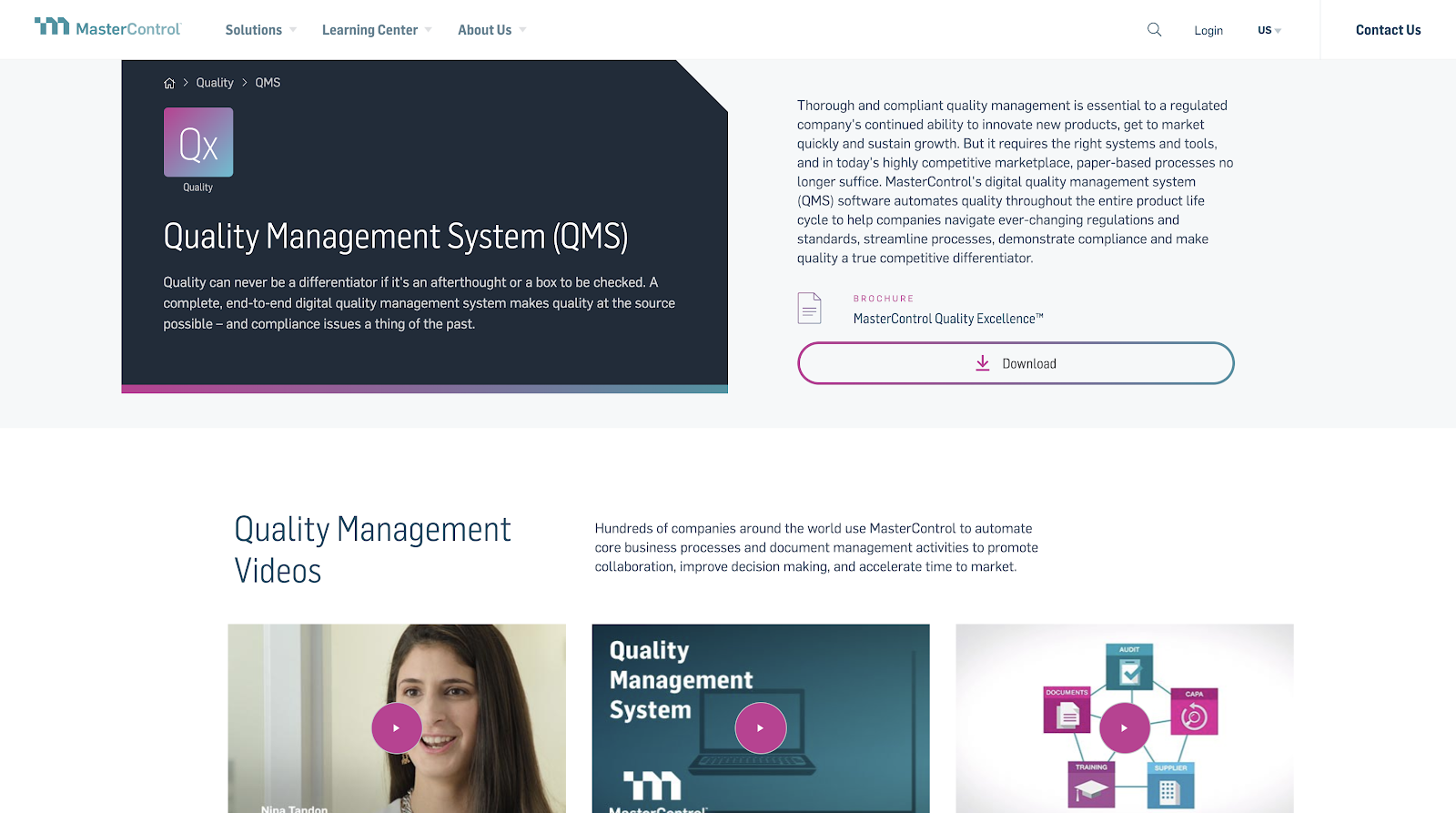 MasterControl Homepage
About MasterControl
MasterControl Quality Management software enables the company to get products to their respective market faster at reduced cost and increased efficiency. Companies around the world use MasterControl to automate core business processes and document management activities to promote collaboration, improve decision making and accelerate time to market.
MasterControl Features
Quality Solution Overview
Document Control
Change Control
Training Management
CAPA Software
Deviations Management
Nonconformance
Out of Specification
Audit Management
Quality Management
Risk Management
MasterControl Video Support – https://www.youtube.com/user/MasterControlVideo
Intellect electronic Quality Management Software.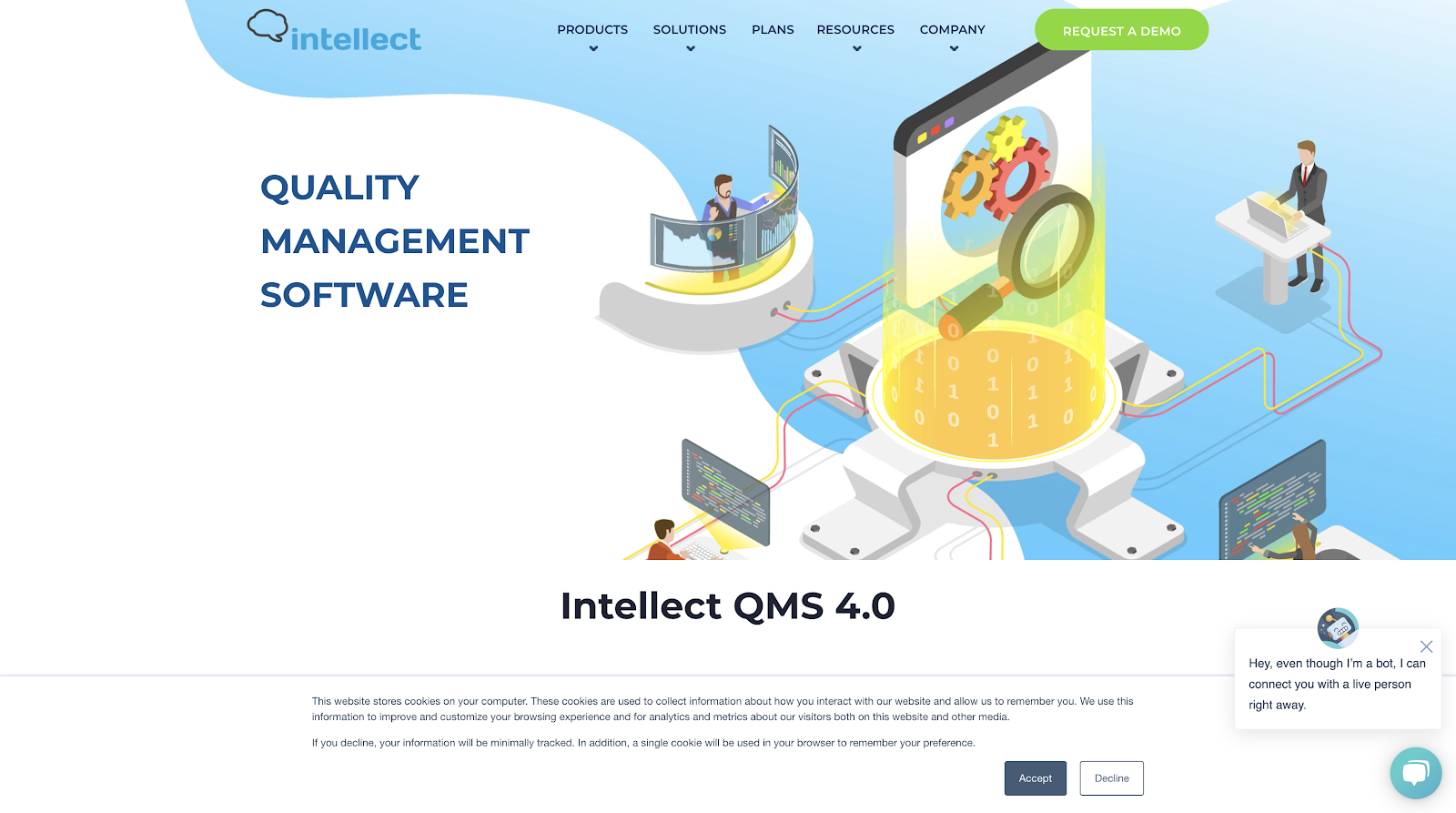 About Intellect eQMS
Intellect offers the industry's most configurable enterprise Quality Management Software (eQMS) suite and platform. Lower your total cost of ownership, reduce product recalls, and improve operations by easily modifying applications to meet the exact requirements using Intellect's no-code platform. Intellect eQMS can effectively and efficiently manage Nonconformance, CAPA, Document Control, Change Management, Audit, Training, Risk Management and many other QMS and business processes.
Intellect eQMS Features
Dashboard
Audit Management
CAPA
Complaint Management
Document Control
Feedback Management
Risk Management
Validation and Verification
Setup
Calibration and Maintenance
Change Management
Deviation Management
Employee Training
Nonconformance
Supplier Management
Intellect Video Support – https://www.youtube.com/user/Interneer
IQMS ERP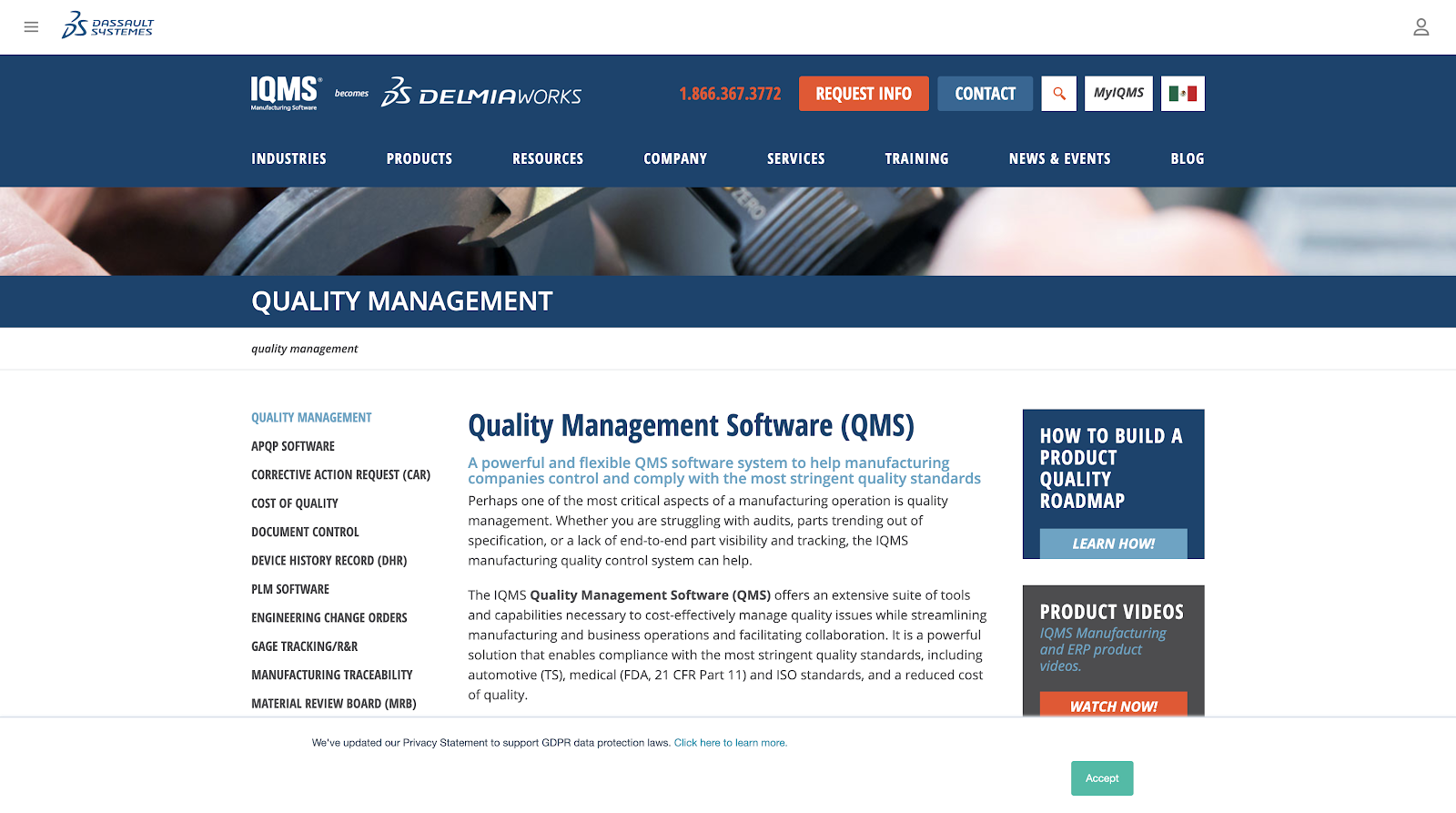 IQMS Homepage
About IQMS
IQMS software uniquely combines robust MES and ERP functionality into one comprehensive solution in which all data from the shop floor to the back office is managed by the same database. IQMS Manufacturing ERP solution provides complete visibility of manufacturing operations and optimizes utilization of production resources to meet customer demands and drive growth and profitability.
IQMS Features
Business activity monitoring
Inventory inspections
Reject & scrap tracking and analysis
Customer and supplier RMA
Complete audit trails
Supplier performance rating system
"Roles-based" user security
Document linking and tracking
Non-conform and non-allocate inventory
Certificates of conformance
Receiving inspections
Lot and serial number tracking and traceability
Master specification tracking
FactoryFour – Set quality controls and capture traceable data.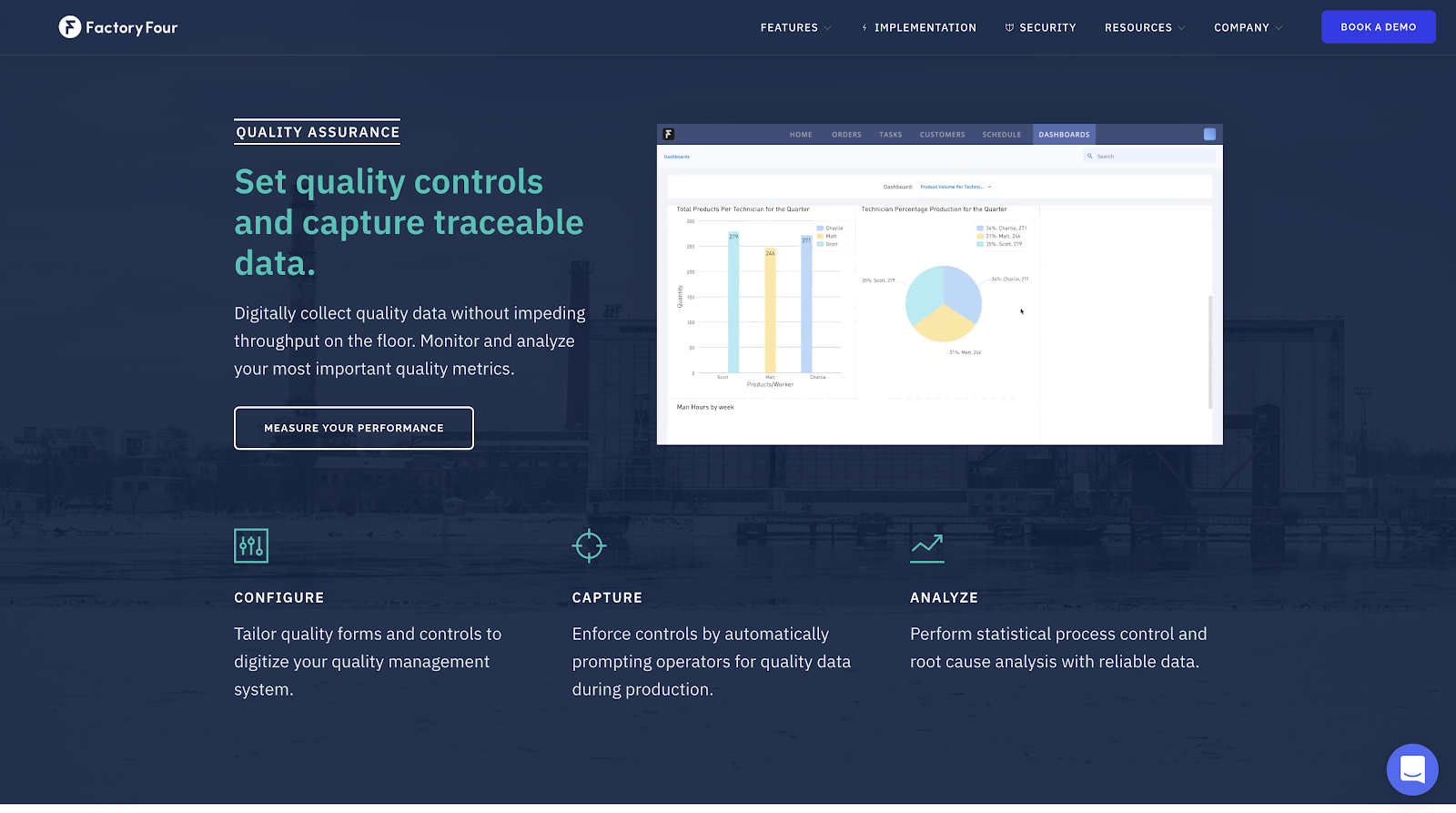 FactoryFour Homepage
About FactoryFour
FactoryFour is a manufacturing execution system rebuilt around a modern technology stack. With FactoryFour, experience highly customizable, simple to use, and quick to deploy manufacturing management solutions that increase predictability, productivity, and profit.
FactoryFour Features
Track your unique production processes in real time.
Seamlessly capture order and production data with digital forms.
Visualize production in real time and uncover data‑driven insights.
Automate your tasks and processes with custom rules.
Update inventory and capture WIP in real time.
Build seamless integrations to connect your whole business.
FactoryFour Video Support – https://www.youtube.com/channel/UCJ8Qu3ysYKEYSbaKj_0-4uw
1factory – Simple. Powerful. Quality Control Software.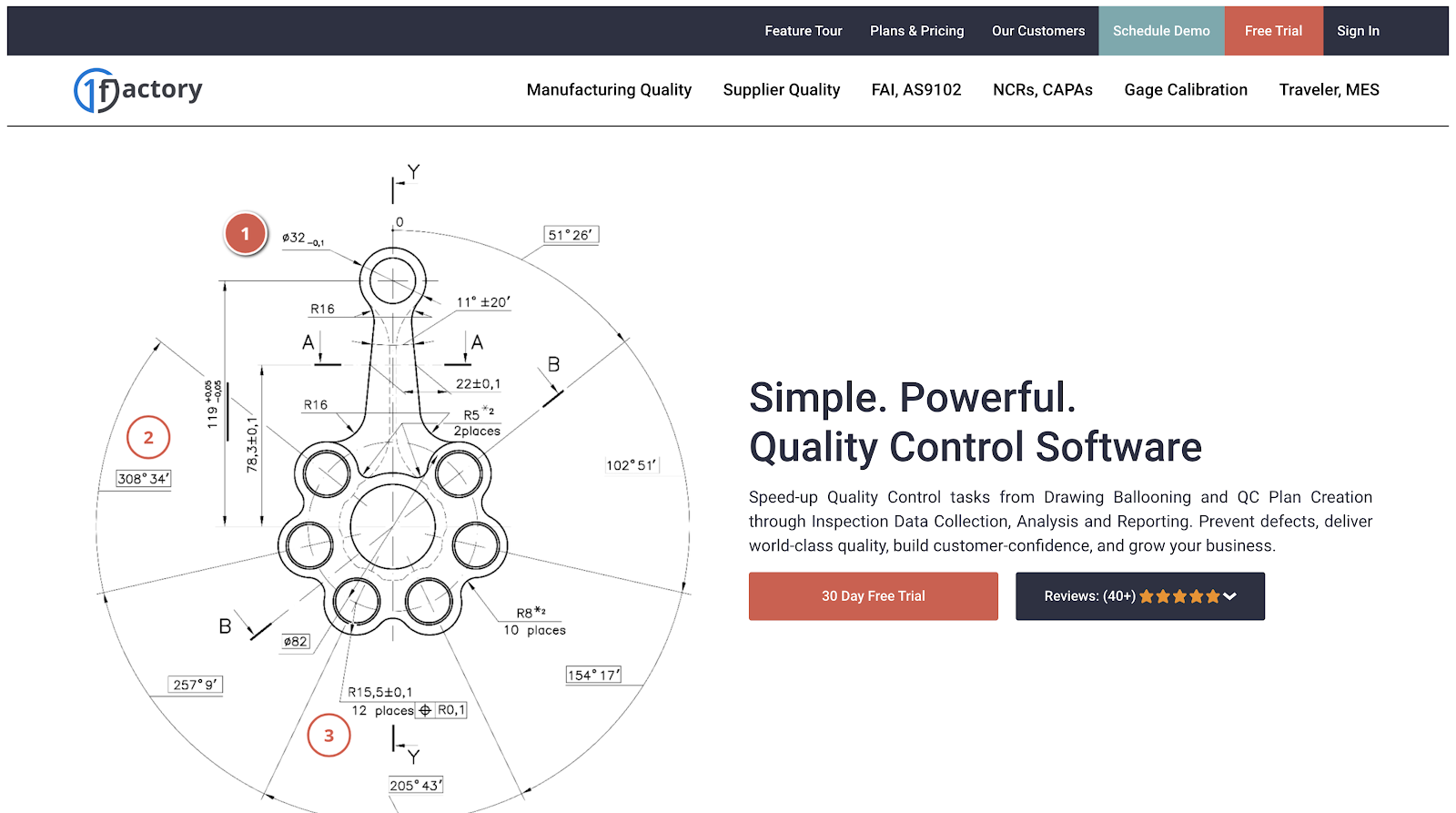 About 1factory
1factory provides easy yet powerful Manufacturing and Supply Chain Quality Control software. With 1factory, manufacturers can control product quality both within their factories, and across their supply chains. Catalyze Quality Control tasks with Drawing Ballooning and QC Plan Creation through Inspection Data Collection, Analysis and Reporting. Prevent defects, deliver world-class quality, build customer-confidence, and grow your business with 1factory.
1factory Features
PDF Drawing Ballooning and First Article Inspection
Quality Control Plans
Incoming, In-Process, Finished Goods Inspections
Digital Gage, CMM, and Test Fixture Data Import
Process Capability
SPC, Run Charts, Histograms
Traceability: Batch Number, Serial Number, Gage, Inspector
Factory Defect Risk Monitoring
Non-Conformances, Corrective Actions, Audit Findings
Gage Calibration and Tracking
Supplier Collaboration & Real-Time Data Visibility
Supplier Management & Scorecards
Compass QMS – Finally, management and staff working together in one application.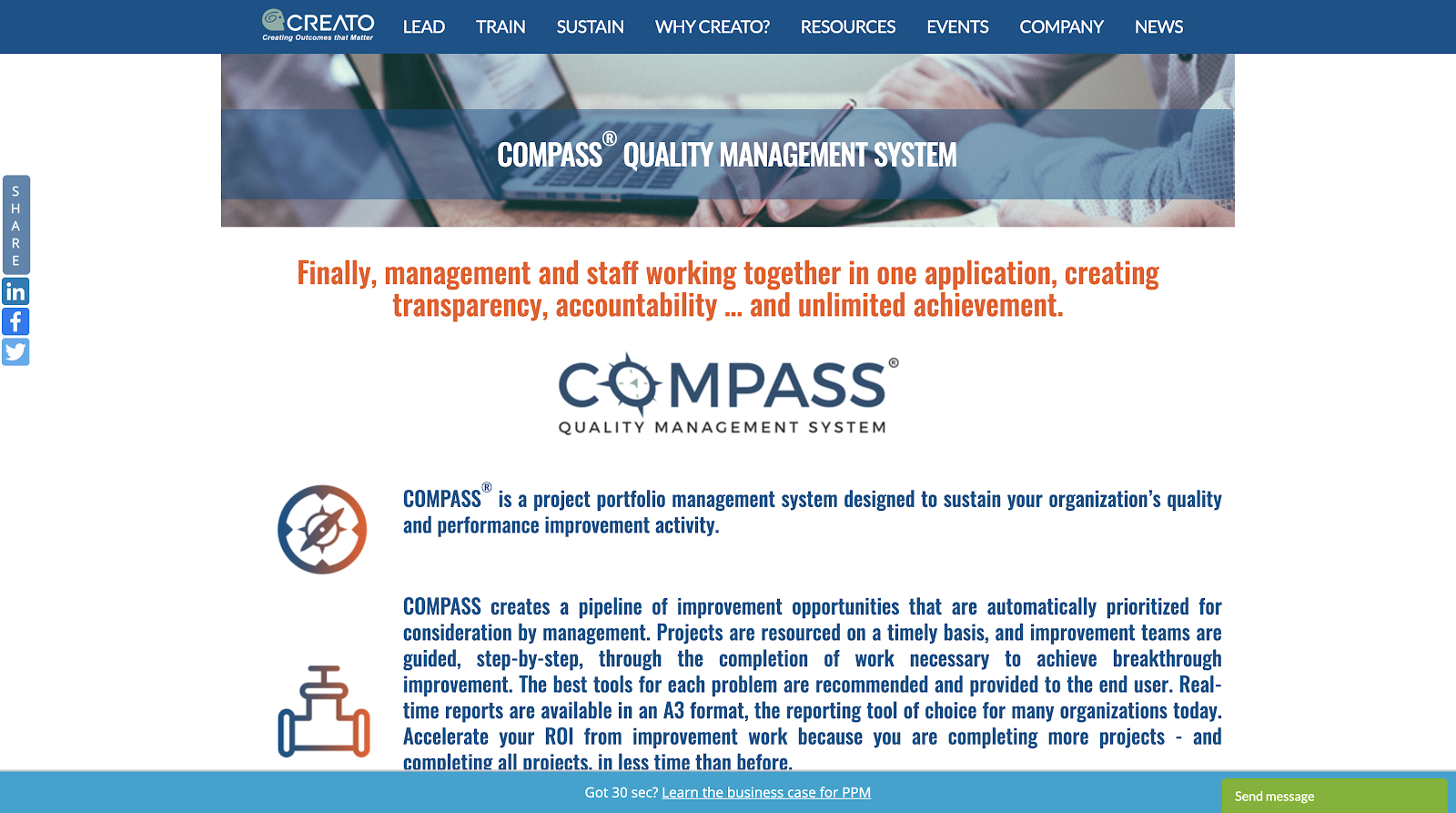 Compass QMS Homepage
About Compass QMS
COMPASS is a project portfolio management system that collects and ranks ideas, allows management to engage in feedback with employees to improve ideas, rescore ideas, and approve ideas. Once ideas become projects, COMPASS will guide the end user with just-in-time tools and training. Tools are extensive and include descriptive and inferential statistics in addition to simple brainstorming tools.
Compass Features
Democratize your Ideation
Relevant Reports
Nothing to install; secure as a Vault
Unify management and staff in one application that creates collaboration, transparency, & accountability.
Creato Video Support – https://www.youtube.com/channel/UCtiH2OdhaGutcEEA27Y9wuA
Final Thoughts!
Hope the article helps you in selecting the best Quality Management Software that's best for you and your corporation. Analyse your requirements and select the platform which best suits your needs.