A Lead capture software is used by companies to find new sales opportunities. It's no secret that most markets are very competitive and discovering new business opportunities ahead of the competition is a necessity. Lead capture software is used by salespeople to identify new customers by using information gathered from various sources including direct from leads, sales reps, marketing practitioners, or customer support agents. Capturing new business opportunities is only the first step in the sales process. In addition to lead capture software, companies need to use other lead generation solutions such as lead mining, lead scoring, and lead intelligence, as well as solutions like sales performance management and sales intelligence, to turn opportunities into actual sales.
Qualifications for inclusion in a Lead Capture category
Provide features to create and manage lists of potential customers based on information gathered about them.
Allow users to capture leads using different types of devices and using multiple sources like email, website, social media or events.
Include options to easily export and import lead data to and from various formats like plain text, spreadsheets, etc.
Integrate with sales and marketing software solutions to transfer lead data between them.
Today's article will talk about the best Lead Capture and Management softwares in 2022. The article will discuss the ABCs of each product. The order of the article is decided on the basis of features and reviews by many first hand users. Without further ado, let's get right to it!
1. ZoomInfo – Hit Your Number.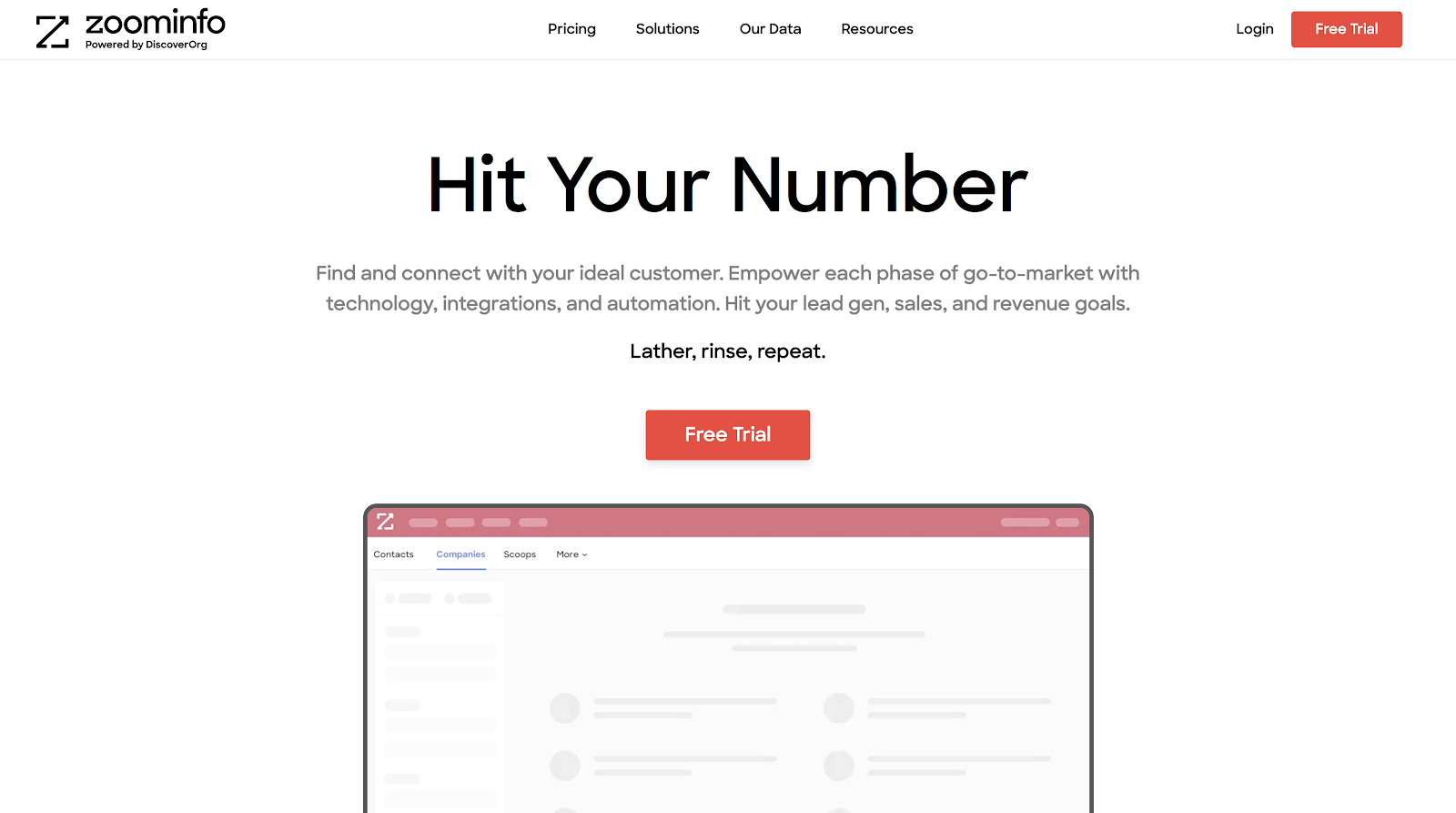 About ZoomInfo
ZoomInfo (powered by DiscoverOrg) combines the comprehensive business database with best-in-class technology to fuel go-to-market strategy from start to finish and thus provide an accurate 360-degree view of customers, prospects, and opportunities. With robust features and integrations seamlessly incorporated into your workflows, the company is on a mission to deliver the best leads.
ZoomInfo Features
Data Availability – Contact/Company Data Availability and Industry Research Availability
Data Accuracy – Contact/Company Data Accuracy
Key Features – Lead Builder, Integration to CRM/Marketing Automation, Data Cleaning/Enrichment, Data Segmentation/Filtering, SearchNews/People Alerts, Connections and Reporting
Lead Intelligence – Market Insights and Account-level Insights
ZoomInfo Video Support – https://www.youtube.com/user/RepriseSoftware
2. Lusha – Enrich B2B Profiles.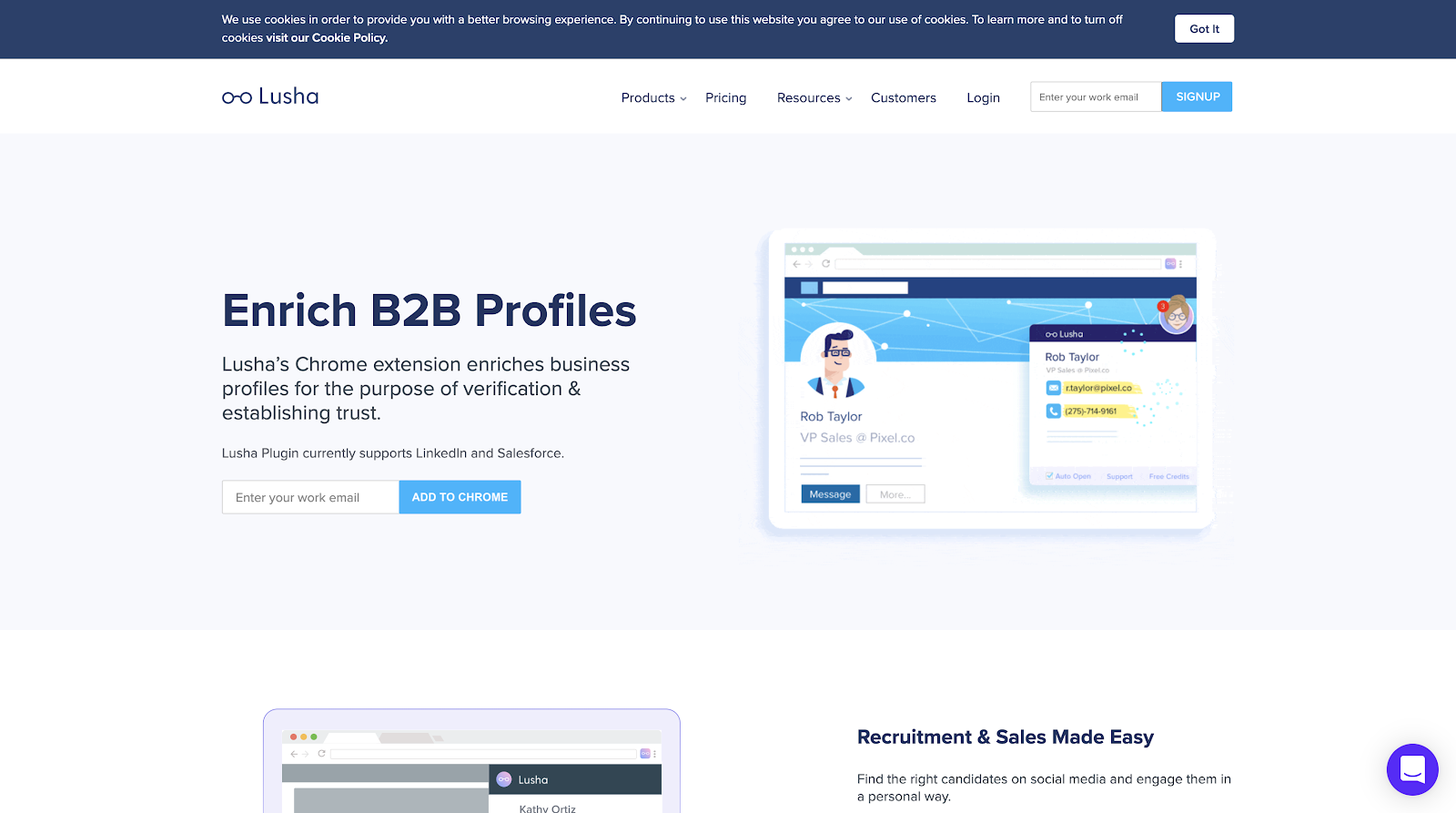 About Lusha
Lusha helps business professionals establish a fast and true connection with their leads, contacts, and candidates. B2B engagement is solely based on trust. Lusha helps in developing that trust using simple tools which allows one to enrich and verify business profiles. Representatives, recruitment managers and marketers transform the way they engage with their leads, contacts and candidates by using Lusha on a daily basis.
Lusha Features
Data Availability – Contact/Company Data Availability and Industry Research Availability
Data Accuracy – Contact/Company Data Accuracy
Key Features – Lead Builder, Integration to CRM/Marketing Automation, Data Cleansing/Enrichment, Search and Reporting
Platform – User/Role/Access Management, Performance and Reliability, Reporting/Dashboards, Mobile User Support and APIs
Lush Video Support – https://www.youtube.com/channel/UCZNqzgRZFBub6WJxeaQcxUQ
3. CallRail – Call tracking pinpoints your most effective marketing efforts.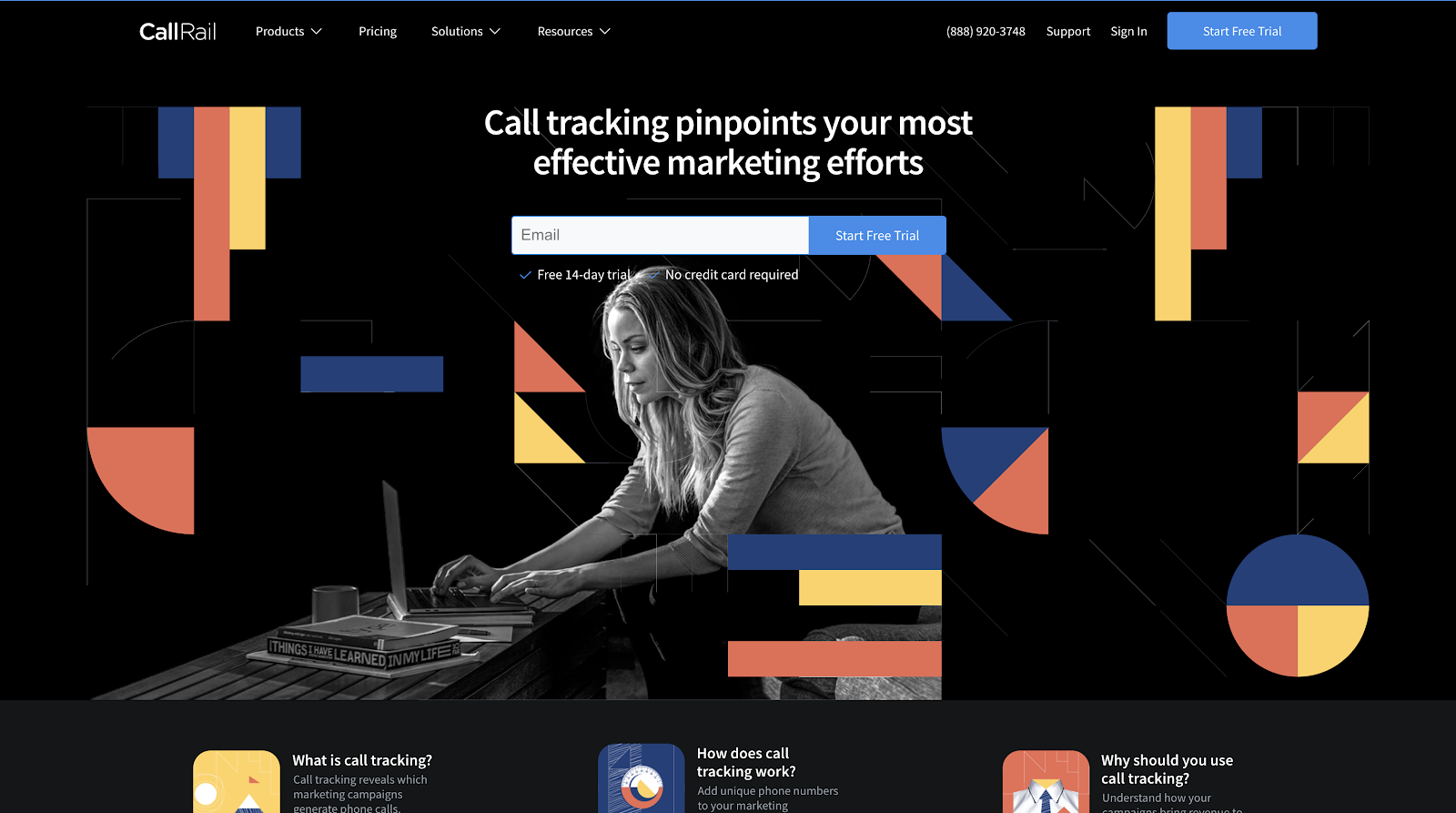 About CallRail
CallRail brings visibility to the marketers who rely on quality inbound leads to boost success and sustain growth. Their target audience is customers from a results-driven world, and giving them a clear view into their digital marketing efforts is a first priority for CallRail. Often overlooked by other marketing tools or analytics platforms, CallRail sees the opportunities in surfacing and connecting data from calls, forms, chat and beyond helping our customers achieve better outcomes.
CallRail Features
Phone Number Management – Local Phone Numbers, Toll-Free Numbers and Port Existing Numbers
Tracking – Visitor & Keyword Tracking, Dynamic Number Insertion and Multi-Channel Call Attribution
Call Routing – IVR, Call Scheduling and Geo-Routing
Analytics – Call Data and Advanced Reporting
Call Analytics – Call Recording, Call Analysis and Lead Qualification
CallRail – https://www.youtube.com/user/CallRail
4. NetLine – Successful B2B Marketers Start Here.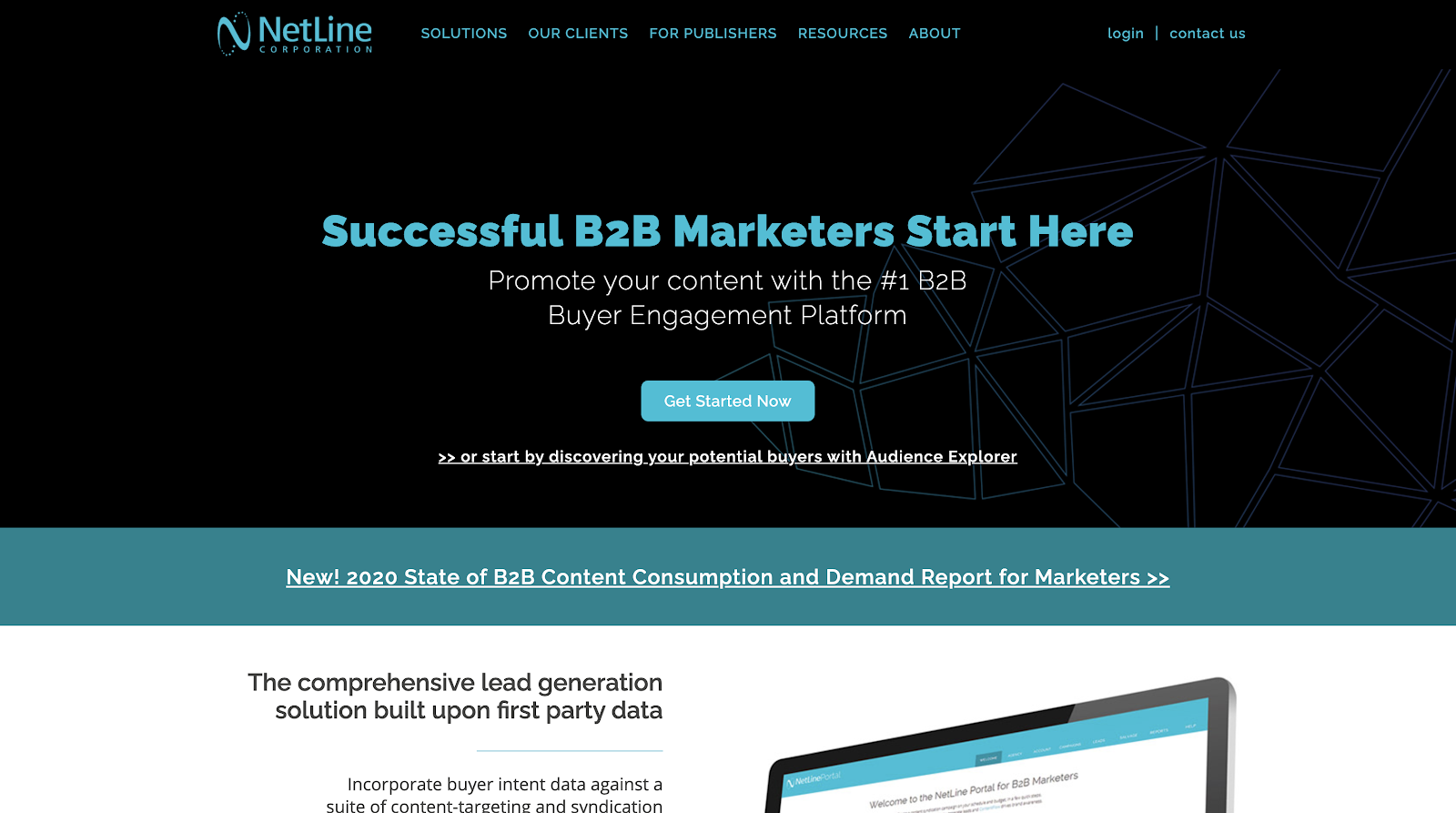 About NetLine
The software is a comprehensive lead generation solution built upon first party data to incorporate buyer intent data against a suite of content-targeting and syndication solutions. Develop an informed targeting approach built on strategic content that incorporates real intent from real, in-market professionals.
NetLine working steps
Syndicate content across the largest B2B lead generation network
Reach professional decision makers actively researching business-related topics
Set company and job specific filters (including ABM)
Capture intent-based leads matching your campaign criteria
Access lead analysis reports and strategize with our experts
Amplify Reach
Capture Intent Leads
Increase ROI
NetLine Support – https://www.youtube.com/channel/UCL2M2SMV6XxHB3cuBKM6YLA
5. Clearbit – Real-time enrichment to turn leads into customers.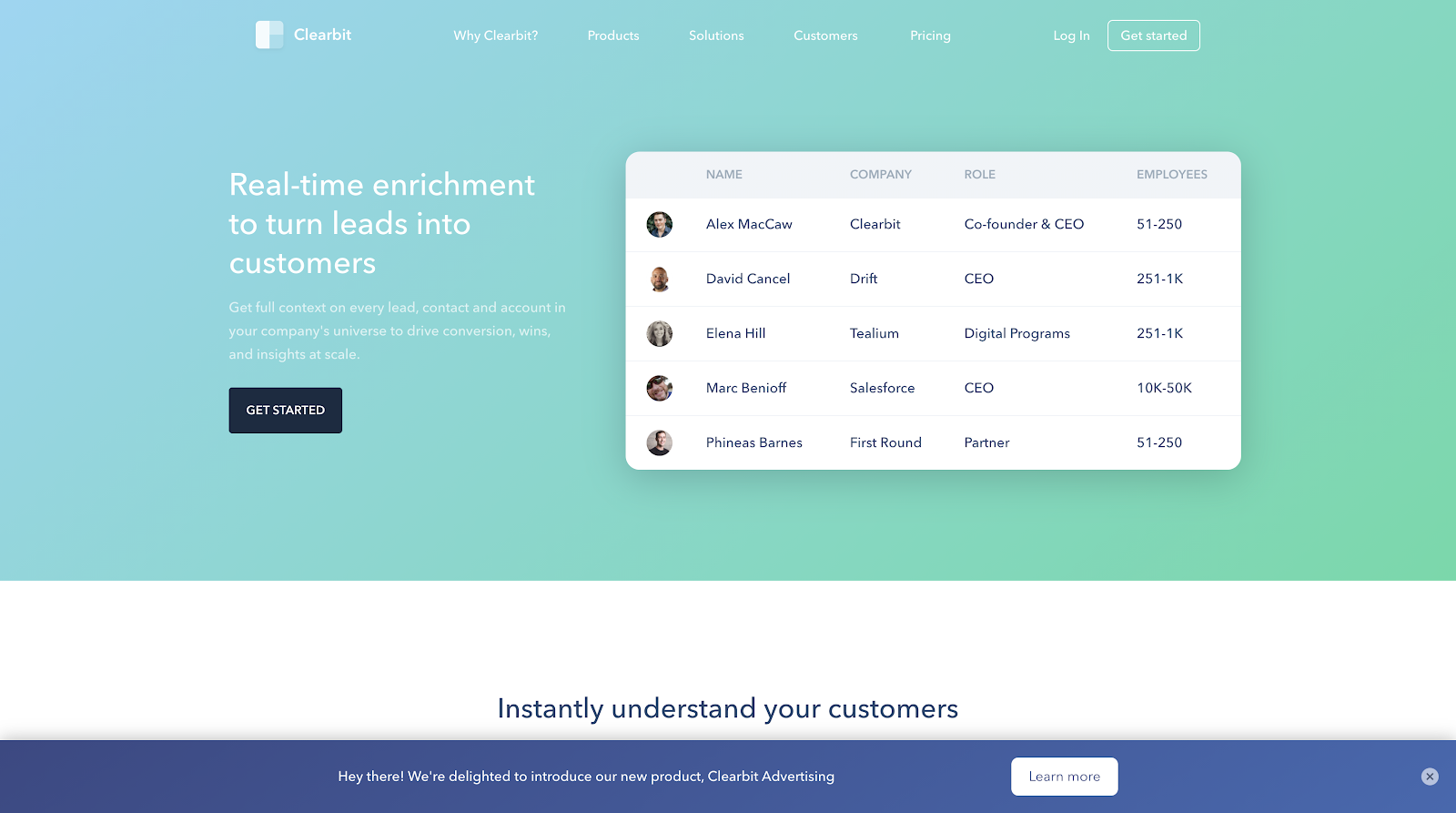 About Clearbit
Clearbit automatically updates sales records with accurate, verified company and contact data. Clearbit provides best-in-class data at fingertips, for better insights into prospects and more time to connect with them. That's not it, better data also means better targeting: Set up smart lead scoring and segmented lists, so customers can always reach out with the right message. Plus, get alerts when key contacts visit a site, and target them accordingly.
Clearbit Features
Data Availability – Contact/Company Data Availability and Industry Research Availability
Data Accuracy – Contact/Company Data Accuracy
Key Features – Lead Builder, Integration to CRM/Marketing Automation and Data Cleansing/EnrichmentData Segmentation/FilteringSearchNews/People AlertsReporting
Platform – Performance and Reliability, Reporting/Dashboards and APIs
Clearbit Video Support – https://www.youtube.com/channel/UCA13FHzsLu954_qKvDR-hYg
6. Outgrow – Feature Packed Calculators, Quizzes, Chatbots, Surveys, and Forms.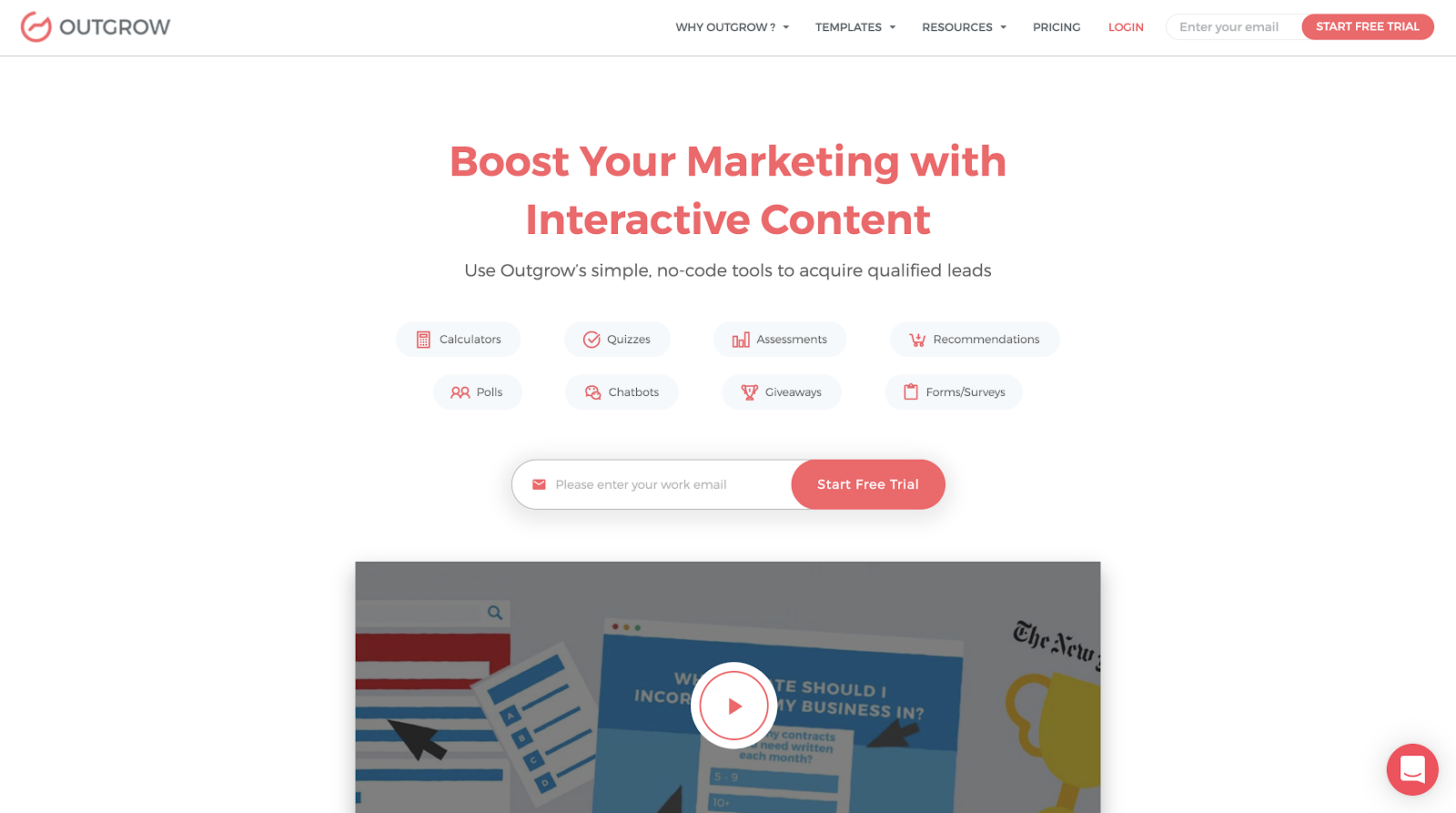 About Outgrow
Outgrow allows customers to better acquire, qualify and engage leads by making it easy to build personalized quizzes, calculators, assessments, recommendations, polls & chatbots. Outgrow has a host of design templates which are fully optimized for mobile, desktop, and tablet, and are easily embeddable into advertising, websites, mobile apps, social media, SMS and email communication. In addition, there pre-made content pieces and funnels that are optimized to improve conversion so you can change the questions, make a few tweaks so it's consistent with the brand and produce interactive content ready in minutes.
Outgrow Features
User Interface Design – WYSIWYG Editor, Customized Branding and Application Templates
Data Control – Data Security
Publishing – Application Deployment, Platform Compatibility and Lifecycle Management
Design and Customization – Pre-Designed Templates, No-Code Customization and Mobile Optimized
Integrations – CRM/Email Integrations
Platform Basics – Website Personalization, Content Creation and Distribution
Platform Reporting – Dashboards
Planning – Collaborative Editorial Calendars
Outgrow Video Support – https://www.youtube.com/channel/UCsj83jR_b9ADHFX6OKmJJyQ
7. Avochato – Use SMS to Connect with Prospects, Close More Deals.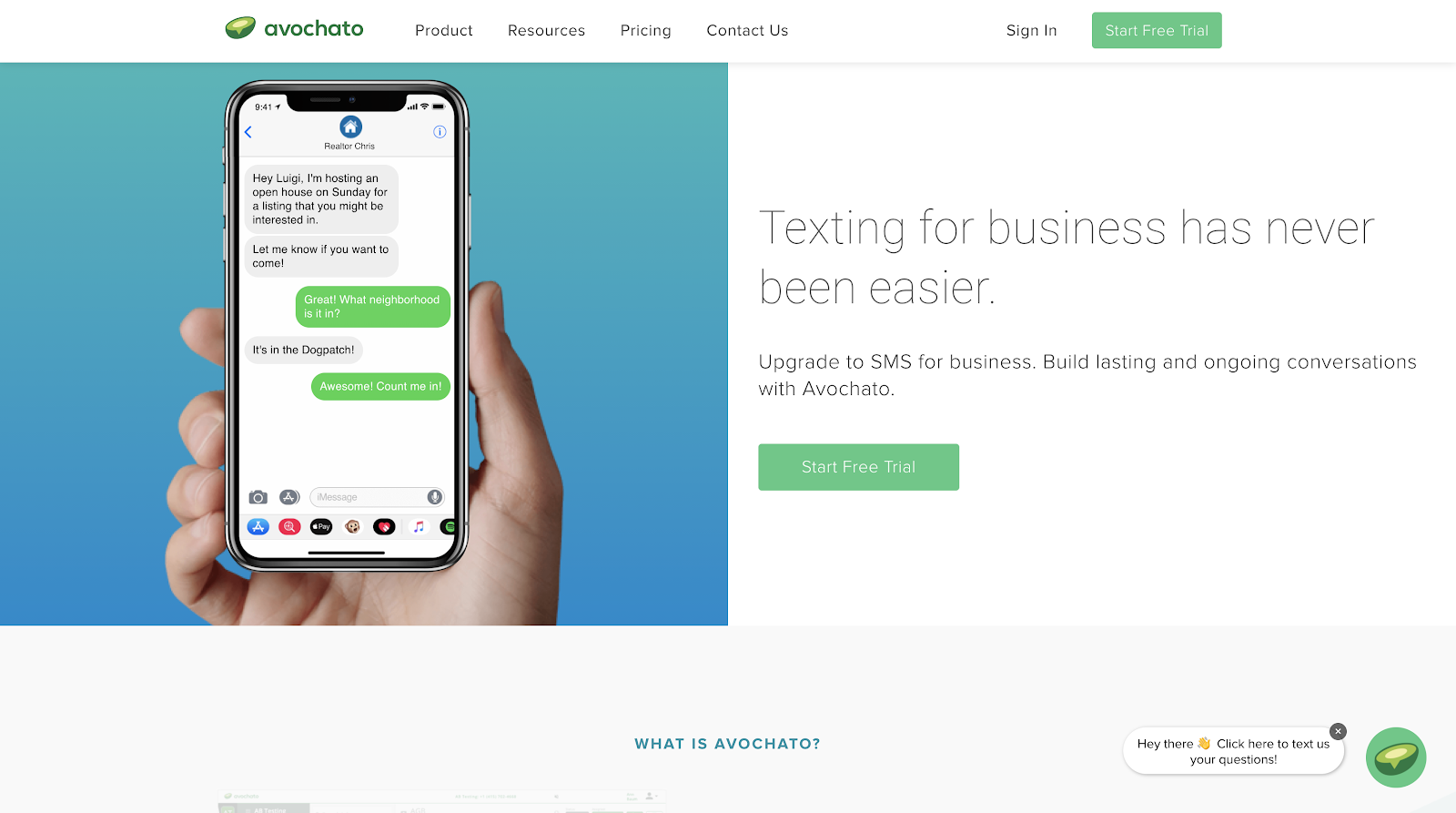 About Avochato
Avochato tackles problems like facing increasing customer demands, sales, marketing, and customer support teams must rise to the occasion. Avochato makes it easy for all teams to connect with customers and deliver a seamless and efficient experience every step of the way from lead capture and nurturing to post-sale support.
Avochato Features
Text Messaging – Bulk SMS, Two-Way Text Messaging, Text Scheduler, Automatic Replies, Automatic URL Shortening, MMS Marketing and Personalization
SMS Platform – Reporting, Automation and API Integration
Analytics Export/Import and Reporting
Customization – Forms, Personalization and Templates
Avochato Video Support – https://www.youtube.com/channel/UC2Pw_PbuPVy35jdJK6yBE6g
8. PureB2B – FLEXIBLE SOLUTIONS FOR EVERY NEED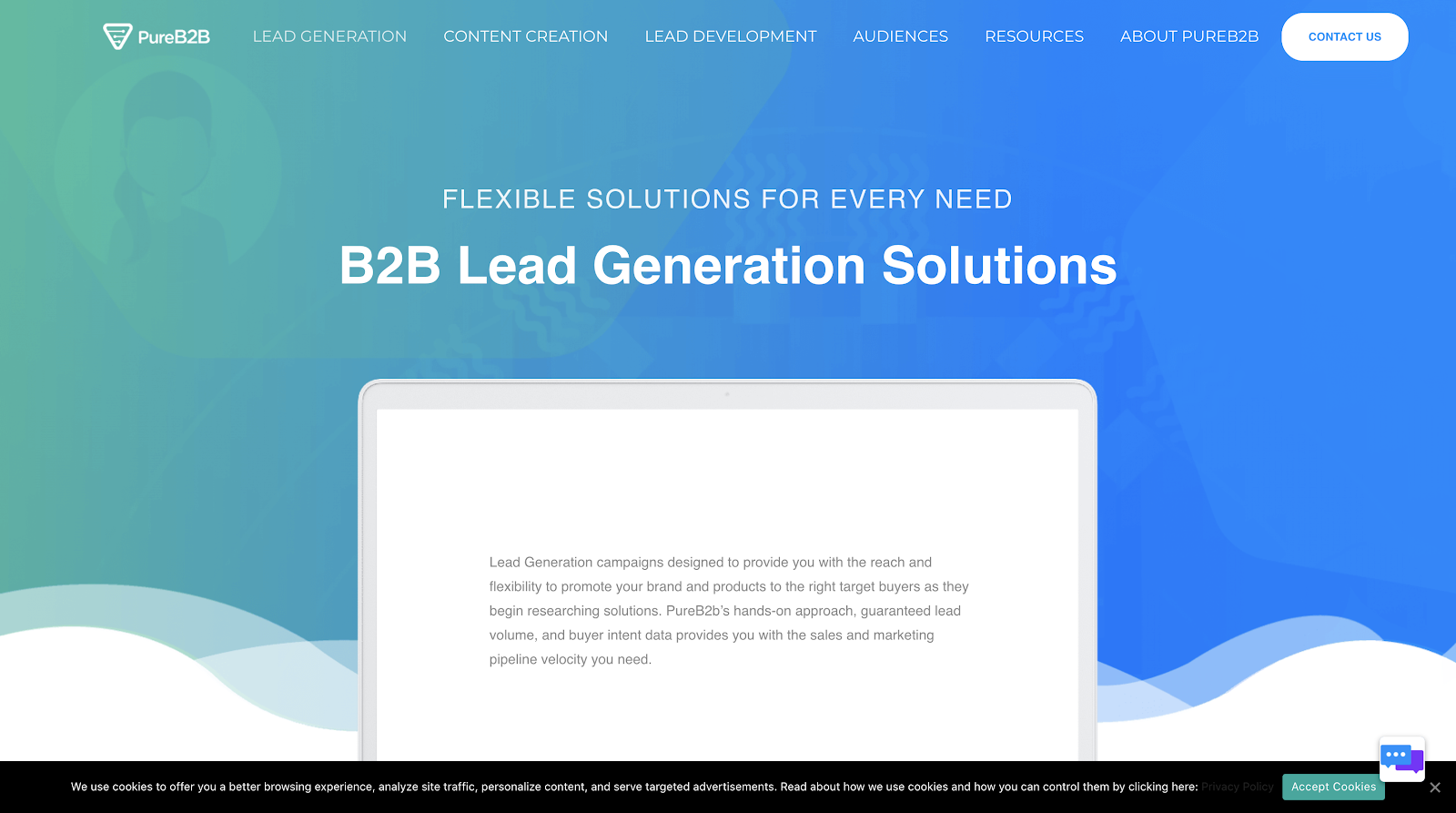 About PureB2B
PureB2B provides B2B technology companies with intent-driven, full-funnel demand generation solutions to help them achieve their revenue goals and increase sales and marketing ROI. Leveraging innovative tactics crafted through years of research and testing, PureB2B works across its exclusive network of in-market technology buyers to provide demand generation solutions at every step of the sales and marketing process.
PureB2B Features
Lead Generation: Content syndication, ABM campaigns and Lead identification.
Content Creation: Custom content creation, Sponsorship content, Survey insights.
Lead Development: CRM cleaning, Lead discovery, Lead Conversion, Sales Meetings and Lead Nurture.
PureB2B Video Support – https://www.youtube.com/user/pureb2bllc
9. Landingi – More than a landing page builder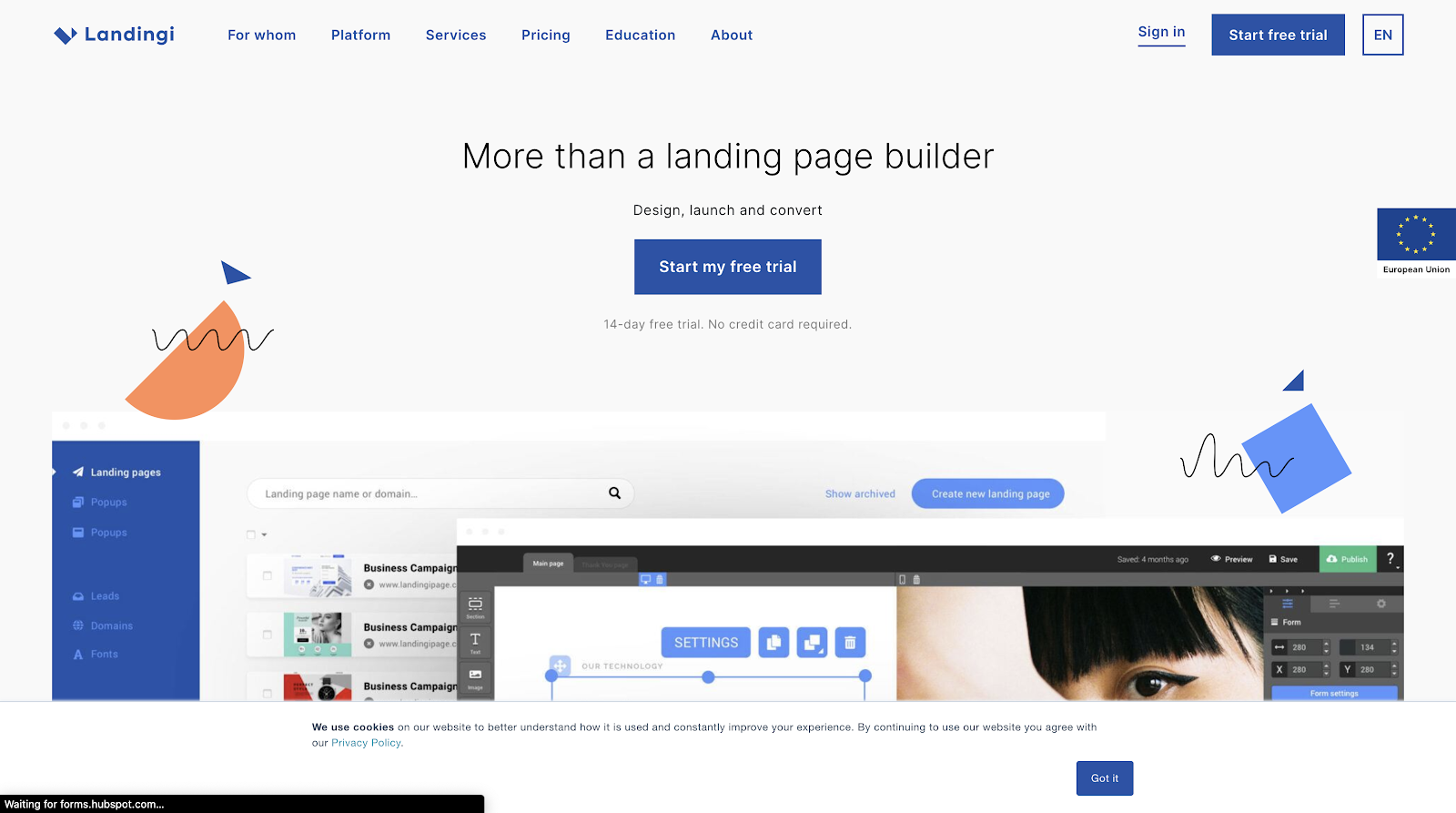 About Landingi
Landingi is an everyday marketing platform to run marketing campaigns with landing pages independently. The platform offers multiple solutions to support customers at every step of marketing campaign creation using landing pages, from design, through the campaign's launch, integration, optimization, to conversion.
Landingi Features
Page Customization – Drag and Drop
Integrations – Domain Integration
Lead Monitoring – Performance and Identification
Data Capture – Mobile, Websites, Social Media and Data
Analytics – Export/Import and Reporting
Customization – Forms, Personalization, Templates and Integration
Landingi Video Support – https://www.youtube.com/user/LandingiVideos
10. Second Street – The Better Way to Monetize Your Audience.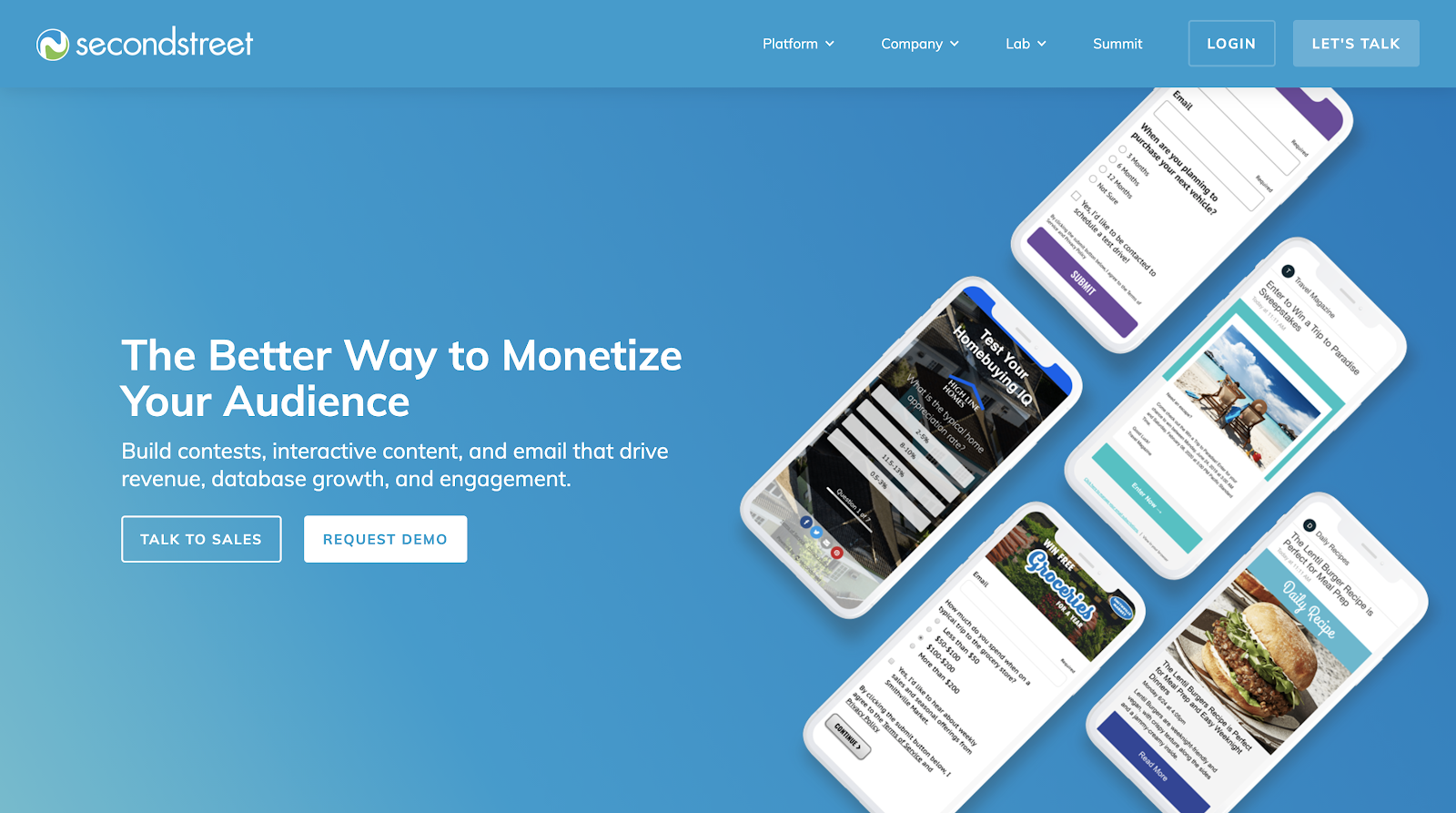 About Second Street
Second Street gives users the power to build contests, interactive content, and emails. This includes sweepstakes, photo contests, ballots, quizzes, polls, newsletters, drip campaigns, and more. Second Street uses their partners to drive revenue, database growth, and audience engagement. They do this by selling sponsorships to advertisers or creating custom solutions that identify hot sales leads, add new people to email lists and attract new site traffic.
Second Street Features
Generate Revenue
Grow Your Database
Increase Engagement
Sweepstakes
Codeword Sweeps
Photo Contests
Video Contests
Pick'ems
Prediction Brackets
Interactive Content
Email
Audience Insights
11. NetHunt CRM – We help you to grow better by….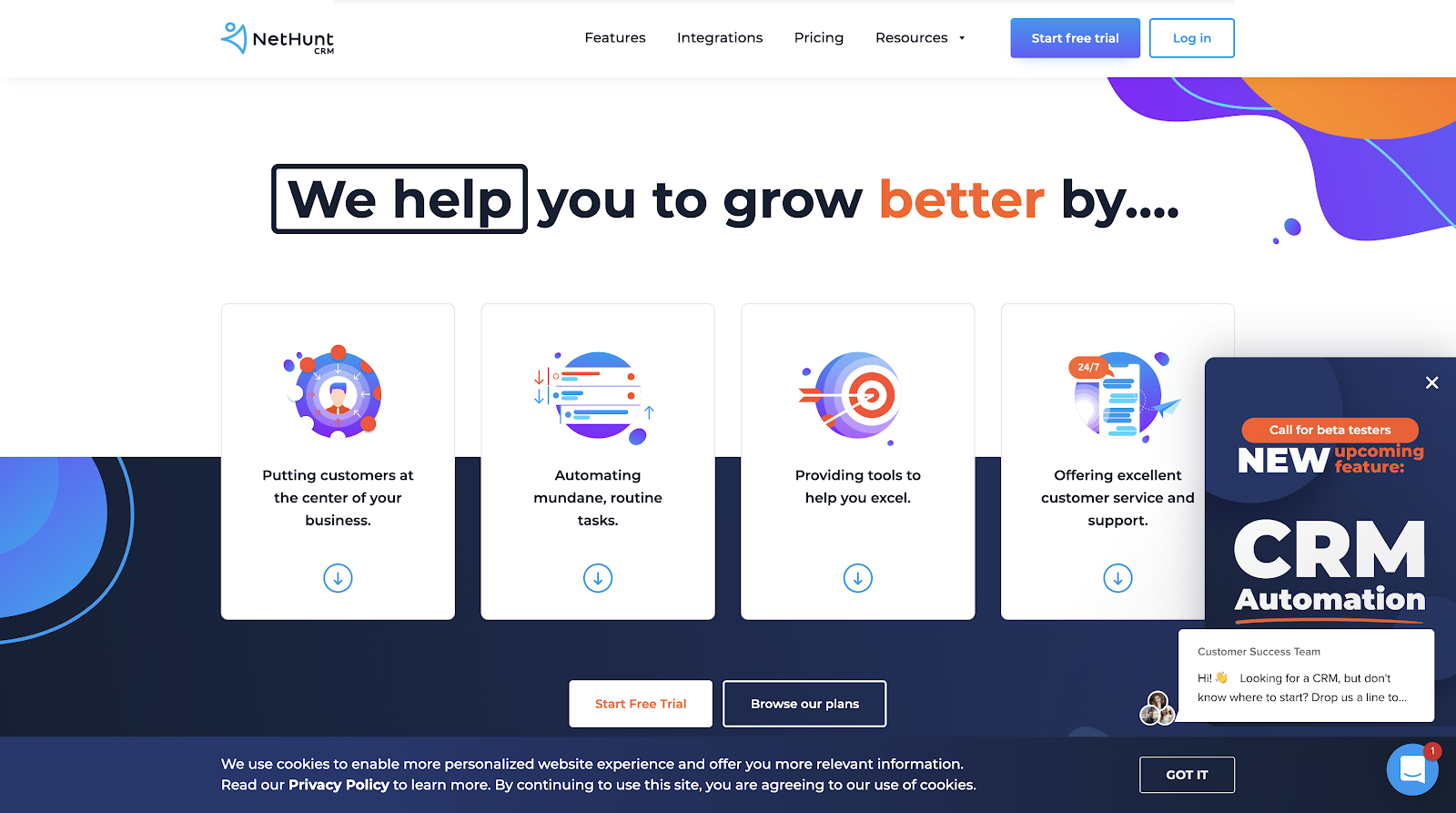 About NetHunt CRM
NetHunt CRM blends entirely with Gmail, placing the full-featured CRM right next to personal emails. Everything one needs is now available in Gmail inbox: customer profiles, deals and opportunities, data filters and views, team collaboration, email tracking, bulk email campaigns and much more.
NetHunt CRM Features
Putting customers at the center of your business.
Automating mundane, routine tasks.
Providing tools to help you excel.
Offering excellent customer service and support.
Сustomer base — organized and structured
Lead management
Multiple pipelines
NetHunt CRM Video Support – https://www.youtube.com/channel/UCJP9BupOAIZW2JB0jw0Im9g
12. FormAssembly – The leading web form platform for you.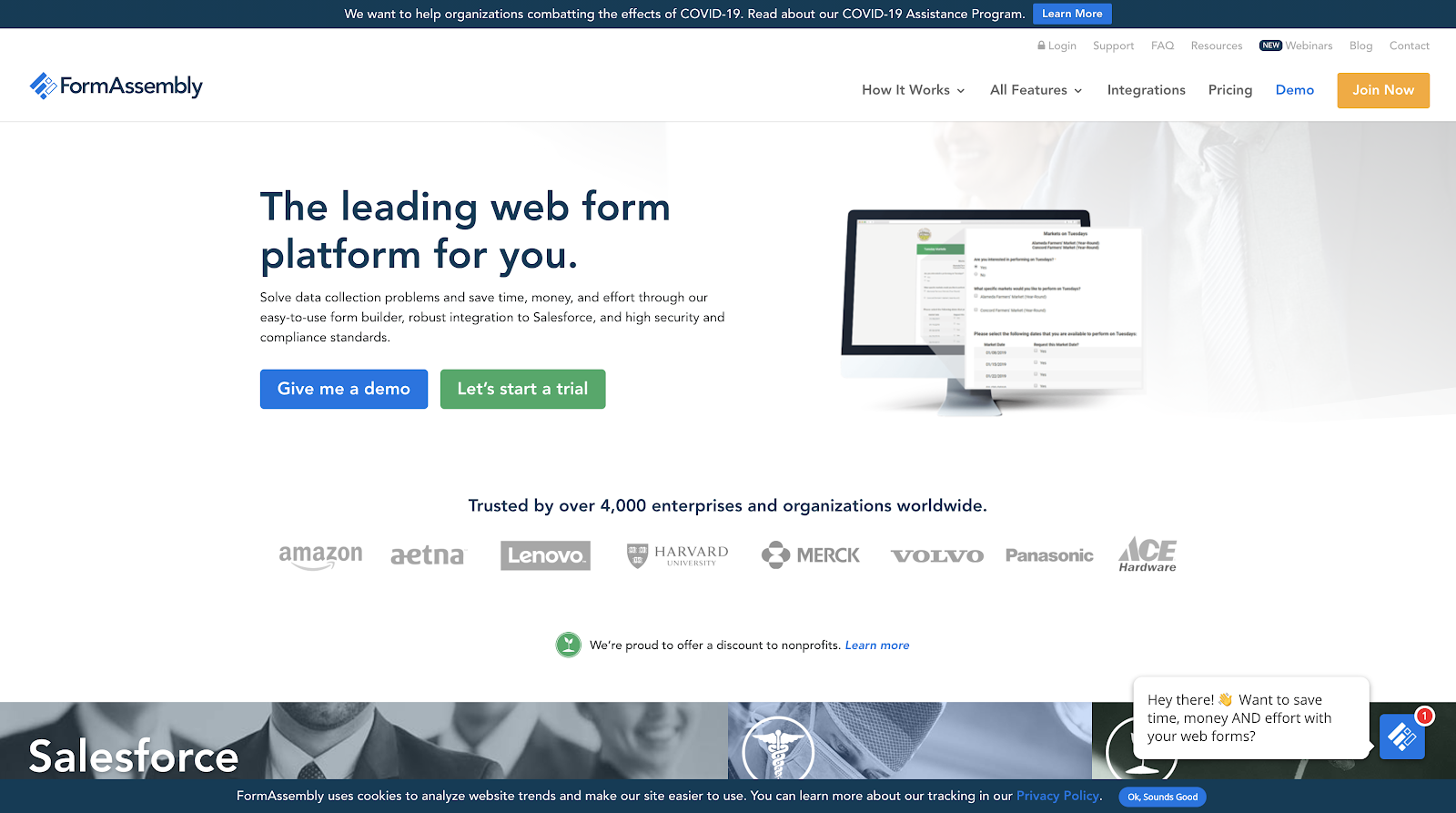 About FormAssembly
FormAssembly is an all-in-one web form building and data collection platform. With the combination of our easy-to-use form builder, robust integration to Salesforce, and high security and compliance standards, companies are able to save time, money, and effort in their day-to-day processes and get the maximum benefit out of the data they collect.
FormAssembly Features
Friendly Support
Mobile Apps
Salesforce Integration
Reports & Charts
Secure Forms (TLS)
PCI DSS Level 1 Certification
Encryption at Rest
GDPR Compliance
FERPA Compliance
Section 508 Compliance
Export to Excel, XML
Email Notifications
FormAssembly Video Support – https://www.youtube.com/user/FormAssembly
In conclusion!
Hope the article helps you in selecting the best Lead Capture and Management Software that's best for you and your corporation. Analyze your requirements and select the platform which best suits your needs.