The very fundamental requirement of a corporation is employee monitoring and employee management. 
Simply stated, a software that provides businesses with the ability to record employees interactions with customers so that they can ensure the quality of service is up to par and ensure employees are using their time productively is called an Employee Management software. Ideally, these solutions should be able to log interactions like phone calls, emails, social media interactions, live chats, etc to make sure that the implied business strategies are working as expected and the employee quality is ensured alongside as well.
Qualifications for an Employee Management Software
The product must have:
Monitoring abilities like employee phone and chat interactions with customers.
Should be able to oversee employee computers to ensure a consistent level of productivity.
Archiving capabilities for future quality review.
Today's article will talk about Employee Management softwares that are best in the business in 2022.
1. Hubstaff – Spend less time tracking and more time growing.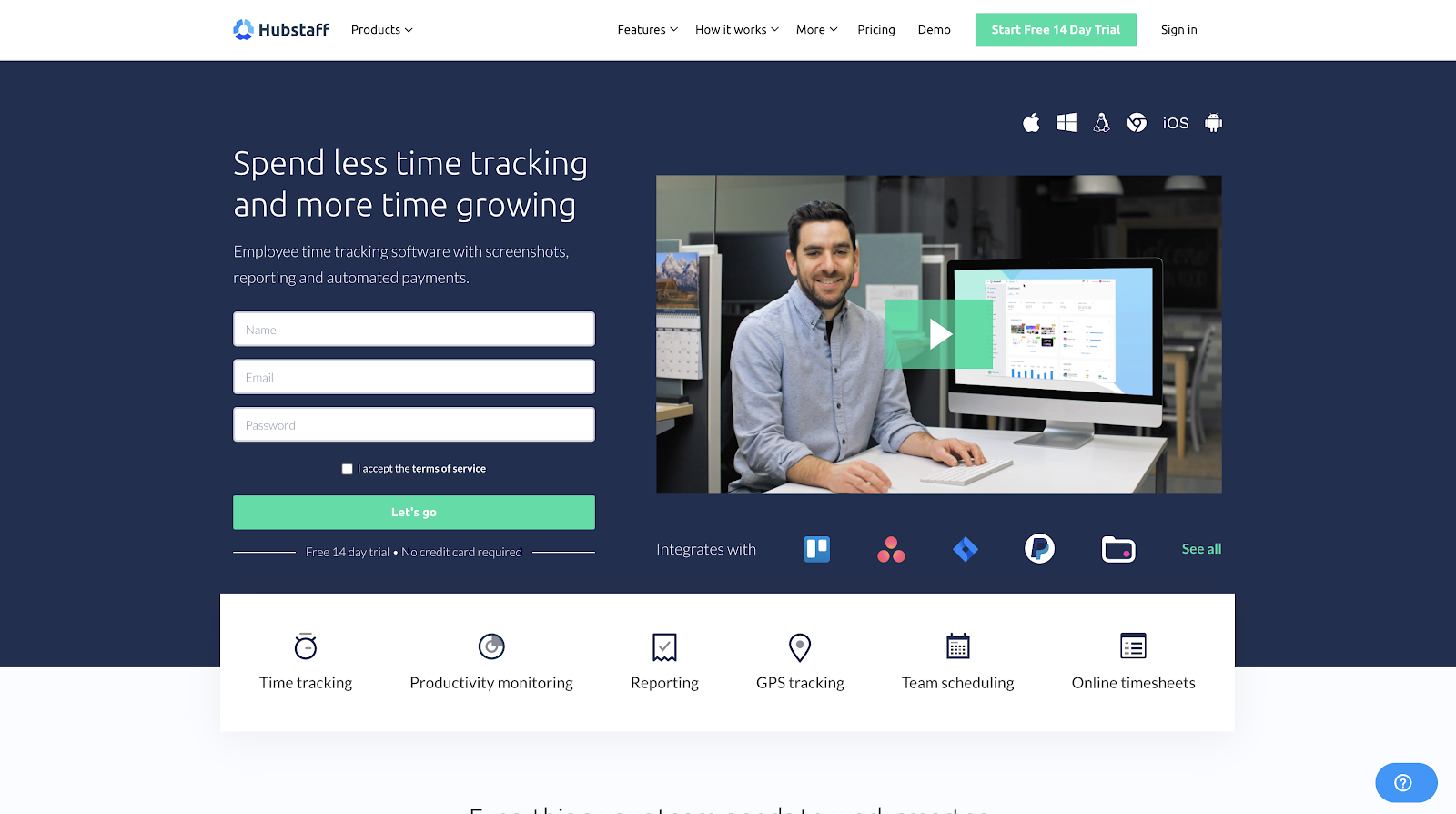 About Hubstaff
Fight inefficiency and work better with streamlined time tracking, team and project management from Hubstaff. Accurately track time with Hubstaff's lightweight desktop, web and mobile apps. See work happen in real time with screen capture, GPS tracking and geofences while viewing reports, sending invoices, doing payments and keep moving forward. Hubstaff integrates with apps so that businesses can run seamlessly.
Hubstaff Features
Time tracking
Online timesheets
Productivity monitoring
GPS tracking
Automate time tracking with Geofencing
Headache-free payroll
Team scheduling
Clock in from a single location with Hubstaff kiosk
Reporting
Invoicing
Project budgeting
Task management
Offline time tracking
Web time tracking
Timesheet approvals
Time off
Integrations
Hubstaff Pricing
Basic – $7/ user / month – Starts at $14. Includes 2 users
Premium – $10/ user / month – Starts at $20. Includes 2 users
Enterprise – $20/ user / month – Starts at $40. Includes 2 users
Free Trial is also available
Hubstaff Video Support – https://www.youtube.com/channel/UCV0-Tt5WiHnxDb3Z7wV_Qlg
2. ActivTrak – Workforce Productivity and Analytics Software for Teams.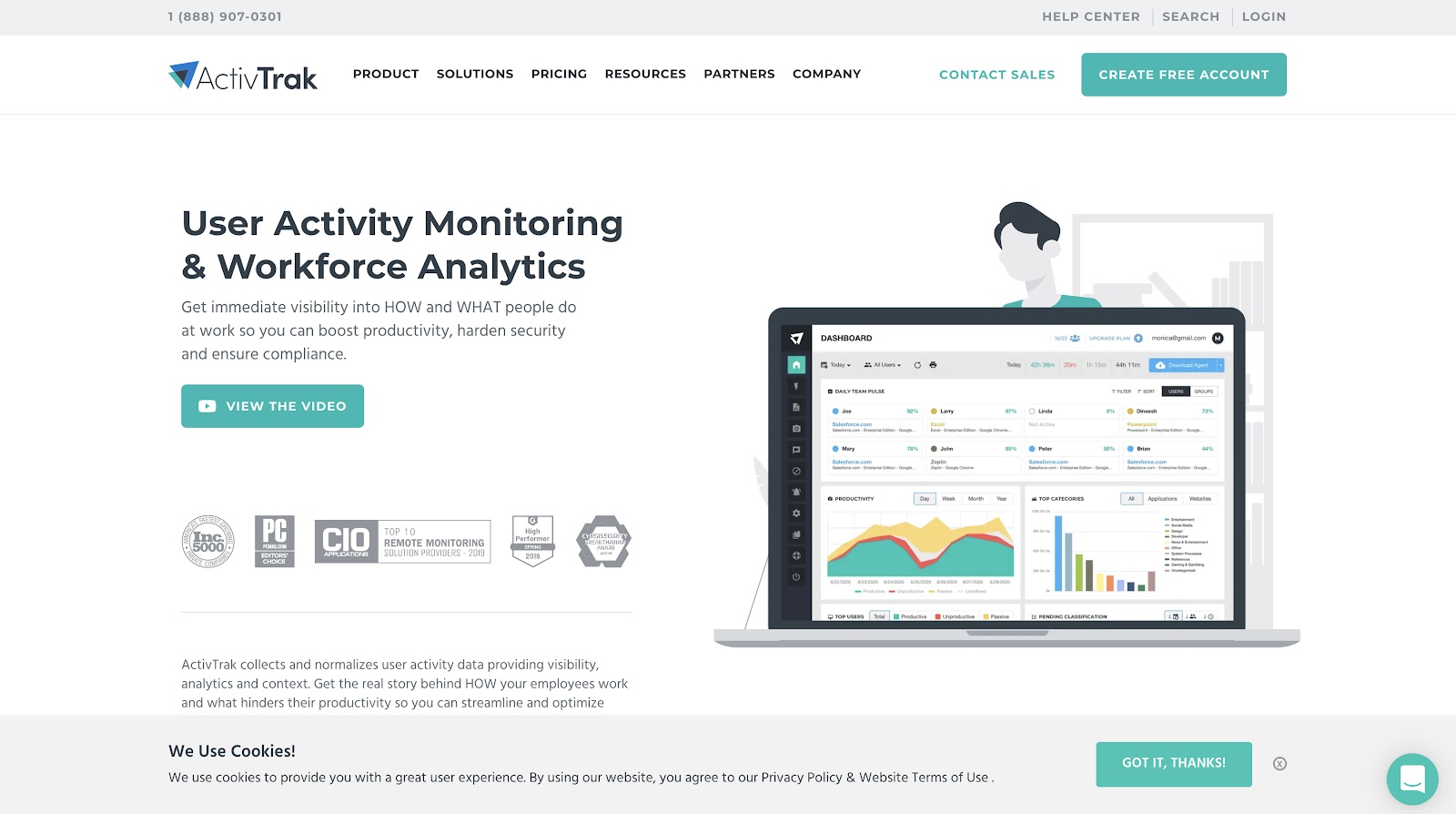 About ActivTrack
With deep data analytics, ActivTrak gives the answers users need to help the workforce to be successful and provides the workflow to make it happen. Get a clear picture of how work gets done with ActivTrack. Leverage data insights to analyze where time is spent and how to improve less productive behaviors to drive business.
ActivTrak Features
Security Workflow Automation
Monitoring
Interactions
Web Usage
Mobile App Usage
Screenshots
Web Blocking
Logging
Email
Social Media
Live Chat
Feedback
Surveys
Reports
Archives
Administration
Reporting
Detection
Anomaly Detection
Incident Alerts
ActivTrak Pricing
Free Plan – Up to 3 Users
Advanced – $7.20 per user / per month with Annual Сontract
ActivTrack Video Support – https://www.youtube.com/user/activtrak
3. Time Doctor by Clara – Time tracking software to help your team be more productive while working from home.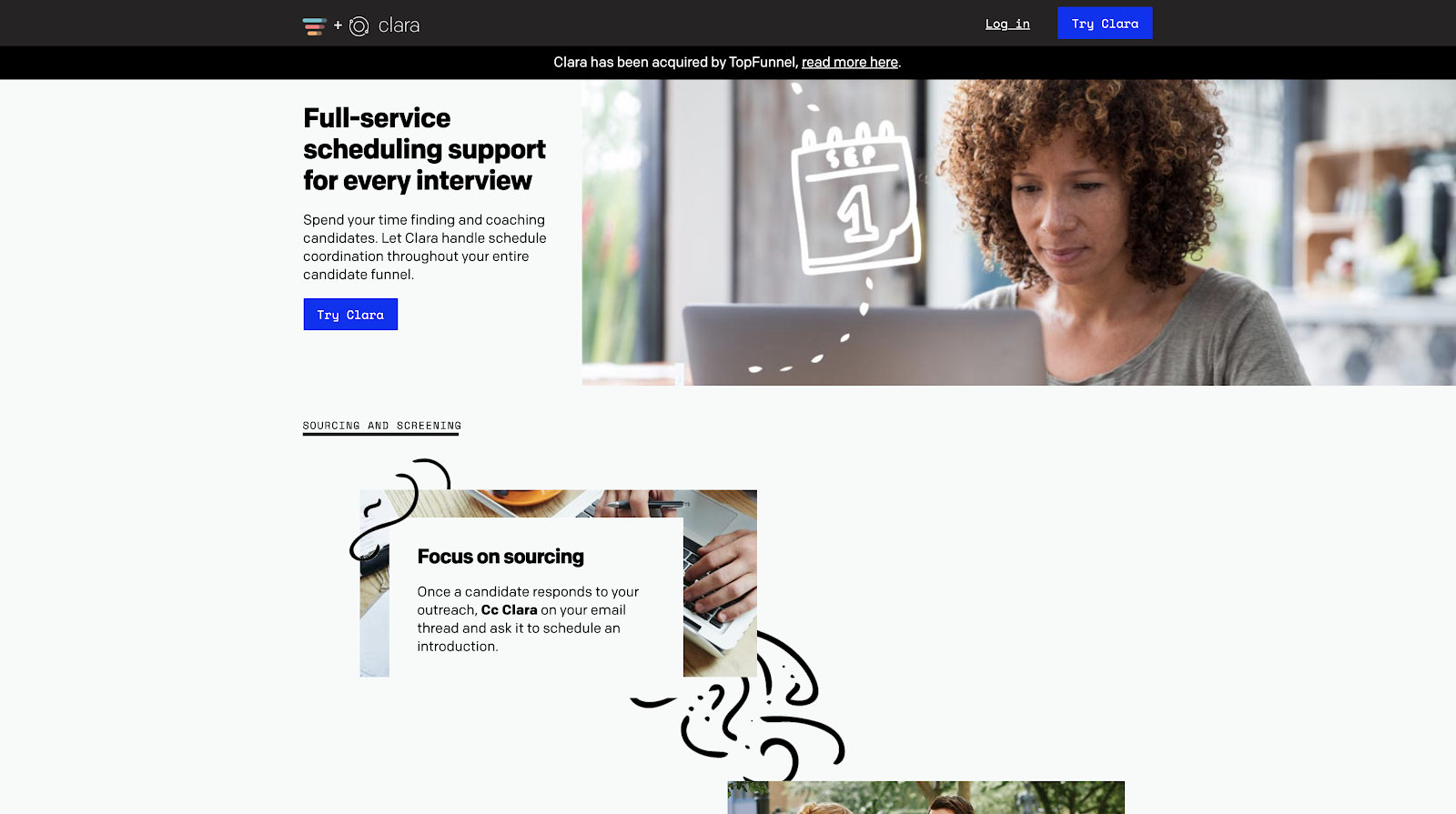 About Clara
Clara uses intelligent software and an expert team to schedule meetings and take care of every participant. This human-in-the-loop approach ensures speed and accuracy, but also clear communication for users and their contacts. Clara's software is built to know personal preferences and reduce last-minute rescheduling. There's nothing to download or install because Clara works in email. And the Clara Labs support team is always available to answer questions and help with configuration.
Time Doctor by Clara Features
Time Tracking
Screenshots
Clients Feature
Powerful Reports
Web & App Usage
Payroll
Integrations
All Devices supported
Time Use Alerts
Off Track Reminders
Attendance Tracking
Track Breaks
Time Doctor Pricing
Basic (1 User) – $7 / month
Standard (1 User) – $10 / month
Premium (1 User) – $20 / month
Free Trial available as well.
Time Doctor Video Support – hhttps://www.youtube.com/user/timedoctorsoftware
4. DeskTime – Real-time automatic time tracking software for teams.
About DeskTime
DeskTime is a fully automatic time tracking software that has proven to boost employee productivity within the first weeks of using it. See how employees and employers spend their time online and offline, track time by projects and automatically calculate their costs based on workers' hourly rates. Additionally, generate custom reports for in-house use or for customers, plan employee vacations and time offs, calculate overtime pay, and store team member's contact information in one place.
DeskTime Features
Automatic time tracking
Document title tracking
Cost calculation
Absence calendar
Mobile app
Screenshots
Offline time tracking
Pomodoro timer
Team's contacts
Third-party Integrations
URL & app tracking
Project tracking
Private time option
Custom reports
Shift Scheduling
DeskTime Pricing
Lite (FREE) – 1 User only
Pro – $95 Monthly and Per user $5.94 
Premium – $124 Monthly and Per user $7.75 
Enterprise – $190 Monthly and Per user $11.88 
DeskTime Video Support – https://www.youtube.com/channel/UCHMGr8kbfSU2Ler6iBM4b1g
5. Teramind – User Activity Monitoring + Data Loss Prevention + User Behavior Analytics = Teramind.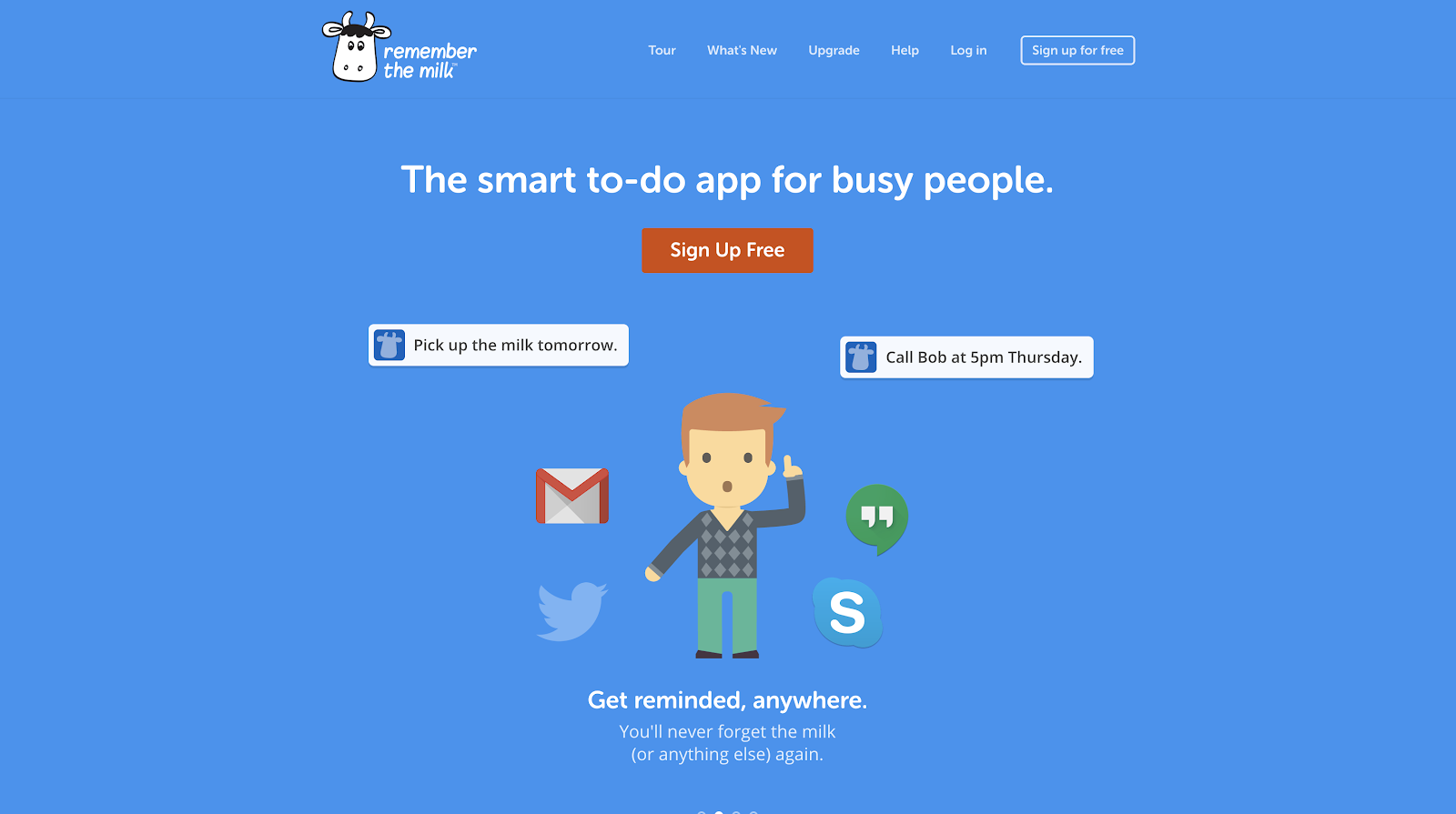 About Teramind
Teramind provides a user-centric security approach to monitor employee's PC behavior. The software streamlines employee data collection in order to identify suspicious activity, detect possible threats, monitor employee efficiency and ensure industry compliance. Teramind helps reduce security incidents by providing real-time access to user activities by offering alerts, warnings, redirects and user lock-outs to keep business running securely and efficiently while a free Android app provides employee monitoring on the go.
Teramind Features
User Activity Monitoring
User Behavior Analytics
Data Loss Prevention
Employee Monitoring
Compliance & Audit
Insider Threat Prevention
Teramind Pricing
Teramind Starter – ₹1,835 INR per month 5 users
Teramind UAM – ₹3,825 INR per month 5 users
Teramind DLP – ₹4,595 INR per month 5 users
Teramind Video Support – https://www.youtube.com/channel/UCSkRq9qTqFJyyjQdovb0-Lg
6. CleverControl Employee Monitoring – TOTAL CONTROL OVER EMPLOYEES' COMPUTERS. MONITOR FROM ANYWHERE AROUND THE WORLD. QUICK INSTALLATION IN 2 CLICKS!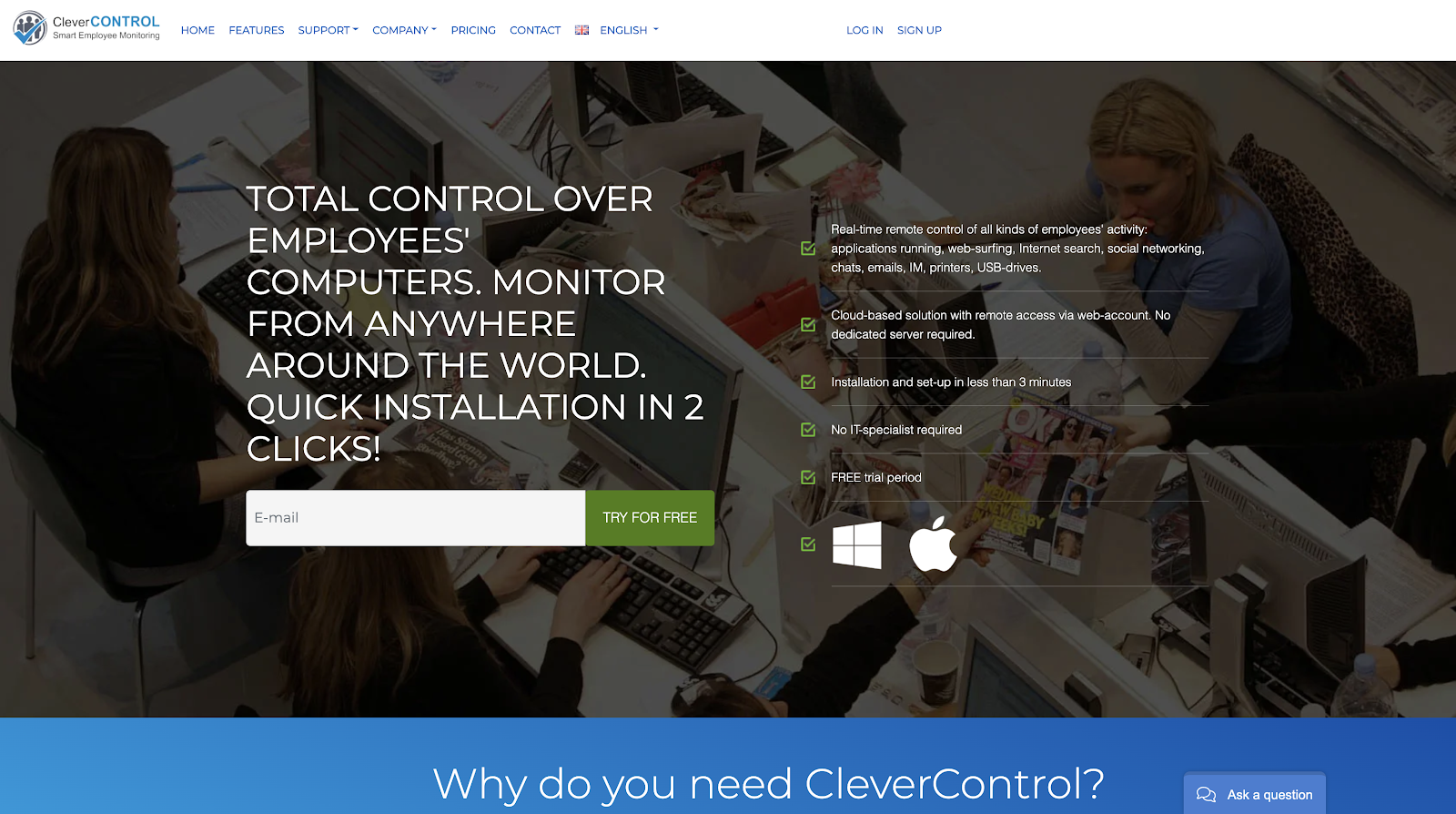 About CleverControl
CleverControl is a cloud-based business solutions software that allows employers to enhance efficiency of staff work efforts and also prevent corporate information from being disclosed, its accumulated data could be an asset in resolving various issues and incidents in the workplace.
CleverControl Features
Remote monitoring via secure web account
Real-time Live Monitoring
Screen Recording
Website Activity
Application Activity
Keystroke Logging
Skype – CleverControl records all Skype dialogs
IMs – Chat Monitoring
Facebook Activity + other Social Networks
Screen Capture
Search Engines activity monitoring
Snapshots
Mic Sound recordings
Removable storage devices (USB, HDD, SD) Monitoring
Control over Printing
Hidden Mode
Remote Uninstallation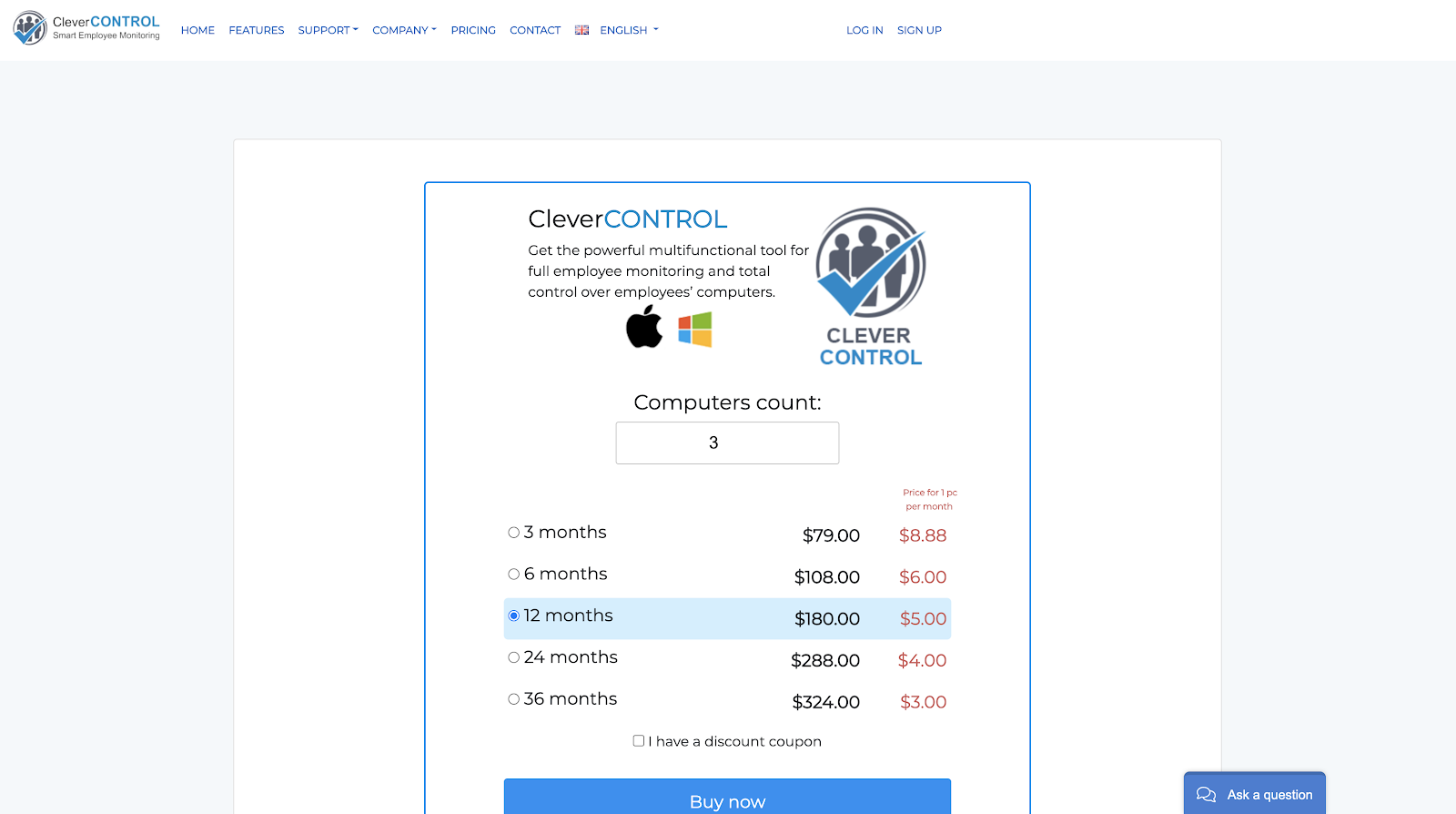 7. RingCentral – WORK TOGETHER. FROM ANYWHERE.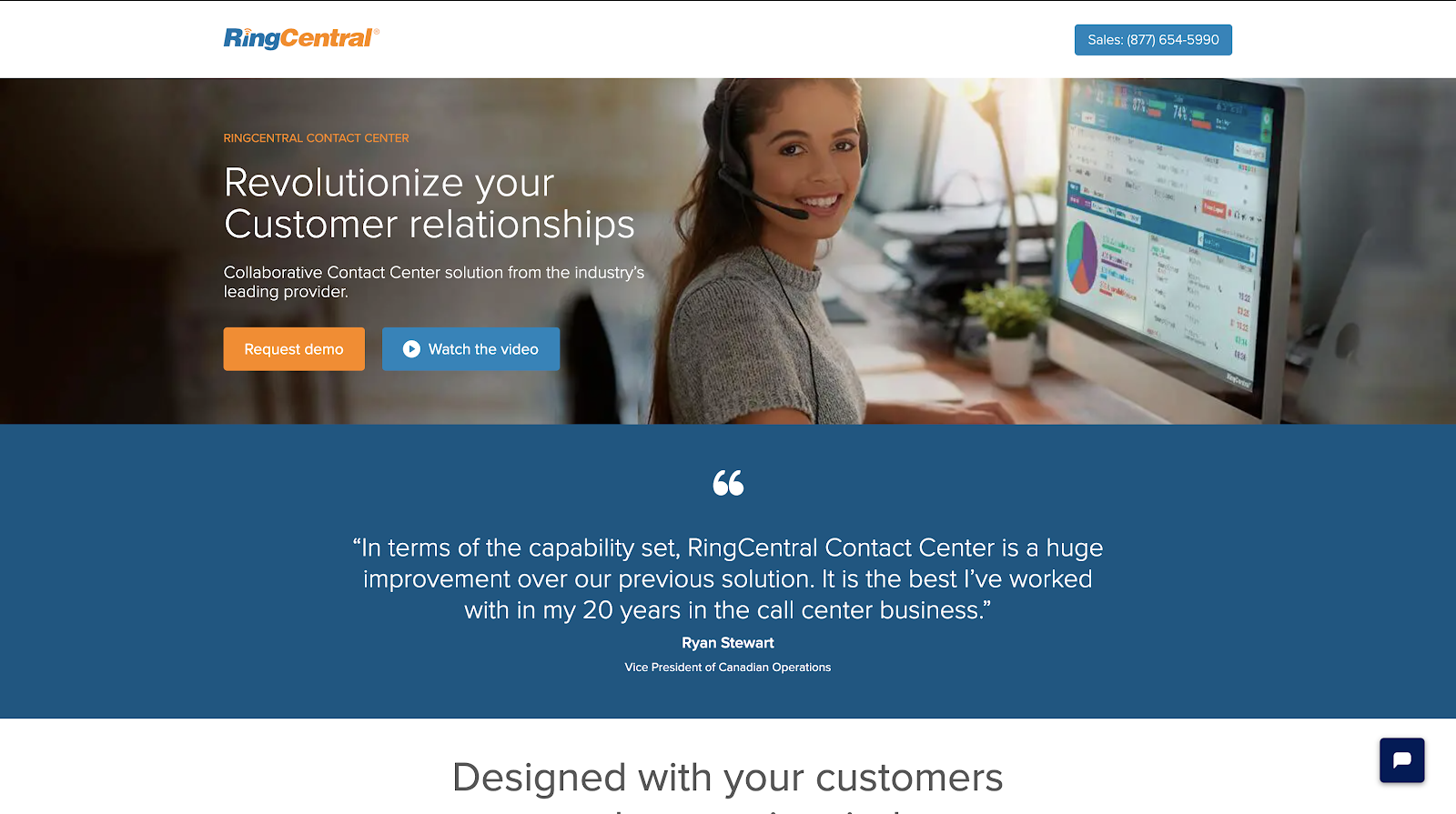 About RingCentral
Cloud-based RingCentral Contact Center helps strengthen customer loyalty by dramatically improving the overall call center experience. This omnichannel solution lets customers contact your company on the communication channel of their choice, while giving agents ready access to the data needed to solve problems quickly and efficiently.
RingCentral Features
Any mode, any device, anywhere
Easy to use, easy to buy, easy to manage
Secure, reliable, open
Meeting remotely just got easier
Blended Call Center
Call Logging
Call Recording
Call Scripting
Campaign Management
Escalation Management
Inbound Call Center
Interactive Voice Response (IVR)
Manual Dialer
Outbound Call Center
Predictive Dialer
Progressive Dialer
Queue Management
Real-time Chat
Reporting/Analytics
RingCentral Pricing
Essentials – $19.99 /user/month *
Standard – $34.99/user/month *
Premium – $44.99/user/month *
Ultimate – $49.99/user/month *
Free Trial is also available
RingCentral Video Support – https://www.youtube.com/user/ringcentral
8. Kickidler – New perception of personnel work.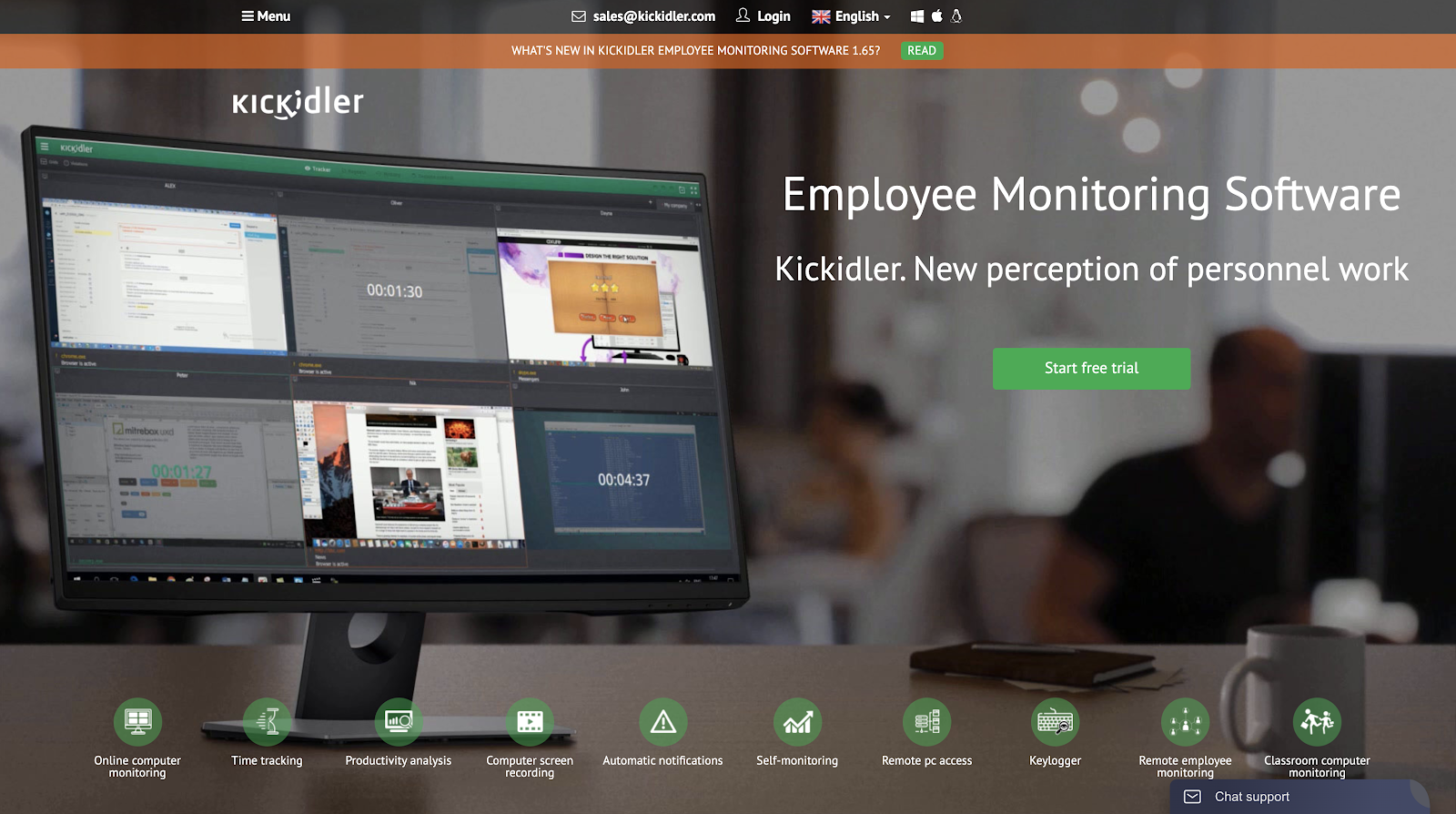 About Kickidler
Kickidler is the employee monitoring and user activity tracking software of the new generation. Kickidler software is a powerful tool for automation of control of personnel, information security and increase in business efficiency. Besides, Kickidler can be useful for optimization of communications inside the company and analysis of activity.
Kickidler Features
Online broadcast of employee desktop activity
Employee time-tracking
Employee negligence and violations detection
Employee timesheet monitoring
Employee timesheet reporting
Time tracker
Employee productivity analysis
Remote PC administration
Applications and websites filter
Settable storage time for staff desktop monitoring video files
Unique video compression algorithm
Employee violations histogram
Employee violations video playback
Data leak prevention monitoring and insider threat monitoring
Monitoring changes in employee productivity
Department performance management
Employee performance quality control
One-click connection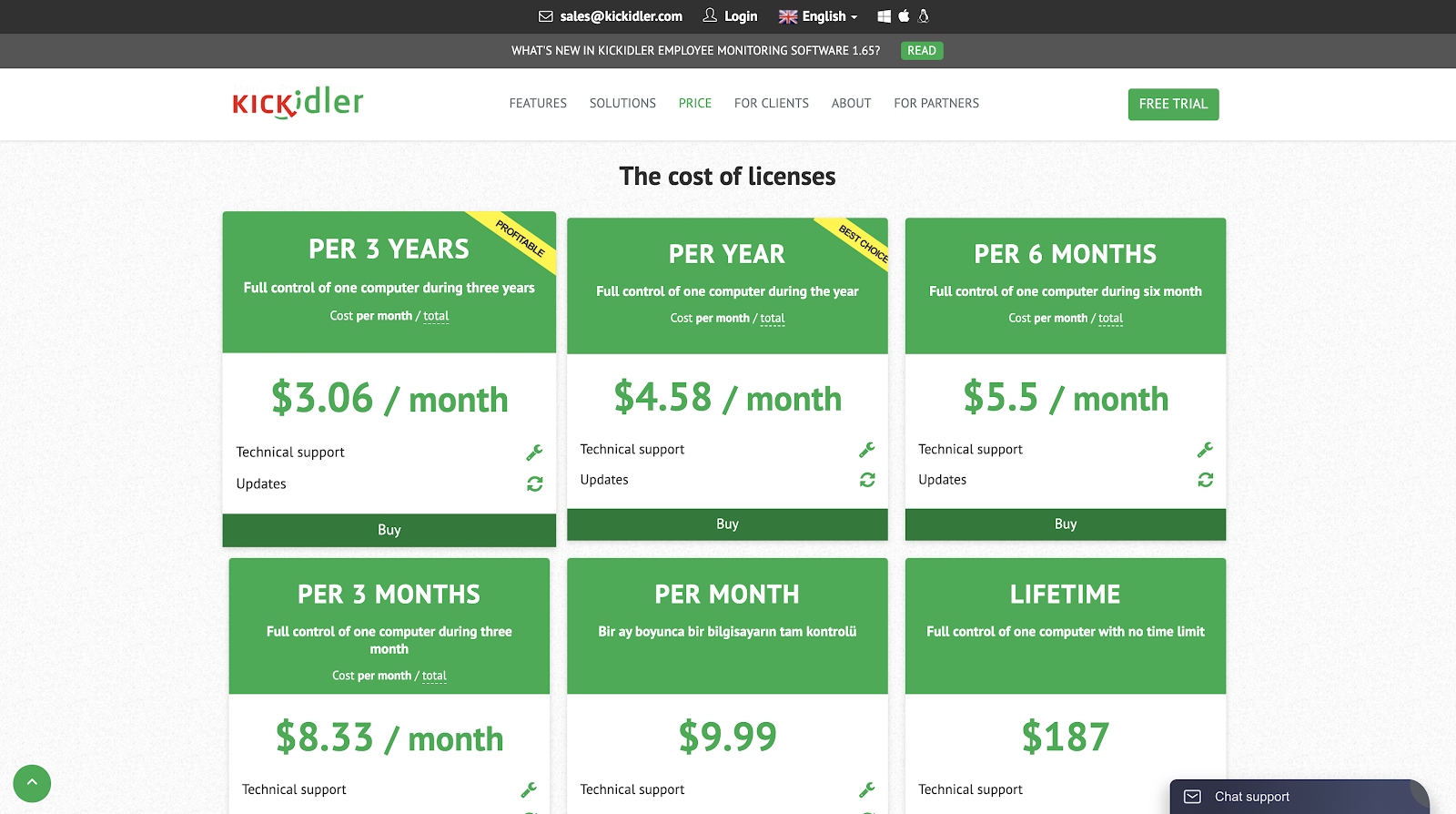 Kickidler Video Support – https://www.youtube.com/channel/UCa0_YM0syqGSrOkAdigJr8A
9. InterGuard Employee Monitoring Software – Employee Monitoring Made Simple Record, Review, Alert and Block User Activity.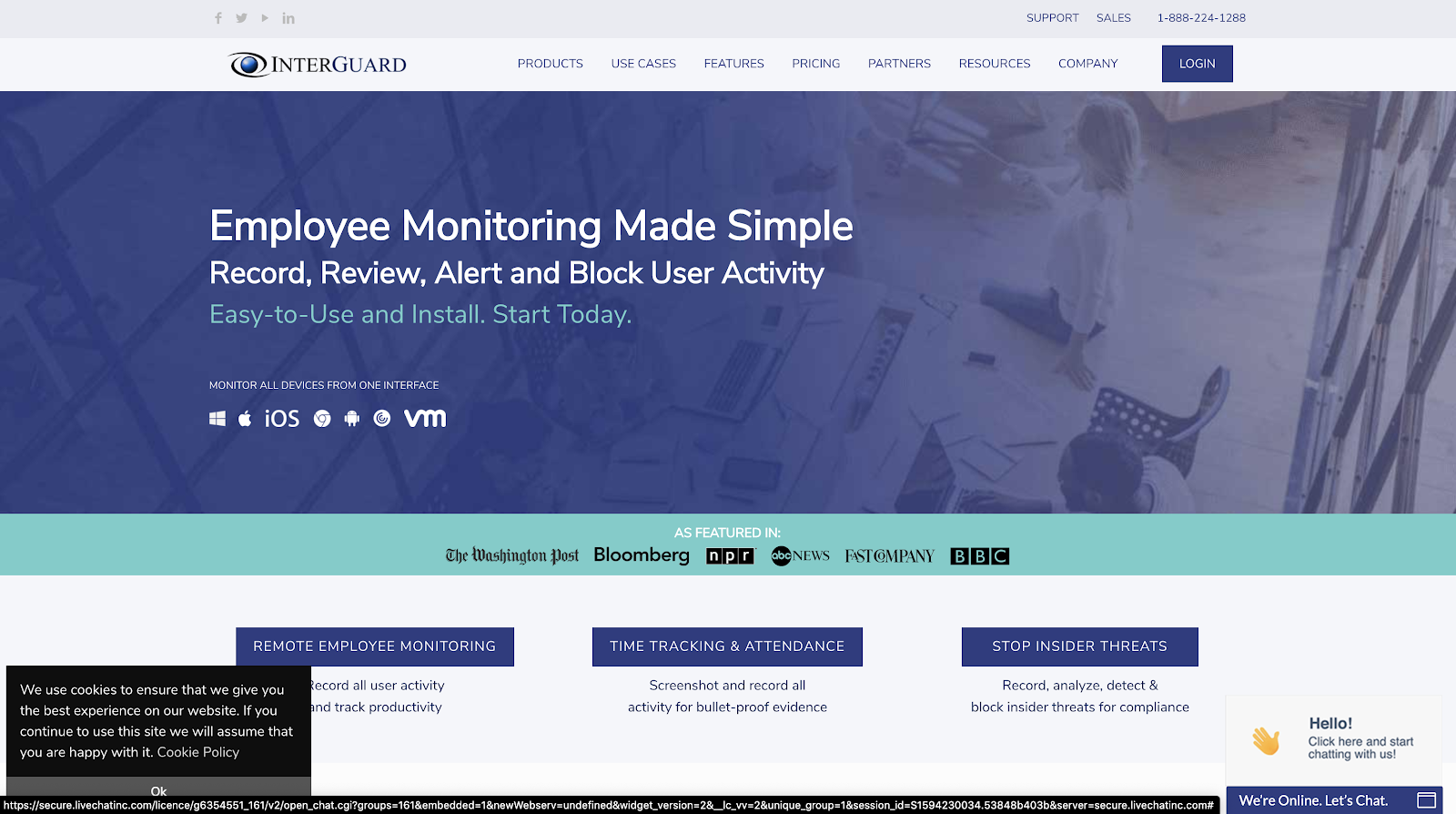 About InterGuard
InterGuard employee monitoring software provides employers and managers insight into all computer and internet activity. InterGuard records all employee computer activity regardless if it is on or off the network.
InterGuard Features
Employee Time Tracker
Video Playback & Screenshots
Real-Time Alerts
Email Monitoring
Internet Usage Monitoring
File Activity Monitoring
Social Media Monitoring
Keylogger Software
InterGuard Pricing
Free Cloud Trial – NO CREDIT CARD REQUIRED
Cloud Hosted – $9.00/USER/MONTH*
Enterprise On-Premise – IN YOUR DATA CENTER
InterGuard Video Support – https://www.youtube.com/user/InterGuardOfficial
10. VirtualLogger – Contact Center Solutions for Less.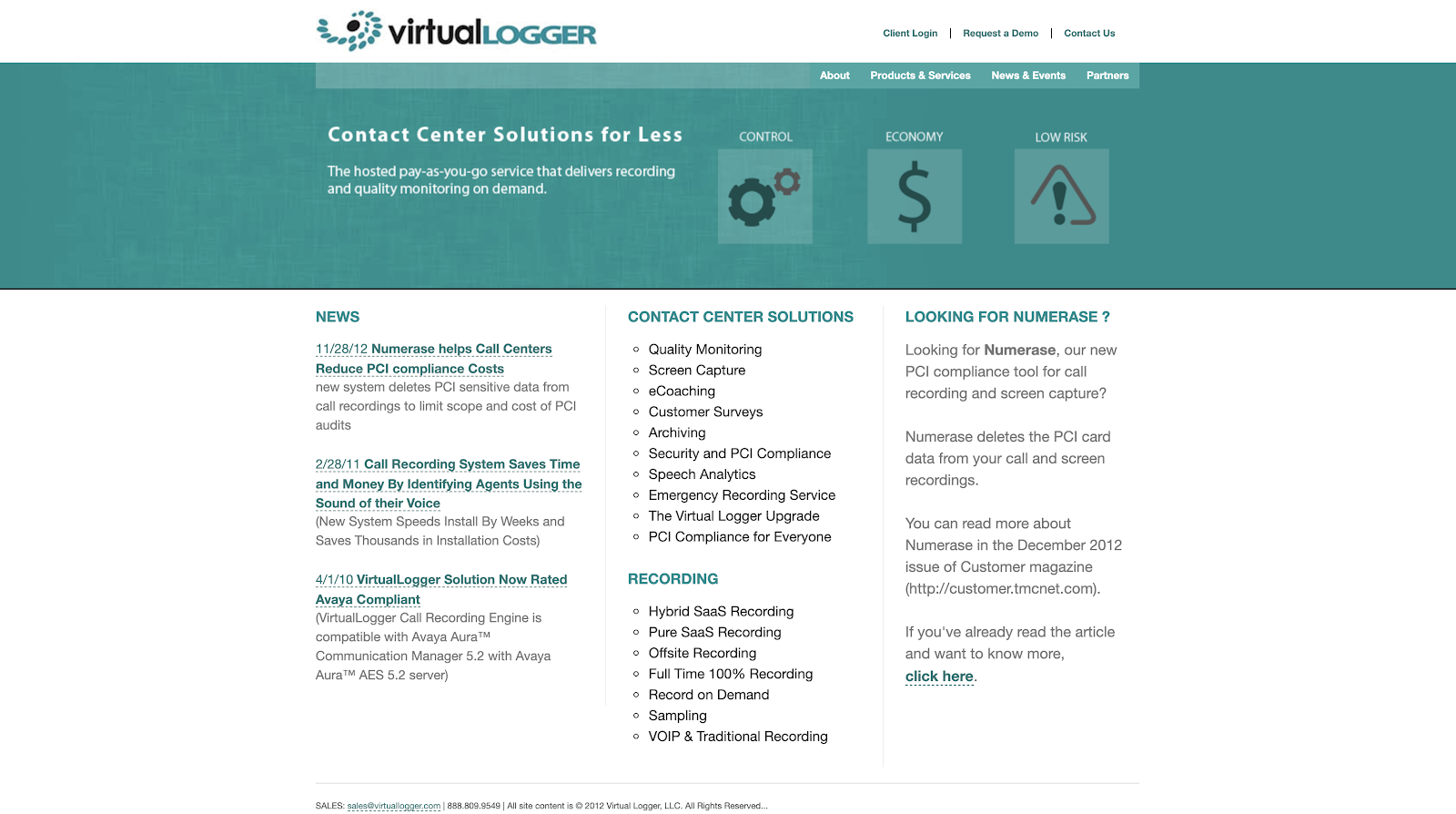 About VirtualLogger
VirtualLogger LLC provides call recording, quality monitoring, post-call surveys and e-coaching technology to contact centers on a hosted basis. Their "pay as you go" approach is designed to dramatically reduce the cash investment required for recording and QA systems and related technology. In addition, because they maintain the database and application software from their central operation center, clients can access their recordings, call evaluations, coaching content and other data from anywhere.
VirtualLogger features
Quality Monitoring
Screen Capture
eCoaching
Customer Surveys
Archiving
Security and PCI Compliance
Speech Analytics
Emergency Recording Service
The Virtual Logger Upgrade
PCI Compliance for Everyone
Hybrid SaaS Recording
Pure SaaS Recording
Offsite Recording
Full Time 100% Recording
Record on Demand
Sampling
VOIP & Traditional Recording
Wrapping it up!
Hope the article helps you in selecting the best Employee Management software that's best for your corporation and ultimately helps you in management. Analyze your requirements and select the platform which best suits your needs.