Email marketing is a form of direct marketing that uses email to send advertisements and other messages to a list of people, called a subscriber list.
The list can be of customers, newly generated leads or targeted contacts from contact selling marketplaces.
This form of advertising has grown in popularity because it is an inexpensive way to reach potential customers. In addition, it can be used as a way to collect information about customers or leads.
Email marketing is often done in conjunction with other types of marketing, such as search engine optimization or social media advertising.
Email marketing can be done my sending bulk email through gmail account but there are limitations. 
For example:
You can only send 300 emails per day with free Gmail account
You cannot know if your mail has been delivered in inbox or has been delivered in spam
You cannot send personalised mails in 1 go, You have to write them one by one and send them
You cannot maintain an automated list using gmail
Drip Emails, "A feature that allows businesses to send a set of emails in a period of time after the contact was added" is not available. Doing this manually will take a lot of time and as a small business owner  you cannot spend time in sending mails whole day.   
This is where an email marketing comes in picture. 
Email marketing software automates the email communication process between a business and its prospects and customers (target audience). This software category performs marketing tasks like managing mailing lists, monitoring marketing campaign effectiveness, and increasing email marketing efficiency. Simultaneously, they can be used to strengthen brand recognition, announce new product launches, and promote services.
Key features of an Email Marketing Software
Contact database
Contact databases are one of the most time-consuming aspects of email outreach, but they're also one of the most important. Without a contact database, you're forced to spend hours manually searching for email addresses and finding out who to contact at different companies.
Email marketing software allows you to store contacts along with their stages in customer journey. This allows you to send targeted leads to customers with actionable points and more conversion probability.
Sending targeted emails also allows users not to report the emails as spam. Contact Database feature is an important of an email marketing software and it should not be ignored.    
2. Mass email delivery
Mass email delivery Email marketing is a powerful tool in the hands of a good marketer. It enables them to reach out to a large number of prospects and customers with personalized, targeted messages.
3. Subscribe or unsubscribe
No one likes to see bad emails and miss good one. Over a period of time email marketing software have improved and allowed users to subscribe and unsubscribe emails in multiple ways. Some of the popular ways to do this has  been"Subscribing/Unsubscribing using email". "Subscribing/Unsubscribing using email portal", "Subscribing/Unsubscribing using white labeled portal".
I know a lot of companies exist that do not like to offer unsubscribe option but as per GDPR regulation is considered the user right should be given. 
The General Data Protection Regulation, or GDPR, is an EU law that came into effect on May 25, 2018. It is designed to protect the digital privacy of EU citizens by giving them control over their data.
4. Template management
Templates are prewritten email messages that can be reused on new products, customers or in a new region. They are created through a professional email copyrighting process of writing, editing, and reviewing until the message is perfect. Once you have a set of templates customized to your company, you can use them for all your marketing communications needs saving time and money
5. Reporting and analytics 
Reporting in email marketing is the process of collecting delivery, customer action data, analyzing it, and presenting the results. Analytics is the process of evaluating past performance in order to predict future performance and change the next execution if there is a red signal.
6. Personalization
Personalizing emails to individual customers is a strategy that many companies are using in order to enhance their marketing campaigns. Customers appreciate receiving messages that are relevant and custom-tailored to them, and this can lead to improved customer retention rates and increased customer satisfaction.
7. Automated testing
A/B testing is the most effective way to know which email written copy converts best. A/B tests can be done on anything, from email subject lines to campaign content to the kind of CTA(call to Action) you offer in each email. When you test your ideas, you'll get new insights into what will actually drive results for you.
8. Email Builder
One of the most helpful tools is an email builder. This tool will let you easily create unique emails with images, links/titles, logos, color schemes, etc.
Point to Note: General HTML is not supported in email as it is on the web. You will forced to design your content with tables using raw HTML which most of the time looks ugly. It is important to have a decent email builder, one that get customised as per the brand will be ice on the cake. 
9. Dynamic Delivery
There is a new trend in email marketing software that is changing the game. Dynamic Delivery is where content is delivered on an individual basis, which can lead to higher conversion rates and more engagement. This tactic allows marketers to send the most relevant content to their customer base at any given time.
10. API Integration 
11. CAN-SPAM compliance
Today's article will talk about the best corporate Email Marketing Software in 2022. The article will discuss the features and pricing of each product. The order of the article is decided on the basis of the research. Let's get right to it!
1. Mailchimp – Get your business online today with a custom domain.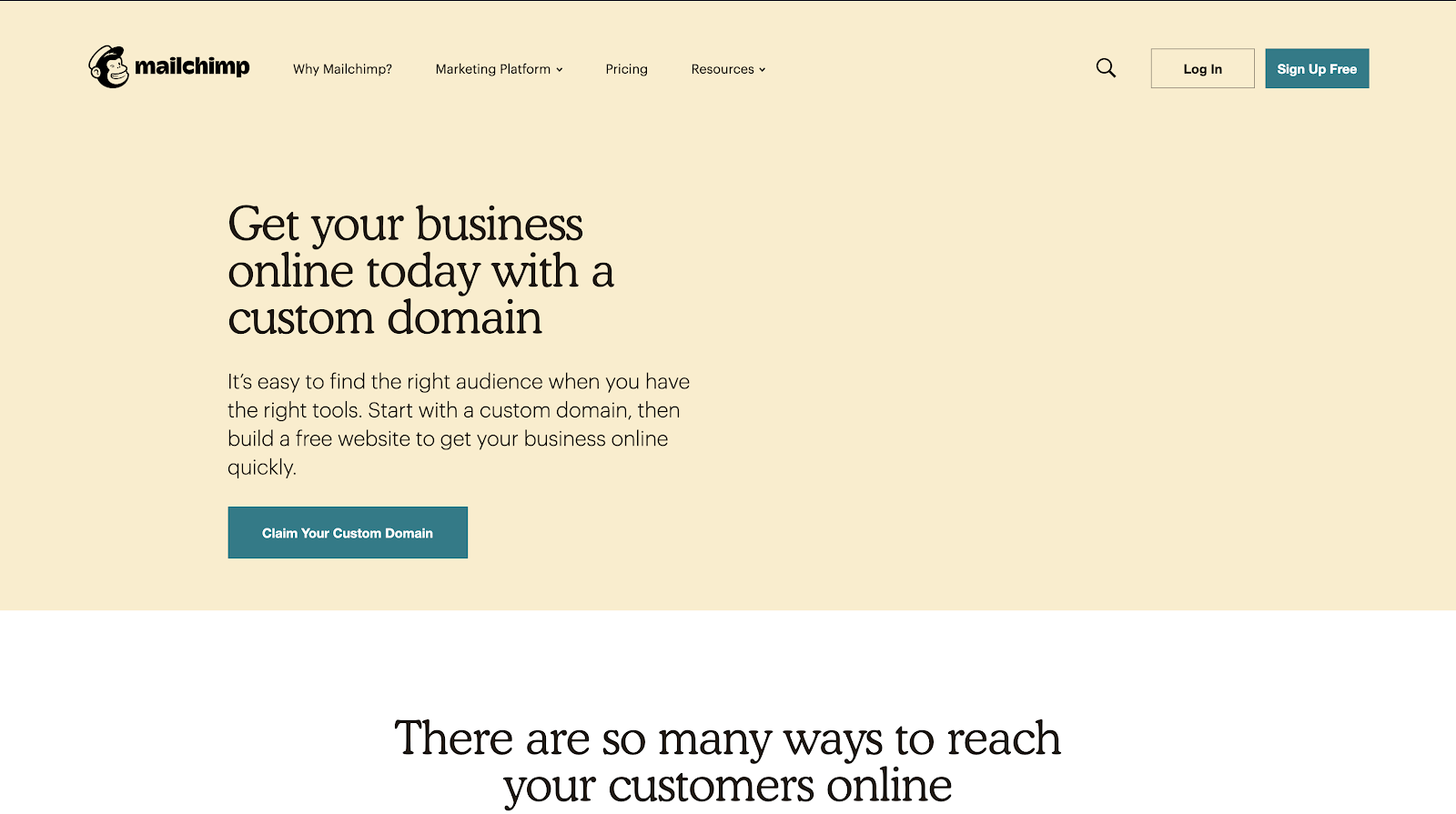 About Mailchimp 
Mailchimp is an all-in-one marketing platform that helps small businesses market smarter so they can grow faster. As the backbone for customer relationships, Mailchimp provides AI-powered, user-friendly tools anyone can use to be successful. Mailchimp puts the audience at the center so one can send marketing emails and automated messages, create targeted ad campaigns, build landing pages, send postcards, facilitate reporting and analytics and sell online.
Mailchimp Features
All-in-one pricing
Help when you need it
300+ app integrations
Industry compliance
Built-in security
Put your people front and center
Build campaigns in minutes
Built‑in analytics so you can market smarter
Mailchimp Pricing plans 
Premium – Starting at ₹ 23,000 a month
Standard – Starting at ₹ 1,150 a month
Essentials – Starting at ₹ 770 a month
Free Trial is available as well
Mailchimp Video Support – https://www.youtube.com/user/MailChimp
2. Constant Contact – Powerful email marketing made easy.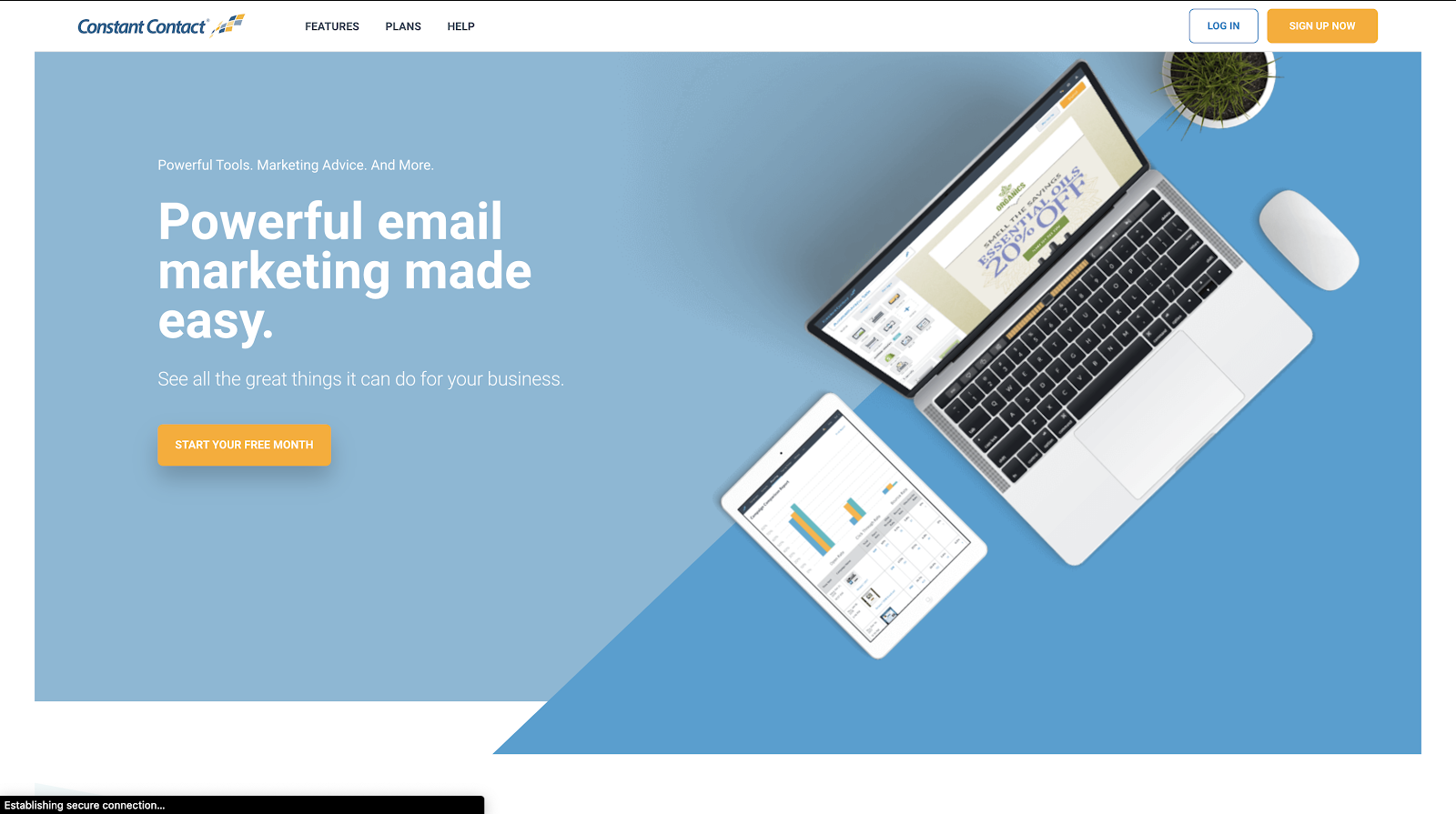 About Constant Contact 
Constant Contact email marketing service provides real-time tracking tools that report who's opening, clicking, and sharing emails so customers can plan their next steps. The platform's editor makes it easy to customize an email template and design professional, mobile-responsive emails that look great on every device.
Constant Contact Features
Editing made easy by drag & drop feature.
Drive more sales in less time. Automatically.
Open the door to eCommerce email marketing.
Contact management, with less of the "management."
Track your email marketing results in real time. Improve them in no time.
Email plus – Email marketing automation, surveys and polls, donations, dynamic sign-up forms and events.
Constant Contact Pricing plans 
EMAIL – Starting at ₹ 1289 /month (Price based on number of contacts) Send unlimited emails and get more file storage.
EMAIL PLUS – Starting at ₹ 2900 /month (Price based on number of contacts) Get more powerful features to grow your business.
Free Trial is available as well
Constant Contact Video Support – https://www.youtube.com/user/constantcontact
3. ConvertKit – Audience building for creators.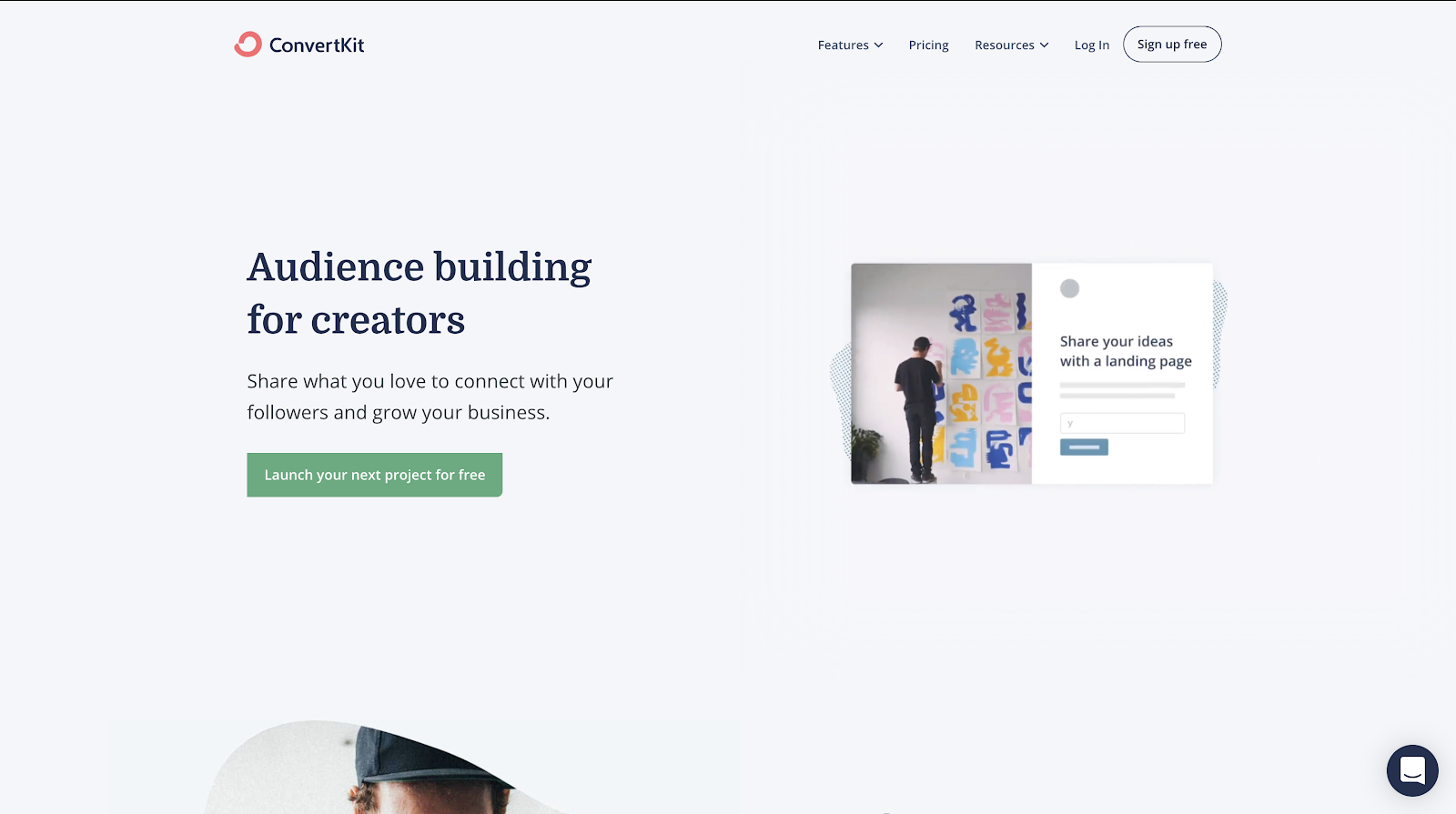 About ConvertKit 
ConvertKit is an email marketing software for online creators with easy-to-embed, customizable opt-in forms to turn readers into subscribers and a visual automation builder to help users send well-timed, targeted content to those subscribers so they can stay focused on what matters most, i.e. growing their online business. By focusing solely on being an email marketing platform, ConvertKit's main goal is to build trustworthy deliverability to make sure their customers land in the reader's inbox.
ConvertKit Features
Spend less time on email marketing and more on creating
Grow your audience with sign up forms and landing pages
A better way to write emails that convert
Send the right message to the right person at the right time
Organize and understand your subscribers
Build a system to fuel your business with easy integrations
Reliable support
Tool switching assistance
ConvertKit Community
Deliverability
Text-based emails
ConvertKit Pricing plans 
Complete – Starting at $29 /month (The price varies according to the number of subscribers)
Free Trial is available as well
ConvertKit Video Support – https://www.youtube.com/channel/UC7uOQK6nAYXbrB2pDeirBFA
4. Privy – List Growth & Email Tool.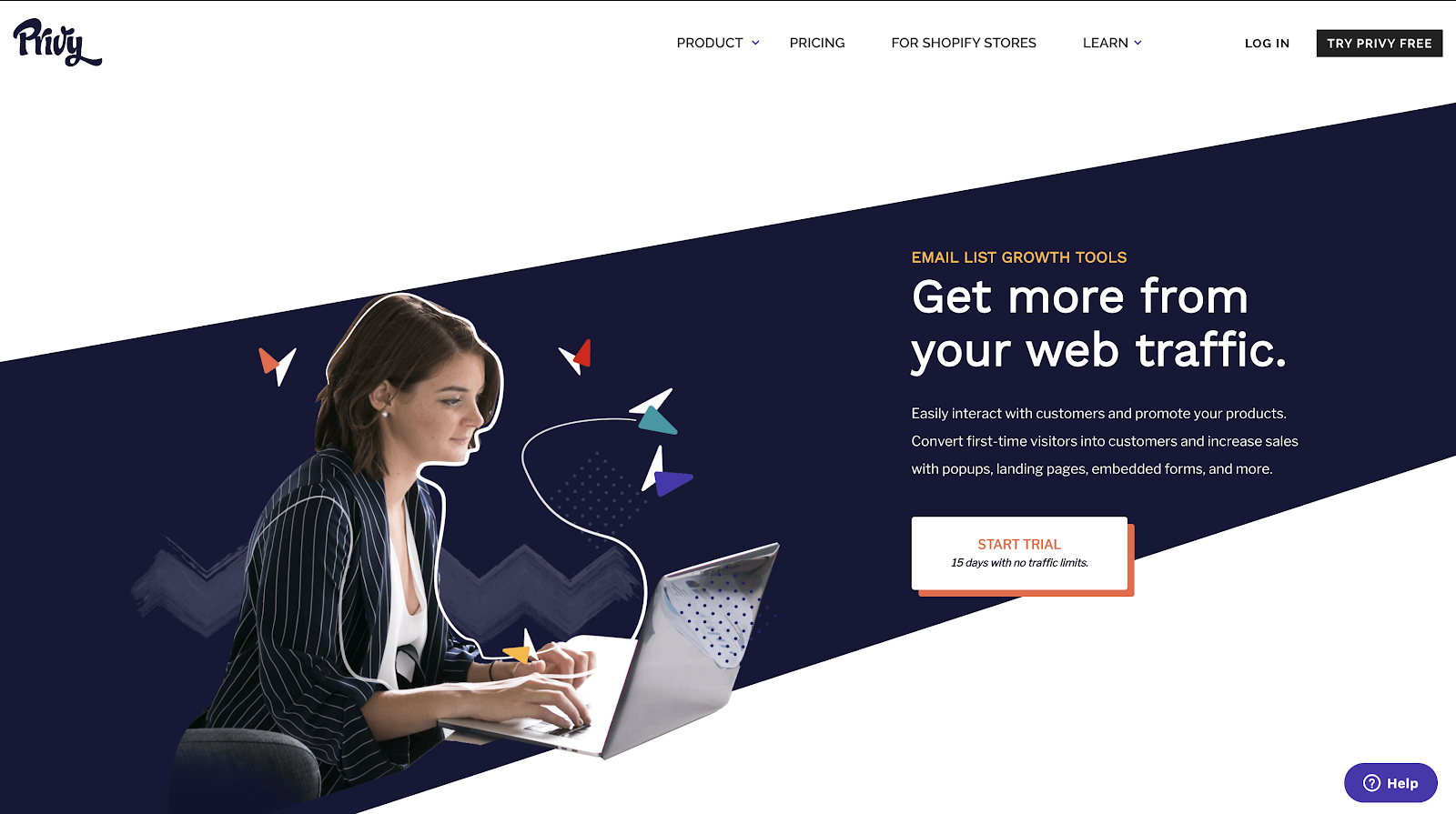 About Privy 
Privy is built specifically to drive online conversions through targeted on-site displays and automated emails that enable leading ecommerce companies to rapidly grow their email lists and dramatically reduce cart abandonment. Privy is deeply integrated with top ecommerce and email platforms to perform marketing at its best.
Privy Features
Rapidly grow your email list
Keep shoppers on your site and close more sales
Drive up average order value
Engage new visitors
Promote free shipping, special offers, & sales
Personalize the customer experience
Make pop ups that look great and fit your brand
Automatically sync new sign ups to email, SMS, loyalty, and retargeting platforms
Sign up displays
Cart saver displays
Upsell displays
Spin to win displays
Announcement bars and banners
On-site Segmentation
A/B Testing to Ensure Effectiveness
Professional-looking campaigns
Privy Pricing
Privy Email – Starts at 10$/month
Privy Text – Starts at 10$/month
Free Trial is also available
Privy Video Support – https://www.youtube.com/channel/UC8fwEvCchVbv4Z2ukpErCqQ
5. Klaviyo – Where e-commerce businesses grow.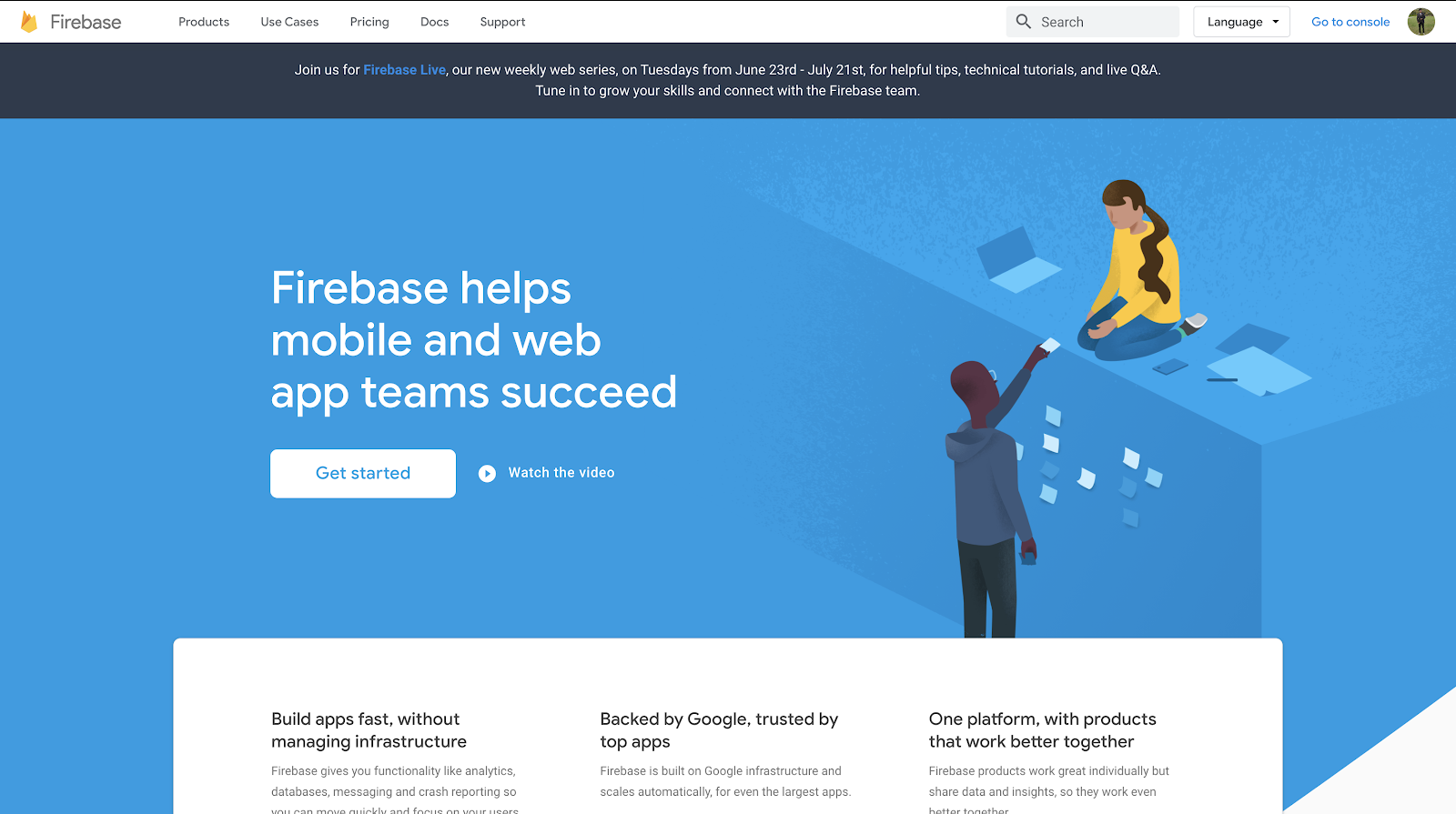 About Klaviyo 
Sophisticated D2C brands rely on Klaviyo to supercharge their growth. Klaviyo is a growth marketing platform that helps deliver more personalized experiences across owned marketing channels like email, SMS, in-app notifications and web. And the results speak for themselves brands have made more than $3.7 billion in revenue through Klaviyo in the last year alone.
Klaviyo Features
Listen, analyze, and act on your customer data
Build strong relationships based on customer data
Unlock customer insights to grow your business faster
Delight customers with highly relevant messages
A/B Testing
Auto-Responders
CAN SPAM Compliance
Customer Surveys
Drip Campaigns
Dynamic Content
Event Triggered Email
Image Library
Landing Pages/Web Forms
List Management
Mobile Optimized Emails
Reporting/Analytics
Subscriber Management
Template Management
WYSIWYG Email Editor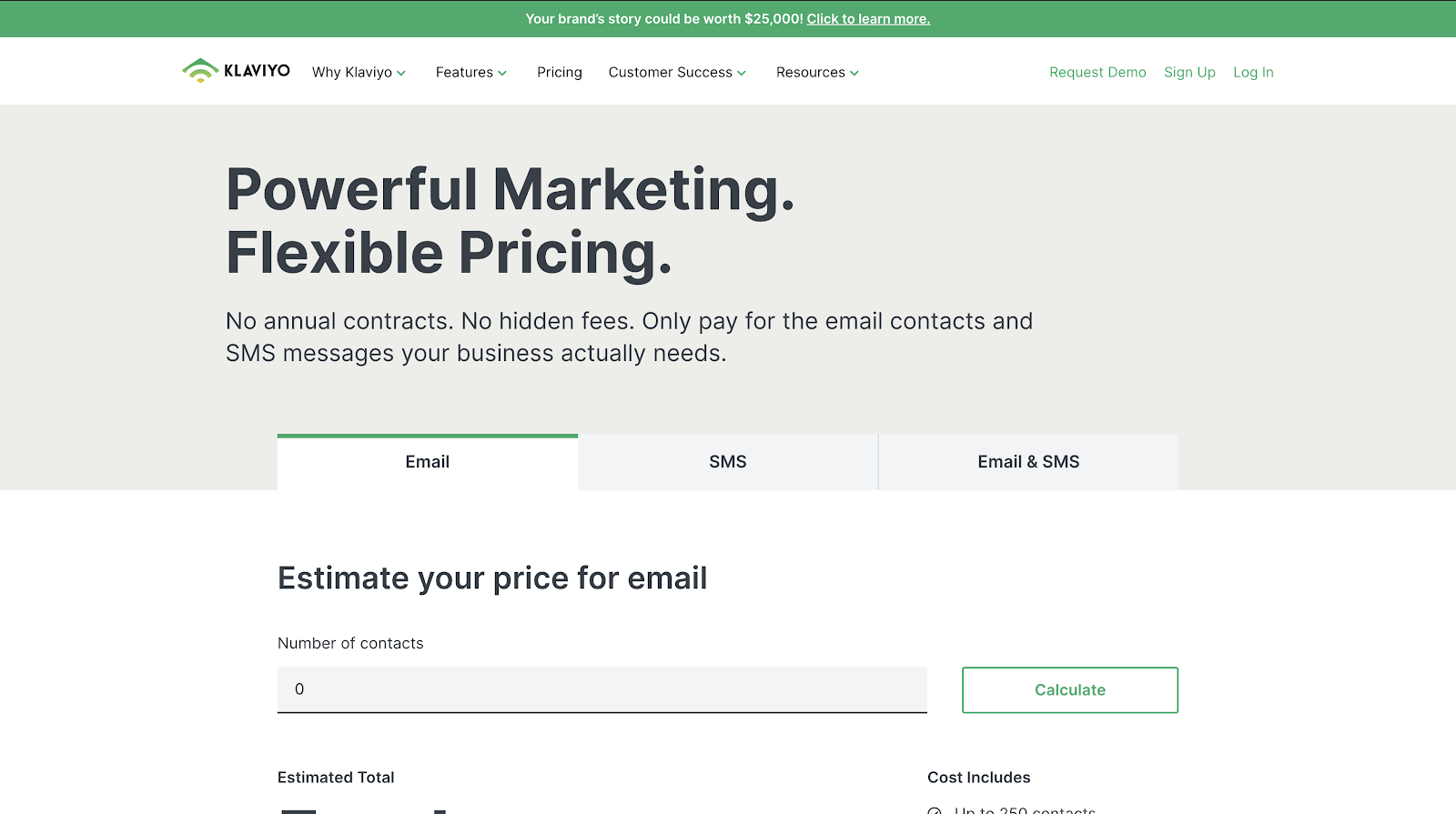 Klaviyo Video Support – https://www.youtube.com/channel/UCU_e9IaVvFF3RyiGkqZ2f2A
6. ActiveCampaign – Do more than automate your email — activate your entire customer experience.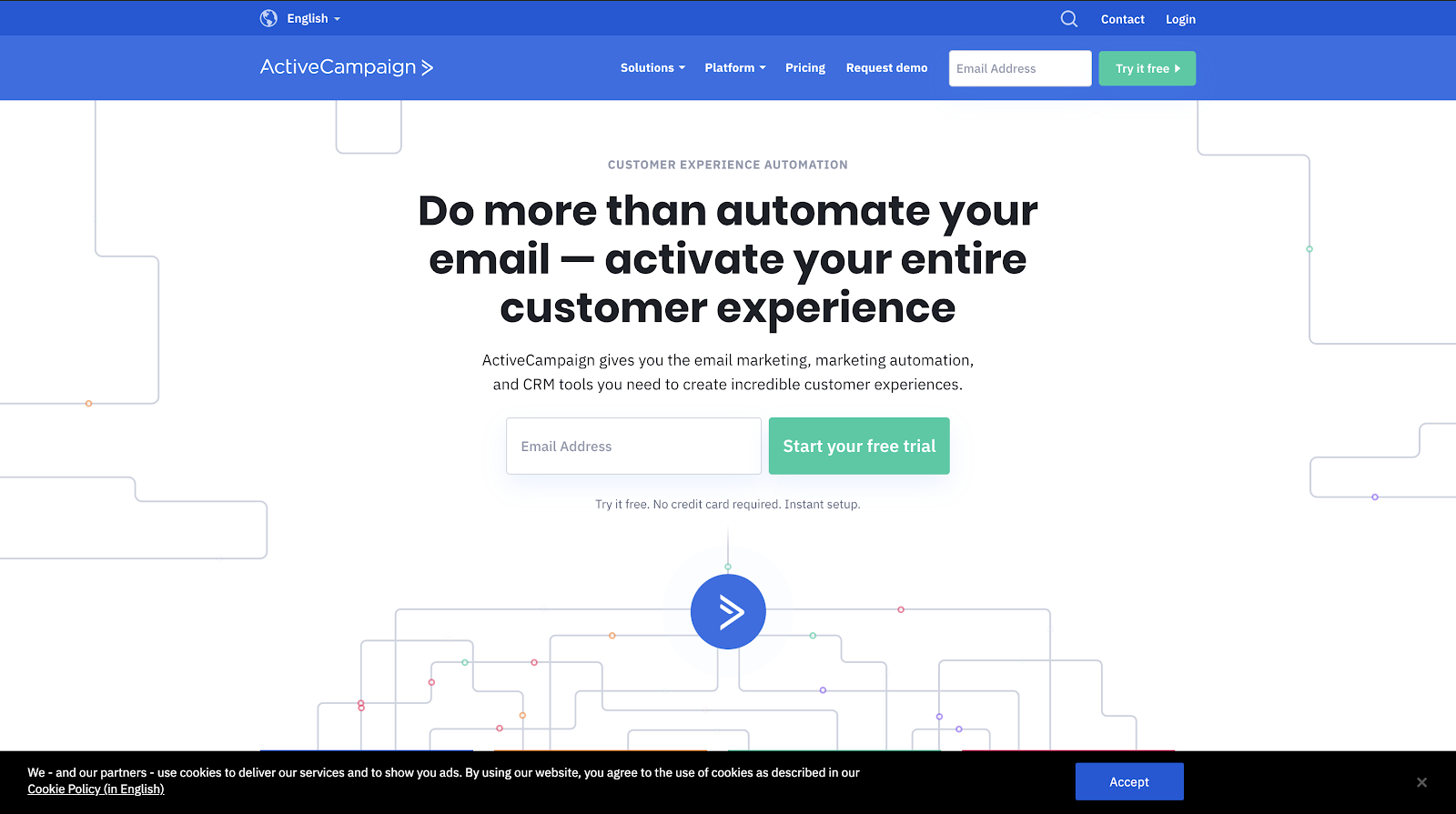 About ActiveCampaign 
ActiveCampaign helps any business connect and engage with their contacts through powerful, easy-to-use email marketing and contact management. Build newsletters, send triggered campaigns, and create personalized messages targeted to each contact's interests so they get exactly what they want, when they want it. The campaign builder and full template library lets you design beautiful emails with just a few clicks, getting the right emails to the right people.
ActiveCampaign Features
One-on-one training, free migration, and a helping hand whenever you need it
Send exactly what your contacts want
Automation gives you back your time
Sales automation helps you sell more
Message your customers when it matters most
Advanced Reporting
Integrated Forms
Site Tracking
Training and Support
Migration Services
Gmail Extension
Email Segmentation
Automation Goals
iOS CRM App
ActiveCampaign Pricing
Lite – $9 /month
Plus – $49 /month
Professional – $129 /month
Enterprise – $229 /month
Free Trial is available as well
ActiveCampaign Video Support – https://www.youtube.com/channel/UCFlGEB0bPUC1vWoN57OzEag
7. Keap – More business. Less work. That's Keap.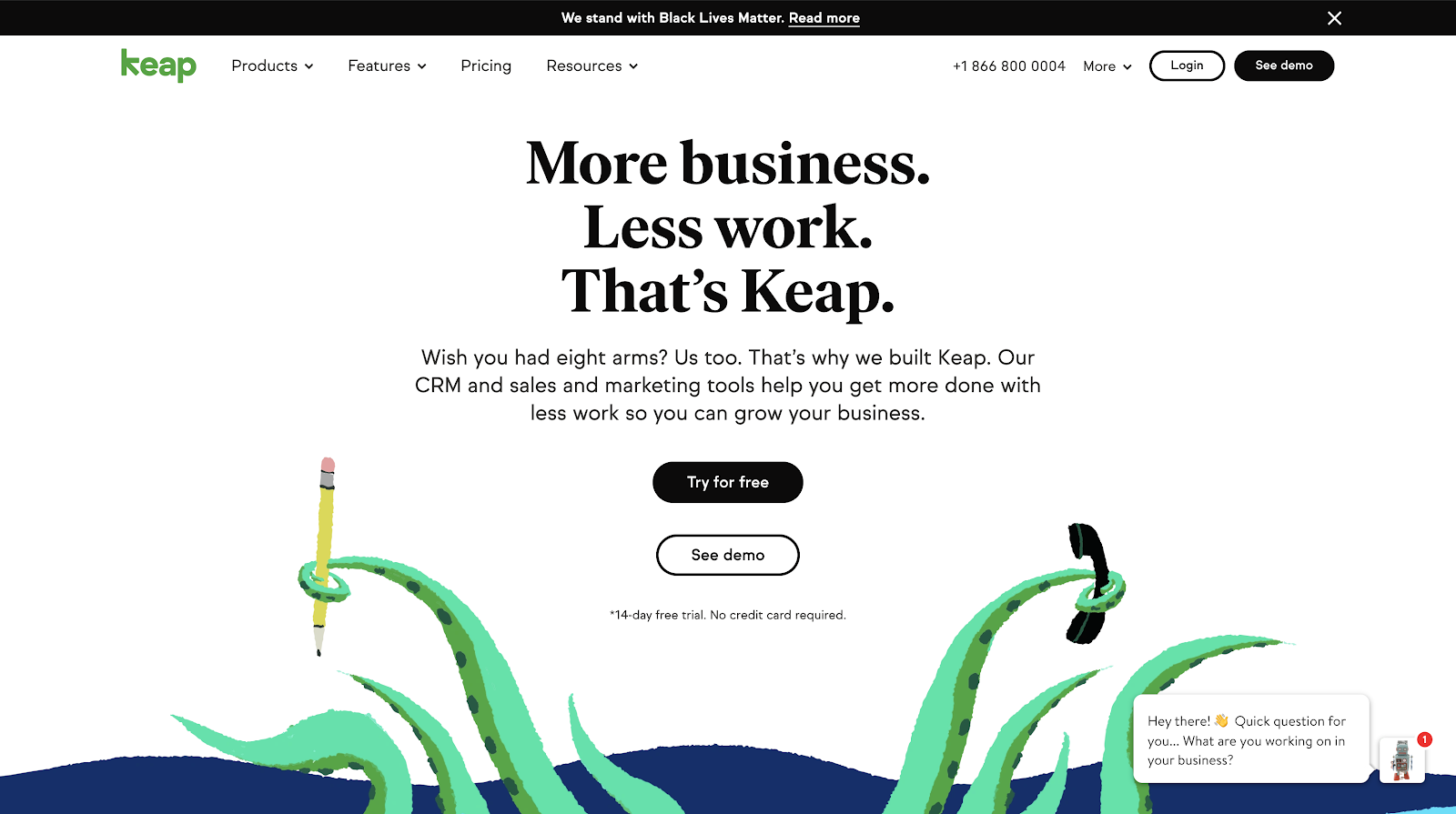 Keap Homepage
About Keap 
With Keap, step up to all-in-one sales & marketing software designed for growing service-based businesses, ranging from entrepreneurs and startups to larger teams. The platform organizes customer information and daily work in one place, freeing users up from repetitive tasks so that they have more time to focus on growing their business and delivering great service.
Keap Features
A/B Testing
Auto-Responders
CAN SPAM Compliance
Customer Surveys
Drip Campaigns
Dynamic Content
Event Triggered Email
Image Library
List Management
Reporting/Analytics
Subscriber Management
Template Management
WYSIWYG Email Editor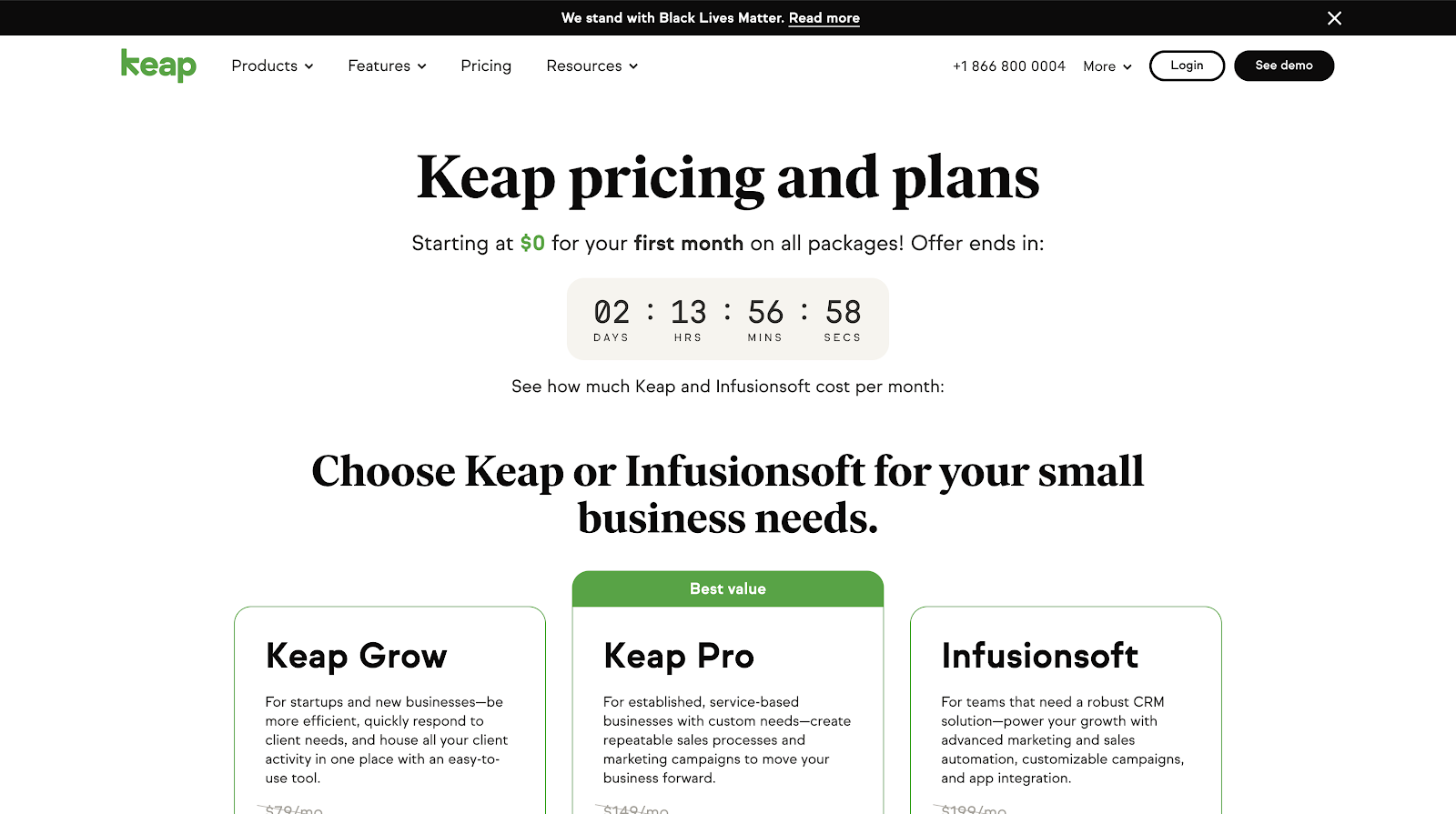 keap Video Support – https://www.youtube.com/user/infusionsoft
8. Remarkety – A whole new level of ecommerce marketing automation.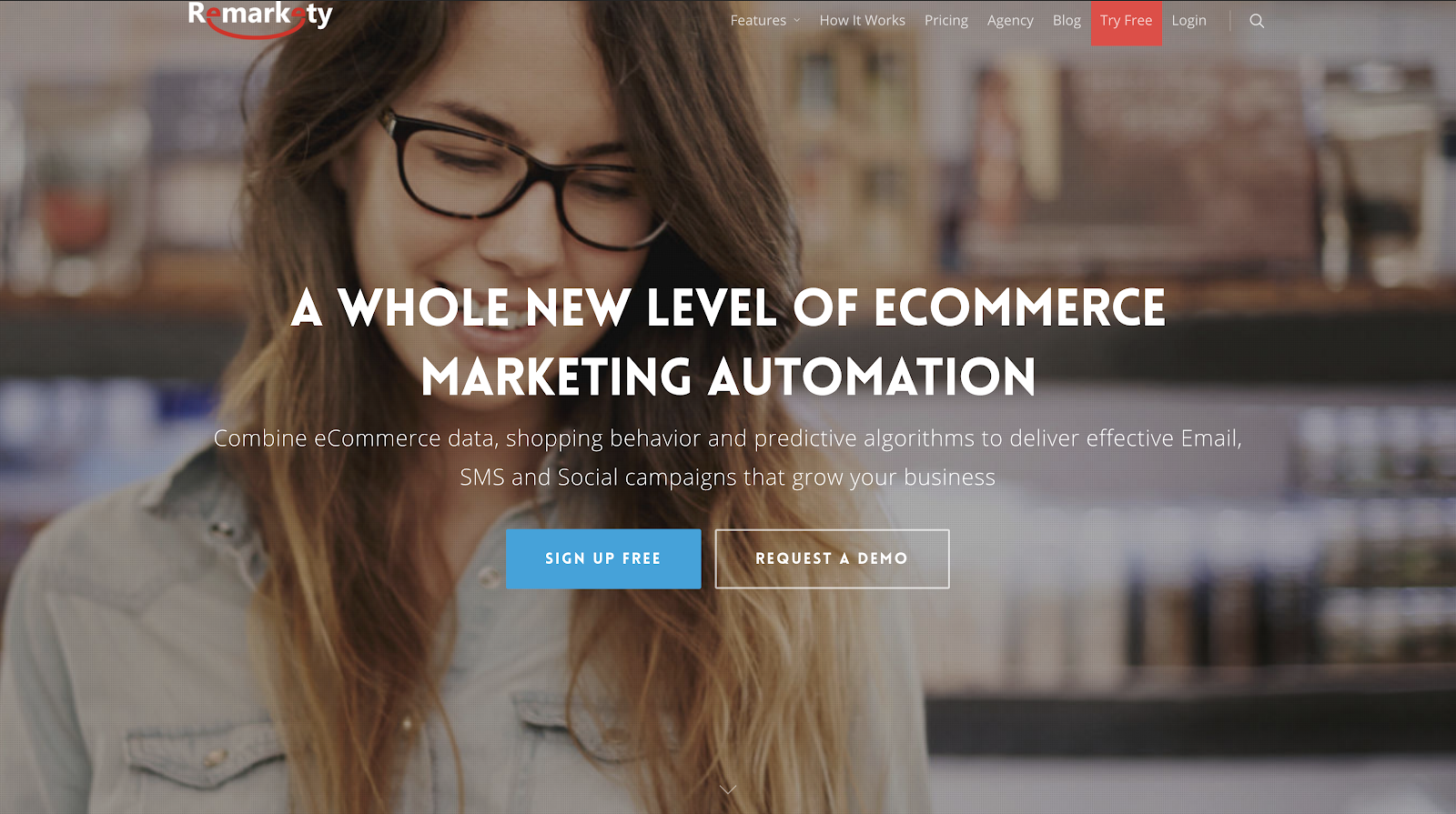 About Remarkety
Remarkety is best suited for eCommerce SMBs that want to take their email & SMS Marketing strategy to the next level and market-based on shopping behavior data and purchase history. Remarkety is a multi-channel marketing automation service that integrates with all major eCommerce platforms with a one-click installation.
Remarkety Features
Personalize and automate Email, SMS and Social campaigns using eCommerce shopping behavior and real-time data
Advanced Customer Segmentation
Abandoned Cart Recovery
Predictive Product Recommendations
Email Performance Tracking
Social Media Integration
Personalized Dynamic Coupons
Data Driven Marketing
Abandoned Cart Recovery
Browse Abandonment
Product Recommendations
Email Performance Tracking
Automated Follow Up Emails
Personalized Coupons
Segmented Newsletters
Powerful A/B/C Testing
Social Media Integration
Drag & Drop Template Edition
Advanced Customer Segmentation
Remarkety Video Support – https://www.youtube.com/channel/UCgwq5DNVCLee5u1ZUCLzeVg
9. Marketo Lead Management – Attract buyers, nurture them, and deliver win-ready leads to sales.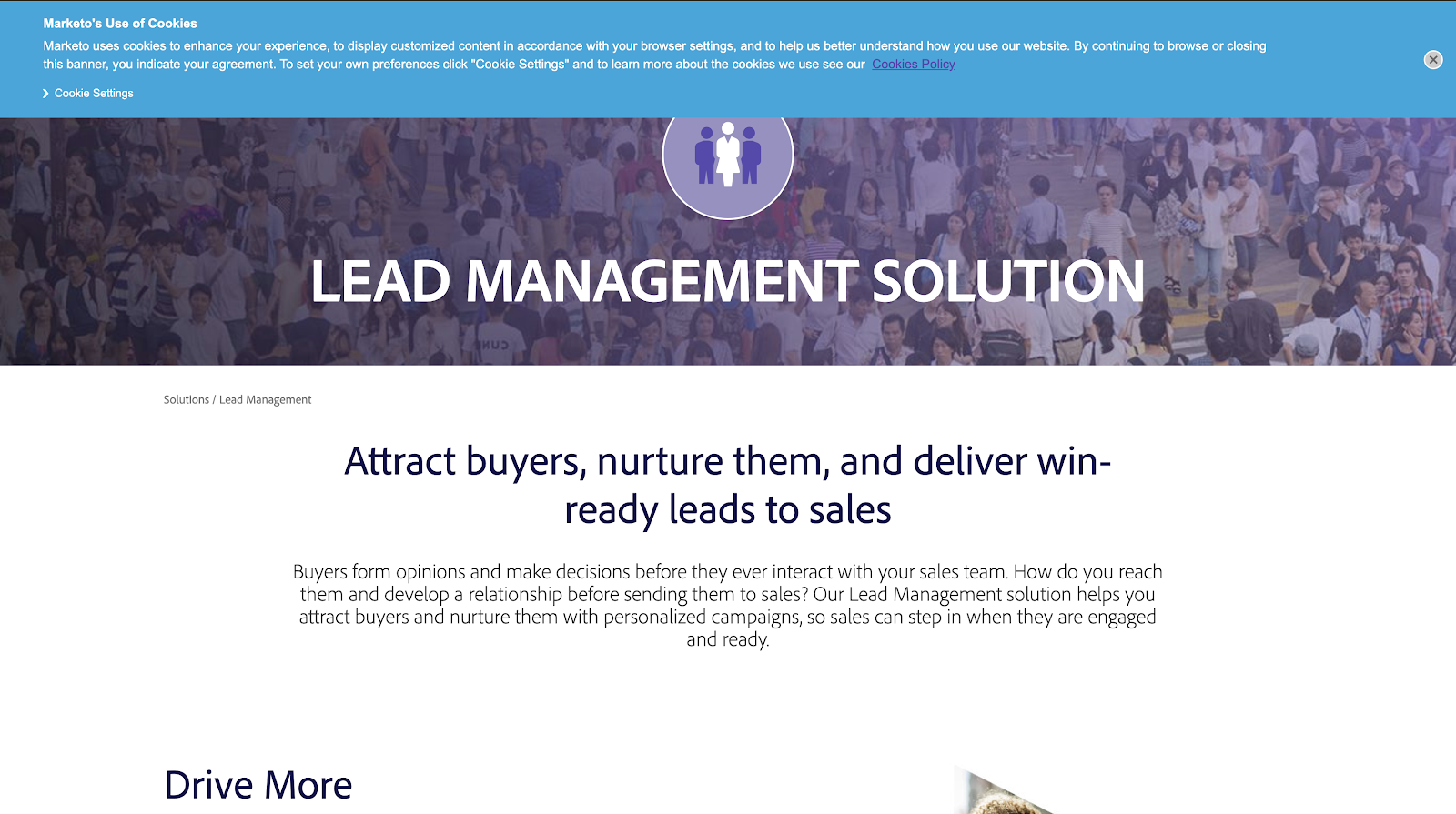 Marketo Lead Management Solution Homepage
About Marketo Lead Management Solution 
Marketo Engage is a leading marketing automation platform with a range of capabilities for small and medium businesses and large enterprises, across various industries. Some common features include email marketing, nurturing, SEO, landing pages, scoring, and analytics while other editions offer advanced features such as website personalization, mobile engagement, social and web retargeting. 
Marketo Lead Management Solution Features
Drive More Top-Of-Funnel Activity
Improve Your Lead Quality
Help Your Sales Team Win
Measure What Matters And Build On Your Success
Scale Your
Campaign Execution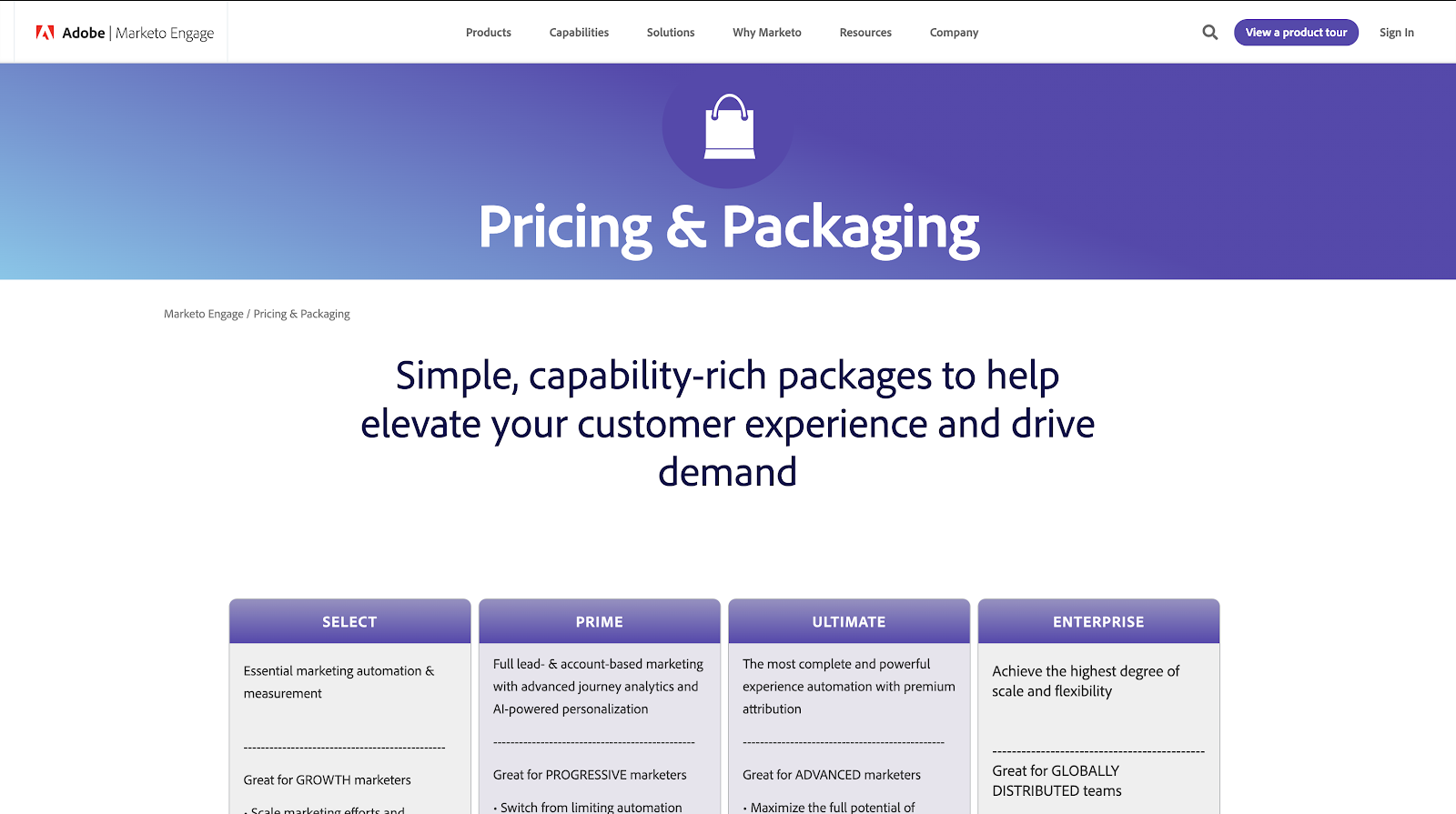 Marketo Video Support – https://www.youtube.com/user/MarketoB2B
10. AWeber Email Marketing – Run your business – leave the email marketing to us.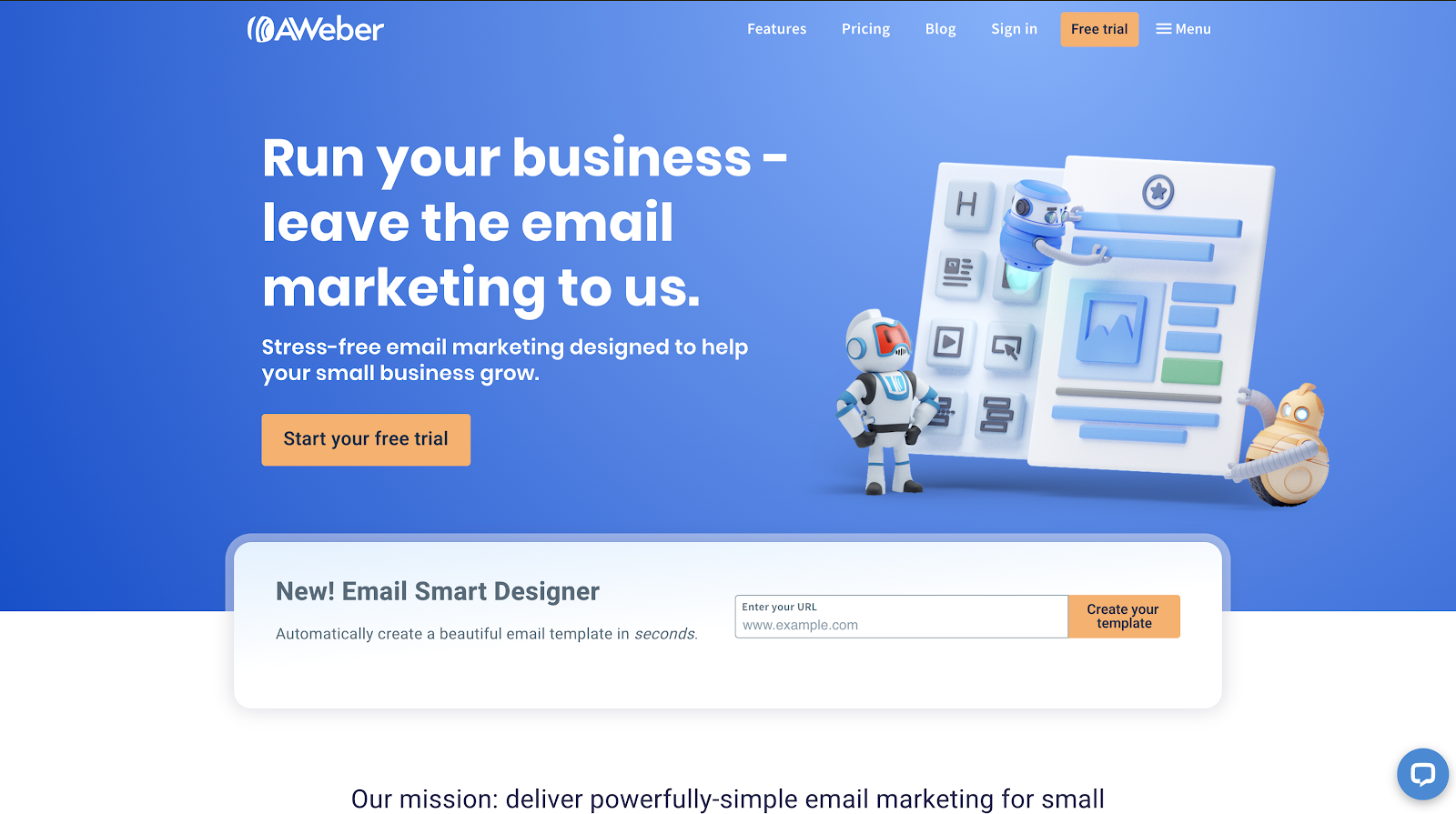 AWeber Email Marketing Homepage
About AWeber 
AWeber is a market leader of small business email marketing software. Let;s talk number, AWeber has over 20 years of proven success helping more than one million customers around the world reliably connect with their prospects and customers through powerfully-simple email marketing software. Along with its 24/7 customer support, AWeber delivers the ability to quickly build responsive landing pages, load and manage contacts, send amazing emails, and analyze results.
AWeber Features
Smart Designer
Drag & Drop Email & Landing Page Designer
Prebuilt Template Library
Campaign Automations
Campaign Marketplace
AMP for Email
AWeber Pricing
0-500 Subscribers – $19/month
501-2,500 Subscribers – $29
2,501-5,000 Subscribers – $49/month
5,001-10,000 Subscribers – $69/month
10,000-25,000 Subscribers – $149/month
AWeber Video Support – https://www.youtube.com/user/emailmarketing
11. Autopilot – Marketing automation software made visual.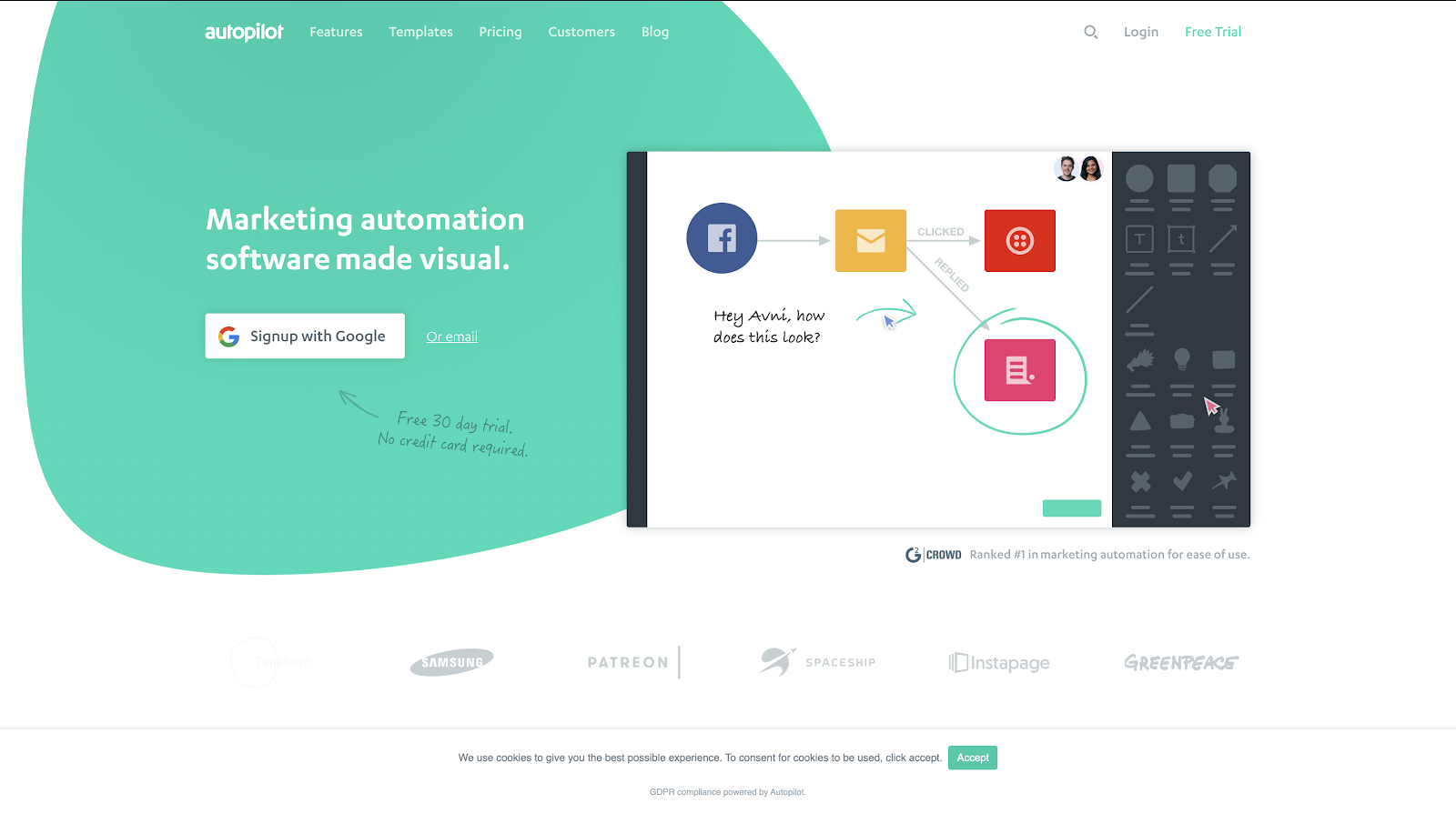 About Autopilot 
Autopilot is a simple and visual marketing automation software that helps businesses to do more than just send emails. Automate repetitive tasks and build a best-of-breed marketing stack using the already used apps. Create customer journeys using Autopilots drag-and-drop canvas to capture and convert new leads. Send personalized messages to connect with new customers across multiple channels. 
Autopilot Features
Create customer journeys that capture & convert new leads.
Send personalized messages to connect with new customers.
Design customer experiences that create repeat buyers and loyal customers.
Automate the entire customer journey and integrate with hundreds of popular apps.
If your customers want to hear from you, speak to them on every channel provided by autopilot.
Autopilot Pricing
Silver – $49 / month
Gold – $149 / month
Platinum – $249 / month
Free Trial is also available
Autopilot Video Support – https://www.youtube.com/user/bislr
12. MailerLite – Create email marketing your way.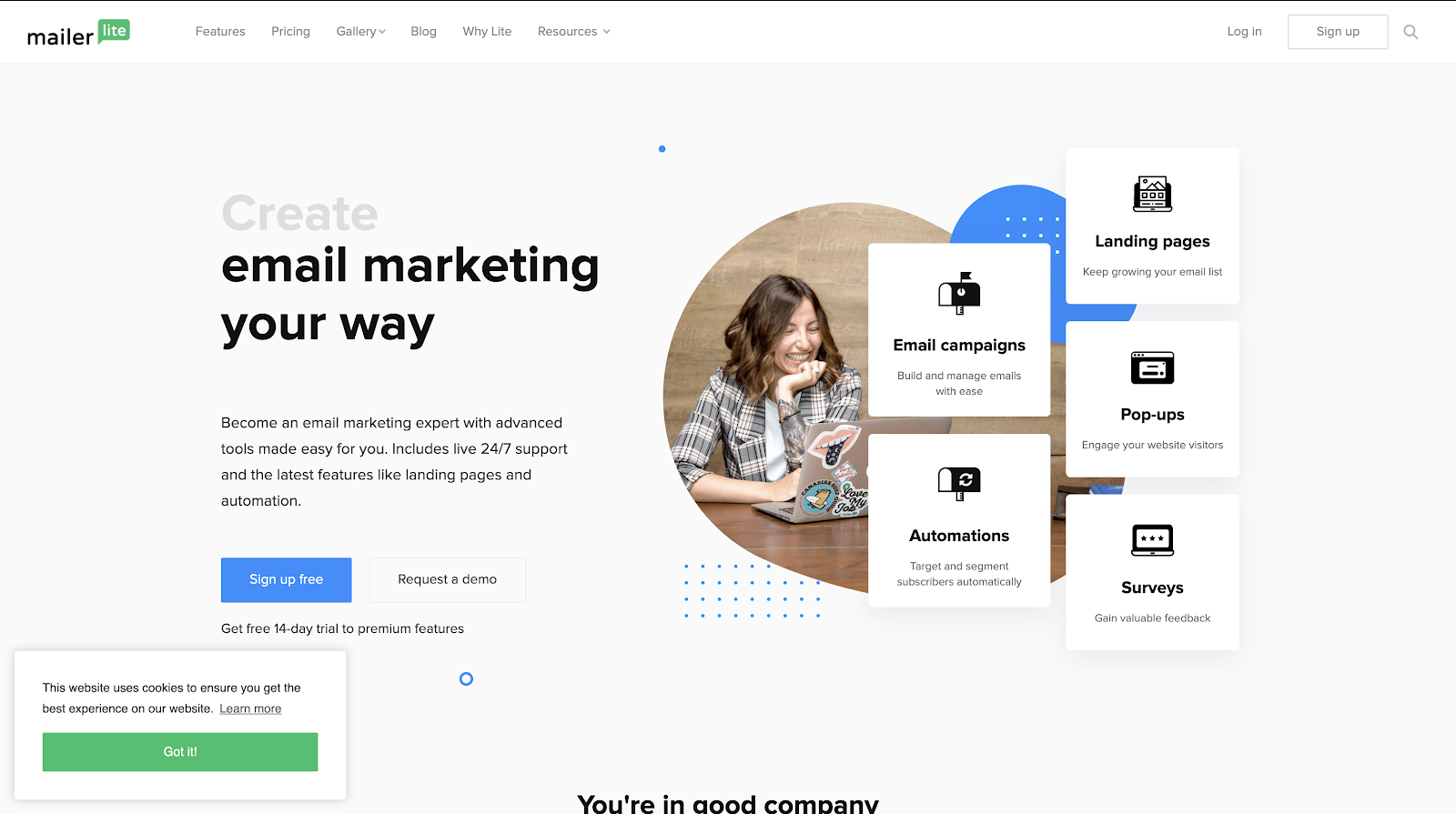 MailerLite Homepage
About MailerLite
MailerLite is an email marketing service provider with focus on simplicity, excellent customer support and beautiful email designs. Forget complex settings. MailerLite's user-friendly software allows one to quickly create beautiful email campaigns, track their results, manage subscribers and unsubscribers, design custom popups and landing pages, and much more. MailerLite has lots of helpful features and integrations, yet they manage to keep it simple and easy-to-use for everybody.
MailerLite Features
Drag & drop editor
Rich text editor
Custom HTML editor
Newsletter templates
E-commerce campaigns
Website builder
Landing pages
Pop-ups
Embedded forms
Subscriber management
Email automation
Interest groups (tagging)
Personalization
Segmentation
Promotion pop-ups
A/B split testing
Deliver by time zone
Auto resend
RSS campaigns
Campaign reports
Surveys
Click maps
MailerLite Pricing
1 – 1,000 Subscribers with 12,000 emails/month – Free
1 – 1,000 Subscribers with unlimited emails/month – $10
1,001 – 2,500 Subscribers with unlimited emails/month – $15
2,501 – 5,000 Subscribers with unlimited emails/month – $30
5,001 – 10,000 Subscribers with unlimited emails/month – $50
MailerLite Video Support – https://www.youtube.com/channel/UCRWH1lQlbnqCrrYTfacklIQ
13. Campaign Monitor – Create and send unforgettable email.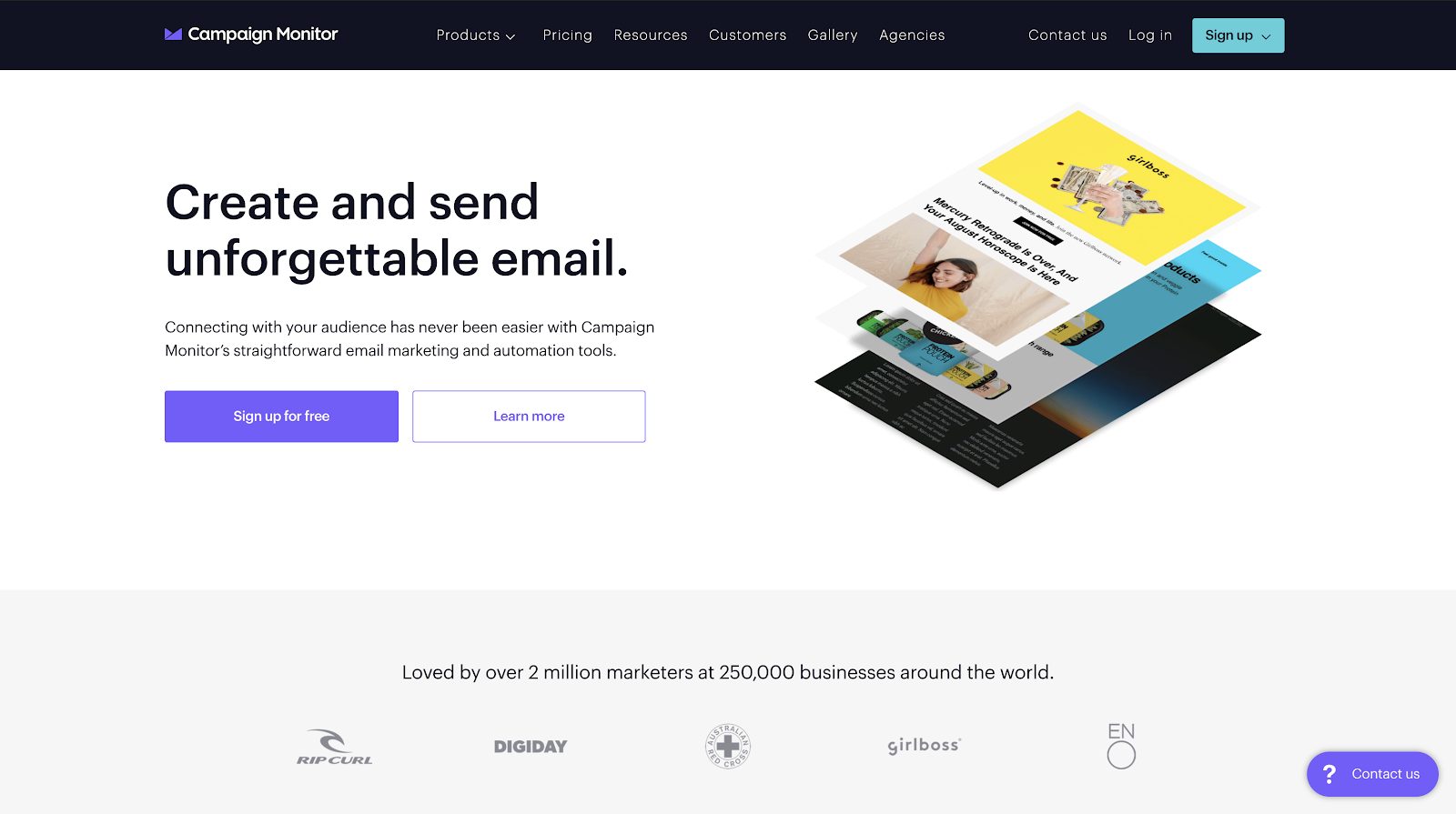 About CampaignMoniter 
Campaign Monitor is a straightforward email marketing tool that enables marketers to send beautiful and personalized emails, creating a reliable channel to grow engagement with subscribers and promote loyal readership and conversions. Features include, beautiful templates, drag-and-drop builder, and engagement-based segmentation allow marketers to deliver targeted content to large lists of subscribers without any technical expertise.
CampaignMonitor Features
Ease of use
Complete Customization
Mobile Optimization
Template management for teams
Automate email journeys for perfectly timed sends
CampaignMonitor Pricing
Basic – $9/month
Unlimited – $29/month
Premier – $149/month
Campaign Video Support – https://www.youtube.com/channel/UCOA6q0Gi4v3YCi3emARZIbQ
14. Work.com – Connect to your customers in a whole new way with the world's #1 CRM platform.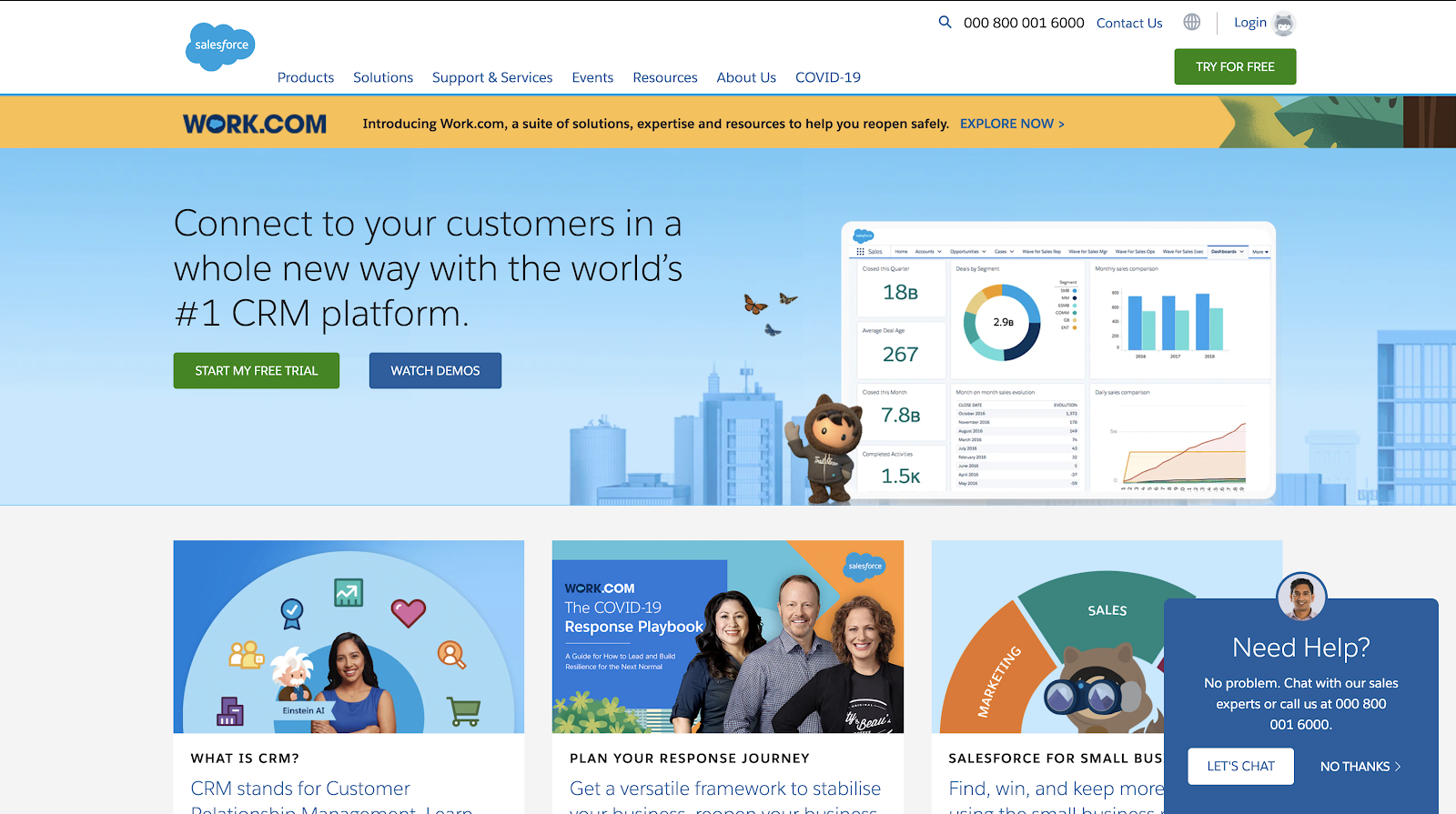 About Work.com 
Pardot empowers marketing and sales teams to work together to engage buyers, close deals, and grow relationships. Pardot's lead management features CRM integration, email marketing, lead nurturing, lead scoring, and ROI reporting to help marketing and sales teams work together to generate and qualify sales leads, shorten sales cycles, and track marketing ROI.
Work.com Features
Move deals faster by tracking customer information and interactions in one place.
Make more insightful decisions faster, and from anywhere with the most up-to-date information.
Drive customer engagement by automating and personalising your email marketing at scale.
Deliver exceptional social experiences by connecting them to marketing, sales, and service
24/7 customer support team to help all users from Small business to Enterprise
Work.com Pricing
Starting Price – $1250.00/month/user
Free demo available
Work.com Video Support – https://www.youtube.com/user/PardotMA
15. Omnisend – Go Further than Just Email Marketing.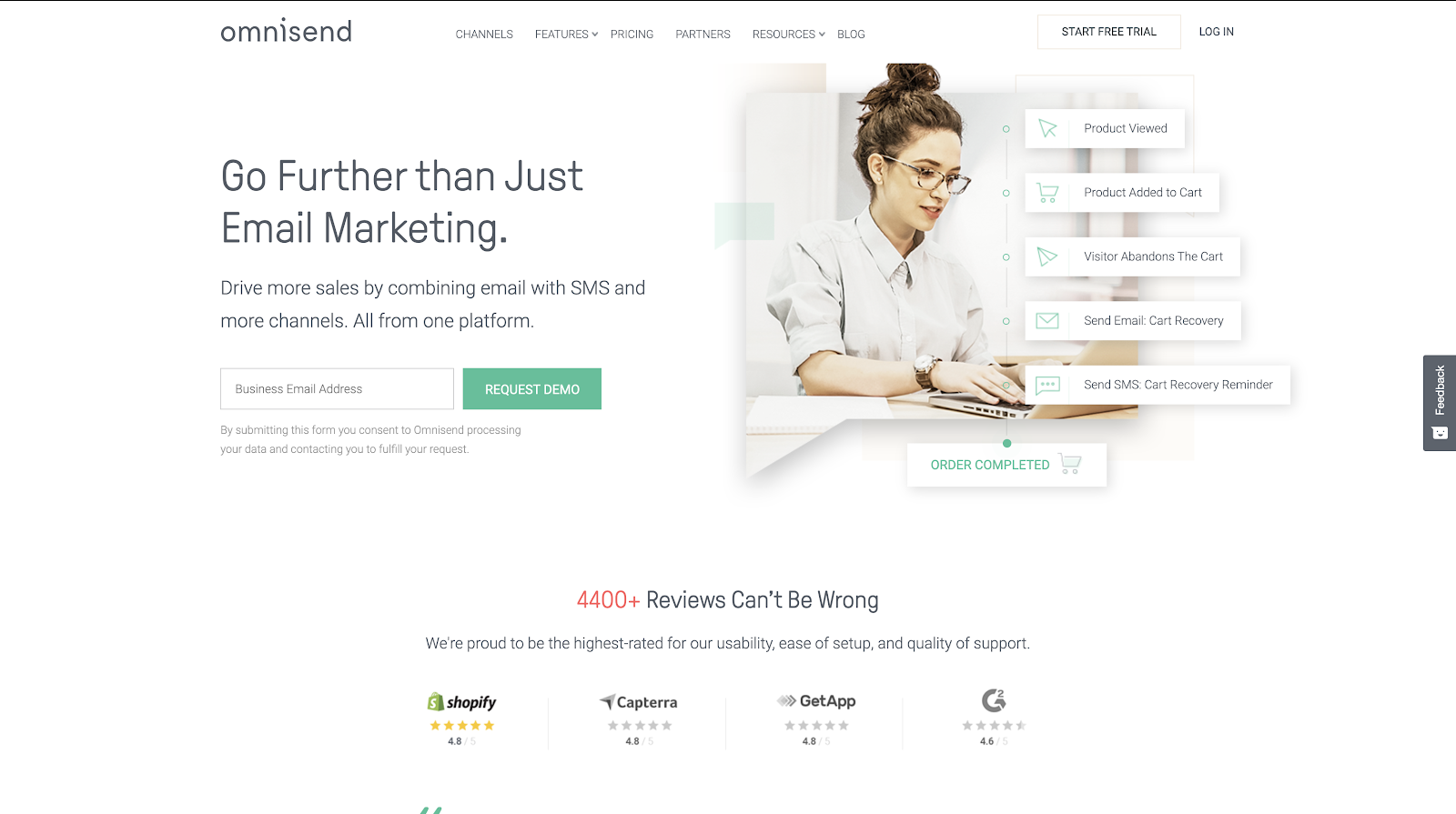 About Omnisend 
Omnisend is an all-in-one email marketing automation platform built for growth-focused ecommerce brands. With Omnisend, convert visitors into customers, create personalized emails in minutes, and automate email marketing. Use smart segmentation to create hyper targeted and relevant email messages, earning you more revenue. 
Omnisend Features
A/B Testing
Auto-Responders
CAN SPAM Compliance
Customer Surveys
Drip Campaigns
Dynamic Content
Event Triggered Email
Image Library
Landing Pages/Web Forms
List Management
Mobile Optimized Emails
Reporting/Analytics
Subscriber Management
Template Management
WYSIWYG Email Editor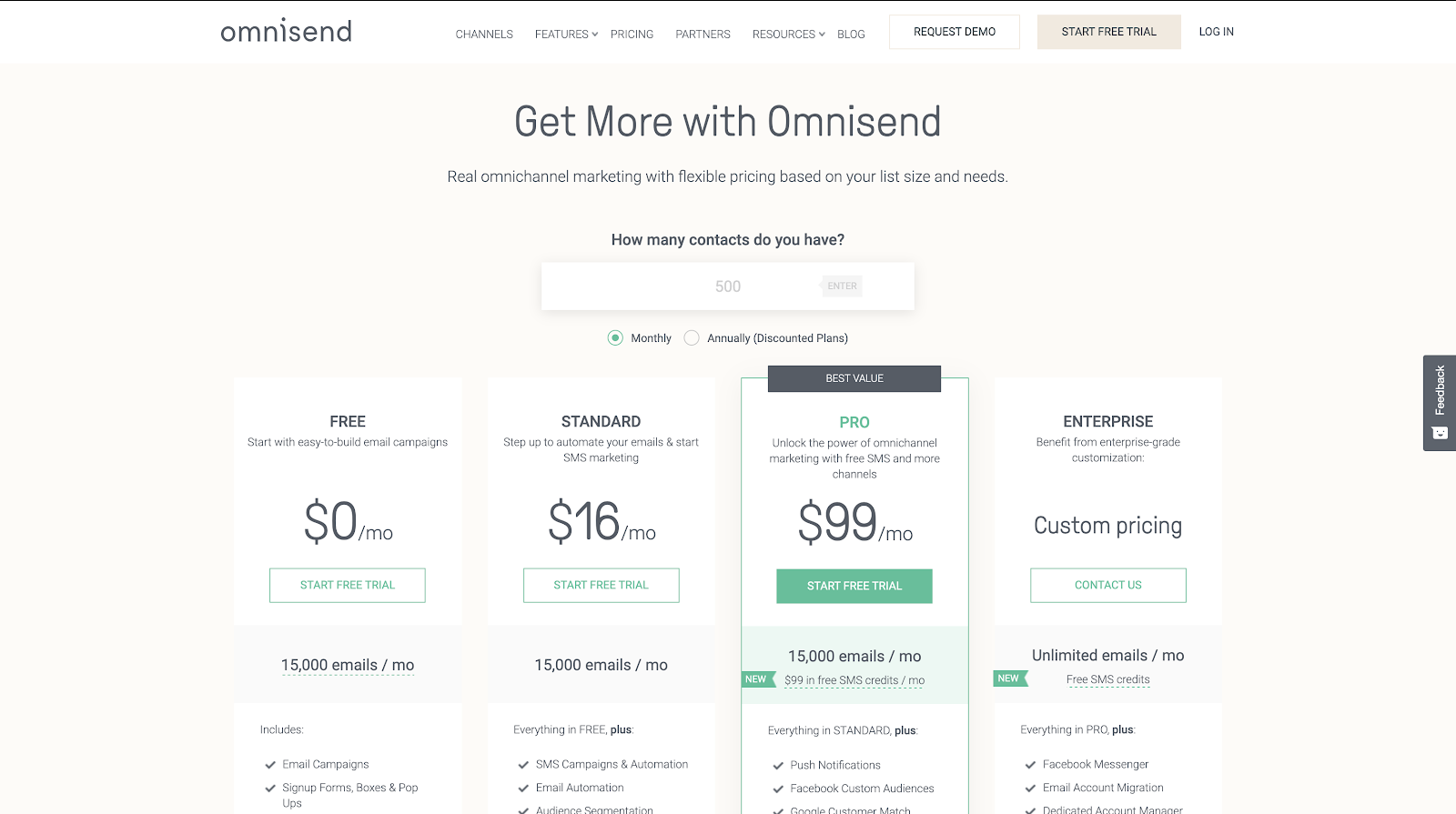 Omnisend Video Support – https://www.youtube.com/channel/UCy0iaBjHUoF0DIbg8Ygj31A
Final Thoughts!
Hope the article helps you in selecting the Email Marketing Software that's best for your corporation. Analyze your requirements and select the platform which best suits your needs. Submit a software at this page for other Email Marketing Software that didn't make the list.