Data warehouse processes, transforms, and ingests data to fuel decision making within an organization. Data warehouse software acts as a singular central repository of integrated data from multiple disparate sources that provide business insights with the help of big data analytics software and data visualization software. Data within a data warehouse comes from all branches of a company, including sales, finance, and marketing, among others branches.
Qualifications for a Data Warehouse and Mining Software
Contain data from several or all branches of a company
Integrate data prior to going into the data warehouse through an extract, transform and ETL process
Allow users to perform queries and analyze the data stored inside the data warehouse
Offer multiple deployment options
Integrate with third-party reporting and business intelligence tools
Serve as an archive for historical data
Today's article will talk about the best Data Warehouse and Mining softwares in 2022. The article will discuss the ABCs of each product. The order of the article is decided on the basis of features and reviews by many first hand users. Without further ado, let's get right to it!
Snowflake – A MODERN DATA PLATFORM BUILT FOR ANY CLOUD.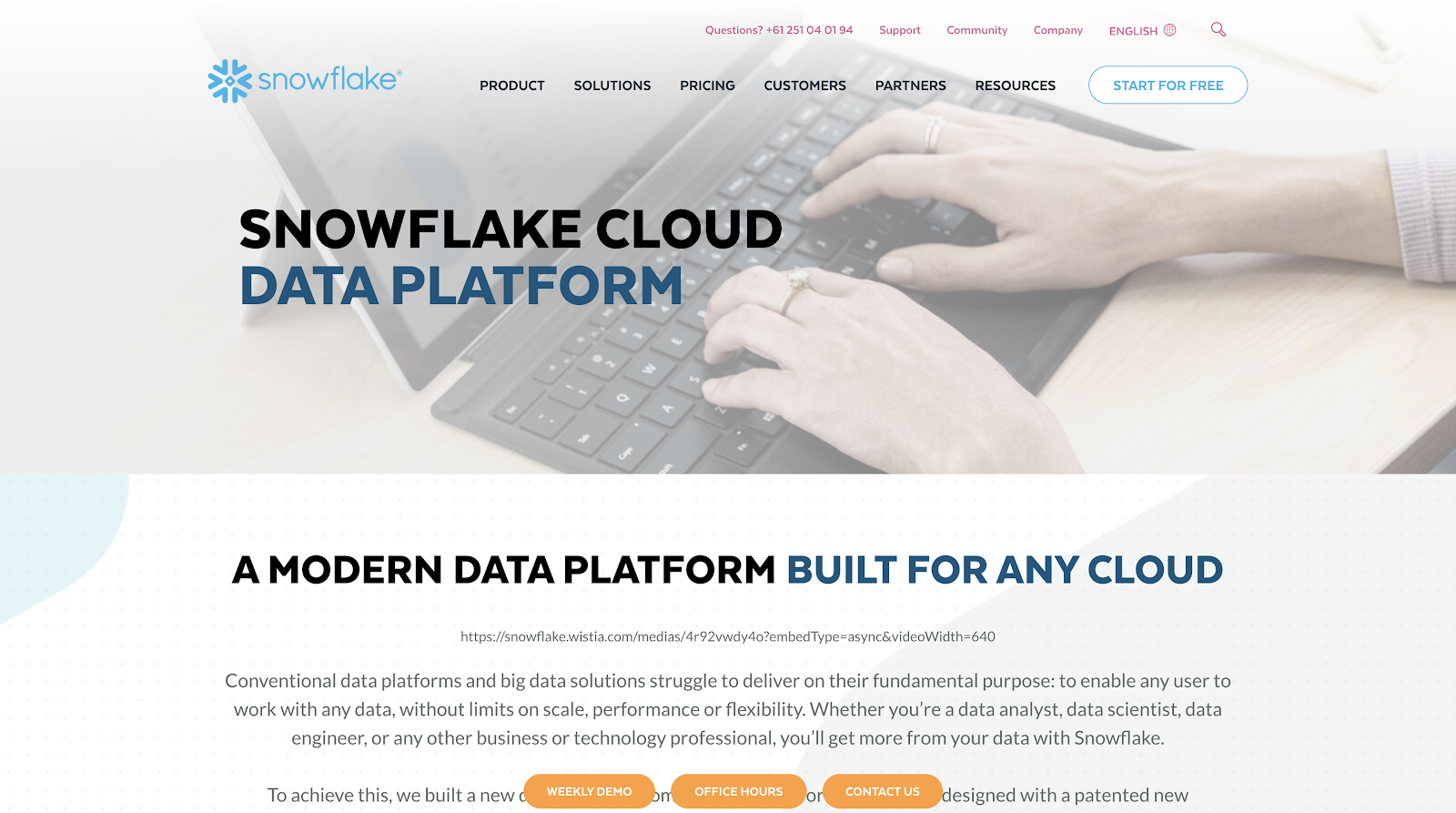 About Snowflake
Snowflake's cloud data platform is a barrier shattering software that has prevented organizations of all sizes from unleashing the true value from their data. Snowflake is used to advance the organizations beyond what was possible by deriving all the insights from all their data by all their business users. Snowflake equips organizations with a single, integrated platform that offers the only data warehouse built for the cloud which is instant, secure, governed access to their entire network of data and a core architecture to enable many types of data workloads, including a single platform for developing modern data applications.
Snowflake Features
Database – Real-Time Data Collection, Data Distribution and Data Lake
Integrations – Hadoop Integration and Spark Integration
Platform – Machine Scaling, Data Preparation and Spark Integration
Processing – Cloud Processing and Workload Processing
Data Management – Data Integration
Integration – Data lake Integration
Deployment – On-Premise and Cloud
Performance – Scalability
Snowflake Video Support – https://www.youtube.com/user/snowflakecomputing
Amazon Redshift – The most popular and fastest cloud data warehouse.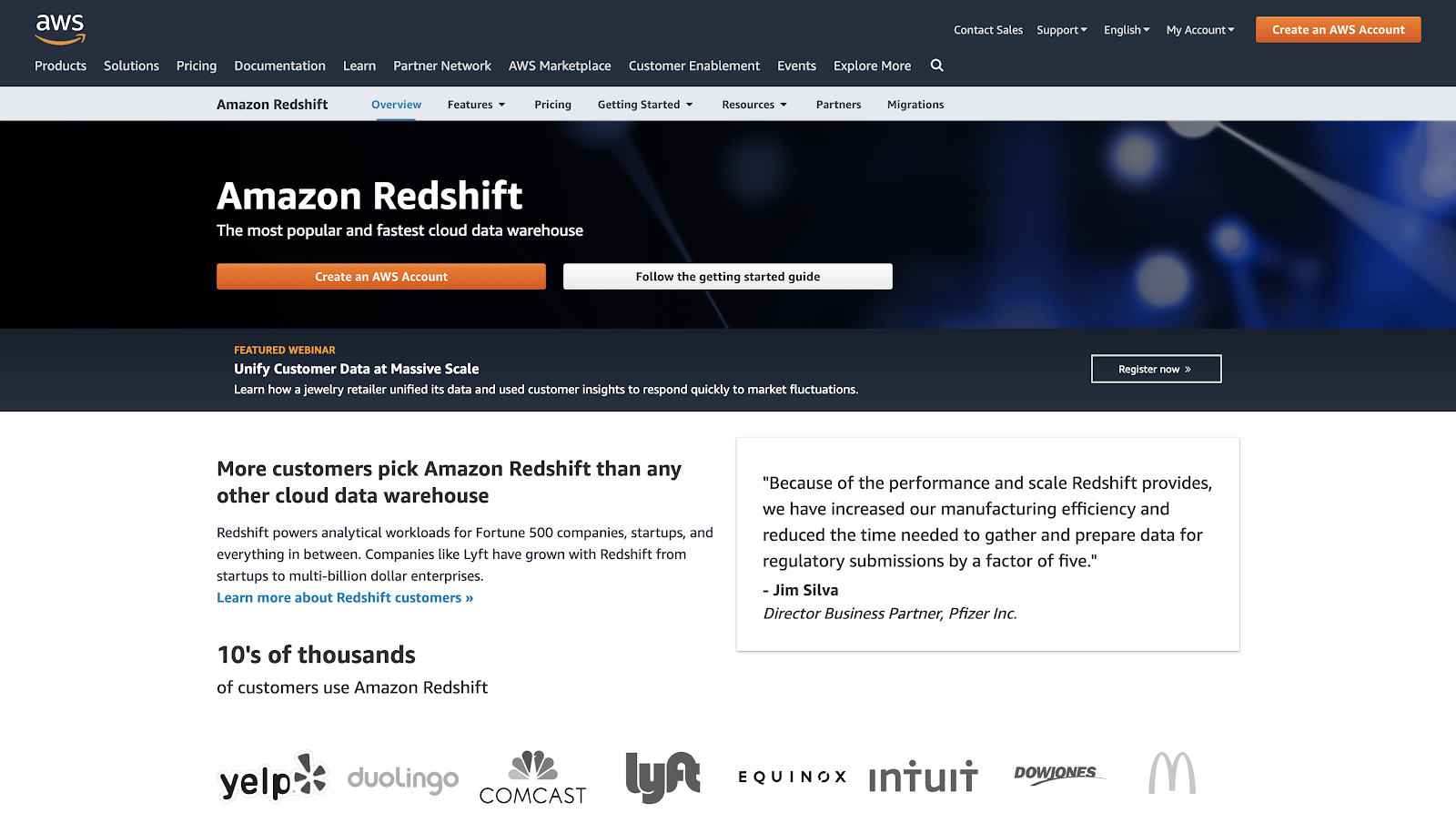 About Amazon Redshift
Amazon Redshift is a fast, fully managed, petabyte-scale data warehouse service that makes it simple and cost-effective to efficiently analyze all your data using your existing business intelligence tools. It is optimized for datasets ranging from a few hundred gigabytes to a petabyte or more and it also costs way less than traditional data warehouses.
Amazon Redshift Features
Data lake and AWS Integrated
Best performance
Most scalable
Best value
Easy to manage
Most secure and compliant
Amazon Web Services Video Support – https://www.youtube.com/user/AmazonWebServices
IBM Db2 – Transform and modernize your business with the leader in AI-driven data management solutions.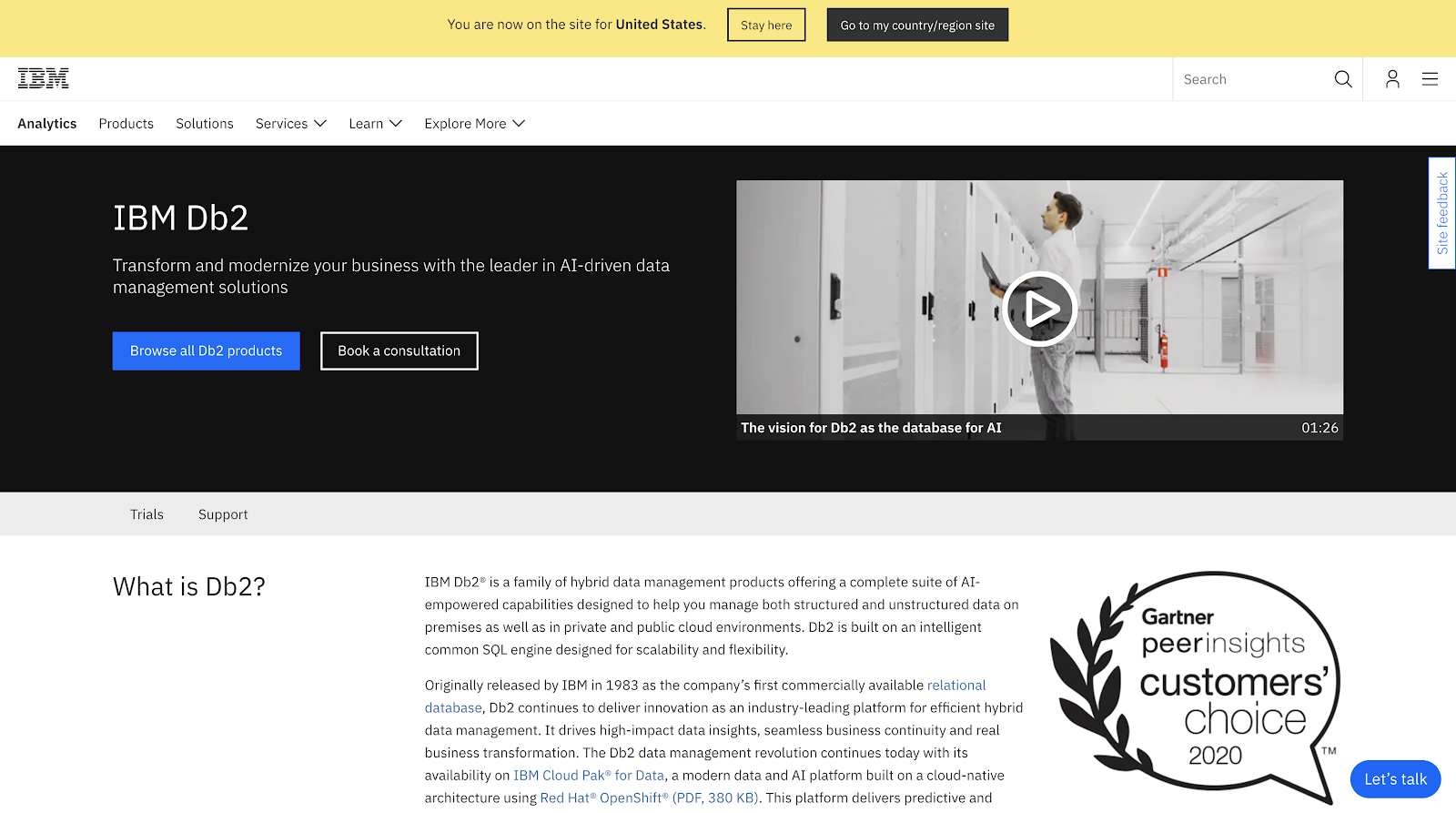 About IBM Db2
IBM Db2 holds databases to a higher standard, making it easy to deploy data wherever it's needed, fluidly adapting to the changing needs and integrating with multiple platforms, languages and workloads. IBM Db2 is supported across Linux, Unix, and Windows operating systems.
IBM Db2 Features
Database Features – Storage, Availability, Stability, Scalability, Security, Data Manipulation and Query Language
Configuration – Application Performance, Orchestration, Database Monitoring, Anomaly Detection and Network Security
Availability – Scalability, Backup and Archiving
IBM Data and AIVideo Support – https://www.youtube.com/user/ibmbigdata
Google BigQuery – Serverless, highly scalable, and cost-effective multi-cloud data warehouse designed for business agility.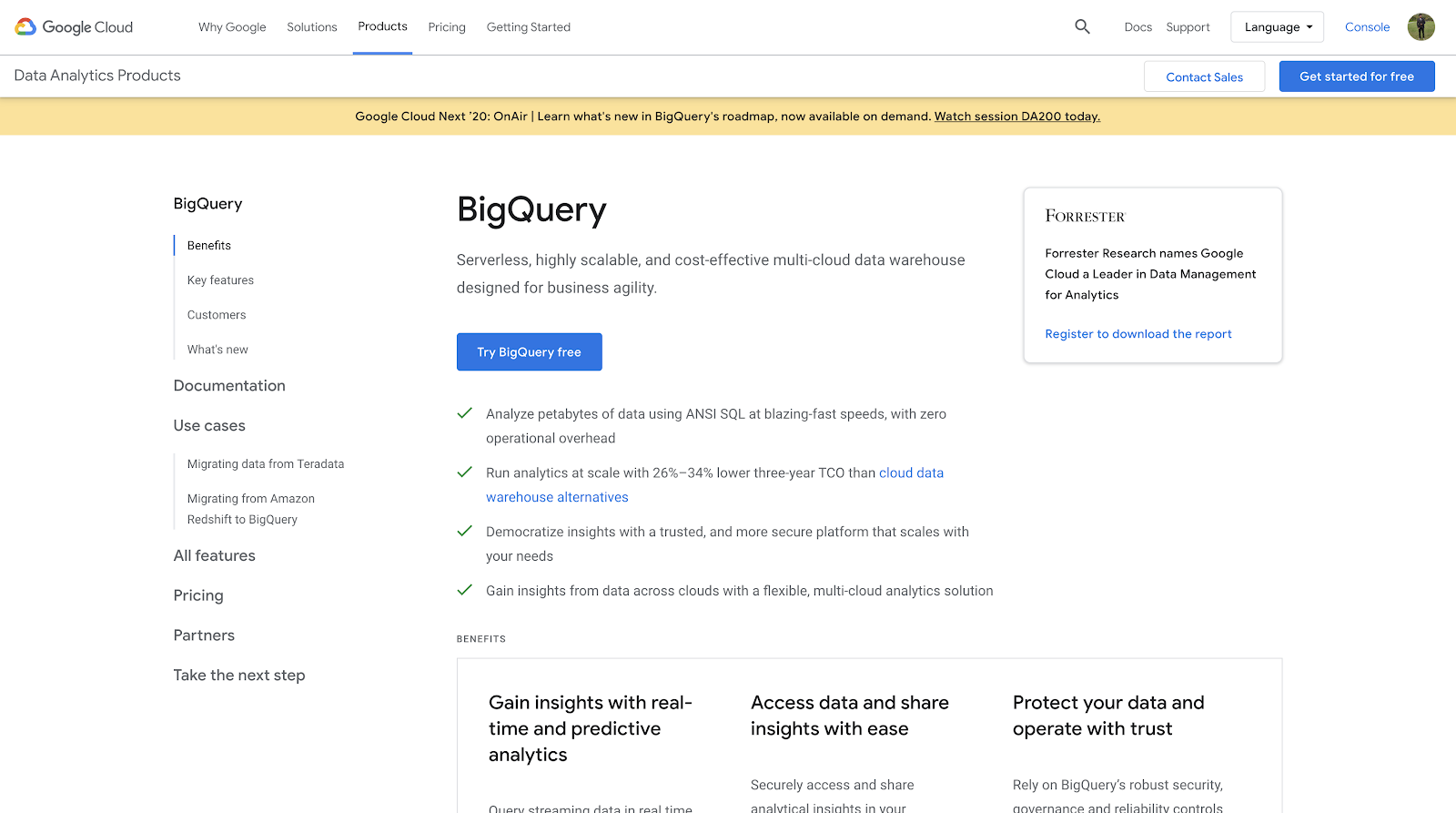 About BigQuery
BigQuery is Google's fully managed, serverless, petabyte scale, low cost enterprise data warehouse for analytics. There is no infrastructure to manage and you don't need a database administrator, so you can focus on analyzing data to find meaningful insights using familiar SQL. BigQuery is a powerful Big Data analytics platform used by all types of organizations, from startups to Fortune 500 companies.
BigQuery Key Features
BigQuery Omni (private alpha)
Data QnA (private alpha)
BigQuery ML
BigQuery BI Engine
Connected Sheets
GCP Video Support – https://www.youtube.com/user/googlecloudplatform
Teradata- The evolution of the cloud data warehouse.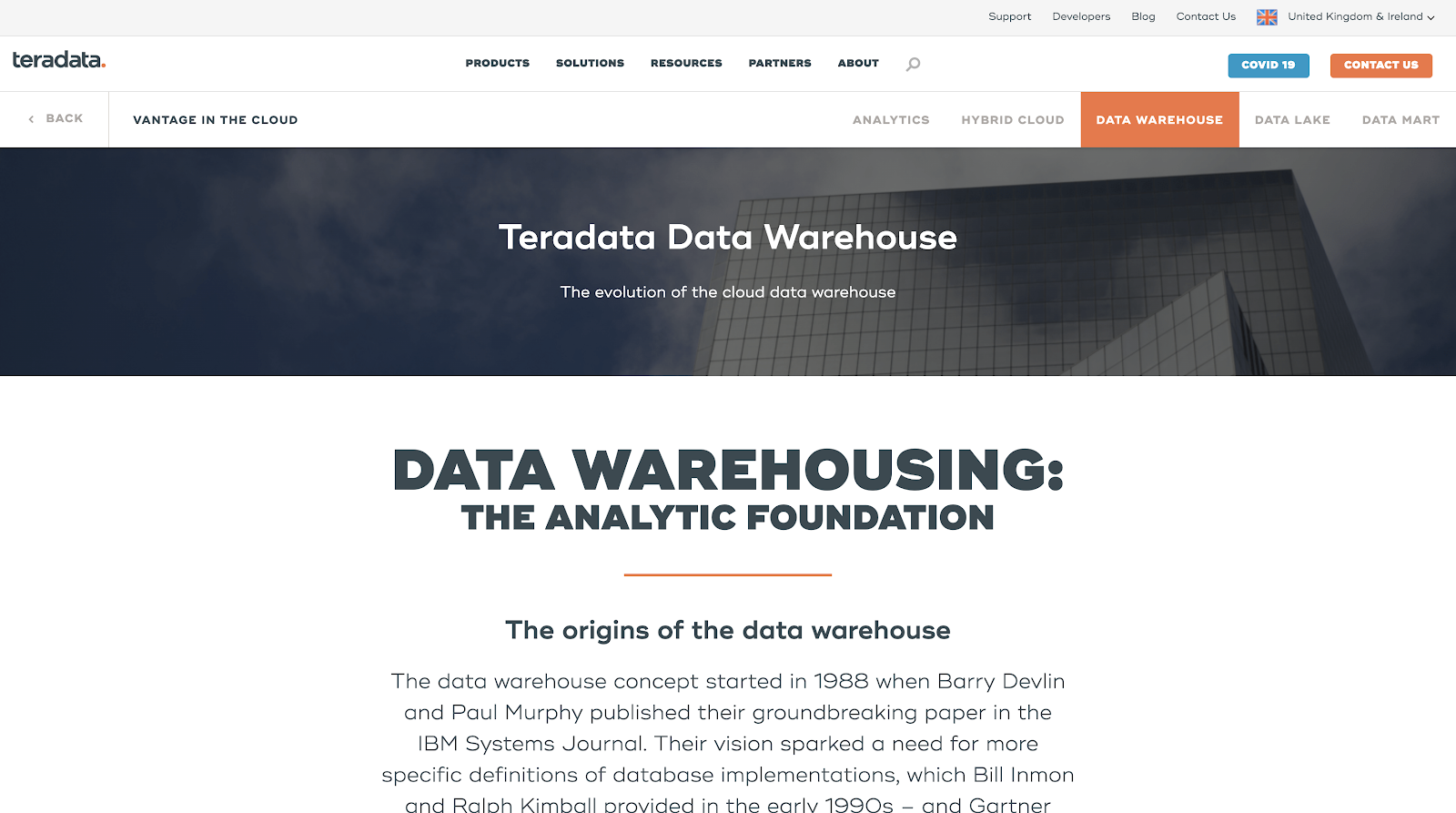 About Teradata
The Teradata Database is a foundation that easily and efficiently handles complex data requirements and simplifies management of the data warehouse environment for their customers.
Teradata Features
Database Features – Storage, Availability, Stability, Scalability, Security, Data Manipulation and Query Language
Data Management – Data Integration
Performance – Scalability
Security – Access Control, Encryption and Authentication
Management – Data Schema, Query Language and ACID – Complaint
Teradata Video Support – https://www.youtube.com/user/teradata
VMware Tanzu Greenplum – Parallel Postgres for enterprise analytics at scale.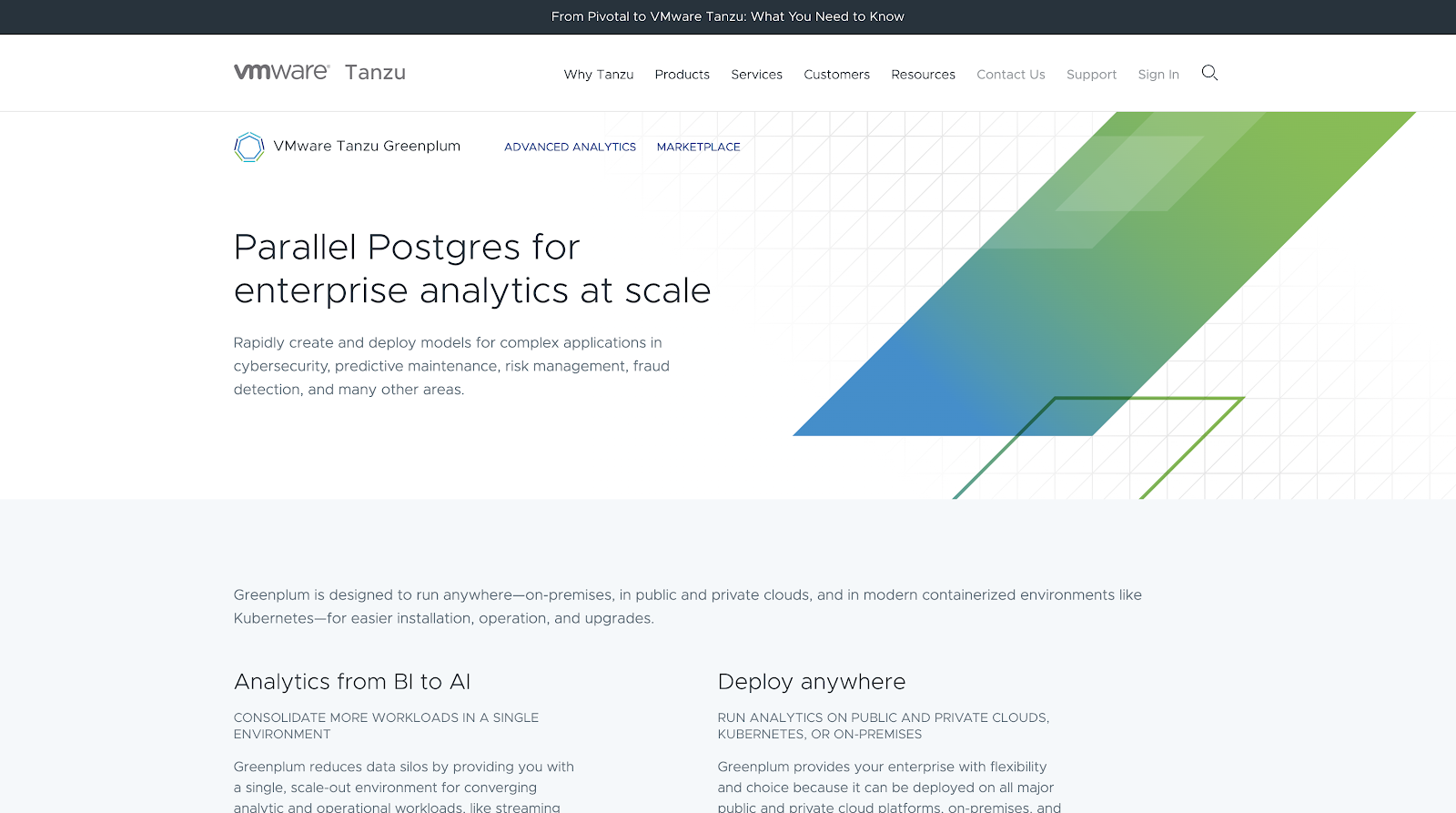 About VMware Tanzu Greenplum
Greenplum is what happens when advanced analytics meets traditional business intelligence. Pivotal Greenplum is the world's first fully-featured, multi-cloud, massively parallel processing (MPP) data platform based on the open source Greenplum Database. The platform provides comprehensive and integrated analytics on multi-structured data. Powered by one of the world's most advanced cost-based query optimizers, Pivotal Greenplum delivers unmatched analytical query performance on massive volumes of data.
Pivotal Greenplum Features
Successful Outcomes
A trusted partnership
Happy teams
Embedded security and automation
Cloud neutrality
Open-source expertise
Pivotal Greenplum Video Support – https://www.youtube.com/channel/UCIC2TGO-4xNSAJFCJXlJNwA
SQL Server 2019 – Apply intelligence across all over your data.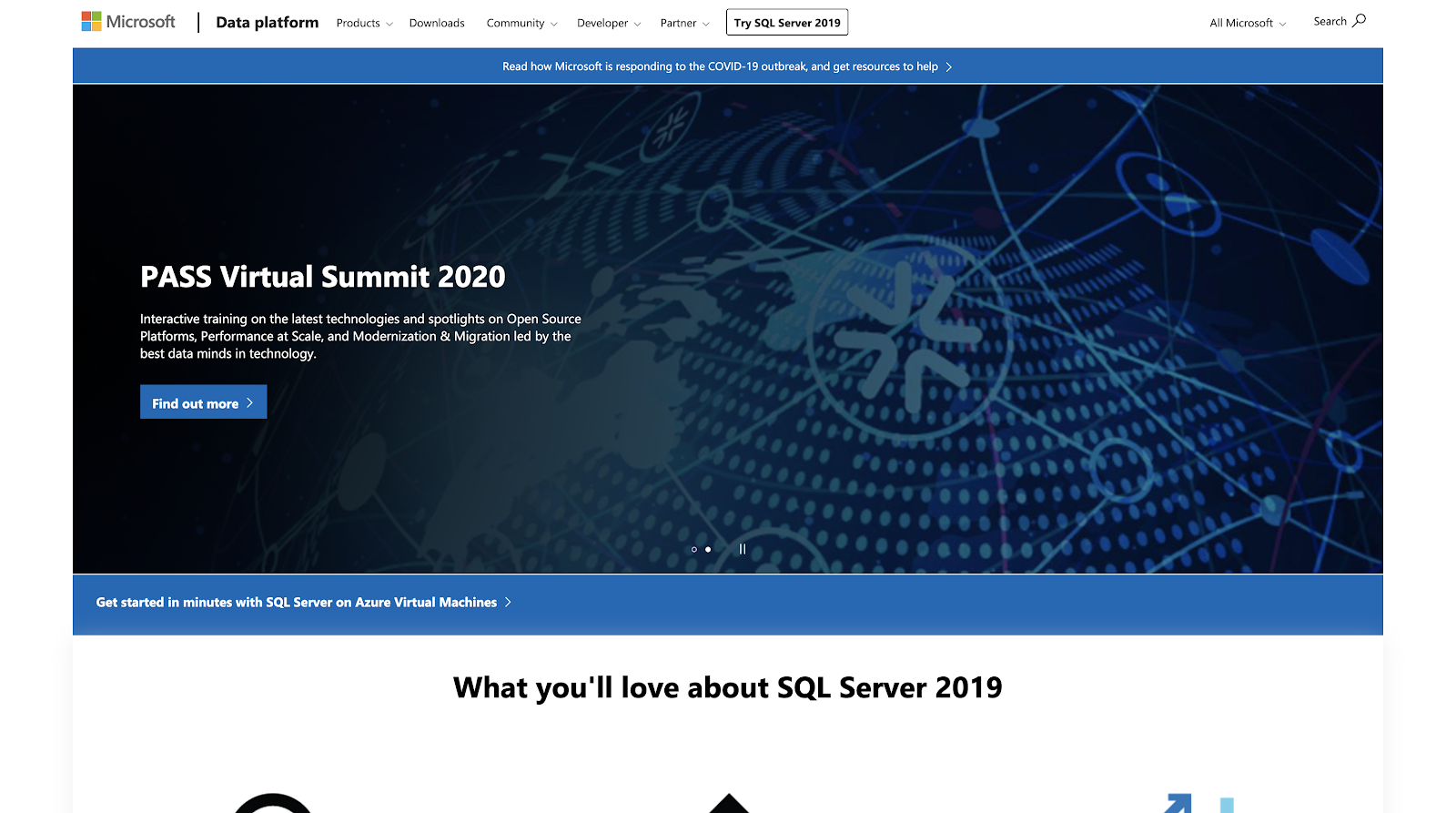 SQL Server 2019 Homepage
About SQL Server 2019
SQL Server 2019 is a data platform with industry-leading performance and security that analyses data irrespective of it being structured or not. Parallel Data Warehouse offers scalability to hundreds of terabytes and high performance through a massively parallel processing architecture.
SQL Server 2019 Benefits
Analyze every type of data
Choose your language and platform
Rely on industry-leading performance
Make faster and better decisions
SQL Server 2019 Video Support – https://www.youtube.com/channel/UC_BLf95QgWpwlbSq-ZKLMwA
Azure Synapse Analytics – Limitless analytics service with unmatched time to insight.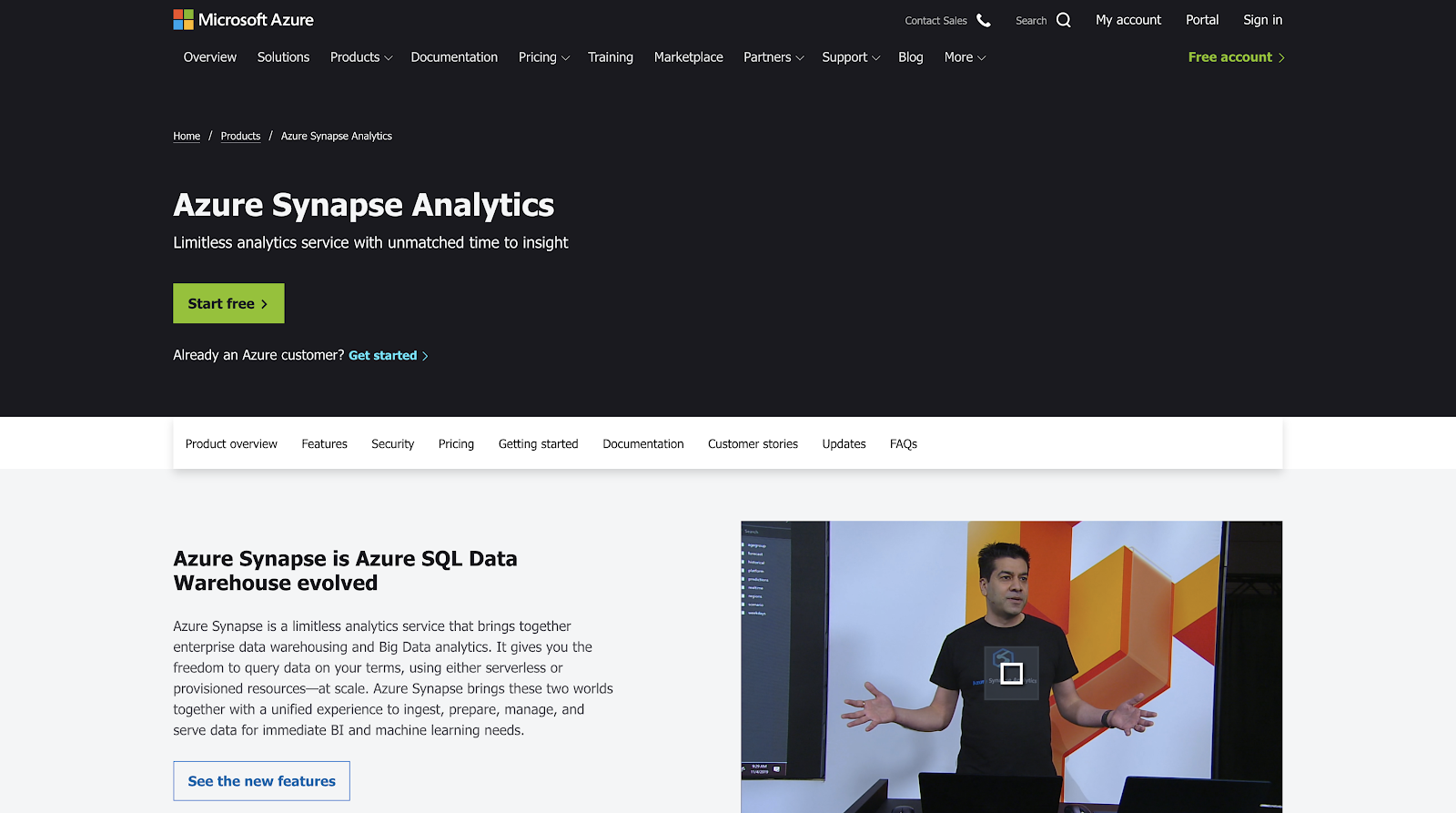 Azure Synapse Analytics Homepage
About Azure Synapse Analytics
Azure Synapse is a limitless and profound analytics service that brings together enterprise data warehousing and Big Data analytics. It gives the freedom to query data on user terms, using either serverless or provisioned resources at scale. Azure Synapse brings these two worlds together with a unified experience to ingest, prepare, manage, and serve data for immediate BI and machine learning needs.
Azure Synapse Analytics Features
Limitless scale
Powerful insights
Unified experience
Instant clarity
Unmatched security
Microsoft Video Support – https://www.youtube.com/user/Microsoft
Netezza Performance Server – Single CL upgrade path. Available on premises, on cloud or hybrid.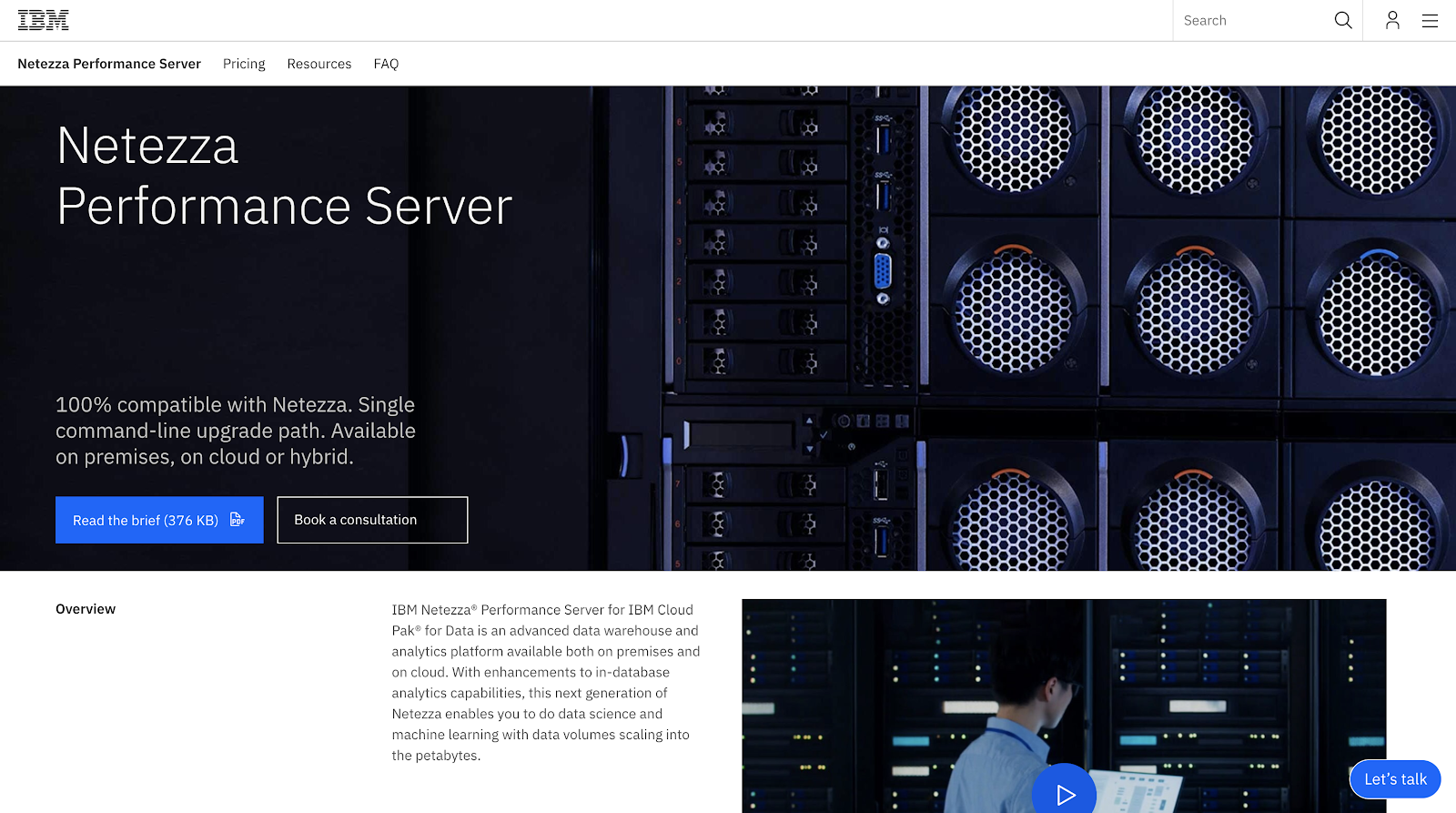 Netezza Homepage
About Basware
IBM's prodigy Netezza Performance Server for IBM Cloud Pak for Data is an advanced data warehouse and analytics platform available both on premises and on cloud. With enhancements to in-database analytics capabilities, this next generation of Netezza enables data science and machine learning with data volumes scaling as high as petabytes.
Netezza Features
Fast analytics
Smart, efficient queries
Simplified infrastructure
Advanced security
Integrated platform
Netezza Video Support – https://www.youtube.com/user/ibmbigdata
Vertica – The Unified Analytics Warehouse.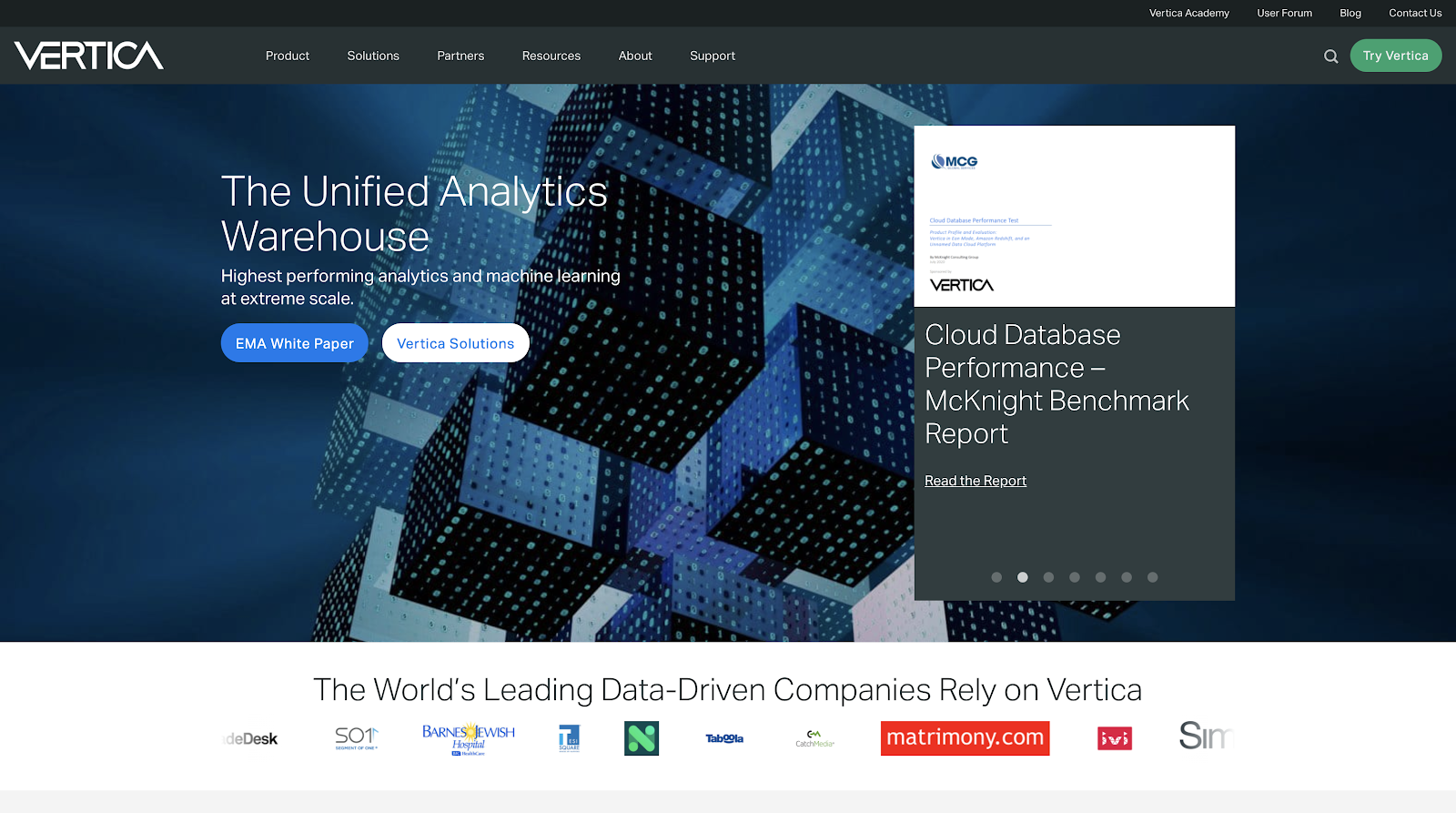 Vertica Homepage
About Vertica
Vertica Analytics Platform is developed for the scale and complexity of today's data-driven world. Vertica delivers speed, scale and reliability on mission-critical analytics, at a lower total cost of ownership than legacy systems. Vertica combines the power of a high-performance, massively parallel processing SQL query engine with advanced analytics and machine learning so one can unlock the full potential of data with no limits and no compromises and that too data which is available on-premise, in the clouds, on Apache Hadoop, or as a hybrid model.
Vertica Features
Manage Huge Volumes of Data at Exabyte Scale
Deliver Faster Analytics
Integrate with Existing BI, ETL Tools
Complementing Open Source Innovations
In-Database Advanced Analytics
The Most Flexible Cloud Support in Big Data
Panoply – Sync, Store & Access All Your Data.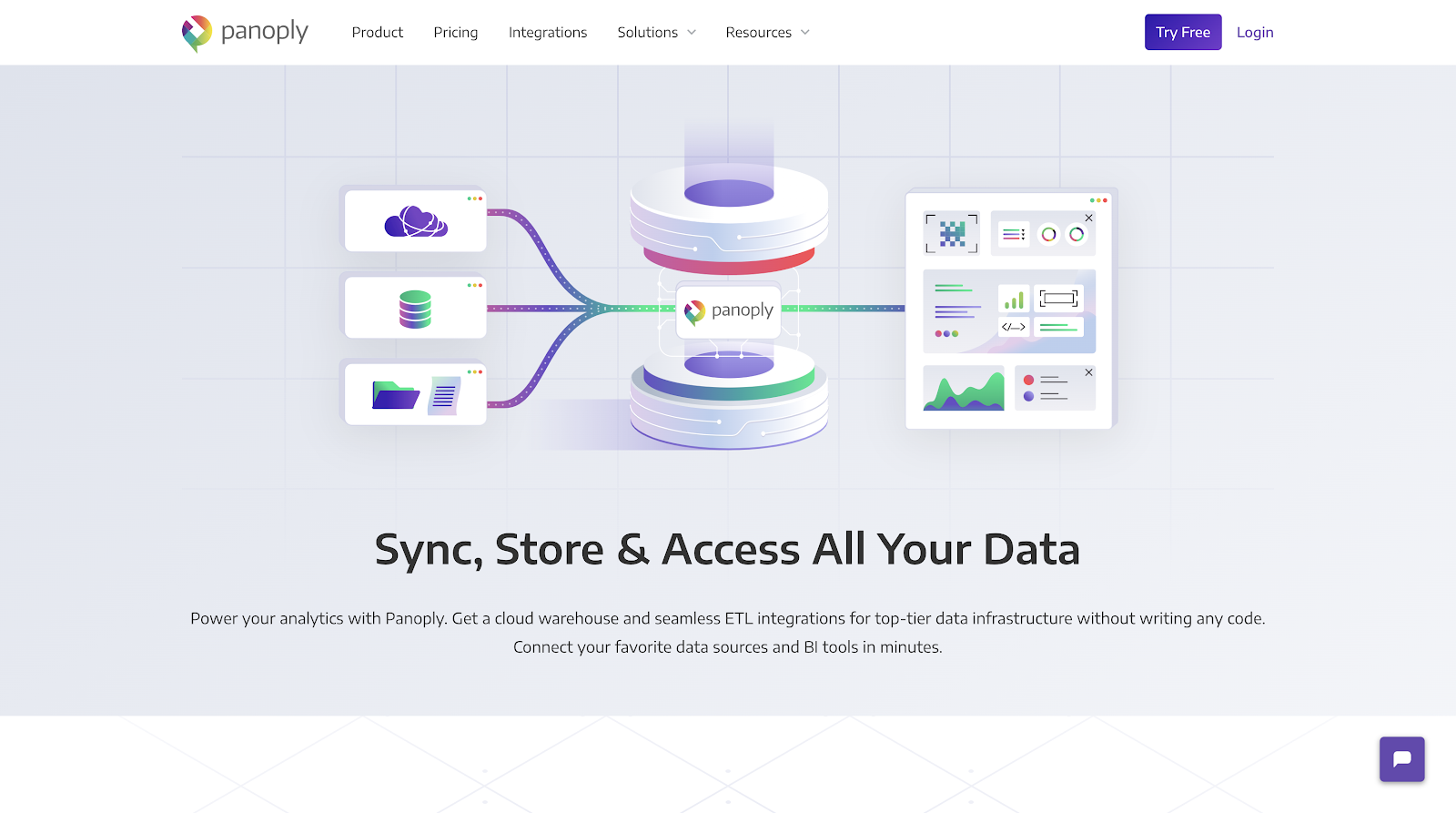 About Panoply
Panoply delivers the industry's leading insights by eliminating the development and coding typically associated with transforming, integrating, and managing data. Panoply's proprietary AI technology automatically enriches, transforms and optimizes complex data, making it simple to gain actionable insights.
Panoply Features
Sync data
Simplify & accelerate
Easily replicate relational databases
Automatically transform NoSQL data
Sync, parse, and structure
Unlock even more data
Panoply Video Support – https://www.youtube.com/channel/UCwtAHq73OwBTgPAfc7VIP7g
Hive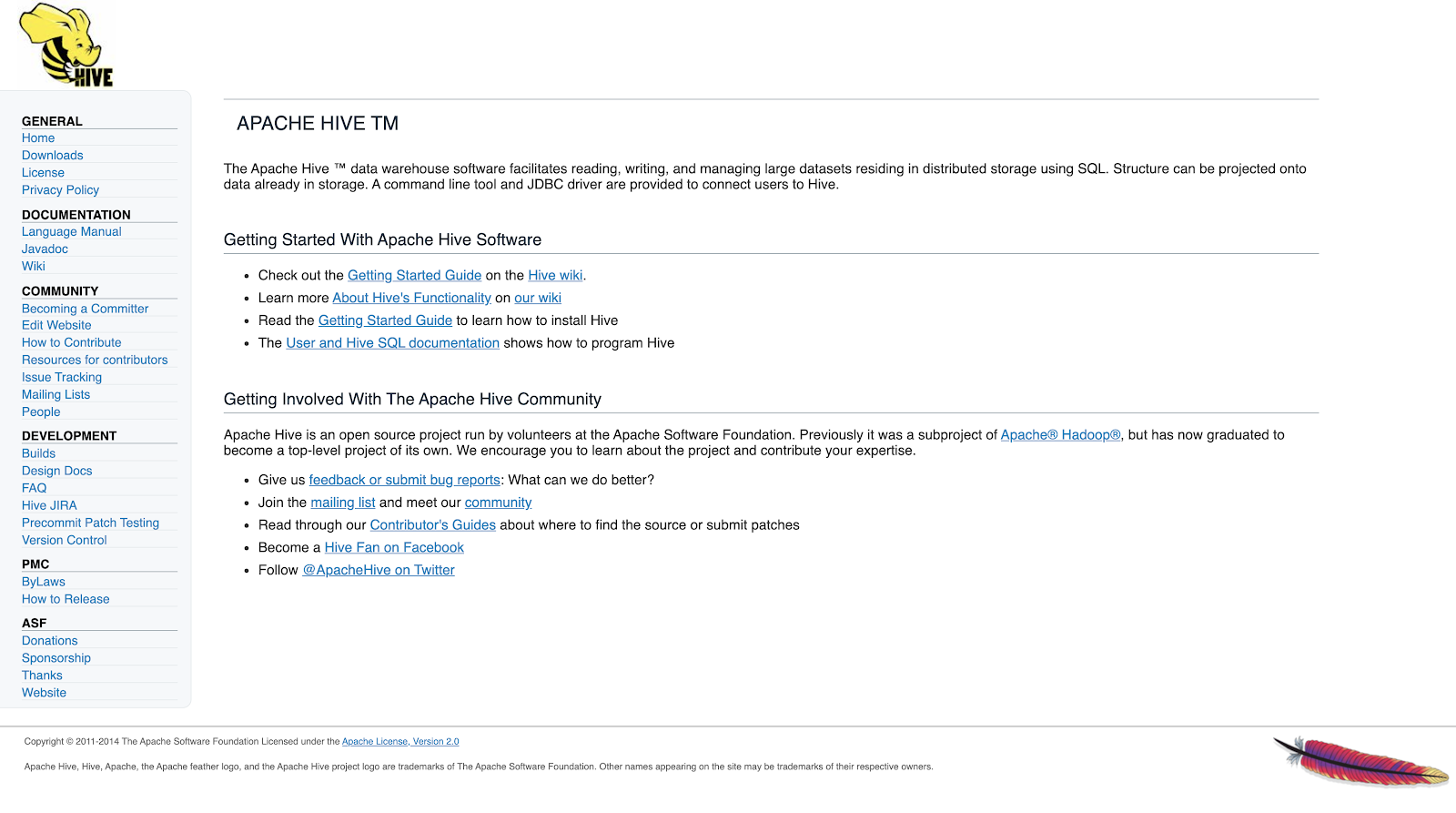 Hive Homepage
About Hive
Hive provides a mechanism to project structure onto this data and query the data using a SQL-like language called HiveQL. At the same time this language also allows traditional map or reduce programmers to plug in their custom mappers and reducers when it is inconvenient or inefficient to express this logic in HiveQL.
Hive Features
Tools to enable easy access to data via SQL, thus enabling data warehousing tasks such as extract/transform/load (ETL), reporting, and data analysis.
A mechanism to impose structure on a variety of data formats.
Access to files stored either directly in Apache HDFS or in other data storage systems such as Apache HBase.
Query execution via Apache Tez, Apache Spark, or MapReduce
Procedural language with HPL-SQL.
Sub-second query retrieval via Hive LLAP, Apache YARN and Apache Slider.
Final Thoughts!
Hope the article helps you in selecting the best Data Warehouse and Mining Software that's best for you and your corporation. Analyse your requirements and select the platform which best suits your needs.